[Home Page] [A Year in the Life of our plot 2000] [Diary 2001] [Diary 2002] [Diary 2003][Diary 2005][Diary 2006][Diary 2007][Diary 2008][Diary 2009][Diary 2010][ Diary 2011][Diary 2012][Diary 2013] [Diary 2014] [Diary 2015] ][Diary 2016] [Diary 2017] [[Diary 2018] [Typical Plots on the Elson Site][Wild Life Area] [Conservation Project] [Badgers][Ray's Plot] [Links Page]
---
DIARY 2004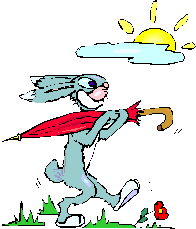 Come rain or shine we are back on the plot for the start of a new
gardening season and welcome you all to come and join us.
---
JANUARY
Plot 22
| | | |
| --- | --- | --- |
| The plot looks bleak and bare this time of the year but we still have Kale, Celeriac, Leeks and Parsnips to keep us well fed. | | John has prepared a second deep raised bed for me to experiment with later this year. |
Plot 34 - We have now been able to finish the paths with second-hand paving and as soon as John has erected the framework, I have 2 new cherry trees waiting to be planted. These I will fan train to make picking easier and to net from the greedy birds.
Plot 34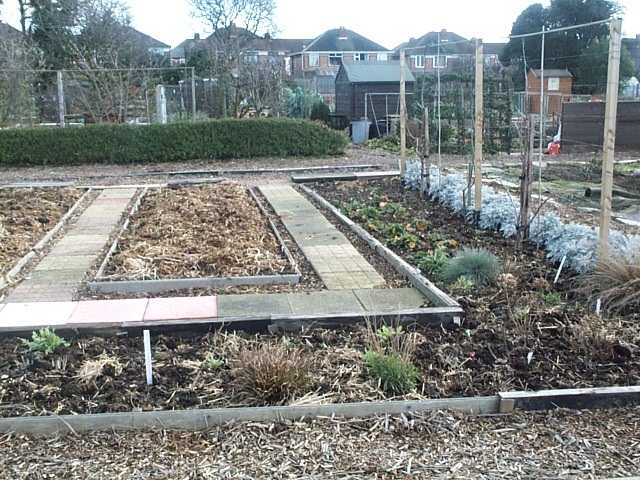 I am thankful we are not flooded as we were this time last year. There is little for me to do for now but I have ordered all my new seeds and will be trying some new varieties together with some old favourites later in the season. I also plan on growing pumpkins for the first time.
A DATE FOR YOUR DIARY.
In conjunction with the Gosport Borough Councils entry to the In Bloom Competition for 2004, the G.A.H.&G.A. will be holding a further Gardening Talk entitled 'Colour in the Garden'. To be given by Mr Ray Broughton who is member of the Lecturing Staff of the Hampshire Agricultural & Horticultural College at Sparsholt. It will be held at HEDCA, Coombe Road, Gosport on Tuesday March 16th at 7.30 pm. All are very welcome.
Admission is free to members and £1.00 to non-members including light refreshments.
llth January - I think I spoke to early. With the heavy rain and gales of the last few days our plot is once again, for the 3rd year running flooded. However, I have made a start in the greenhouse, sowing a few onion seeds, 'Golden Bear' and 'Hysam' and set out seed potatoes to chit in trays.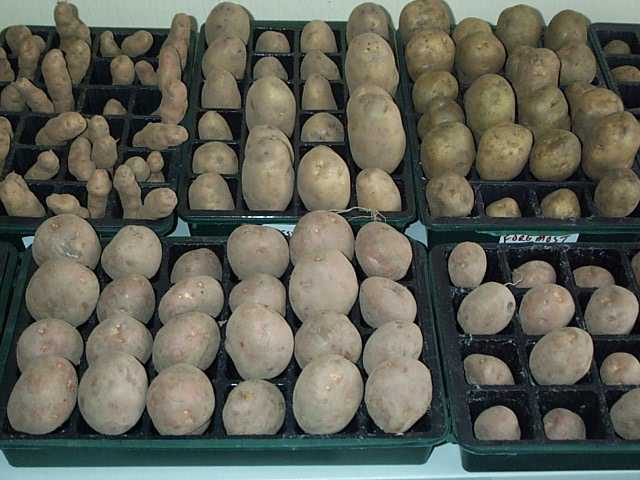 Foremost, Kestral, Romano and Pink Fir Apple.
I have been asked for my Beetroot Chutney recipe. You can find it on the Tips page.
We spent a very enjoyable day at the Whitchurch Potato Day. Over 100 varieties were on display to purchase by the 3 kg net or as individual tubers. I came away with 2 new early varieties for us to try 'Pearl' and 'Anastasia'.
The month ended with the 'big freeze' then more heavy rain and gales. Hopefully February will bring more spring like weather
FEBRUARY
AN IMPORTANT DATE FOR YOUR DIARY
The Allotment Holders Public Meeting, ' Borough - Wide Review of Allotments' will be held in the Council Chamber at Gosport Town Hall, on February 18th at 6.30 pm. It is very important that as many plotholders as possible attend this meeting to ensure that our views are made known. This will have an important bearing on the future of our allotments in Gosport.
14th of the month and we have at last had a week of no rain. The plot is drying out and I have been busy tidying up. The purple sprouting is now producing some succulent spears so I have removed all the yellowing leaves and firmed in the stems. The last of the parsnips have been harvested and the patch dug over. I have planted 20 more new strawberry plants 'Maxim'. This now completes the new bed for the next 3 years. All fruit with the exception of the strawberries (they are fed after fruiting) have been given a top dressing of potash. The 2 cherry trees have been planted on plot 34. We have taken delivery of a trailer load of manure which needs to be moved to the compost bins. A job to keep us occupied for a day or so.
I feel it is still too early to be sowing seeds direct but I have prepared a piece ready for parsnips at the end of the month.
A DATE FOR YOUR DIARY
Following on from the very successful evening talks given by Mr. Trim in 2003, we are pleased to welcome Mr. Ray Broughton from the Sparsholt College to give a talk on 'Colour in the Garden' on March 16th at 7.30 pm at H.E.D.C.A. Coombe Road. Elson, Gosport. Admission is free to members and £l. to non- members. All are very welcome.
MARCH
I have delayed sowing the parsnips; it is still much too cold to be sowing or planting direct yet. In the meantime I am getting underway in the greenhouse sowing peas 'Hurst Greenshaft'. 5 peas to a 3" square pot, covered with a sheet of black polythene till they have germinated. In modules onions 'Bedford Champion', spring onions 'White Lisbon' and beetroot 'Libero'. In seed trays, lettuce 'Density', leeks 'Pot', 'Giant Mamouth' and a new one to try from Thomas Etty 'Giant Carentan'. Cauliflower 'Lateman' and cabbage (an old favourite, very reliable and stands well) 'Earliest of All'. Sown under gentle heat celeriac, 'Prinz', and tomatoes. Some old favourites and some new ones to try; 'Banana Cream' 'Lemon Tree' Vintage Wine', 'Tropical Ruby' (baby plum) and 'Sweet Million'.
I am harvesting purple sprouting and kale. We still have some leeks left and celeriac which I lifted in January and has kept very well stored in the greenhouse.
Week-end of 6th and 7th. I have now sown the parsnips, 'Countess F1' 'Gladiator F1' and a trial packet from the NVS. Medwyn's 'Albion'; and made a start on planting the potatoes with 'Foremost' and 'Kestral'. I shall continue over the next few weeks or so now taking it slowly a few at a time as this is heavy work, until all main crop are planted.
First take out a trench a spade depth, add a good layer

of rotted compost then set the potatoes about 12" apart.

Fill in and slightly mound up to

protect any early shoots from late frosts.
In the raised bed, I have sown the first carrots. I am experimenting with a wider drill, just over a spade width, watered well then broadcasting the seed at random. I am hoping this will give me a bigger crop without the need for any thinning.
In the greenhouse, it is a busy time with many seedlings needing to be pricked out and potted on.
---
A summary of the salient points and concerns raised at the public meeting on the 18th February, has been issued by the Borough Council and can be read by clicking here.
For those of you who are into companion planting; I would like to share a tip from Mr Ray Broughton of the Sparsholt College who entertained us with his talk on 'Colour in the Garden'. If you grow Tagetes to deter aphids, it is the strong smell of 'dead flowers' that they don't like, so dead head regularly and leave small piles of them around your plot/plants.
I have now taken advantage of some warmer weather and planted out the first of the onions 'Golden
Bear' and John is busy helping Steve our store man, to build a new shop shed.
The last week-end in March; I have finished planting all main crop potatoes now and I have continued with more onions 'Bedford Champion'. I have lifted the last of the winter leeks and we are enjoying some succulent 'Purple sprouting' spears.
It is a busy time in the greenhouse, the leeks need pricking out into cell trays while they are still at the 'crook' stage. If you don't have a greenhouse, these can be sown direct outside in a seed bed of finely tilled soil and then transplanted later. Tomatoes, cabbage and cauliflower have been potted on into 3" pots; again cab. & cauli can be started off in a seed bed outside but I would wait until the soil is much warmer before doing so.
APRIL
First week-end of the month and I have planted out the first of the peas. Inserted twiggy branches for support and covered with fleece as there is still a chance of a late frost. (You can see how I plant peas by checking out my Diary for 2002 and Diary 2003) Also red onions 'Brunswick' which were started off in modules and trial onion sets from T & M. The carrots I sowed earlier are now through so I have continued with 2 more, both from Thomas Etty, 'Spanish Black' (the flesh is white with purple flames) and 'Jaune Obtuse du Doubs' (a lemon rooted variety). I have not grown these before so it will be interesting to see the results. Beetroot 'Tardel' from modules and the first of the cabbage and cauliflower plants have been harden off and set out under fleece.
In the greenhouse I have made sowings of baby sweetcorn 'Mini Pop', french beans 'Cropper Tepee',
lettuce 'Little Gem Cos', spring onion 'White Lisbon', squashes, (new for me to try) 'Butter Nut'. Turks Turban' and Sweet Dumpling', yellow courgettes 'Jemmer F1' and cauliflower 'Veitch's Self Protecting' another new one for me to try from Thomas Etty.
I like to plant lots of brightly coloured flowers to attract the bees etc. so I have sown french marigolds, stocks, statice, rudbeckia, asters, gaillardia, coreopsis and cincineria; taken cuttings of spray chrysanths, bedding mums and fuchsia. Through lack of space I have purchased plug plants from T & M geraniums, bizzie lizzie and begonia which I have pricked out into modules. Red poppies which seeded themselves on my plot last year I collected the seed and sowed them last autumn in modules and have now planted out on plot 34.
Easter week-end. John has prepared the frame ready for runner beans. As our plot is so exposed and tends to get very windy just when the beans are setting we find this is the best way of supporting them.
Beans can be picked easily from either side and through the centre forming an archway.
I have set out the first lettuce plants Density, between the carrots in the raised bed. The blossom on the plums, cherries and damson are glorious this spring.
| | | |
| --- | --- | --- |
| Runner Bean frame | Lettuce 'Density' | Victoria Plum in blossom |
Last week in the month and making good use of the glorious warm weather I have finished planting out the peas, 2 rows of red onion sets (free from T & M), parsley, more carrots and spring onions. Started to earth-up the first potatoes. The weeds are also starting to grow so regular hoeing of all vacant ground is essential now. The purple sprouting is coming to an end now and this has been cleared and consigned to the compost heap. The ground has been prepared with some well-rotted compost in readiness for the tomatoes later next month.
On the fruit plot, checking the soft fruit canes are well supported and all tied in as they are now in full leaf and blossom. Gooseberries I am training as cordons and need regular tying in as they grow.
In the greenhouse, tomatoes have been potted on from 3" to 6" pots. I like to have good strong, approx. 12"sized plants to set out later in May. Planted then deeply up to their seed leaves and watered well, I find on our exposed site they have a better chance of survival.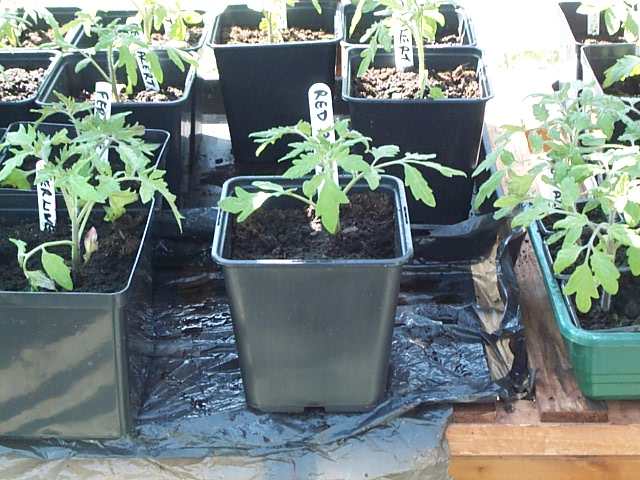 Celeriac has been potted on to 3" pots. Some of the squashes have failed to germinate so I have re-sown these.
MAY
The first week and we have had some torrential rain again and it has been impossible to get on the plot. However, it is now time to start thinking about winter crops and I have made sowings in the greenhouse of kale, 'Dwarf Green Curled', sprouts, 'Brilliant', 'F1 Cascade', 'Rubine' and purple sprouting 'Red Arrow'. If conditions are right these can be sown outside now in a seed bed.
Second week and with the improvement in the weather it has been a very busy time. John has finished mulching all the potatoes with grass clippings and well-rotted compost. No more needs to be done now till it is time to harvest the first early crop.
I have planted out celeriac, baby sweet corn, lettuce 'Little Gem', climbing french beans 'Purple-podded', chard 'Rainbow'; courgettes, F1 Jemmer, squashes 'Butter Nut' and 'Turks Turban'; sown swede 'Ruby', beetroot 'Tardel', and bulb fennel 'Romanesco'.
Removed the fleece from the peas which are growing away nicely now and replaced with a fine netting also removed fleece covering the first cauli and cabbage and replaced with netting.
Tomatoes planted out.
Take out a hole large

enough to plant up to

the first seed leaves.

Fill hole with water and

allow to drain.

Set in tomato plant and

firm in. Water well again.

Insert cane and mulch

well with rotted compost.
Tomatoes planted this way should not need any more watering till the fruit has set. Tie in as they grow and pinch out the side shoots.
All the old foliage has been cut down on the daffs now and I am starting to plant out the annual flowers. Statice, begonias, geraniumsand french marigolds etc.
For selection of photos taken on the plot during May click here

Last week-end in the month and I have now sown the runner beans, 'Scarlet Emperor' and 'White Lady';
planted out and some of the leeks. These will be planted in stages as space becomes available from digging the potatoes which I hope to start within the next week or so. The swede seedlings need to be thinned out. Leaving the fleece in place to protect from the flea beetle and caterpillars; this will be done in stages till they are about 6" apart. The strawberries are filling out and becoming heavy so to avoid them lying on the soil I have placed clean straw beneath; this also helps as a mulch. I am now cutting my first lettuce 'Density'.
Both sheds have had their annual turn out and the outside a coat of wood preservative; as has the compost bins. We have taken delivery of a further load of manure which should keep us occupied over the bank holiday week-end.
JUNE
The plot was starting to get very dry but the month has commenced with some very welcome rain. I have made further sowings of beetroot 'Tardel', lettuce 'Density', climbing french beans 'Purple Podded', main crop carrots 'Danvers Half Long' and Blunt rooted Guerande' both from Thomas Etty. We have picked our first strawberries and I am now harvesting potatoes, beetroot, carrots, lettuce, cabbage and cauliflower.
The peas are now setting and will need regular watering to fill out the pods.
The fox cubs have played havoc with the fleece on my carrots so I have had to replace it all and as an extra deterrent I have put some netting on top till they have outgrown their playtime.
The fruit plot now needs some attention. Aphids are on the plum and apple trees so I am pinching out the soft tips. This does help to deter them. The new growth on the cordon red currants, which are just turning pink, needs pruning back by about 2 thirds before covering with netting.
11th of the month - I have now pricked out my winter cabbage 'Tundra' and kale 'Dwarf Green Curled' into 3" pots. As I am short of space for planting out just yet the sprouts and purple sprouting have been potted on into 6" pots. I am in the process of clearing and preparing an old strawberry bed with lots of rotted compost for them. The return of the hot weather is slowing me down and watering is again a priority. Leeks are being planted as space becomes available from digging the potatoes.
The first of the cherries are just turning pink so have been covered with netting before the birds get a chance to enjoy them before we do.
Last week-end of the month and we have at last had some very welcome rain. Fortunately the strong gale force winds have not caused any damage. I believe June has been the driest month since 1976 here in Portsmouth. The plot is now looking much fresher. Strawberries are all but finished now but the raspberries are starting to crop well. The last of the first sowing of lettuce has bolted and has been consigned to the compost heap but we still have plenty of Little Gems ready for harvesting.
Peas are filling out well and need harvesting regularly every few days. I find cutting them with scissors is best to avoid pulling up the plants.
Sprouts 'Brilliant' and 'Cascade F1' have now been planted out. First digging a large hole, filling with water and allowing it to drain before planting up to the first seed leaves and firming in well. Another good 'puddling' and then a thick mulch with rotted compost and finally covering with netting.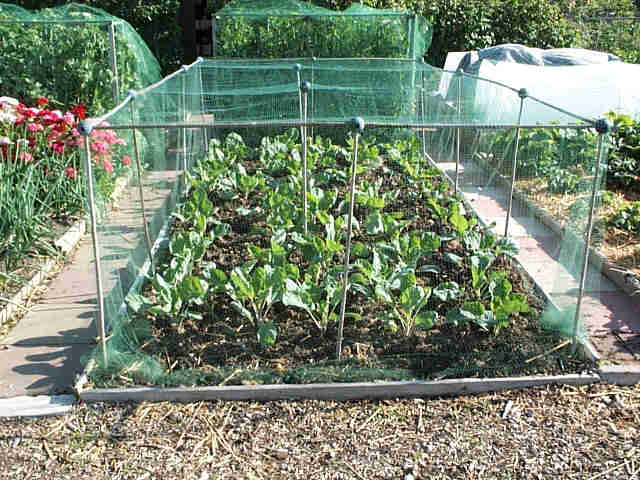 . . . . . . . . . .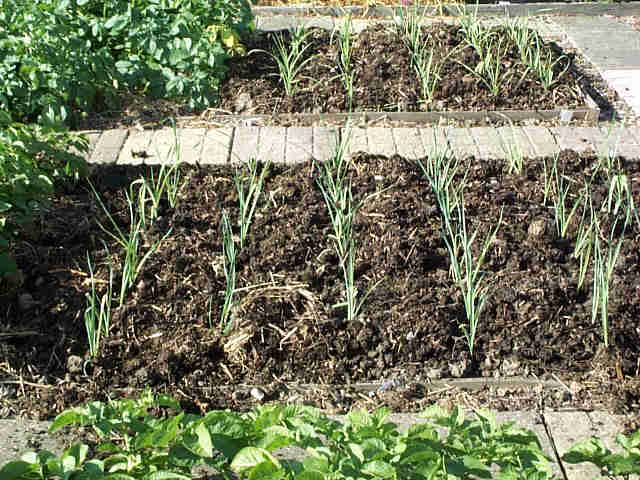 Sprouts 'Brilliant' and 'Cascade F1' - - - - - - - - - - - - - - - - - - - - - - - - - - Leeks 'Pot' and 'Giant Carentan'
For more photos taken on June 21st click here

---
JULY
The rain has finally arrived in Gosport but nowhere nearly enough. The plot is still very dry and the high winds recently have taken their toll. The sweet williams were flattened and have now been taken out and replaced with the winter cabbage 'Tundra'. Peas are also finished and have been consigned to the compost bin and replaced with purple sprouting 'Red Alert'. Planted deeply between the frame with a strong cane for support as our soil is very light. I have also been clearing out the strawberry bed now they are finished. The old straw has gone to the compost bin and the plants have been given a 'hair cut'. They will soon recover with new growth; continuing to plant out more lettuce 'Little Gem' and spring onions; and a final sowing of main crop carrots 'Autumn King' (under fleece).
I have heard that downy mildew on onions is a big problem in the south this year and has been wiping out complete crops - one to watch out for.
On the fruit plot the red currants have ripened early, so have the loganberries and tayberries. All are now picked and safely in the freezer. Blackberries are starting to ripen and have been covered with netting. We are enjoying a bumper crop of cherries - these should be picked carefully with scissors to avoid damaging next year's growth buds. Raspberries have suffered with wind burn but the fruit is large and plentiful.
New growth on the gooseberry has been pruned and tied in as I am fan training them for easier picking.
A DATE FOR YOUR DIARY
The G.A.&G.A. will be holding their stall at the forth coming celebrations of Gosport's 800th Anniversay in conjunction with the bi-annual event 'Alive & Kicking'. To be held in Walpole Park on Saturday 24th July.
22nd of the month and we are very pleased to have been awarded 3rd place in the Hampshire Federation of Horticultural Societies competition this year. We send our warmest congratulations to the winner Miss E. Jones of Woolston.
Despite the very dry weather this year carrots in the raised beds have produced an exceptional crop. All grown under fleece with the exception of one row sown between onions as an experiment. These have succumbed to the carrot fly. I will in

future always grow with the protection of fleece from seed sowing to harvesting.

Carrots - orange - 'Sytan', Purple - Spanish Black', Yellow 'Jaune Obtuse du Doubs'.
The results of the Gosport Allotments Working Group Scrutiny Committee are now available and can be read by clicking the link below.
http://www.gosport.gov.uk/sections/democratic-services/agendas-minutes-reports/services-overview-and-scrutiny-committee/agendas/2004/05-08-2004
AUGUST.
Watering is still a priority. We have not had any appreciable rain for 2 months or more now.
The early cabbage and cauliflowers are now finished and all the summer veg. is cropping very well. Beetroot, lettuce, spring onions, carrots, french beans, runner beans courgettes, tomatoes and fennel. Of the 2 new varieties of early potatoes we tried, Pearl and Anastasia - Anastasia we thought was far superior, firm waxy and a distinct flavour of their own. One we will definitely grow again. Pearl broke up in the pot.
Squash - Turks Turban have some fine specimens on them. The Butternut and Sweet Dumpling are also producing lots of fruit. I have placed an old tile beneath each one to keep them off the soil. Photos below. The first of the onions, the tops are falling over and starting to dry off in the sun. I have just eased them from the ground, breaking the roots gently with a fork.
On the fruit plot - the raspberries are now finished and the old canes have been cut back and the new ones tied in. Strawberries cut back earlier are making good new growth and I shall be pegging down a few more runners. Plums and blackberries we are picking and enjoying before the birds help themselves to too many.
I have planted out Sweet Williams for next year and I am cutting spray chrysanths and statice for the house.
We have acquired a second-hand shed for plot 34 which John will be erecting in the next week or so. We intend to use this one to store potatoes, onions, squash etc. for Winter use.
Squash - 6th Aug. 04
| | | |
| --- | --- | --- |
| 'Turks Turban' | 'Sweet Dumpling' | 'Butternut' |
Bank Holiday week-end and the plot has taken a battering with the storms and the much needed heavy rain. However, the shed has got built and I have lifted most of the onions and finished drying them off in the greenhouse. Now I am plaiting them on to strings ready to hang in the shed. If you would like to see how I do this click here.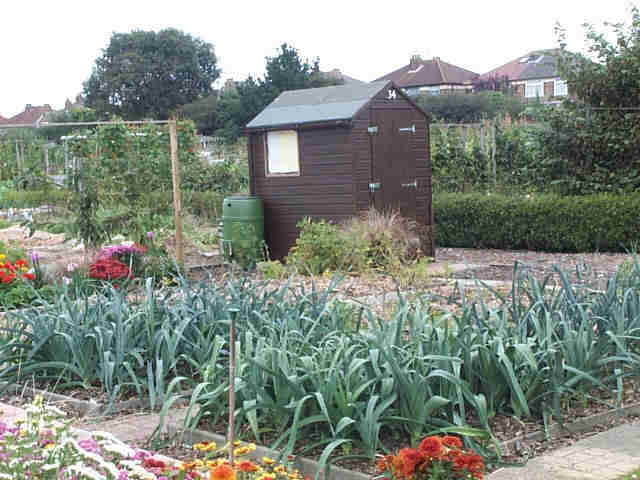 New shed on plot 34 and winter leeks.
Runner beans, White Lady are cropping exceedingly well and I would say are far superior to the Scarlet Emperor. All the other vegetables are doing well apart from the lettuce which has bolted. John has now started to lift main crop potatoes Kestral, Romano and Pink Fir Apple.
On the fruit plot, the Victoria plums and Damsons are ripening in abundance.
There is now plenty to do tidying up. John has dug a deep trench and all rotting vegetation etc. will be piled in before filling in with soil.
SEPTEMBER
This is a good month to plant up a new strawberry bed. While the soil is still warm the plants will establish well. I have prepared the new bed with some good rotted compost and set out the plants I raised from runners earlier in July.
A date for your Diary
The G.A.H.& G. Assoc. will be holding their usual stall at the Michaelmas Fayre, selling a wide range of produce donated from Gosport's allotment-holders. This year the Fayre will be held in Walpole Park, Gosport on the 18th September from 10.am. till approx. 4 pm. All proceeds from the stall will go to the Association's funds.
Leek Moth
This pest has again been very wide-spread this year devastating whole crops. There is nothing on the market for us home-growers to use and the only way to prevent this happening is to grow the entire crop under horticultural fleece or enviromesh. A letter received from RHS at Wisley in September 2002 on the subject can be read by clicking here.
Despite the inclement weather a very enjoyable day was had by all at the Michaelmas Fayre The approximate sum of £260.00 was raised from the sale of of produce and plants donated by Gosport's generous plot holders.
Back on the plot we have taken delivery of some more wood chippings and topped up about half of our paths. It is now time to be thinking about planting Autumn onion sets. I have prepared a piece of ground and set out 'Senshyu' about 4" apart planting with a trowel with the tips of the onions just covered. This will deter the birds pulling them out until they are established. Broad Beans to over winter can also be sown now and any Spring cabbages.
On the fruit plot the 'Williams' pears have all ripened and been harvested. These do not keep and need to be used as soon as they are picked. Conference and Corncorde will not be ready till next month.
The spray Chrysanths are still giving us a lovely display of colour and a continuous supply of cut flowers. Click here for more photos.
The weeds are growing fast again so I am keeping up with the hoeing and gathering up any dead and rotting vegetation.
OCTOBER
A Date for your Diary.
The G.A.& G. A. are pleased to welcome Mr. Peter Collett, President of the Hampshire Federation of Horticultural Societies, to give a talk on 'Fruit for a Small Garden', on Tuesday October 12th at 7.30 pm. at H.E.D.C.A, Coombe Road, Gosport. Admission is free to members and £1.00 to non-members. Light refreshments included. All are very welcome.
The weather this year is causing some very unusual growing patterns. The Sweet Williams I planted out in August for next year have been flowering now for 3 weeks or more.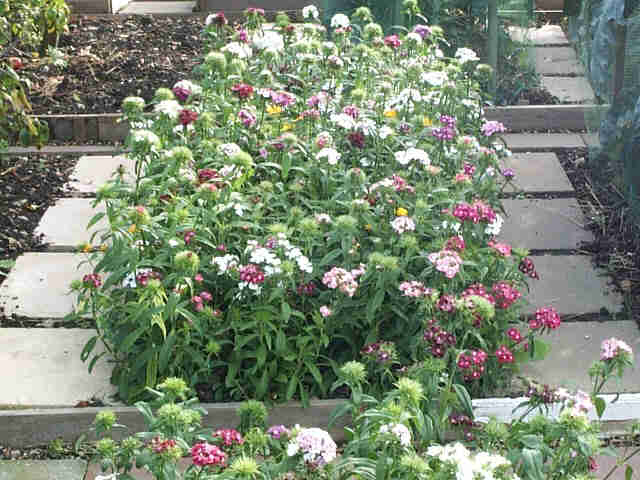 We are still busy tidying up the plot. John has dug several deep trenches about one and half spades deep, forked over the bottom and into this we are layering all the soft waste vegetation. when the trench is full it is covered over with the soil. This will all have rotted down by the spring.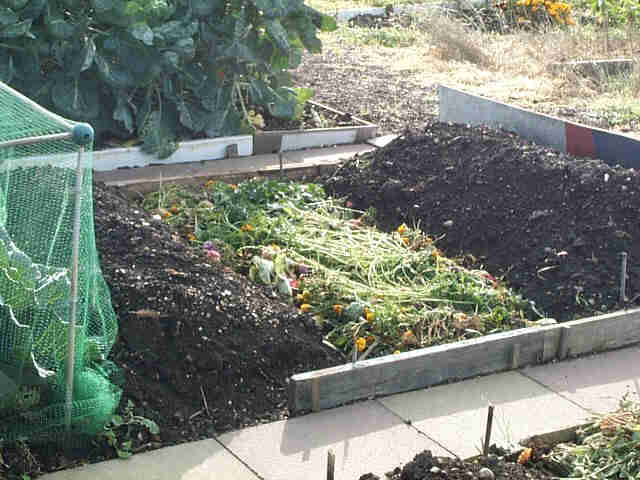 . . . . . .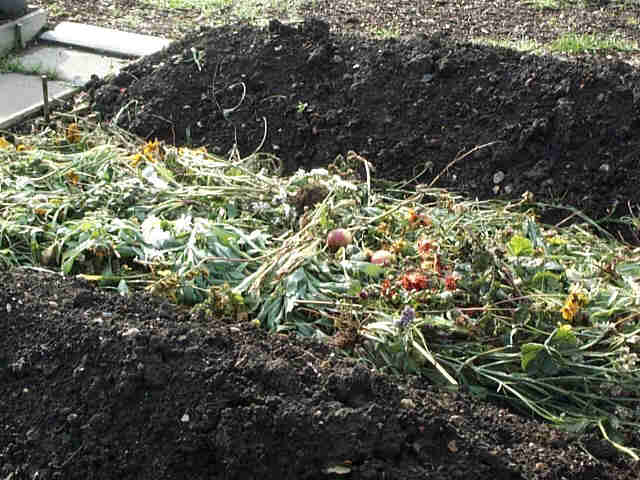 Runner Beans are now finished. The plants have been cut at ground level, leaving the foliage to die down before composting. The roots will be left in the ground to add valuable nitrogen to the soil.
The nights are now getting colder so I have picked the last of the green tomatoes and laid them out in trays to finish ripening. Our new shed on plot 34 is now very useful for storing potatoes, onions, the last of the beetroot, and apples.
I am now harvesting all the winter vegetables, the first sprouts 'Brilliant', carrots, parsnip, swede, leeks, kale, cabbage and celeriac for the 3rd year running 'The Prinz' from Kings has proved to be a real winner giving us superb large white roots. I really can recommend this one. Click here for more photos.
The last week of October and the weather has been against us, very wet and windy so little has been done on the plot. All the pears, 'Conference' and 'Concorde' have now been picked and laid out in trays to finish ripening.
NOVEMBER
ALLOTMENT WORKING GROUP
The next stage in the Gosport Council's process is to place the report before the Community and Environment Board. This meeting, will be held on Monday 1st November 2004 at 6.00 p.m. in the Council Chamber at the Town Hall. It is vital that as many plot holders as possible attend this meeting.
Please support your Committee. Click here to read the outcome of the meeting.
Back on the plot there is still lots to do while the weather is still mild. John is busy repairing some of the edging to the beds while I have been mulching all the tree and soft fruit with compost; gathering up any yellowing leaves, the last of the fallen fruit etc. We have also collected more wood chippings to complete the top-up of the paths before the winter sets in.
DECEMBER
December is a quiet month on the plot. Time to take stock, study the new seed catalogues and plan for next year. I would like to try growing asparagus for the first time so John has built another raised bed and we are preparing it with lots of good compost. I have ordered one year plants from Marshalls for delivery next March/April. Another trailer load of manure has been delivered and used to refill our compost bins. This will have rotted down well ready for use next spring.
We still have plenty left to keep us fed throughout the winter the sprouts are particularly good this year, with parsnips, leeks, carrots, cabbage, kale and celeriac to harvest as needed. Should we be threatened with any real bad weather I shall lift some to store in the shed. The pears and apples have both stored well in the shed too. Fingers crossed we will not be flooded again this winter.
ROUND-UP
Despite the ups and downs of the weather on the whole we have had a very good growing year. The only failure was the cauli which matured during a very dry spell and I forgot to keep up with the watering. The carrots, have been the best crop I have ever grown. After several years of using fleece protection I am now convinced this is the only way (or the use of enviromesh) to protect against the dreaded carrot fly. I also added plenty of sand to the soil; the carrots still in the ground now are showing no signs of any slug damage. The row I sowed between 2 rows of spring onions and left uncovered were attacked by the fly and had to be destroyed. I have tried various other means such as moth balls to deter the fly but have not found any of them to be successful.
Cherry plum tomato - 'Tropical Ruby' has been excellent, keeping well in the kitchen for 6-8 weeks or more after picking. Squashes, particularly the Butternut produced in abundance - we had plenty to sell on our Michaelmas stall and I have some stored in the shed. The Turks Turban and Sweet Dumpling I have used for display purposes as they are very decorative. Leeks did have some damage from the moth but recovered well. On the fruit plot 'brown rot' was a problem on the plums due to the weather conditions but we still had a very good crop.
All in all I am pleased with our crops for this year.
Before I close for this year, over the past 3 years I have had many enquiries asking as to the best way to treat and get rid of Brambles and Horse Tail; I have been advised by email from a very experienced horticulturalist that - and I quote "Have just been looking at the Q & A page and noticed a query about what weed killer to use on brambles. The best I know of is ammonium sulphumate sold under the name Root Out or Amcide. This is very effective when applied to new growth and also works well on horsetail and what is more is approved by Hydra I believe". I am sure many of you will find this information useful.
I hope you to have had a good season and look forward to you joining us again back on the plot in 2005.
Our very best wishes to you all for a Happy Christmas and lots of good gardening in 2005.
[Home Page] [A Year in the Life of our plot 2000] [Diary 2001] [Diary 2002] [Diary 2003][Diary 2005] [Diary 2006][Diary 2007][Diary 2008][Diary 2009][Diary 2010][ Diary 2011] [Diary 2012][Diary 2013] [Diary 2014 [Typical Plots on the Elson Site] [Wild Life Area] [Conservation Project] [Badgers] [Ray's Plot] [Links Page]
---