[[[[Home Page]A Year in the Life of our plot [2000][Diary 2001] [Diary 2002] [Diary 2003][Diary 2004]Diary 2005 [Diary 2006][Diary 2008] [Diary 2009][Diary 2010][ Diary 2011][Diary 2012] [Diary 2013[i[Diary 2014] Diary 2015] a[Diary 2016] [Diary 2017] [[Diary 2018] ry 2013[
[[ Typical Plots on the Elson Site][]Wild Life Area] [Conservation Project] [Badgers] [Ray's Plo [Links Page][Hints & Tips]
[[
DIARY 2007
I'm not ready to hang up the gardening gloves just yet.
Do please come and join me for another new season.
plot.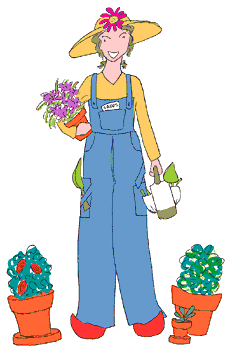 JANUARY
2006 ended with the plot being flooded and 2007 started almost the same way with heavy rain and gales. It will be impossible to get on the plot just yet. However, a start can be made in the greenhouse it is not too early to sow onion seeds. Traditionally sown on Boxing Day they can now be sown in modules or a seed tray and pricked out when they reach the crooked stage.
A DATE FOR YOUR DIARY - Potato Days. 27th and 28th January at Testbourne Community Centre, Whitchurch. For other areas and further information http://thewhitchurchweb.org/potatoday/potatodays.htmt the month
Last week of the month and the weather has taken a dramatic change. Gone are the mild wet windy days and replaced with sunny but very cold days. My seed potato order has arrived which I have set out sell trays to chit in the greenhouse. Making sure they are covered well with several layers of fleece at night to protect from the sub-zero temperatures. 'Mimi' a new early one for me to try and 'Cherie' (both red skinned) also my old favourites 'Foremost', Desire' and 'Pink Fire Apple'. Red skinned varieties seem to do well on our soil. I hope also to have a few more tubers of the 'Blue Moon' from Jalving Potatoes.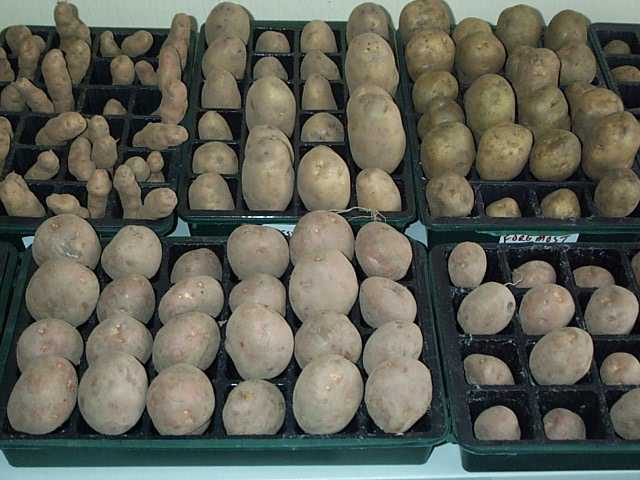 I have harvested the last of the sprouts, carrots and celeriac but still have plenty of leeks and the purple sprouting is giving me lots of delicious tender spears. If picked regularly it should carry on cropping till the end of March.
FEBRUARY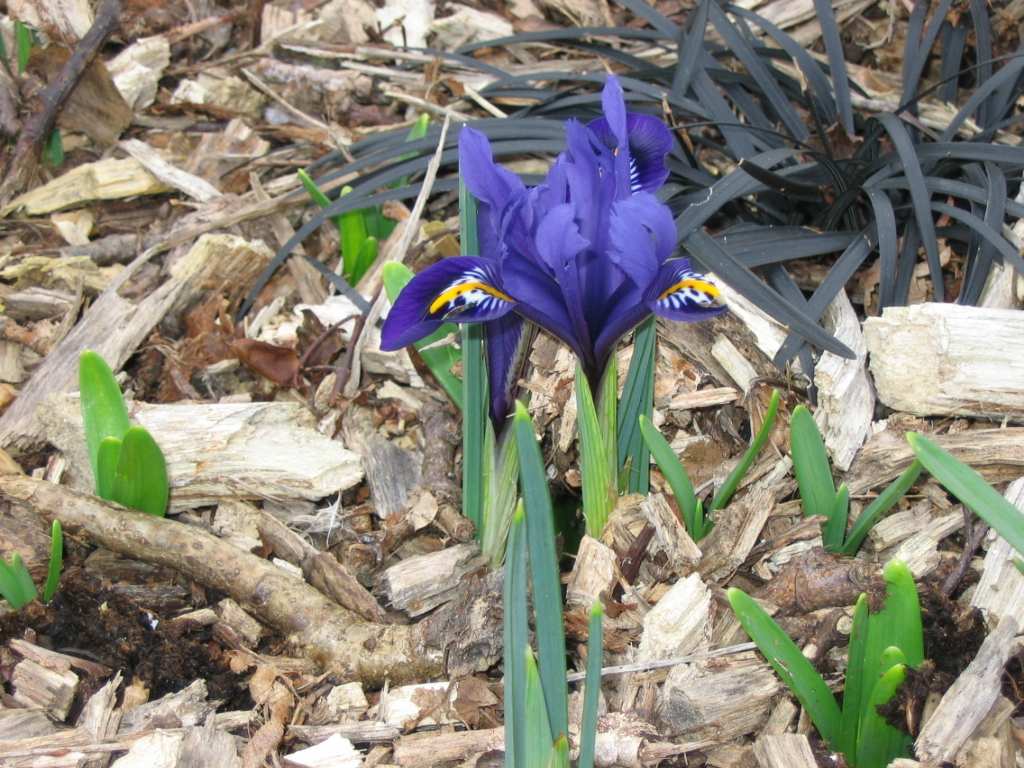 Miniature Iris. First of the spring bulbs flowering on the rockery I planted up last autumn.
The weather is deceptively warm but it is still too early to be thinking of planting outdoors yet except for shallots. These can be set out now with their tips just below the surface to prevent the birds from pulling them out. In the meantime I am renewing the
Frame work for the loganberry and tayberries. The wooden frame has partially rotted and has become loose in the January high winds. I have carefully untied the new canes, laying them on the ground while I remove the old wood and wires inserting the new posts into metal Metaposts before firming them well into the ground; adding a top length of timber to secure the frame. Screw eyes were used to secure the straining wires then carefully tying in the new canes again.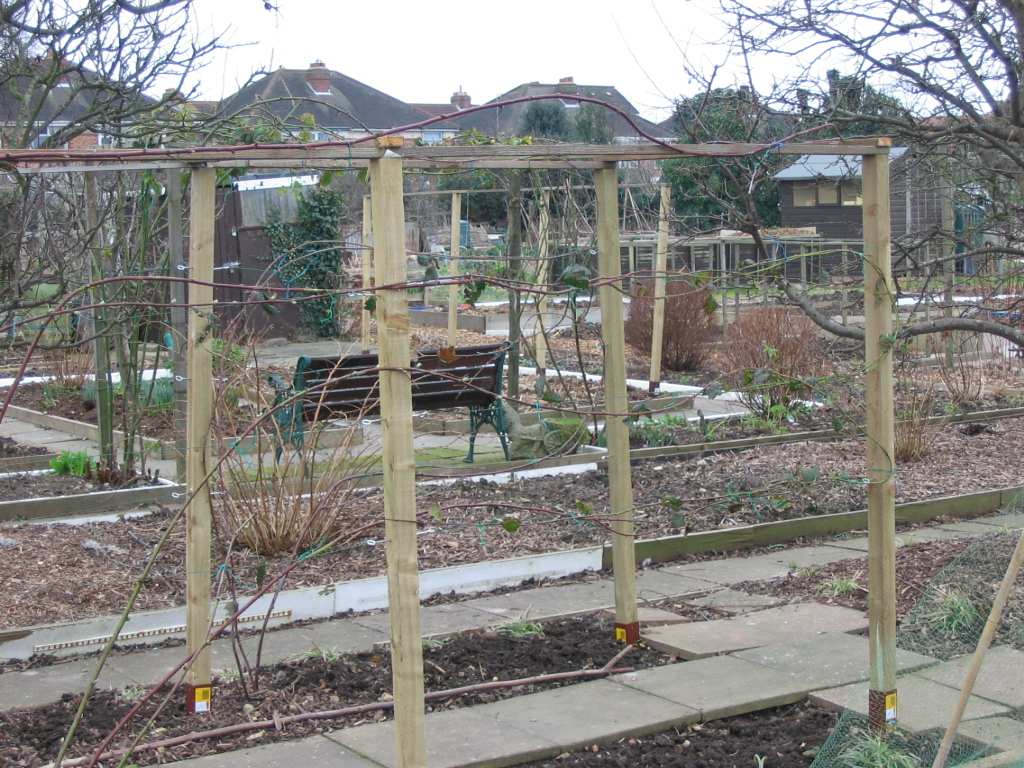 In the greenhouse, it is a good time to tidy up and make sure all the necessary pots, trays, labels etc. are clean and ready for use next month and making sure you have plenty of good fresh compost to hand.
The spray chrysanths which have been over-wintering in the greenhouse have made some good new growth which I am using for cuttings. Cut with a sharp knife and the bottom leaves removed before inserting into a tray of compost and covered with a propagator lid. These should root well in a cold greenhouse.
The last week of February has left the plot saturated from the continuous heavy rain so it is impossible to get on the soil for now.
In the meantime there are one or two jobs to be done in the greenhouse. I have planted onion sets, 'Red Barron', 'Stuttgart' and 'Sturon' in module trays to give them a head start and sown pepper seeds, 'Jimmy Nardello's','Hot Portugal', 'Spanish Spice', 'Chervena' and 'Atris'. These I have given some gentle heat in the propagater but could be sown on a warm window sill now.
A DATE FOR YOUR DIARY - Spring Gardening Talk - The G.A.H. & G.A. are pleased to welcome Mr. Paul Templeton to give a talk on 'Vegetables and Vegetable Growing' on 13th March at 7.30 pm. at H.E.D.C.A. Coombe Road. Gosport. Admission is free to members and £1.00 to non-members. All are very welcome.
MARCH
The plot is now flooded and will take a week or two of dry weather before I can get on the soil.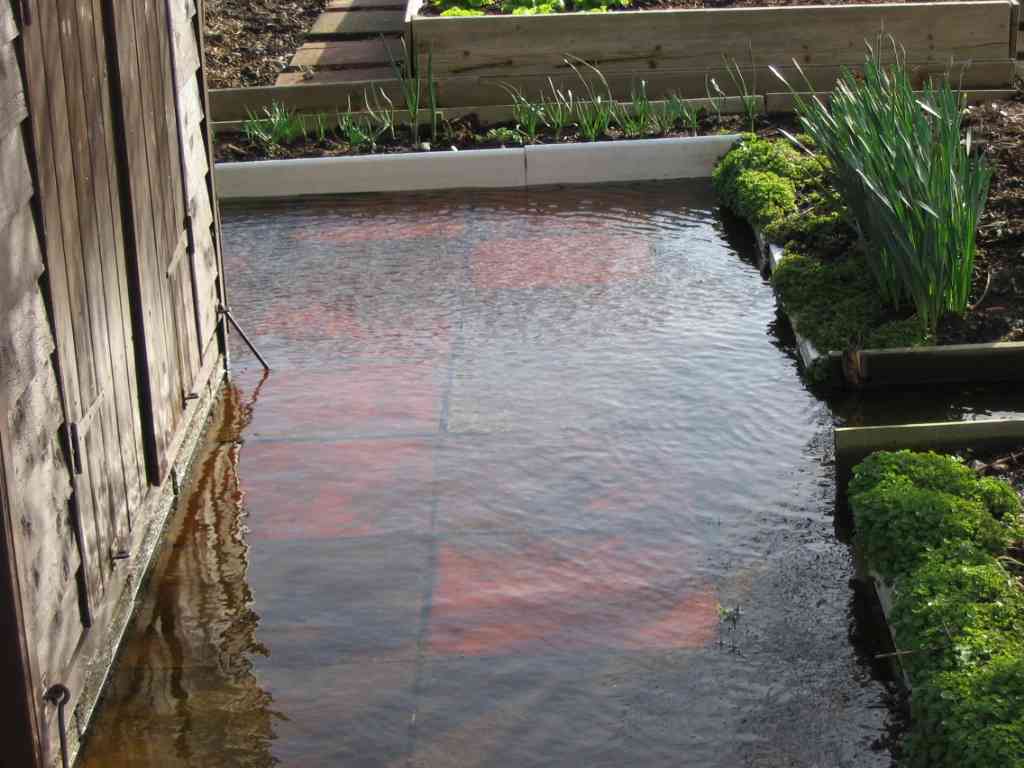 . . .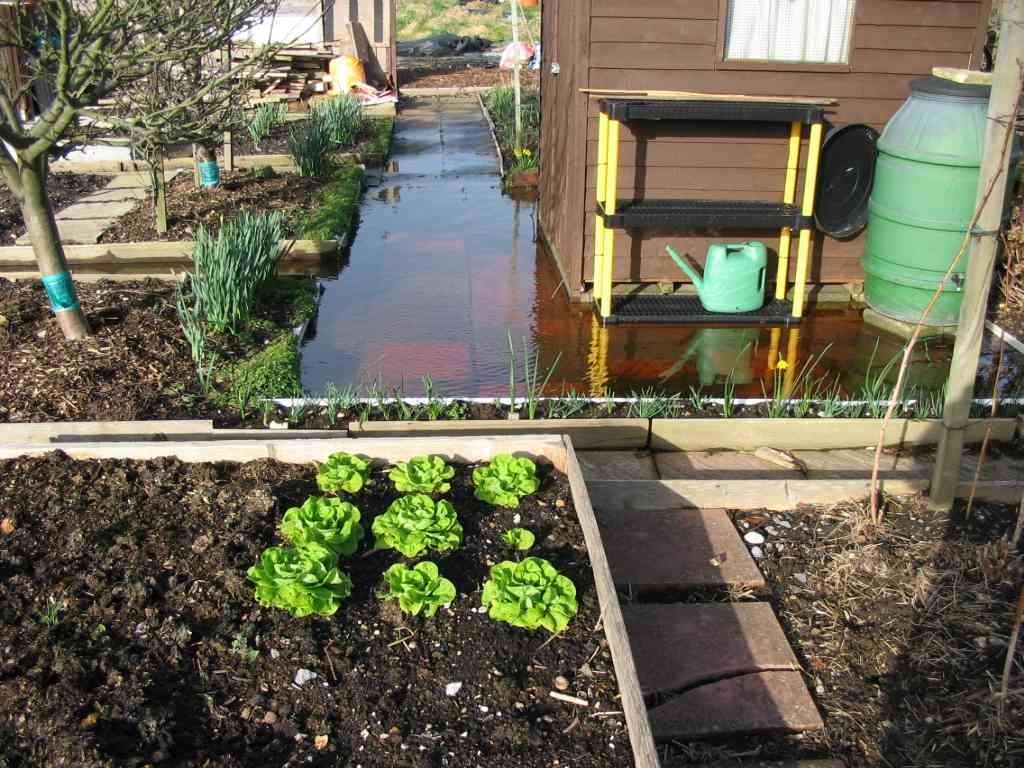 . . .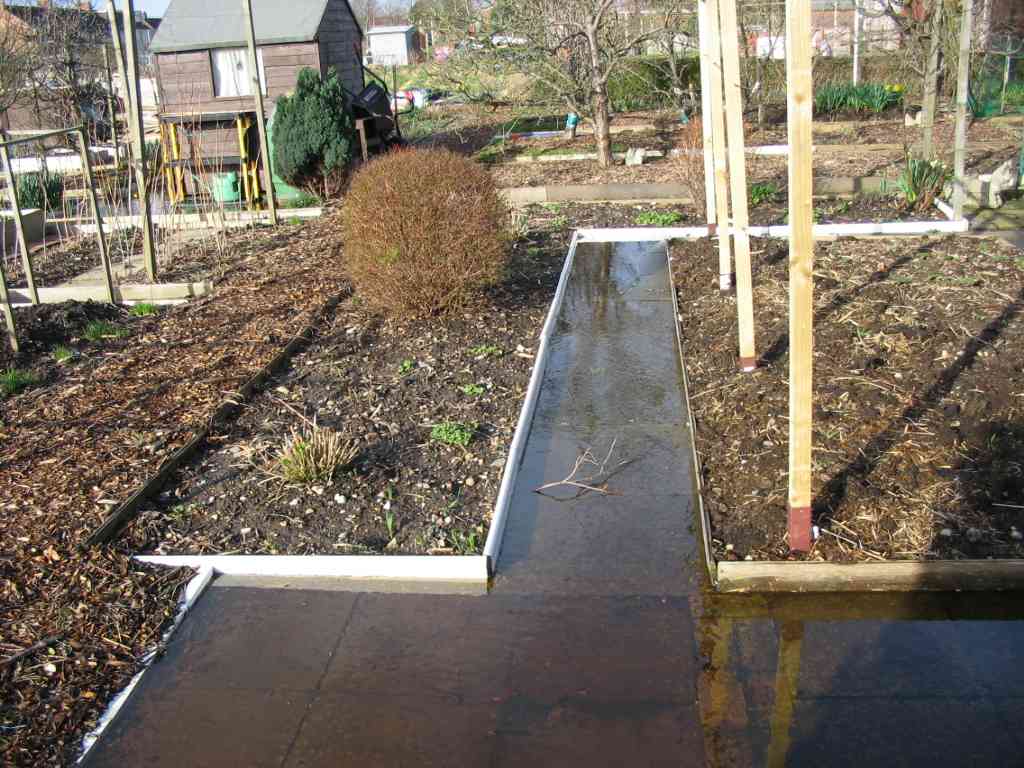 Now is a good time to start making sowings in the greenhouse. Peas 'Hurst Greenshaft' sown 5 to 3" pot. This is a favourite of mine. Always a reliable heavy cropper.
I shall be growing Dahlias this year for the first time and the tubers I ordered have arrived. These I have placed in 6" pots in dry peat for now and will start them into growth towards the end of the month.
14th of the month and we have had the most glorious few days of spring-like weather. The plot is drying out sufficiently for me to now start to plant the first potatoes. I am also planting out onion sets which I had started off in the cell trays.
On the fruit plot I have planted a new seedless grape vine 'Lakemont'. I have not grown grapes before so any tips or pruning advice will be gratefully received.
A very enjoyable evening was had by one and all at the Spring Gardening Talk given by Mr Paul Templeton. Mr Templeton advocates the 'no dig' system and many of his practices are new to us but one I shall be trying is to abandon the trench method when planting main crop potatoes and to plant them with a trowel, drawing up a ridge of earth and then to add thick mulch of straw/compost. My earlys' I will still use the trench method so as to compare the two.
21st - First day of spring. What a change in the weather. It is now bitterly cold with biting winds and snow showers. All my seedlings in the greenhouse need to be protected with layers of fleece from the cold nights. I have taken out the pyracanthus which I had trained as a wind-break but now need the space to plant a fig tree 'Brown Turkey'. Probably not the ideal place for it but I am going to take a chance and see how it goes. I have prepared the framework but will leave the planting till the weather warms up again.
The last few days of March have again been very warm. With all the changes it is difficult to know what to plant out and what not to. However I have taken a chance and now completed planting all the main crop potatoes 'Desiree' and 'Pink Fir Apple', mulching well between the ridges.
APRIL
The plot is now bursting with blossom. Fat buds on the plums and damson are out in all their glory and the pears and cherries will not be far behind. My new Fig tree 'Brown Turkey' has been planted. I dug a hole 24" x 24" and approx. 24" deep, lined the bottom and sides with broken rubble to restrict the root growth. This should encourage fruiting later on.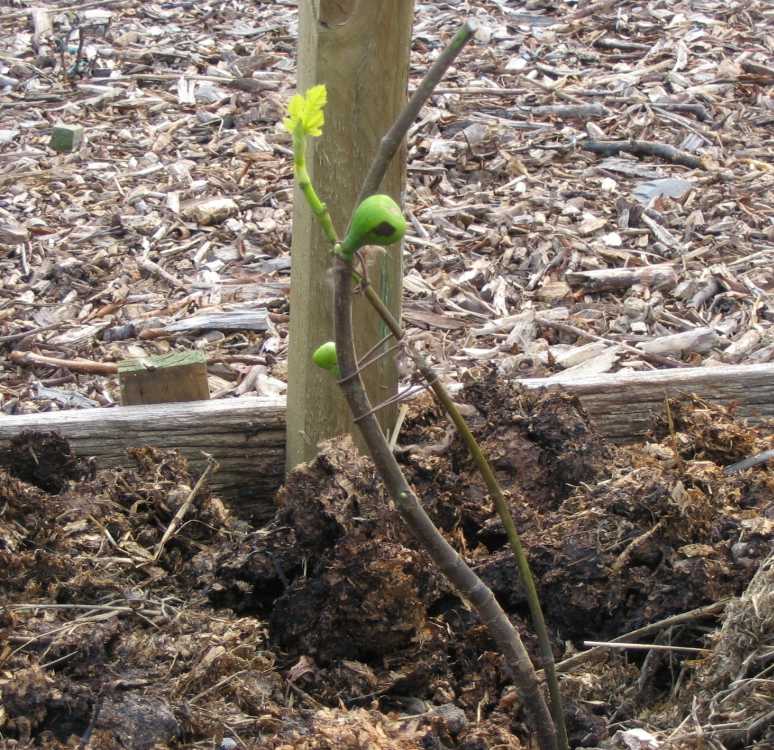 The daffodils are going over and need to be dead-headed regularly now. The Chrysanths which I over-wintered in the greenhouse are getting quite leggy so I have trimmed them down to about 4" and made a start planting out. Should I lose any I have plenty of cuttings I can replace them with. There is now lots to do in the greenhouse pricking out many seedlings into cell trays.
On the plot - the last of the onion sets have been planted and I have made the first sowing of carrots 'Early Nantes'. Peas have been planted out, mulched well and covered with netting to protect from the pigeons. Also beetroot and spring onions from modules.
-- -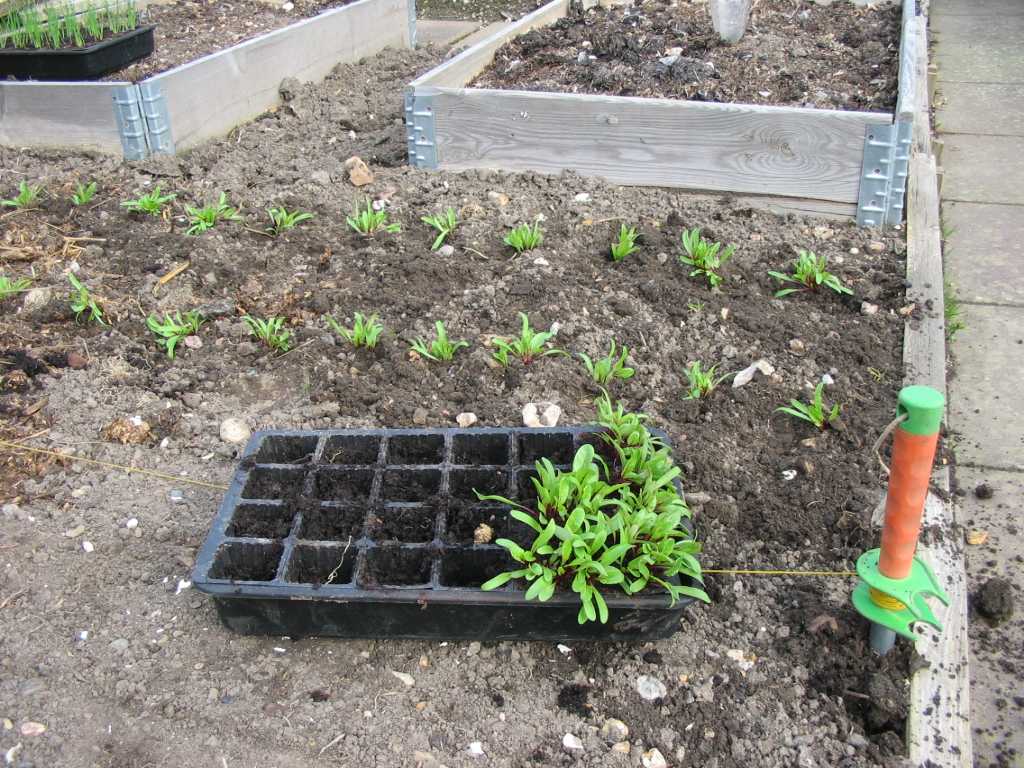 .. - -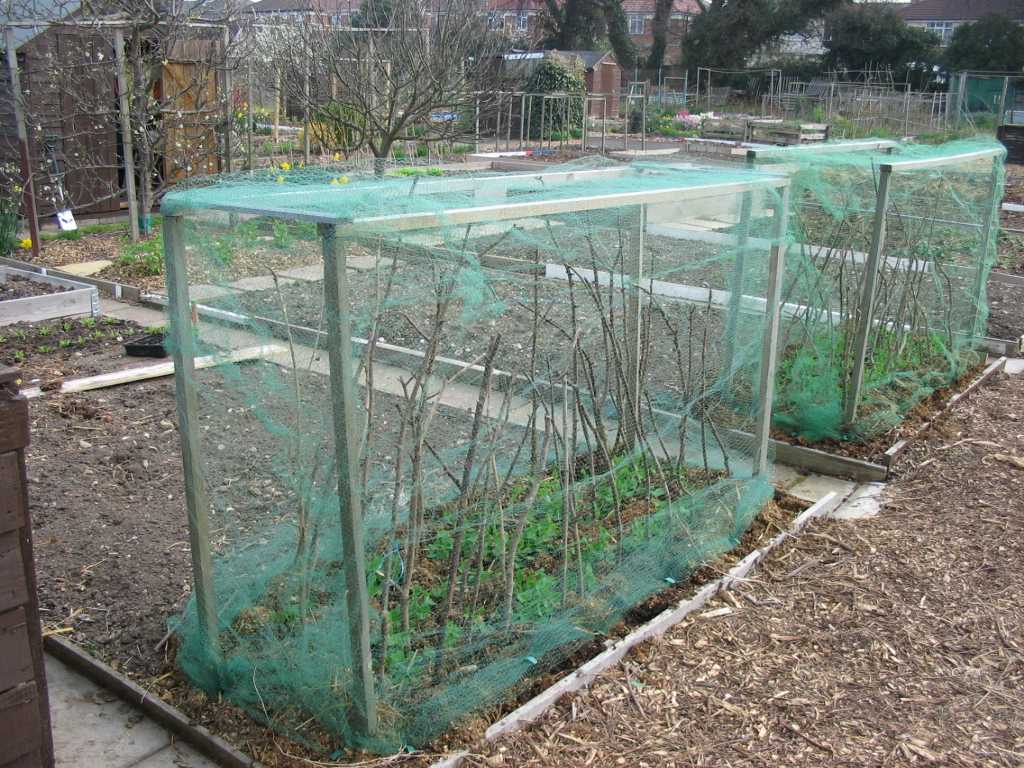 BBeetroot 'Bolthardy' and Peas ' Greenshaft'
Easter week-end and the weather is glorious. Very tempting to get sowing and planting but it is better not to be too hasty in case we have a cold spell. I have carried on planting the last of the main crop potatoes 'Blue Moon' and 'Red Robin' from Jalving Potatoes and sown a row of spinach. I've put up a wind-break for the fig tree and renewed some of the edging to the beds so they won't be disturbed once planted up later on. For a few photos taken at Easter week-end click here
21st. and the warm dry weather is now beginning to cause some problems. The plot is once again very dry. I have now planted out the summer broccoli. First digging a deep hole and filling with water, allowing it to drain before setting the plants firmly up to their seed leaves. Watering again well before adding a thick mulch of rotted compost; then covering with netting to keep out the pigeons and later the cabbage white butterflies which cause a lot of problems with caterpillars.
'Raab Cima di Rapa'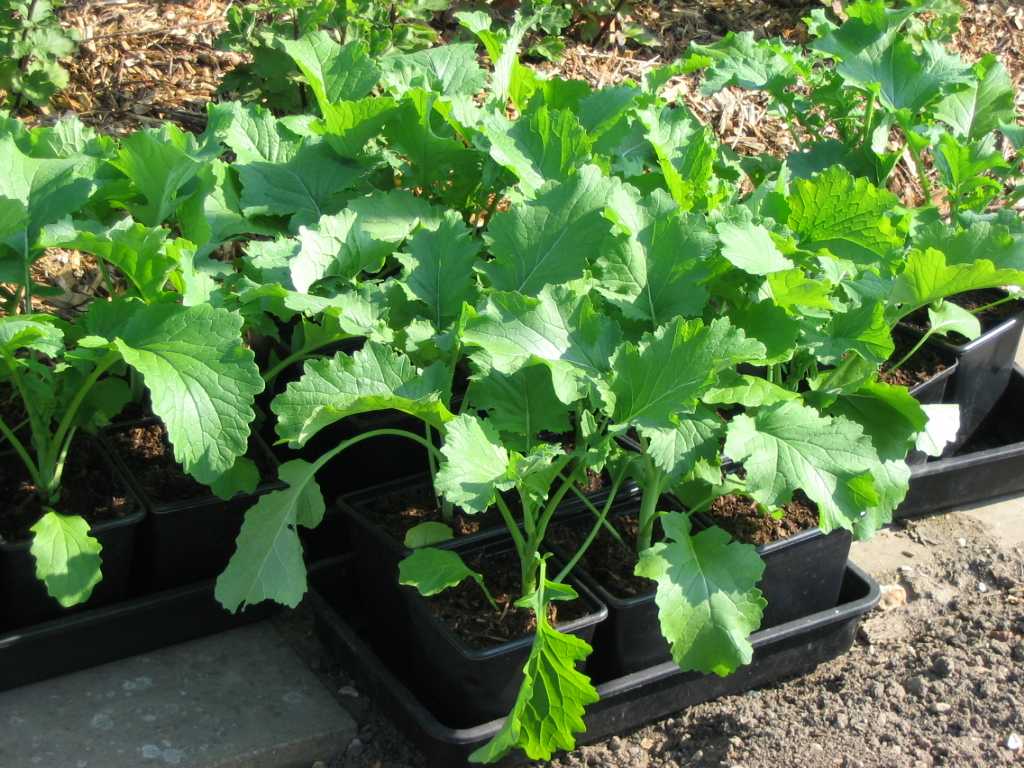 Quick growing and should produce spears to cut in about 60 days.
I am now cutting Asparagus but as this is only the second year from planting I will leave some to grow on to ensure they will make strong plants for next year.
It is still a busy time in the greenhouse, tomatoes and chillies have been potted on into 6" pots. I have sown, Kohl Rabi, Fennel, Sprouts 'F1 Oliver', 'F1 Cascade' and Brilliant'. Squashes butternut and Turks Turban, Courgettes, 'F1 Jemmer' and the round one F1 Floridor' (both yellow). Unfortunately the celeriac seedlings got knocked over so I have made a further sowing of those. I hope it isn't too late.
I have had many enquiries about how to get rid of Mares Tail. This tip came from David Knowles who suggests mixing weed killer with wallpaper paste - it attaches itself to the weed and works better. Worth trying.
---
MAY
May is the time when there is so much planting to be done and with the long dry spell continuing anything I plant now needs to have a good watering and then a really thick mulch. This I have done with the tomatoes, setting the plants deeply up to their seed leaves; also cauli, 'Igloo', cabbage 'Golden Acre and the red variety 'Kalibos'; covered with netting. Under fleece I have planted out Kohl Rabi and Fennel and sown about a dozen Pak Choi. Pak Choi is very quick growing so a little and often is best. I have planted out the Dahlias and now tackling all the bedding. This I shall do over the next couple of weeks or so.
In the greenhouse I have potted on the leeks into 3" pots, sown French beans 'Tender Green' and sprouts 'F1 Oliver'. These I grew last year and found they stood up well in the strong winds on my soft sandy soil. Also 2 other old favourites 'F1 Cascade' and 'Brilliant'; both of these crop from late September. All the squashes and courgettes need to be potted on now to make strong plants to put out at the end of the month.
On the fruit plot - now is the time to hang Pheromone Traps in apple and plum trees. Make sure any grease bands that have been applied are free from any debri. I have a problem each year with ants; they are very clever at making 'bridges'.
I would normally be hoeing all vacant ground this time of the year but until we have had a substantial rainfall I shall not disturb the soil to keep as much moisture in as possible. Any weeding necessary can be done by hand.
I am continuing to harvest asparagus but as this is only the second year I shall only take about half of the spears. This will ensure lots of good growth for next year.
16th of the month and our long warm dry spell has turned into a very wet and windy one. The rain is much needed but it has made the summer broccoli run to seed quickly. This I will now take out, replenish the soil and plant with the sprouts later in June.
The weeds are growing well now to so it is time to get the hoe going, particularly on all vacant ground. I've made a further sowing of carrots and planted out another half row of French Beans for a continual supply. All of the tomatoes have been planted and well mulched. Some of the autumn sown onions are throwing up seed heads; these need to be nipped off, the onions will still be usable but will not store and should be used first.
In the greenhouse I have sown Runner Beans 'White Lady' and 'Sunset' in 3" pots and swede 'Ruby' in cell trays.
Last week in the month and I have now planted out the sprouts, celeriac, runner beans and peppers; swede which I have given some protection with fleece to avoid the flea beetle which can be a nuisance and devastate the small seedlings. As an experiment this year I have invested in some enviromesh for the leeks - hopefully this will deter any infestation of the leek moth. I am harvesting, the first baby new potatoes 'Foremost'; spinnach, baby beetroot, spring onions and the last of the asparagus. Any more spears I shall leave to grow on into fern. This will encourage good growth for next year.
On the fruit plot I have managed to net one cherry tree. Pruned the new growth on the redcurrants by about 2 thirds and covered with netting. The strawberry season is now in full swing and the fruits need picking regularly. Tayberries are beginning to ripen.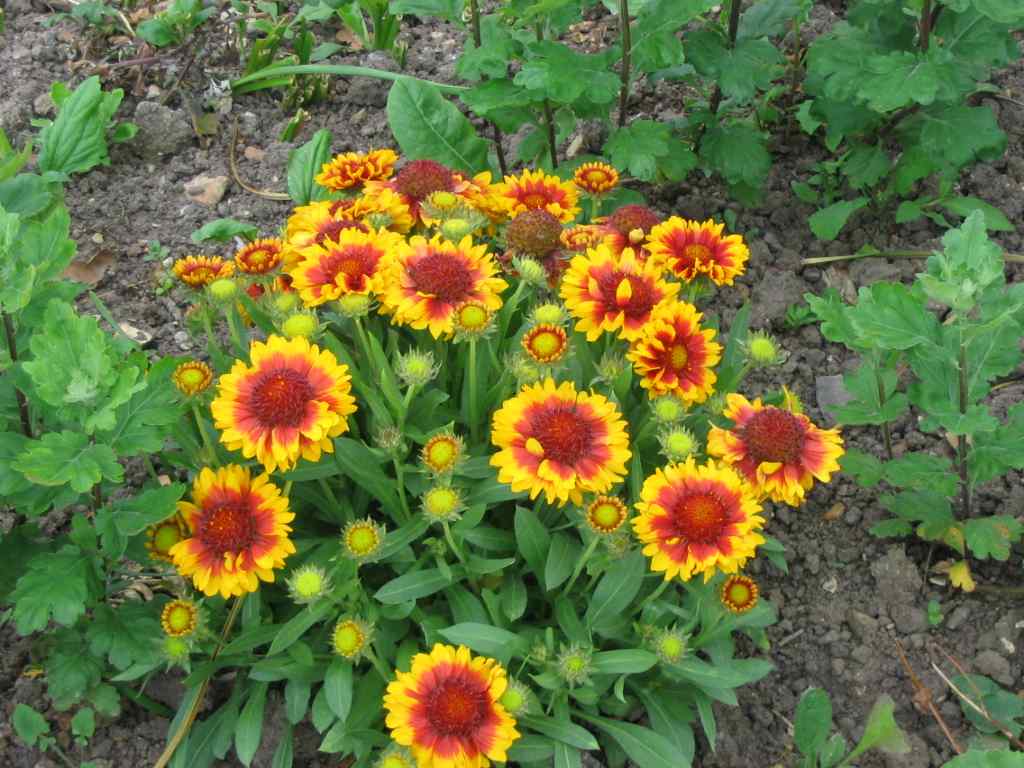 'Gaillardia' giving some welcome colour to the plot.
For more photos of the plot at the end of May click here
JUNE
With the very welcome rain over the last week or so everything is growing well with the exception of the squashes and courgettes. The night temperatures have dropped to single figures which seams to have checked their growth. Hopefully they will soon pick-up. The wild-life is causing some problems; jumping on top of the enviromesh and flattening the leeks. I have now added another cage of netting and hope they will recover.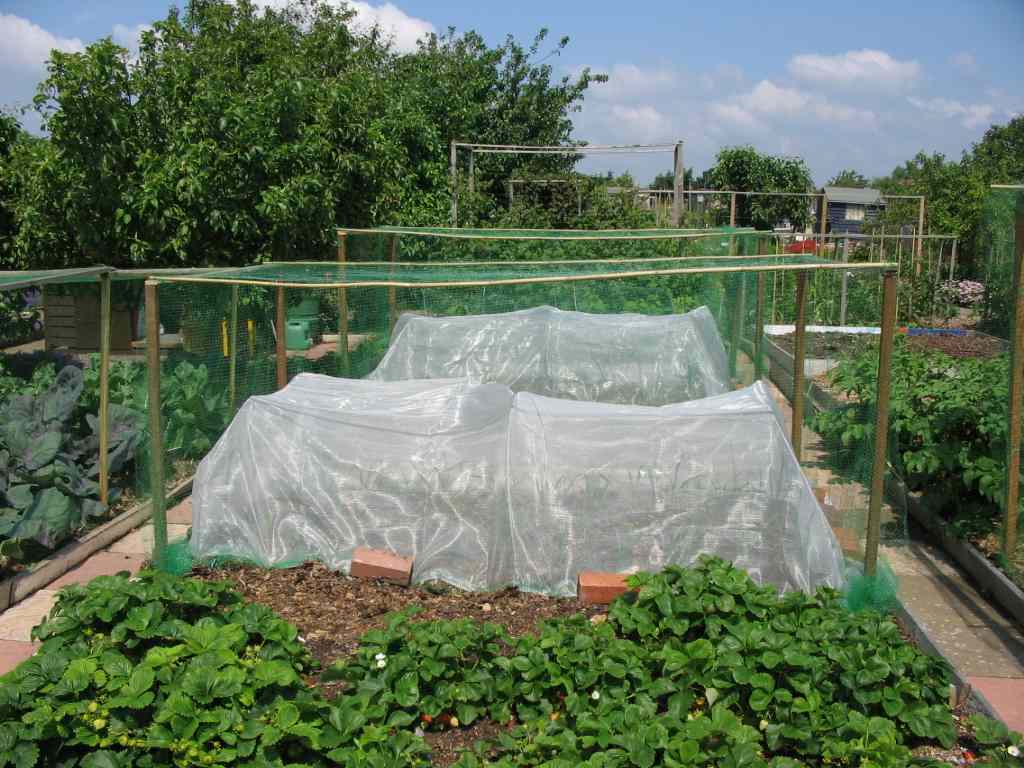 I have removed the fleece from the fennel now but still left the netting in place.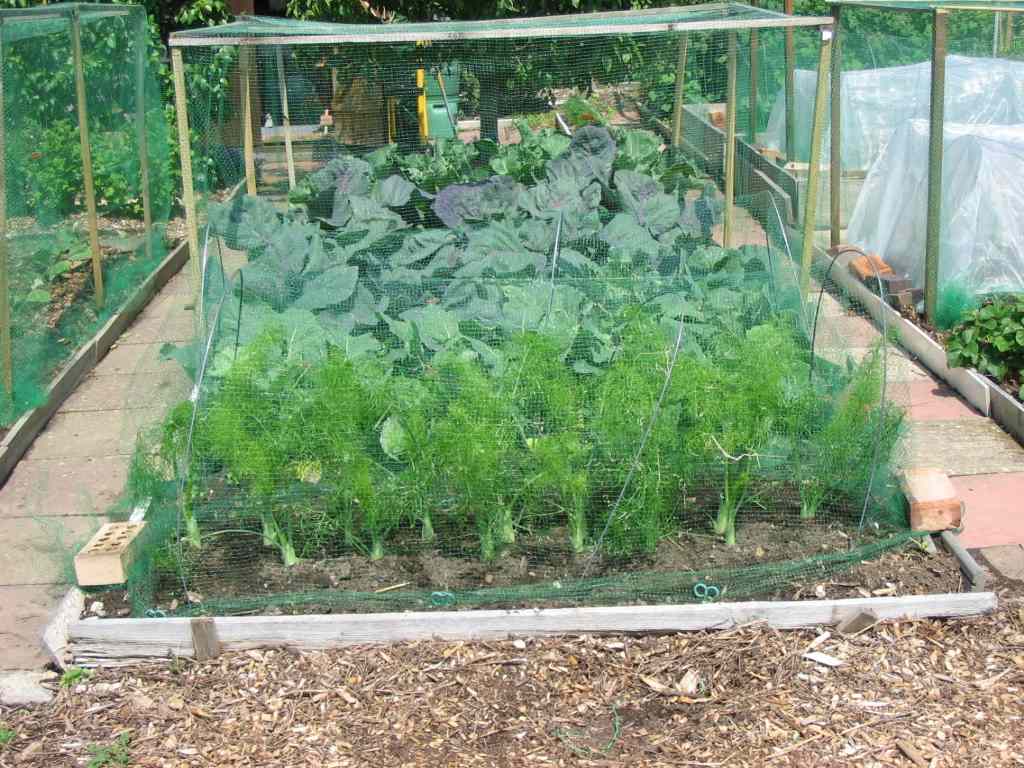 . Tomatoes need to be tied in as they grow to support the fruit as it develops and their side shoots removed. For a continuous supply I have sown directly in the ground another row French Beans. Any weeding to be done now is by hand as the plot is almost full. In the greenhouse I have sown purple sprouting 'F1 Red Arrow winter cabbage 'Tundra'; and in modules a further sowing of beetroot 'Detroit Little Ball'.
17th of the month and we have had some very welcome rain. Everything now has perked up and looking much refreshed. The peas have gone over early this year and all have been picked and frozen for later use. There is plenty to harvest now, cauliflower, cabbage, pack choi, spinnach, beetroot, carrots, kohl rabi, lettuce, spring onions and the first of the tomatoes 'Red Alert' are just beginning to change colour.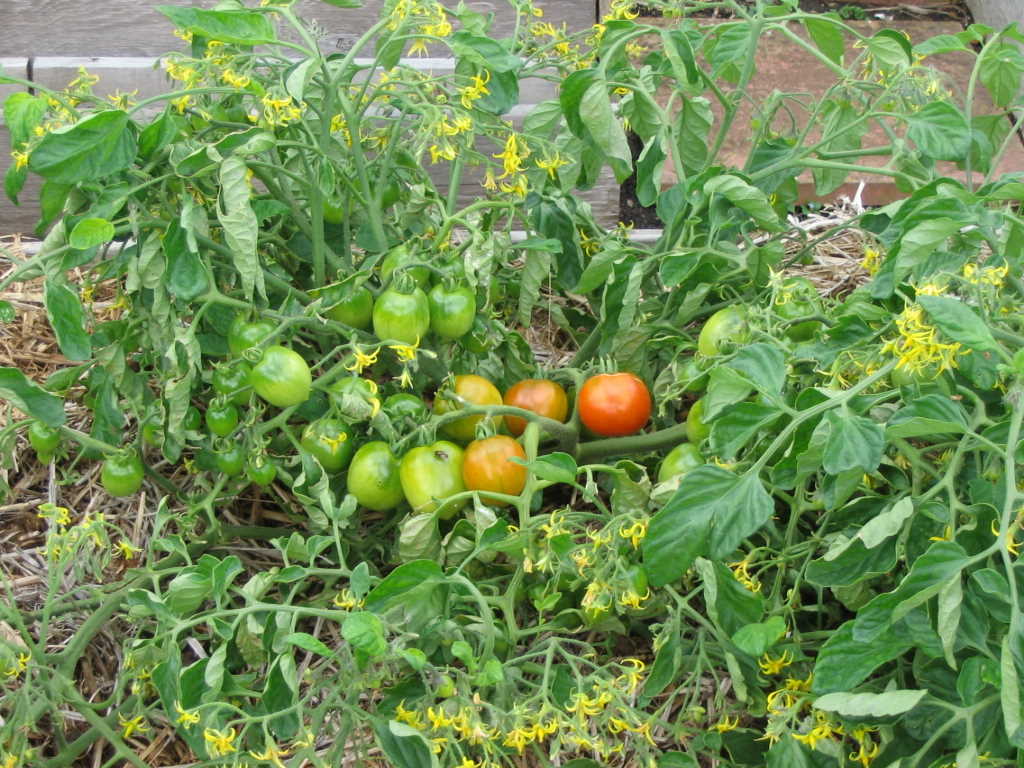 On the fruit plot all the soft fruits are ripening and need to be picked regularly. Gooseberries, strawberries, raspberries, tayberries and the first of the cherries are now ready. These need to harvested with scissors to avoid damaging next year's buds.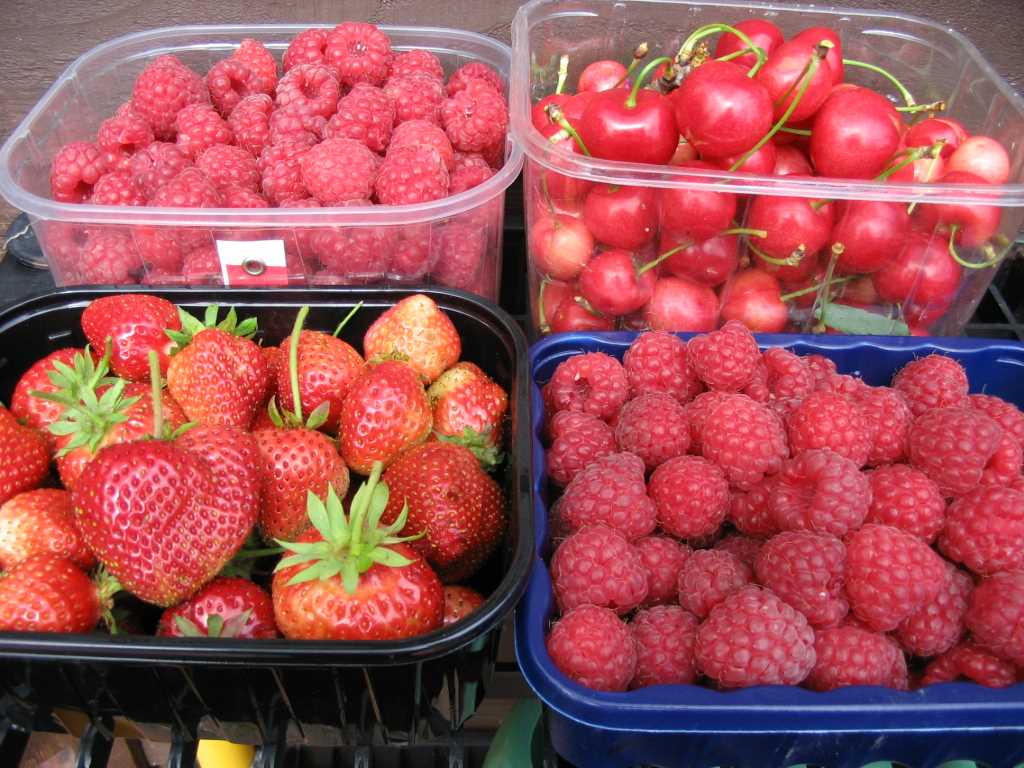 Summer soft fruit - raspberries 'Glen Ample', cherries 'Cherokee' and strawberries 'Marshmello'.
A reply to the recent petition sent to the Prime Minister to provide more local allotment land can now be read at http://www.number-10.gov.uk/output/Page12015.asp
Last week of the month and with the continued heavy rain lashing the plot, it has been impossible to pick the soft fruit. Fruit will deteriorate very quickly if picked wet. Onion sets sown last Autumn on plot 34 have succumbed to the 'white onion rot' and all but a few I have taken home to dry in the greenhouse, have been lifted and destroyed. I have not grown onions on this plot before and as the virus is said to remain in the soil for at least 10 years I will not grow them here again.

for the end of June
JULY
July is the month when we can sit back and relax a little and enjoy the plot. With no shortage of water this summer everything is growing well and there is plenty to harvest but for a continuous supply it is not too late to sow main crop carrots, quick maturing beetroot such as 'Detroit', French beans, and all the salad crops, lettuce, pack choi, spring onions etc; but if your ground is very sodden as mine is it would be better to wait a little longer. I shall delay planting out the purple sprouting 'Red Arrow' and winter cabbage 'Tundra'. To flower next year I have sown some Sweet Williams in the greenhouse. On the fruit plot the first of the plums 'Early Rivers' are starting to ripen and my favourite cherry 'Sunburst' (this has large juicy dark red fruits). Blackberries are also ripening and the new canes for next year need to be tied back to one side to avoid being snapped and broken in the winds. Strawberries are finished now and have been given a good haircut. Any surrounding straw etc., has been consigned to the compost bin before giving them a feed with chicken pellets. The plants will soon make new growth for next year. I have taken out 2 rows of the older plants as they are passed their best; the fruit tends to get smaller each year. 3 years is about the life of a strawberry plant. The new bed I planted up last Autumn will fruit next year to take their place.
A reminder to all plot holders that the ban on bonfires comes into force at the end of the month. More skips will be provided.
We now have a waiting list at Elson of 39 which is good news for us but not so good for those waiting.
Frid 13th
I have had unwelcome visitors. The netting on the leeks is badly torn, fleece is missing and so are quite a few of my large metal hoops. The leeks are fine and not damaged so I know it is not animals. I had to set to and do some repairs and hope they will not return.
I now have another trailer load of manure to refill my compost bins which should have time to rot down ready for use in the Autumn.
The plums are ripening quickly now and I have had to bring a ladder to reach as many as I can. Raspberries are just about finished and it is time to cut out all the old fruiting canes before tying in the new ones. I need to renew the wires on my frames so will add the proper straining eyes first. This makes it much easier to tighten the wires.
AUGUST
2 DATES FOR YOUR DIARY.
The Southsea Flower Show. The Gosport Allotment Holders & Gardeners Association are joining forces with the Lee-on-the-Solent Horticultural Society and entering a display. Judging will be on Saturday 3rd before opening to the public on at 11.00 am till approximately 5.00 pm and again on Sunday 4th August.
The G.A.H. & G.A. 3rd Annual Flower Show will be held on the 18th August at the Alverstoke Parish Hall. This is designed to be a fun day out for all the family and entrants can be of any age. A show schedule can be obtained from any of the site stores. All exhibits must be displayed by 11.00 am on the day. Public viewing is from 12.15 pm. All are very welcome. Light refreshments available.
On the plot the weather is still causing problems. Blight has affected the tomatoes and all have been dug up and destroyed. Potatoes also showed signs of the blight so I have cut all the foliage down and I am now gradually harvesting the main crop which is proving to be a very heavy. The tubers are not affected and after drying off should store well in hessian sacks. 'Red Robin' and 'Blue Moon' from Jalving Potatoes are particularly good.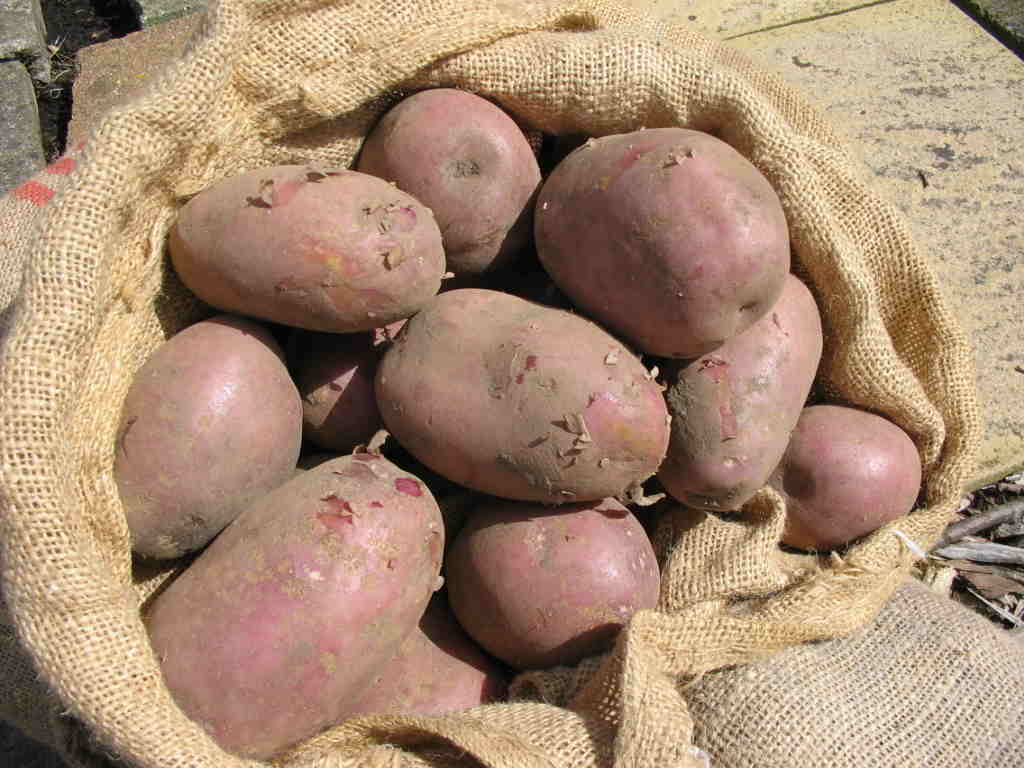 Runner Beans although slow to start are now cropping well and need picking regularly as are the courgettes. I have planted out more lettuce and Pak Choi and made a final sowing of carrots.
On the fruit plot - Blackberries were very disappointing. Some of the berries were not fully ripening. Plums are still doing well and the Damsons are starting to change colour. All the stone fruit seems to be much earlier this year.
The Gosport and Lee Horticultural Society were awarded a 'Gold First' and the Cup at the Southsea Show on Saturday 4th August. Our congratulations to all those who worked so hard and put Gosport on the map and make it a great success.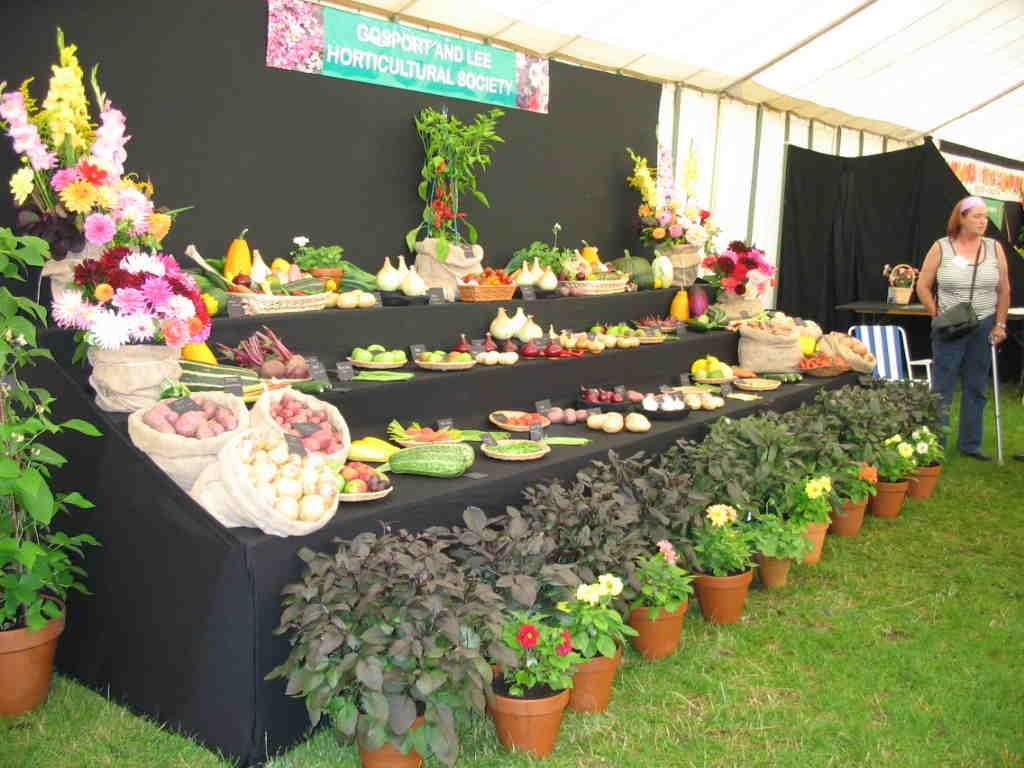 The G.A.H. & G.A. 3rd Annual Flower Show held on the 18th was a great success with over 320 exhibits. The standard was excellent and despite a very wet day many exhibitors and visitors enjoyed the afternoon leaving us in no doubt to do 'even better' next year. Click here for a selection of photos.
And to complete the good news I am delighted to have retained my position of third place in The Hampshire Horticultural Societies competition for 10 rods and over and Simon Bull from the Camden site was awarded 'Best Novice'.
Back on the plot the badgers are being a real nuisance. They have dug up my Pink Fir Apple potatoes so many times I have lost count. I am not sure if much of the crop will be useable as those left on the surface turn green very quickly. There is lots of tidying up to do now, keeping on top of the weeding, cutting out old canes on the soft fruit and tying in the new ones. The grape vine has made lots of new growth and needs cutting back so there is only 3 main canes and pruning back the side shoots to 2 leaves. The Williams pear is ripening now and delicious eaten straight from the tree. These will not keep and best eaten as soon as possible. Dead-heading the flowers to keep the summer colour lasting as long as possible. Dahlias and chrysanths will benerfit.B
SEPTEMBER
The early mornings have an autumnal feel about them now with a dew on the plot. Although with all the rain we have had this year the plot is surprisingly dry. Runner and French beans now need watering well to keep them cropping. I have lifted what remains of the Pink Fir Apple potatoes. They are a good size to make up for what the badgers have devoured. I have removed the netting and enviromesh from the leeks and I am very pleased that they are not showing any signs of the leek moth this year. There is a little rust but that won't affect the leeks in any way.
On the fruit plot, the golden raspberries are doing very well and now the damsons are ripening. I have cut back the strawberries and removed all the new runners to make stronger plants for next year. The squirrels have enjoyed what few Hazel nuts I had, so I have now cut back and tidied up the bushes.
A DATE FOR YOUR DIARY
The G.A.H. & G. A. will be holding their usual stall at the Michaelmas Fayre in Walpole Park, Gosport on Saturday 22nd September.
Any donations of produce would be gratefully received.
This has now been cancelled and will be held instead in Alverstoke Village on Saturday 29th September.
My compost bins are in need of some repair so I have decided to take down an old shed which I don't use much now and build a new compost bin to use while I am emptying and repairing the existing ones. This will be quite a challenge for me. I will keep you posted how I get on. I have made a start by removing some of the ivy which has almost covered it.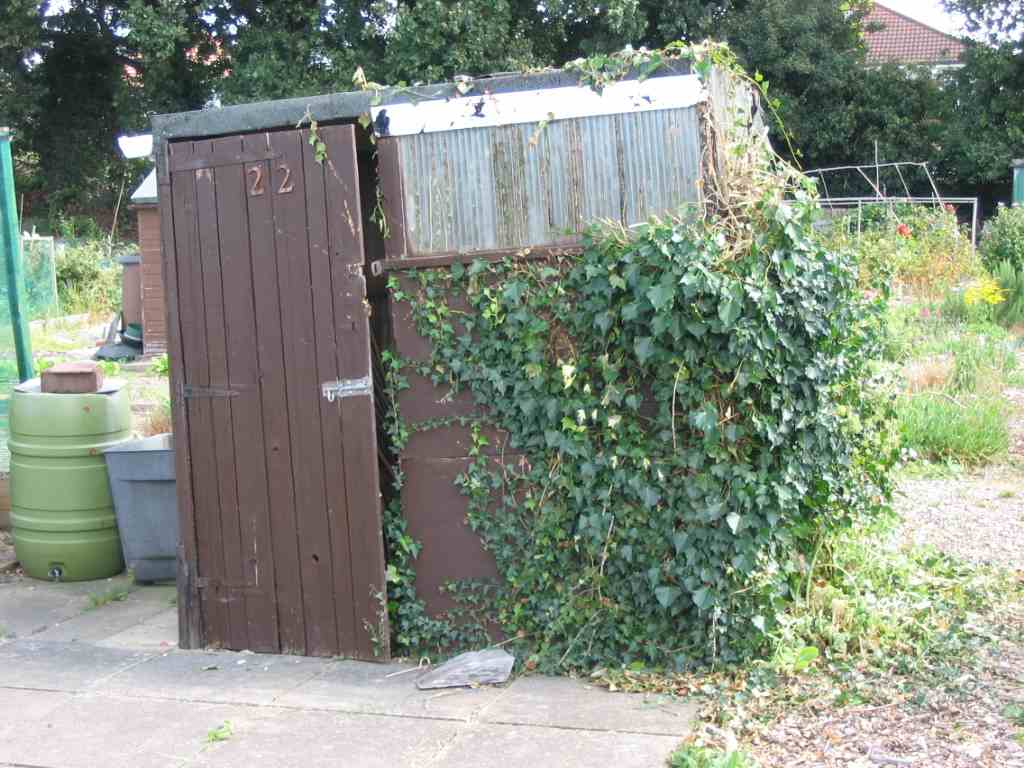 OCTOBER
Autumn has arrived and with it lots to do. The leaves are falling now and constantly need sweeping up and adding to the compost.
Runner Beans are coming to an end. I have cut the plants at the base to allow the foliage to die down before composting but leaving the roots in to add valuable nitrogen to the soil. Most of the summer crops are coming to an end now and what remains needs taking out and composting and giving the soil a light turning over removing any weeds. The winter vegetables are doing well. I still have carrots under fleece. The first of the Sprouts 'Brilliant' are ready for picking also leeks, swede, cabbage and celeriac. The parsnips are best left till they have had a good frost on them. I have cut down the asparagus fern now and added a good layer of well-rotted compost.
On the fruit plot the pears Conference and Corncorde have all been harvested. Wrapped loosely in tissue paper and laid out in trays to ripen.
Damsons have all been picked and made into delicious Damson Cheese. The grapevine I have pruned to leave just 3 strong vines and the side shoots taken back to 3 buds. The golden raspberry is still cropping well.
Most of the summer annuals now need taking out and composting. Large clumps of perennials can be lifted and split to make many more new plants. I have had to cover the rockery with netting as the badgers are starting to dig up and eat the daffy bulbs again.
I am running out of space till I can get the compost bins emptied so I have dug a deep trench and filled it with all the 'soft' green waste. I will then fill in when it has had a good watering. This will all have rotted down by the Spring. The old shed has now been taken down and I have treated the ivy roots with 'Root-Out' to avoid any more re-growth.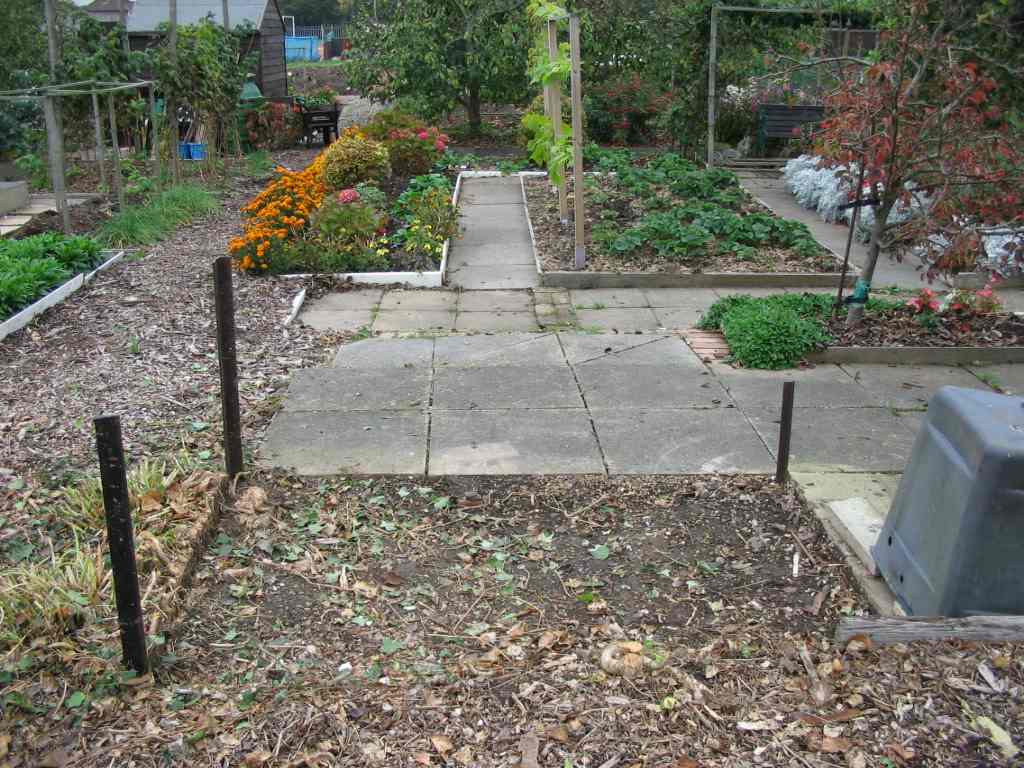 I am pleased at last the council has arranged to have the plot next to me cleared. It has been a hard task keeping the weeds and brambles at bay and hopefully now it will soon be let to some new tennants. For photos of this and the plot this month click here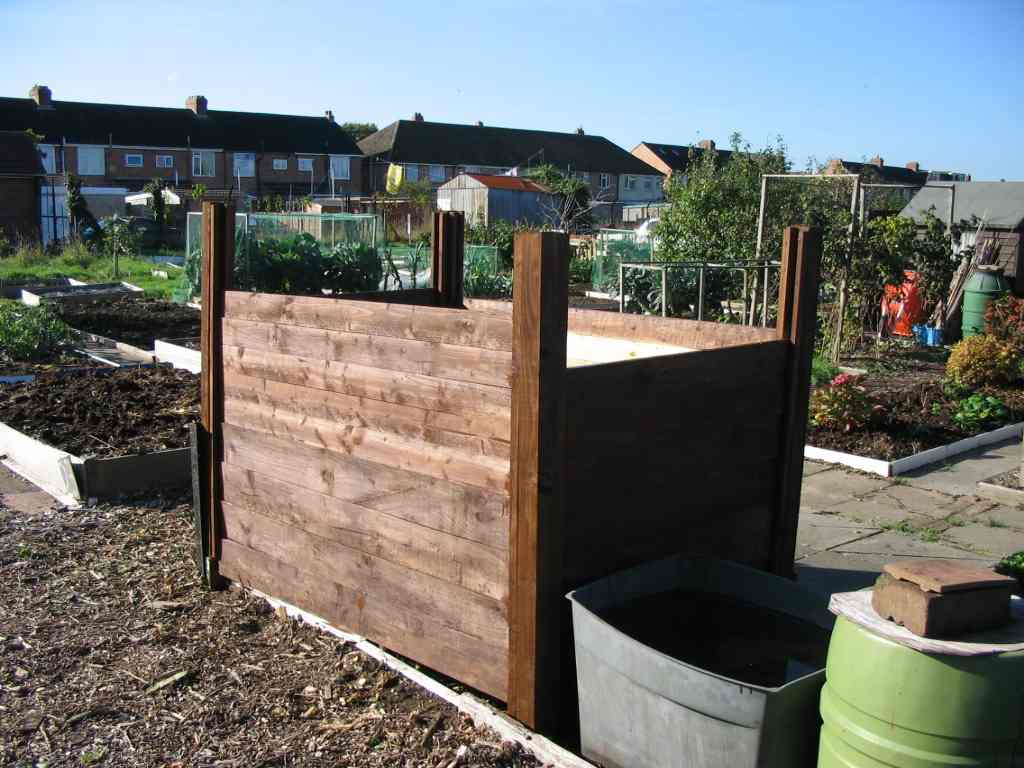 19th of the month and I have finished building the compost bin. All sides are removable so it will not be such hard work for me. Manure can be dropped off on the main path side for easy loading into the bin and then later emptied from the plot side.
NOVEMBER
A DATE FOR YOUR DIARY
The G.A.H.&G.A. will be holding their Autumn Gardening Talk on Tuesday 6th November at 7.30 pm. at H.E.D.C.A. Coombe Road, Gosport. Admission is free to members and £1.00 to non-members. They are pleased to welcome back Mr Ray Brought from Sparsholt College to give a talk on 'Vegetable Growing, Topical Tips and Modern Ideas'. Everyone is very welcome.
The beginning of the month has started very warm but not to be deceived I have lifted all my spray chrysanths now. Cut them back to about 1 inch, divided and potted up. Keeping them just moist over Winter in a cold greenhouse. New growth in the Spring can be used for more cuttings.
I have removed all the lower leaves on the sprouts this will cut down on the white fly and make for easier harvesting. The crop has been very good this year probably due to all the rain we had at the right time.
I have planted out onion sets Senshyu. These will give me a crop to use from mid-May onwards next year.
Now my new compost bin is complete I am emptying the old ones and spreading the well-rotted compost on the raised beds and borders and endeavouring to make repairs where I can. I hope they will give me at least another couple of year's service. Click here for latest photos.
10th November - 21 sheds have been vandalised on our site. Locks and doors broken and windows smashed. It appears that very little was actually taken. I have 2 sheds and thankfully one was untouched but I will have to renew locks and some of the wood to the side panel on the smaller of the two.
All the tree and soft fruit have been well mulched. Canes scrubbed and tied in bundles and fleece pegs cleaned ready for use next year. Any tools not being used during the winter can be thoroughly cleaned and when dry I like to smear with just a very little vasaline to protect them before storing.
DECEMBER
The month has started very wet and windy. I have 2 loads of manure due for delivery this month which will refill my compost bins. This will have plenty of time to rot down for use in the Spring for mulching. There is little to do on the plot now other than harvesting the winter crops, sprouts, leeks, cabbage, carrots, celeriac and parsnips. Onions in store need checking over regularly and using or removing any that are showing signs of rotting or shooting. The same goes for any apples and pears. Make sure soft fruit canes are tied in well to avoid the tips being whipped off in the winds.
ROUND-UP
Despite the heavy rain and flooding early in the year it has been an exceptional year for most crops. Other than the tomatoes which succumbed to the blight it has been a bumper harvest. Particularly the fruit which was put to good use to make jams and chutney for the Cancer Macmillan fund. The use of enviromesh to protect the leeks from the leek moth proved to be very effective but with the badgers, foxes, squirrels and birds it is essential to still use netting.
The Shows were all a great success with Gosport and Lee winning a 'Gold First' at Southsea and our own local show at Gosport saw an increase in the number of exhibits and visitors attending.
I now look forward to 2008 when I shall be planting a new plum tree and a new strawberry bed.
It just leaves me to wish you all a very Happy Christmas and peaceful New Year and I look forward to you joining me down on the plot in 2008.
apples.to refill my
Home Page] A Year in the Life of our plot 2000] [Diary 2001] [Diary 2002] [Diary 2003][Diary 2004][Diary 2005 [Diary 2006] [Diary 2008][Diary 2009][Diary 2010][ Diary 2011][[[Diary 2012 Diary 2013] [Diary 2014] [ [Typical Plots on the Elson Site]][Wild Life Area]][Conservation Project]] [Badgers]][Ray's Plot]] [Links Page]][Hints & Tips]]
---