Home Page] [A Year in the Life of our plot 2000][ [Diary 2001] [Diary 2002] [Diary 2003][Diary 2004][Diary 2005][Diary 2006][Diary 2007] [Diary 2008][Diary 2009][2010] [Diary 2011]
 [Diary 2012] [Diary 2013][Diary 2014][Diary 2015] [2016][Diary 2017][Typical Plots on the Elson Site] [Wild Life Area] [Conservation Project] [Badgers] [Ray's Plot] [Links Page
DIARY 2018
<![if !vml]>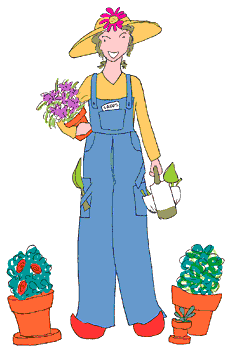 <![endif]>
Welcome to a New Year back on the plot. We have many new plot holders now; and it is good to see more younger
families taking up the challenge to grow their own food. We wish them every success.
JANUARY
The month has started very wet and cold; there is still time to complete any winter digging provide it is not too wet or water logged to get on the soil; and clear away any spent crops.
Finish any pruning to apple and pear trees but not any stone fruit. Check all soft fruit canes are tied in securely and any dead and dying leaves around strawberry plants should be removed and composted.
I am still harvesting, leeks, cabbage, carrots, parsnips and celeriac. The celeriac 'Asterisk F1' has exceeded all expectations and grown to an exceptional size, standing well;  some I had dug, trimmed of roots and foliage put in a box in the shed before Christmas are keeping well.
Seed potatoes will be available later this month and should be laid out in trays to chit in a light but frost free place.
20th and the month is proving to be very wet and cold. Little can be done now. I have cut back the old stems on the Sedums and carried out the last of the pruning to the apples and pears. Bulbs are all showing through now, crocus, daffs and snowdrops so hopefully spring is not far away.  Continue to check vegetables and fruit in store for any that are rotting before it spreads.
FEBRUARY
Weather is proving to be a major factor in preventing getting anything done this winter. Ground is so water-logged best left alone till it has drained. I am managing to keep the weeding under control by reaching in from the paths and not treading on the beds at all.  Autumn fruiting raspberries should be cut the ground this month; they will fruit on new canes which will soon start to emerge.
Still too early to be sowing in the greenhouse but I have laid out potatoes to chit, covering with fleece to keep them frost free and put a few shallots in cell trays to start them off.  Onion sets will be available in the stores later this month.
Welcome respite from the relentless wind, rain and cold is a couple of fine sunny days in the middle of the month.
One side of the plot <![if !vml]>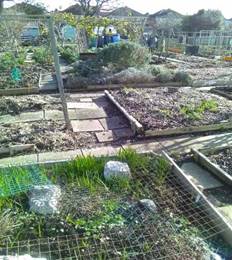 <![endif]> and a patch of leeks still waiting to be harvested.<![if !vml]>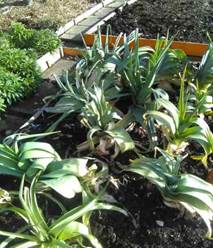 <![endif]>
A DATE FOR YOUR DIARY
G.A.H. & G.A. are pleased to welcome Dr Alick Jones to give a gardening talk on 'Weeds – can we ever win?' at HEDCA on Tuesday 17th February at 7.30 pm. Admission free to members and £1 to non-members with the usual light refreshments and raffle. All are very welcome.  
MARCH
Well, with the whole country covered now in a blanket of snow, ice and cold winds who knows when we will be able to get on the plot again. Don't try digging frozen ground it will only do more harm than good. It is tempting to start seeds off in the greenhouse or a sunny window sill but I would be inclined to wait; light levels are rising but not really enough yet to prevent any seedlings emerging from getting leggy. Later sowings will catch up once the soil and temperatures have warmed up.
15th of the month and temperatures are at last rising but I am still erring on the side of caution. First and second early potatoes can be planted now if your soil is right and not water logged. In my cold greenhouse I have planted onion sets and a few more shallots into the cell trays; sown the first of the more hardier of seeds, cabbage, leeks, lettuce and celeriac. Peas I will sow in pots in the next week or so.
Pleased to say at last I have made my first picking of Purple Sprouting which has made a very welcome change.
<![if !vml]>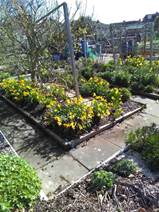 <![endif]>
Spring has arrived at last.
29th and I think perhaps I spoke too soon as we are now almost under water from the very heavy rain and the cold with no signs of it warming up over Easter either.
On one of the warmer days I planted out the shallots, put some Parsnip seeds in and a few carrots, both under enviromesh for protection. Have a feeling I shall be re-sowing later but we can live in hopes.  I've cleared the last of the leeks which have been very good this winter – one crop that has enjoyed the cold.
<![if !vml]>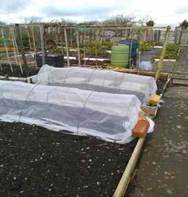 <![endif]>  <![if !vml]>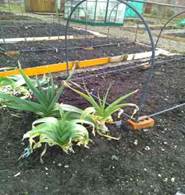 <![endif]>  
I've been checking over the onions and potatoes still in store. Both are starting to shoot but with the potatoes the shoots can be rubbed off still leaving a very usable potato. The onions will need using soon but the shallots are keeping well.  I have sown tomato seeds but keeping them indoors in the warm. 'Mountain Magic F1' which faired very well last year being the last to succumb to the blight, Fandango a blight resistant delicious large tomato and Cherrola my favourite cherry type.
APRIL.
A reminder first that the G.A.H. & G A,  AGM will be held on 24th April, 7.30 at HEDCA. Depending on the council's decision there should be plenty to talk about.
Easter Sunday was a beautiful day here so I was able to get on and start planting the main crop potatoes starting with Picasso one of my favourite all-rounders for cooking and storing well; I am still using last year's crop, then I will follow with Desiree when we have another good day. The rain really is relentless this spring. However I am now using the time to get sowing more in the greenhouse. The peas I sowed about a week ago are now up so was the cabbage but unfortunately I have detected a slug which has been enjoying his breakfast on them. The peas will survive but I have re sown the cabbage and scattered a few slug pellets around and will keep a more watchful eye out from now on.  I am sowing now, turnips and beetroot in cell trays, autumn cabbage 'Attraction' and the winter Savoy 'Resolution F1', this is a new one for me to try. All the annual flowers can be sown now in the cold greenhouse to.
The chrysanths I have over wintered are making good growth now and need to have their tips pinched out to make good bushy plants ready to plant out next month. The daffodils are still giving a glorious show but those that are going over I am dead-heading.
13th and although the plot is still pretty soggy, the beds are draining and I have been able to plant the last of the shallots and made a start on the onions.
The greenhouse is a busy time now, tomatoes have been pricked out into 3" pots, celeriac, lettuce into cell trays and I am continuing to prick out all the bedding plants.
The purple sprouting is producing lots of young tender spears now and needs to be harvested almost daily to keep them coming.
21st. After some very warm days I have now planted out the peas, giving them with plenty of twiggy branches for support then covering with some netting to keep the birds off. Also the first of the beetroot, turnips and Little Gem lettuce; all grown in cell trays. These I have covered with enviromesh till they are well established and any threat of frost is past.
On the fruit plot the trees are now bursting with blossom and the Wall flowers have taken over from the spring bulbs to give a very vibrant display.
<![if !vml]>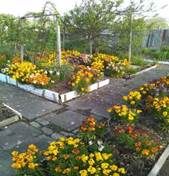 <![endif]>……….<![if !vml]>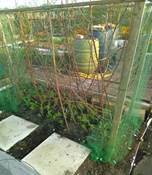 <![endif]>
In the greenhouse it has been difficult to keep it well ventilated during the hot days, some seedlings were suffering and had to be moved outside in the shade during the day, however we are back to 'normal' temperatures for this time of year and hopefully all will be well. I am continuing to pot on tomatoes, cabbage, celeriac etc. as and when necessary.