[Home Page] [A Year in the Life of our Plot 2000] [Diary 2001] [Diary 2002][Diary 2003][Diary 2004] [Diary 2005][Diary 2006][Diary 2007][Diary 2008][Diary 2009][Diary 2010] [ Diary 2011][Diary 2012][Diary 2013][Diary 2014] Diary 2015][ [Diary 2016] Diary 2017] [Diary 2018] [Typical Plots on the Elson Site] [[Conservation Project] [Badgers] [Ray's Plot] [Links]
Pat's Wild Life Area
        
 
Pat has worked hard to create this haven for wild life, from what was a very derelict area. She was rewarded for her efforts by attaining 3rd place in the 1999 Gosport-in-Bloom competition.
In February 2000, Elson was made an affiliated member of the British Trust for Conservation Volunteers. A grant has been made available by Hampshire County Council Community Action Fund to develop an area on the site as a community project; to follow the progress. Click here - Conservation Project and the the Badger Sett.
MARCH 2011 – Jan 2013
Unfortunately the Wild Life area has not been tended to for some years now and is now getting over-grown and neglected again.
JANUARY 2016
<![if !vml]>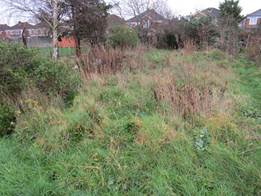 <![endif]>
---
[Home Page] [A Year in the Life of our Plot 2000] [Diary 2001] [Diary 2002][Diary 2003][Diary 2004] [Diary 2005][Diary 2006][Diary 2007][Diary 2008][Diary 2009][Diary 2010] [ Diary 2011][Diary 2012][Diary 2013][Diary 2014] [Diary 2015][ [Diary 2016] Diary 2017] [Diary 2018] [Typical Plots on the Elson Site]] [Conservation Project] [Badgers]