[Home Page] [A Year in the Life of our plot 2000] [Diary 2001] [Diary 2002] [Diary 2003][Diary 2004][Diary 2005][Diary 2007][Diary 2008][Diary 2009][Diary 2010][ Diary 2011] [Diary 2012][Diary 2013] [Diary 2014] [Diary 2015] ][Diary 2016] [Diary 2017] [[Diary 2018] [Typical Plots on the Elson Site [Wild Life Area] [Conservation Project] [Badgers] [Ray's Plot] [Links Page]
DIARY 2006
Trowel, seeds and watering can at the ready,
we are back on the plot once again and looking forward to
a new gardening season. You are very welcome to join us.

. . . . . .
JANUARY
With the end to the bitterly cold December, and the New Year starting wet but mild, our first job is to transfer a delivery of manure to the compost bins. There is little else we can do now till the weather improves other than keeping the plot tidy by continuing to gather up yellowing brassica leaves and removing any debris that has accumulated on the grease bands around the trees. Pigeons are starting to be a problem again so I have covered the Purple Sprouting with netting before they get to the new shoots. We still have plenty of leeks and the very hardy cabbage 'Tundra'. The last of the celeriac has been lifted and stored in the shed. Any fruit or vegetables in store need to be checked regularly now for any signs of rotting. It is tempting to start early seeds off in a propagator or on the window sill, but with day-light levels still low I find seedlings only become leggy and prone to damping off. March is plenty early enough for us.
A DATE FOR YOUR DIARY.
Garden Organic (formerly HYDRA) are again holding their Hampshire Potato Day on 28th and 29th January at Testbourne Community Suite, Micheldever Road, Whitchurch. Hants. Appox 120 varieties on sale plus talks, advice, tastings etc. For more information tel: 02476 303517 or visit their web site for other areas http://www.hhdra.org.uk/potatodays
FEBRUARY
The 'Leek Moth' and now the 'Allium Leaf Miner' is devastating crops across the country.
The biting cold winds have made it impossible to get started on the plot yet but we enjoyed our day out to the Hampshire Potato Day and came away with 3 new varieties to try. 'Cherie', a red skinned first early, 'Pixi', second early and Sarpo' Axona, main crop. These, together with our old favourites, 'Annastasia', 'Foremost', 'Romano' and 'Pink Fir Apple', (and one we forgot to label - which will be interesting) have been laid out in trays to chit. These must be kept in a light position and completely frost free.
I have also agreed to trial the 'Blue Moon' for Jalving Potatoes, a Dutch potato breeder.
To keep me occupied during the cold weather I have taken cuttings from my Spray Chrysanths and placed them in the propagator, and pricked out 2 herbs into modules Rosemary and Thyme. Both grown from seed in January.
If conditions are right February is the time to be planting shallots. I have taken advantage of a warmer spell in the second week of the month and set them out about 12" apart, planting with a trowel with the tips just below the surface; covered with a netting cloche till they are established to prevent the birds from pulling them out. The variety I have planted is 'Red Sun' which I have not grown before.
MARCH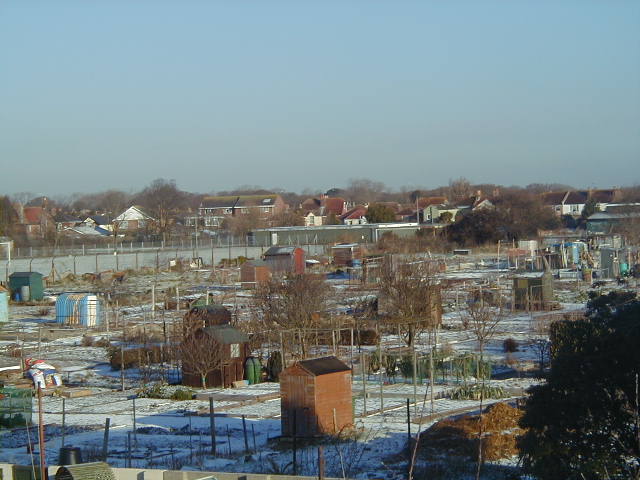 The month has started as February closed, with bitterly cold winds and snow showers. We have not been able to get on the plot to make any significant start yet and I shall delay making any sowings in my cold greenhouse for at least another 2 weeks. However, there are a few old favourites I shall make a start on using the gentle heat from on top of my boiler. Cabbage 'Earliest of All', Cauliflower 'Igloo', Celeriac 'The Prinz', Leeks 'Autumn Mamouth' and lettuce 'Density'.
The seed potatoes laid out in the greenhouse to chit have been covered with several layers of fleece to protect them from any frost.
TWO DATES FOR YOUR DIARY
The G.A.H. & G. A. are pleased to welcome Mrs. Lucy Frost to give a talk on organic gardening 'Starting from Scratch' at. 7.30 pm on Tuesday March 21st. at. HEDCA. Coombe Road. Gosport.
Free to members and £1.00 to non- embers. All are very welcome. This should prove to be a very interesting evening - not to be missed.
Shedules for the Annual Show to be held on August 19th are now available from any allotment site store. Aimed at being a fun day out for all the family and open to anyone with an interest in gardening of any age. If you would like a copy or more information please email annualshow@saundersallotment.co.uk
---
15th of the month and it is still bitterly cold and no sign of Spring. The Daffys refuse to open and the cherry blossom remains tightly closed. However, John is now erecting the posts and wires ready for me to train the 2 apples trees we planted last Autumn and we have taken delivery of some more manure which will need transferring to the bins. I have now cleared the last of the Winter vegetables, leeks and cabbage leaving just the Purple Sprouting which is slow to produce spears this year. I have given all the fruit except Strawberries (which is done when they have finished fruiting in the Summer) a top dressing of Sulphate of Potash. While the fruit trees are still dormant it is a good time to make a note of any branches that will need pruning out on the Cherries and Plums. This should be carried out as soon as they have finished fruiting.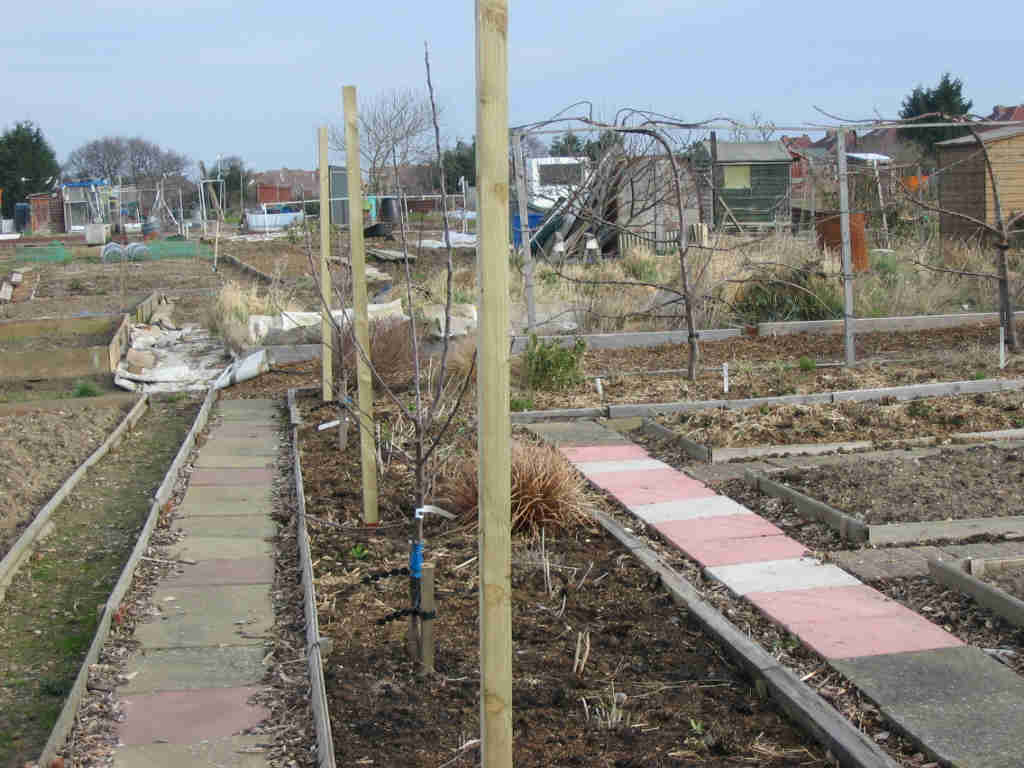 ...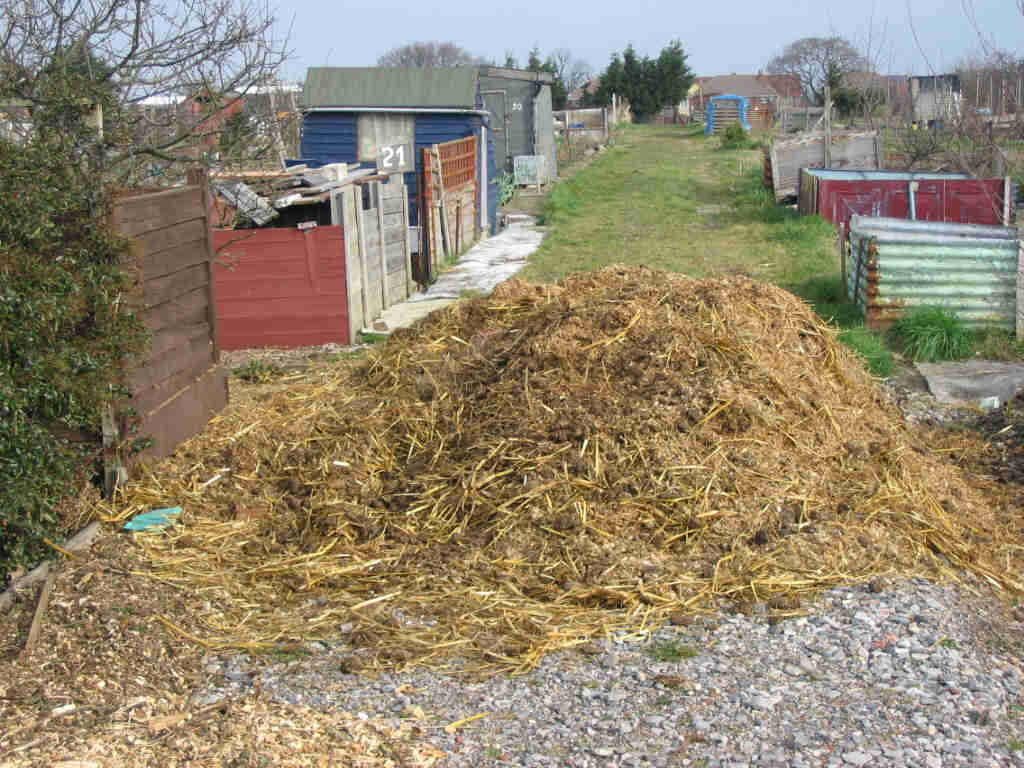 While the ground is still so cold I shall delay starting to plant potatoes but in the meantime I am making further sowings indoors. Tomatoes can now be sown on a warm window sill and I am trying 3 new ones this year of the purple varieties. 'Black Russian', 'Eva Purple Ball' and 'Black Cherry', together with my favourites 'Gardeners Delight', 'Tropical Ruby', 'Long Tom', 'Spanish Beef'. 'Red Alert' 'Ferline' and 'Auriga'.
In the greenhouse, sowing in modules the first Beetroot 'Bothardy', Spring onions, Cabbage 'Golden Acre', leeks 'Hannibal'; this is an early variety and should give me a crop from early September. 3" pots I have sown peas 'Hurst Greenshaft'. These I sow 5 to a pot and cover with a sheet of black polythene till they have germinated.
30th of the month. Although the weather is now milder it is wet and blustery with strong winds I have at last started planting the potatoes. 2 new ones for us this year are 'Pixi' and 'Cherie`' and 2 old favourites second early 'Annastasia' and 'Foremost'. I have shown how I do this in my Diary for 2004
but briefly, I take out a trench about a spades depth, add a generous layer of good rotted compost, spacing the tubers on top about 12" apart. Fill in with soil and mound up to protect the tubers from any late frost. In about 4 weeks I will earth-up again and mulch well.
I will now continue to plant main-crop, taking it gently a few at a time as I think 'age' is starting to catch up with me.
I have also sown parsnips 'White King' and 'Avonresister'. Although later than usual, they require a longer growing season there is still plenty of time to give me a good crop. They are slow to germinate - anything up to 6 weeks. I have laid twiggy branches across the rows to deter the local wild-life.
Spring has finally sprung, the daffodils are out and giving a cheerful display. The buds on the damson, and cherry are almost bursting.
APRIL
Seedlings are germinating well in the greenhouse now and there is lots to do pricking out leeks, celeriac and lettuce into modules. Cabbage, Cauli and tomatoes all need potting on into 3" pots. I have sown French Marigolds, Cosmos, Gaillardia, Statice, Asters, Rudbeckia and Coreopsis to give me lots of summer colour. Cuttings taken earlier from my dwarf Chrysanths have rooted well and have been potted on into 3" pots.

On the plot I have prepared the first raised bed with plenty of horticultural sand ready to sow the first carrots and John has erected the frame-work ready for the peas at the end of the month. Onion sets started off in modules are now ready to be planted out 6 " apart after first being hardened off.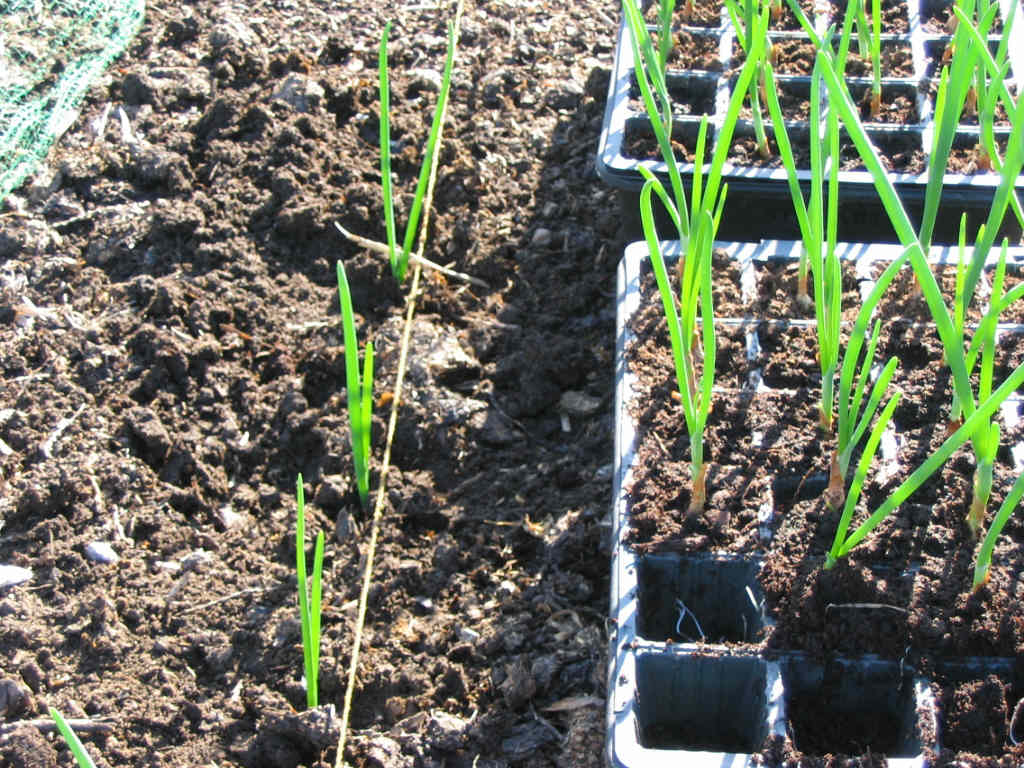 The Purple Sprouting is now producing lots of succulent spears and will need regular picking for a continuous supply over the next few weeks.
On the fruit plot, the strawberry beds need tidying up by removing all the dead leaves and it is good time to check that raspberry and other soft fruit canes are tied in well before the foliage breaks.
Easter week-end and as usual the plot holders are out in their droves, all catching up on the latest gossip and trying to make up for lost time after the dreadful Winter. We now have a full compliment on our site and it is good to see many more young people enjoying their plots.
I have now finished planting the last of the potatoes, sown early finger carrots 'Nantes' and the purple 'Healthmaster' from T & M. Both covered with fleece to prevent the carrot fly and then a netting frame to deter the foxes and badgers. (Last year they caused havoc on the plot).
Beetroot, lettuce and spring onions all grown in modules have been hardened off and planted out.
In the greenhouse I have sown 'Butternut squash', 'Turks Turban', courgettes, yellow 'F1 Jemmer ' and a new for me, the round yellow 'F1 Floridor', a round cucumber 'Crystal Apple' and chilli pepper 'Hot & Spicy'. Peas are growing well in their pots and now need to be hardened off before planting out.
Daffodils need to be dead-headed regularly now to avoid them going to seed. Leaving the foliage to die down naturally for as long as possible. This will encourage strong bulbs for next year.
'MARROWTHON 2006' is a fund raising campaign to help people with bone marrow failure.
Marrowthon invites everyone from children through to expert adults to pay £1. for a packet of T & M seed 'Long Green' to gather sponsorship and enter a competition to grow the biggest marrow.
For more information go to www.marrowthon.org.uk or email: benncaroline@aol.com
Telephone 01442 851161. Seeds will also be available at Garden Centres and other retailers.
Last week of the month and the weather has really warmed up but our soil is unbelievably dry for this time of the year even the weeds are keeping their heads down; against all my usual advice to keep hoeing vacant ground I am now reluctantly not disturbing any soil unless it is to plant to retain as much moisture as possible.
I was thrilled to see my first asparagus spear appear.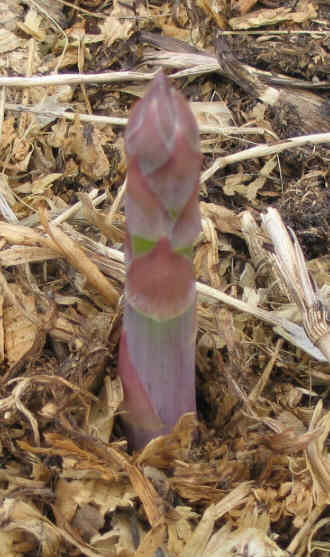 I have now planted out the peas, giving them plenty of twiggy supports and netting to protect from the pigeons. (See my Diary for 2005) Cauli and Cabbage have been planted under fleece. Watering the planting holes very well twice, allowing them to drain before setting the plants deeply up to their seed leaves. This will encourage them to make a good root system.
The fruit trees are a mass of blossom now. See my Photos for 2006 also more photos of the plot in April.
In the greenhouse and I have now sown French Beans in 3" pots. The purple 'Royalty' and 'Tender Green', Cabbage 'Minicole', marrow - 'Long Green Striped'. Re-sown Butternut Squash which failed to germinate and Kohl Rabi ' Riple Star' in modules. It is also time to be thinking ahead to the Autumn/Winter crops. I have made a sowing of Green Sprouting Calabrese which I hope will give me lots of tender spears from September onwards and sprouts, 2 of my favourites 'Brilliant' and 'F1 Cascade' also new for me to try 'F1 Oliver'.
The rhubarb season in full swing now.
MAY
With a very warm start to the month, everything is growing well in the greenhouse. I have potted on the tomatoes into 6" pots. It is tempting to plant out but I still feel it is too early and worth waiting another couple of weeks.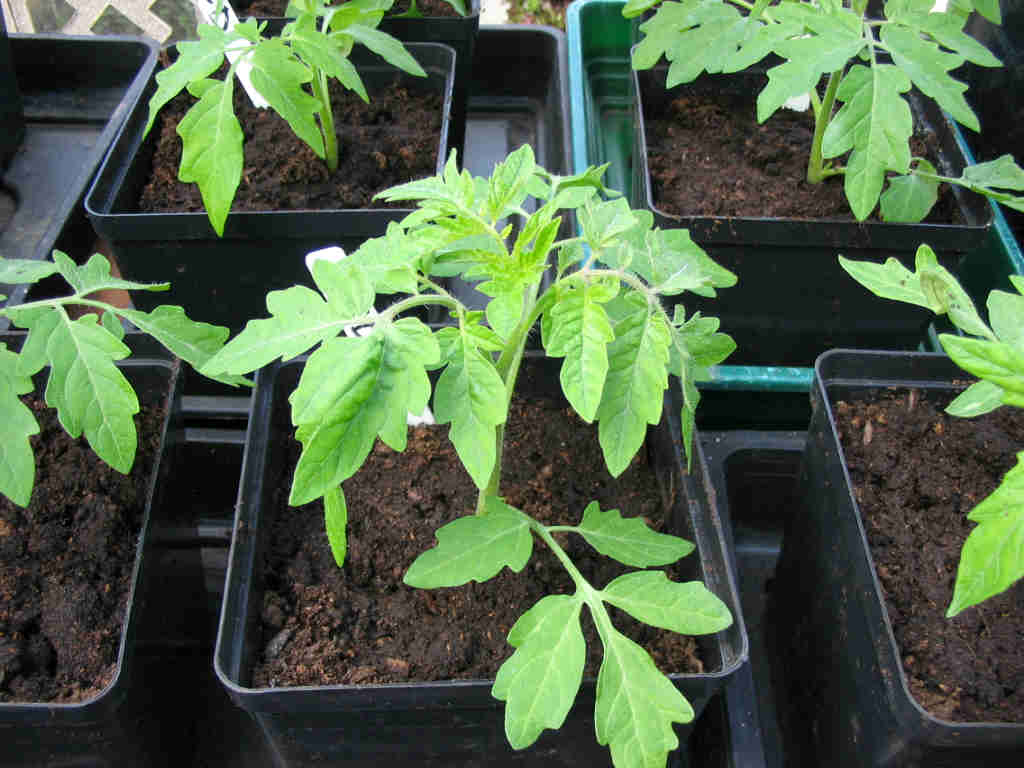 I find the bigger and stronger the plants are before setting out the better chance they have of getting established on our windy open site. Leeks have also been potted on to 3" pots.
French beans need hardening off before planting out later in the month.
On the plot I have reluctantly made the last picking of the Purple Sprouting although it would continue a while longer yet I need the ground prepared for the tomatoes. This I have done by incorporating 2 good barrow loads of good rotted compost.
Second half of the month and we have had some very welcome rain making it perfect for planting out the tomatoes (see my Diary 2004 how I do this) also french beans, kohl rabi, courgettes and celeriac. I have sown main crop carrots 'Autumn King', 'Sytan' and 'Guerande' from Thos Etty. Potatoes have had their second earth-up and I am now mulching well with anything to hand. Compost, grass clippings etc., to retain as much moisture as possible.
On the fruit plot it is now time to prepare and hang up the Pheromone Traps to help reduce the damage caused by the codling and plum fruit moth. Place straw around strawberry plants to keep the fruit clean.
7 young fox cubs have been sighted on our plots, although cute and adorable now I think the problem of protecting our crops is only going to get worse. A timely warning to those of you with the same problem already one cub has been found strangled from being caught up in pea/bean netting left lying around. Make sure yours is safely put away unless in use.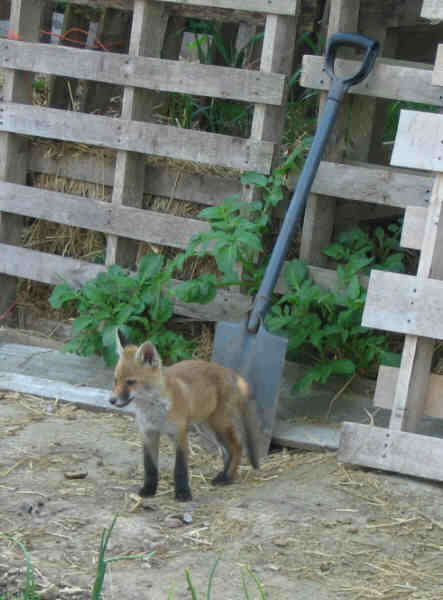 In the greenhouse I have sown runner beans 'White Lady' and 'Polstar' in 3" pots to plant out early next month. Bulb fennel in cell trays, winter cabbage 'Tundra' and purple sprouting 'Bordeaux'.
JUNE
A date for your diary. The G.A.H.&G.A. are delighted to welcome the BBC's Gardeners Question Time to Gosport on July 4th at Brune Park School. 2 recordings will take place commencing at 6.45 pm. Doors will be open at 6.00 pm. Tickets are free and available on a first come first served basis. Limited to 2 per member and will be available from the Brockhurst Road Site stores on production of membership card on Sunday 25th June from 10.00 am. The stores will be open all day.
With the strong winds continuing for the last 2 weeks of May the plot has taken quite a battering. However, in between the heavy showers I am continuing to plant out the bedding.
Having had 3 delicious pickings for the first year of asparagus I am now leaving it to make lots of fern to encourage strong growth for next year. I am now planting out the first of the leeks, an early variety 'Hannibal' for harvesting from September onwards and Minicole cabbage, also Runner Beans raised in the greenhouse and bulb Fennel. The first lettuce 'Density' are ready for cutting.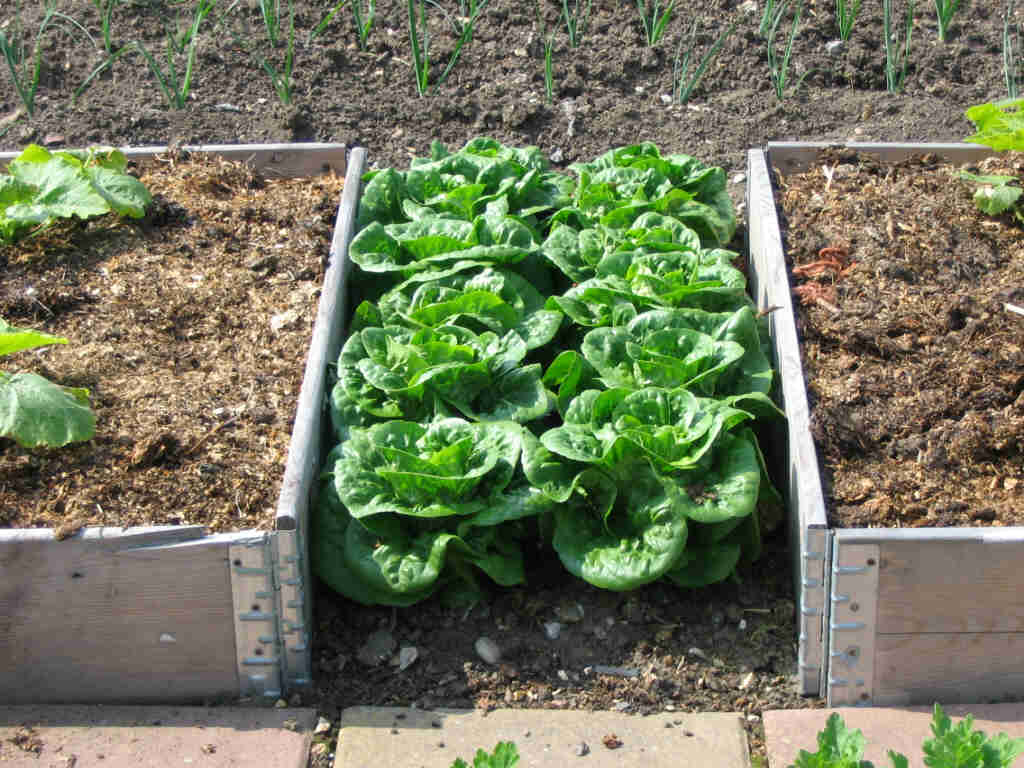 for more June photos click here
I have removed the fleece from the caulis and summer cabbage and replaced with netting to prevent the pigeons demolishing them and the cabbage white butterflies laying their eggs.
I have planted out the first of the sprouts 'Brilliant' these should start cropping from the end of September; setting the plants deeply up to their seed leaves and firming in well. All the squashes are now planted, Turks Turban, Butternut and Marrow.
On the fruit plot I have noticed the fruitlets on the Williams pears are turning black. I think this may be due to the 'pear midge' so I am removing all the fruitlets and destroying them in the hope it will prevent it happening again next year. I understand that if they fall to the ground they will over-winter in the soil.
Cherries need netting now before they fully ripen to prevent the birds having their fill. Strawberries, the first of the summer fruits to ripen are now turning red and need picking over daily. I always pick mine slightly under ripe as I find by the time I get them home they are just right for the table and will keep till the next day.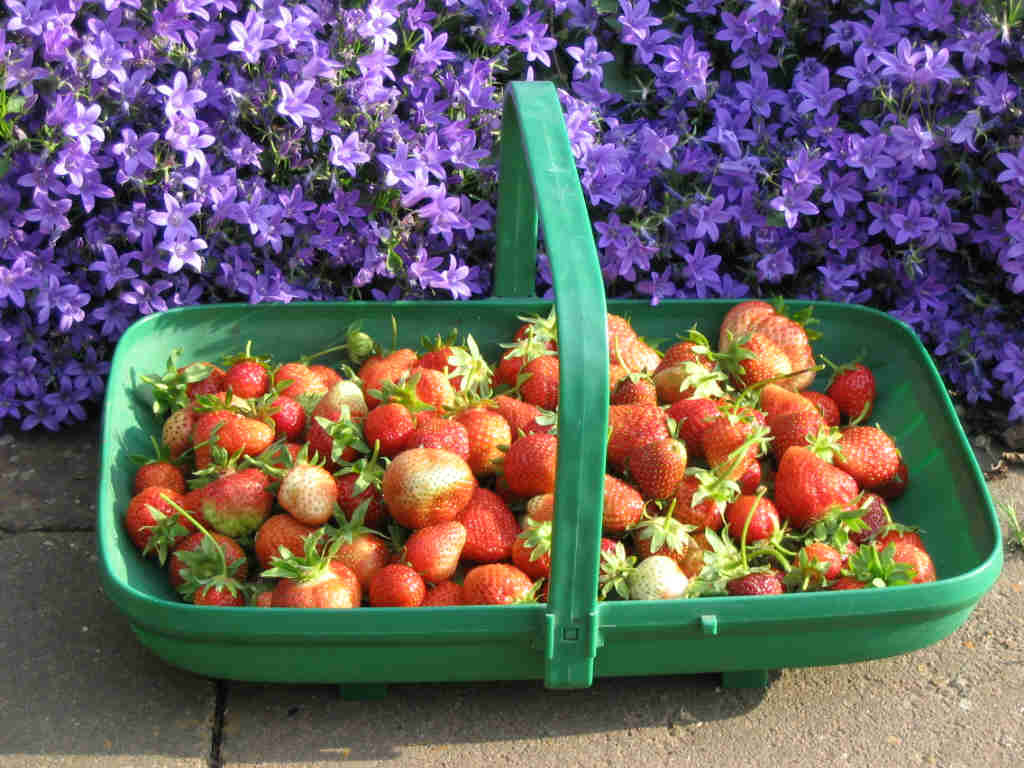 Second half of the month and the weather has been exceptionally hot. It is now essential to prioritise the watering to only those veggies that are cropping and need it most. Caulis are now ready for cutting so is the first of the summer cabbages Earliest of All and Primo. Peas are beginning to fill out in their pods and will need water to keep them tender and sweet. French beans are setting and the Kohl Rabi is forming. The first 'Red Alert' tomatoes are setting and now need regular watering - a good soak once a week is sufficient. The first yellow courgettes are ready too, cut them when they no longer than 6 inches. I am also growing the round one this year. Baby beetroot, lettuce and spring onions all need regular harvesting to enjoy them at their best. The first of new potatoes 'Foremost' are ready - lift only enough to use each day.
I have now planted out the last of the sprouts 'F1 Cascade' and 'F1 Trafalgar'. John has been very poorly for the last couple of months so I have been managing the plot on my own. Unable to build the frames as he used to for me I have managed with the build-a-balls and canes. Not quite as stable but adequate. The foxes are still playing havoc with any fleece I put down and I have had yet again to re-sow the carrots. This time I have left the fleece off and sown next to the onions. In the greenhouse I am sowing more beetroot for harvesting late September. Click here for second half of June photos
The bright blue of the Campanula is giving a lovely edge to the borders this month.
On the fruit plot strawberries are continuing to ripen and the gooseberries can now been thined. Use the thinings for cooking and leave the rest for desert. Prune back the soft new growth on red currants by about 2 thirds and cover with netting to deter the birds. Check Pheromone Traps, The inserts may need changing if full with moths. Next year's blackberry canes are growing strongly and need tying back to prevent them snapping in the wind.
JULY
A DATE FOR YOUR DIARY
Saturday 8th July, the G.A.&G.A. will be hoilding their stall at 'Alive & Kicking' in Walpole Park Gosport, from 10.00 am. This is a totally free fun day out for all the family showing all the events and activities Gosport has to offer.
On the plot - the hot weather continues and we have not seen any of the rain promised. The first of the strawberries are finished and the plants need to have a good 'hair cut' with the sheers. Clear out all the old leaves etc., give them a good feed, I use chicken pellets and a watering if you can. The plants will soon recover and make good growth for next year. Runners can be pegged down to make new plants. Keep any newly planted fruit trees well watered in this long dry spell. Remove any suckers by pulling up and not cutting if you can.
I am now planting out the winter leeks 'Mamouth' as I lift potatoes. Peas are ready for harvesting and need to be picked regularly. I use a pair of scissors to cut them to save pulling and damaging the plants.
Freezing any surplus is easy and there is no need to blanch. Shell and pack into poly bags or containers.
Keep an eye on courgettes now too, the will soon become small marrows if not cut when about 6" long.
Cauliflowers are finished so I have well prepared the bed ready for a late sowing of beetroot.
French beans now have priority for watering.
In the greenhouse I have made another sowing of lettuce but as it is so hot they have been put outside. Lettuce germinates better in cooler temperatures.
Some of the early flowering plants such as poppies are going over and need to be removed to the compost bin. The campanular also needs to be cut back well after flowering; it will soon recover.
I have been away from the plot for about 2 weeks. Sadly John died on the 8th July. My sincere thanks to the army of plotholders that have been keeping things going for me. I now need to tackle some problems before it gets out of hand.
Tomatoes are ripening now and the cordon ones need to have all the side shoots and long growth removed to allow the air to circulate and put all the plants strength into producing fruit. 'Red Alert' always the first to ripen has been ripening since the first week of the month.
Peas are finished and just need the netting and sticks removed to allow the plants to die down. The roots will put back valuable nitrogen to the soil. I will stop watering the summer cabbages now as they are the size of footballs and any sudden splurge will cause them to split. Kohl Rabi needs harvesting before they get too large or they will be woody. They will keep for several weeks in a cool shed.
French beans need to be picked regularly to keep them cropping. Autumn sown onions can be gently eased with a fork to break their roots and left to dry in the sun. Use the ones with thick necks first and the others should store until late December. Shallots also are ready and can be treated in the same way but they will store much longer - all winter. I am continuing to lift the early potatoes, Pixi and Cherie both new for me this year which are proving to be very tasty, hot or cold; and using the space to plant out the last of the winter leeks.
On the fruit plot, the strawberry beds need a good tidy up. All the soft fruits, raspberries, loganberries etc. need to be picked regularly. The birds have left me no cherries as I was unable to get sufficient netting on. The trees will just need a little pruning to keep them in shape.
Last week of the month and I am going to have one last attempt at carrots for this year. A very kind friend has sent me some pelleted 'Autumn King' seeds which I shall carefully sow this week-end.
AUGUST
A DATE FOR YOUR DIARY
The G.A.H. & G. A. will be holding their anuual Fruit and Flower show on 19th August at Alverstoke Parish Hall. Anyone of any age can enter and a show schedule can be obtained from any site allotment stores. Produce should be displayed by 11.00 am and Public viewing will be from 12.15 pm.
The show is designed to be a fun day out for all the family and everyone is very welcome.
Due to the very hot and dry July, much of my produce has been suffering but I hope I can find one or two items to enter the show. Despite the lack of water the courgettes are producing in abundance and so is the round Crystal Apple cucumbers.
Crops that have gone over need to be removed to the compost bin and the ground lightly turned over. Runner Beans are setting well now and they will have priority for watering. Onions need to be eased with a fork to break their roots and left in the sun to finish drying before storing. Click here for a reminder as to how I plait them for storing.
On the fruit plot, August is the start of the plum season and 'Early Rivers' are ripening now and need to be harvested regularly before the birds demolish them. Continuing with the 'Czar' my favourite, I think this dark plum has the best flavour then the 'Victoria' and 'Gauges' which ripen towards the end of the month.
The Flower Show exceeded all expectations and was a great success this year with many more gardeners showing their produce. The 'Top Gardener' award was a new shield dedicated to John. I am sure he would have been very honoured.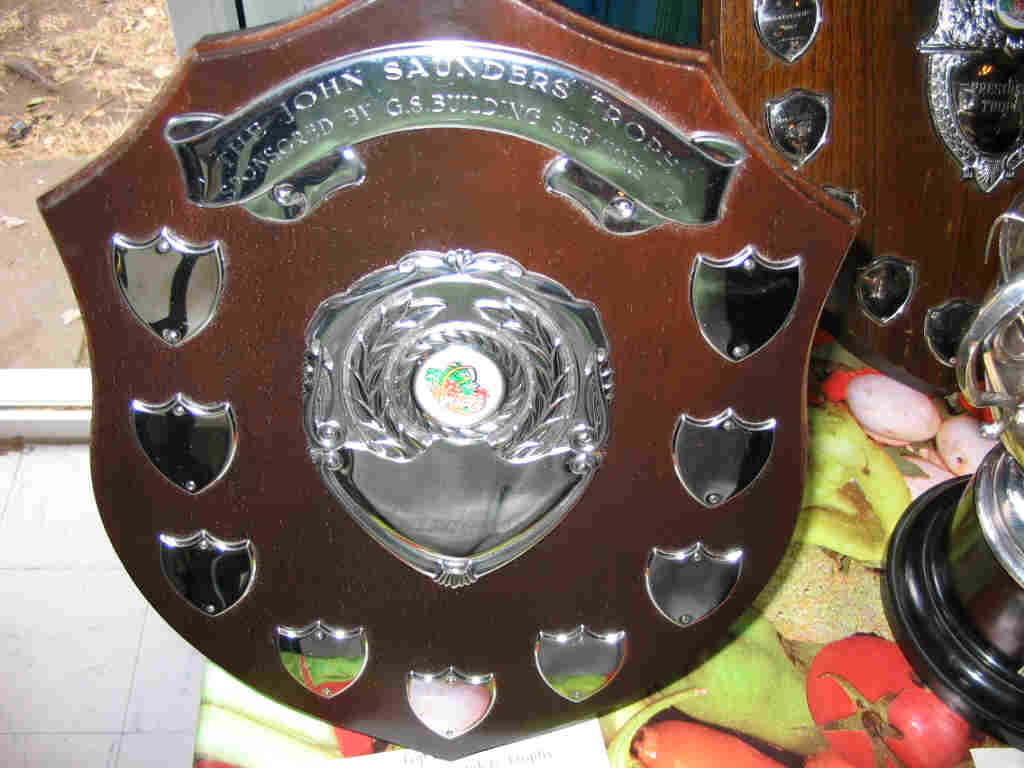 'The John Saunders Trophy'
For more photos of the show click here
SEPTEMBER
If I am to continue to manage the plots on my own I have to find ways of making some things easier. To begin with I have decided to reduce the stock of fruit trees. The family apple is about 12 years old so that one I have cut down completely. Taking it branch by branch, the trunk was kindly removed by another plot holder. The two plums Czar and Early Rivers are both 20ft or more tall so I am reducing the height considerably to make them more manageable. This is in turn will let more light into the plot. The blackberry arch I will also reduce by half. The number of new canes is far more than I will need. I have also taken out 2 gooseberry bushes. This still leaves me with 2 - ample for my needs.
It is now time to be cutting out all the old fruiting canes on the raspberries, tayberries. etc. and tying in the new ones. Remove any weak canes and tie in the strongest. Adding a good mulch of well-rotted compost will
benefit all the fruit. The Autumn Raspberries are now ripening - Autumn Gold is very good and the Victoria plums need harvesting regularly.
Although a little late I have planted out Purple Sprouting - 'Bordeaux'. Tomatoes need careful watering now as any sudden large quantity and they will start to split.
I have started to lift the main crop potatoes now leaving them out in the sun to dry to harden their skins for a few hours before storing in hessian or strong paper sacks.
A DATE FOR YOUR DIARY - The G.A.H. & G. A. will be holding their stall at the Michaelmas Fare in Walpole Park, Gosport on September 23rd selling a wide range of produce and plants all donated by Gosport's allotment holders.
The G.A.H. & G. A. Calendar for 2007 is now available.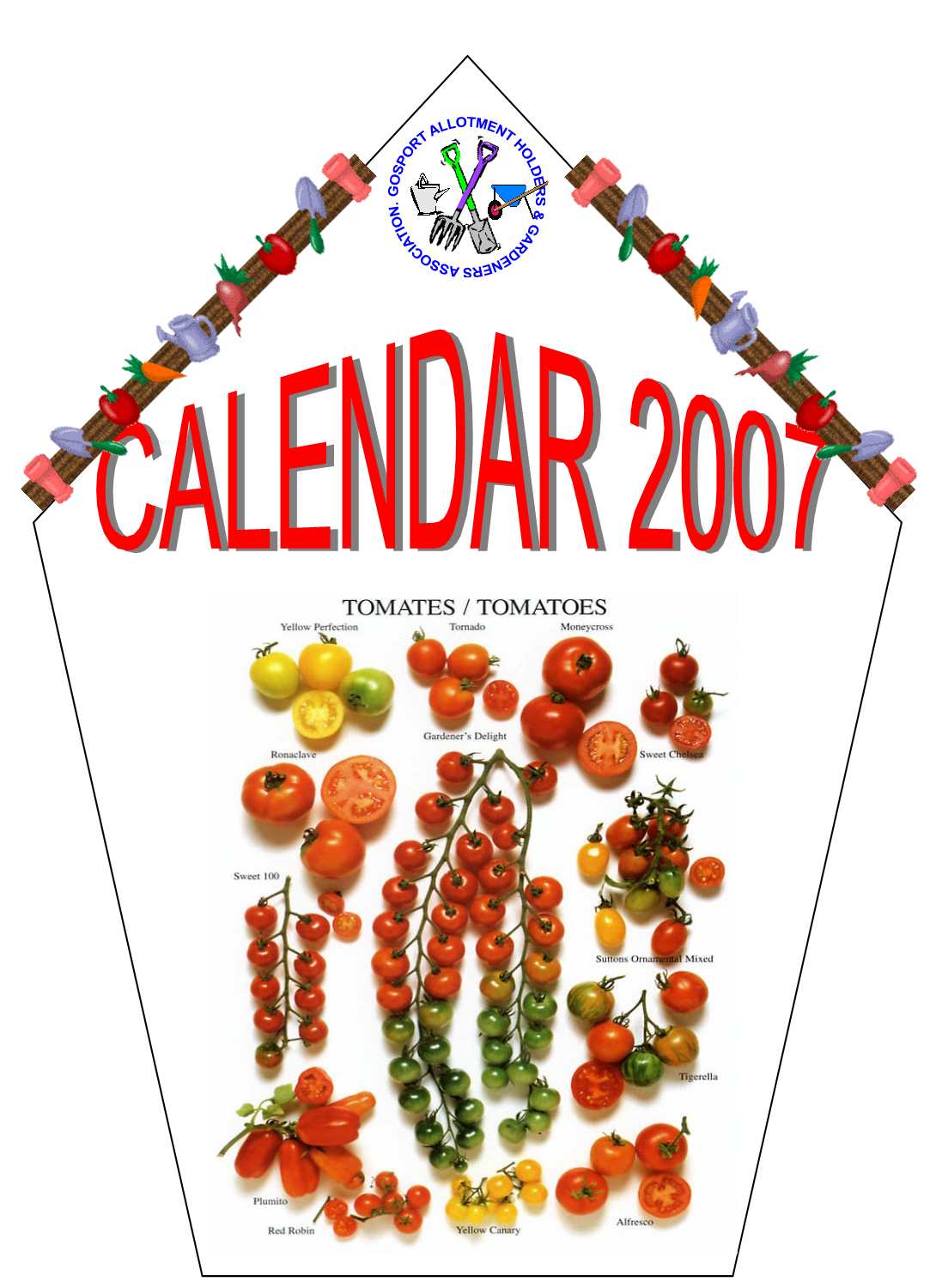 Still at last years price of £4. plus £1.00 for p & p. To order please contact me at calendar@saundersallotment.co.uk
Second half of the month and we have at last had some heavy rain. It has really perked up the plot and made digging much easier. The first sprouts are ready for harvesting. 'Brilliant' has consistently given a good early crop over the last few years. Jobs still to be done on the plot - the asparagus fern is now turning yellow and needs to be cut down to ground level and a good mulch applied. Continue to gather up yellowing brassica leaves as rotting leaves causes diseases. Remove the lower leaves on tomato plants to allow plenty of light to ripen the last of the fruits. Remove the lower leaves on celeriac too to expose the bulb.
Time to plant over-wintering onion sets. I have chosen 'Senshyu' but there are others available. These can either be started off in cell trays or planted direct into the ground. There is still just time to plant out spring cabbage if you have plants. (too late for seeds).
On the fruit plot - now the ground has had a good soaking I am starting to empty my compost bins and giving all the soft and top fruit a good mulch.
Where the apple tree was cut down I have made a small rockery around the tree stump; adding plenty of compost, grit and soil to raise it before adding some large rockery stones. Then planting lots of small 'Tete-a-tete' daffodils and small iris bulbs and for a little winter colour some pansies and a few rockery plants mulched with wood chippings.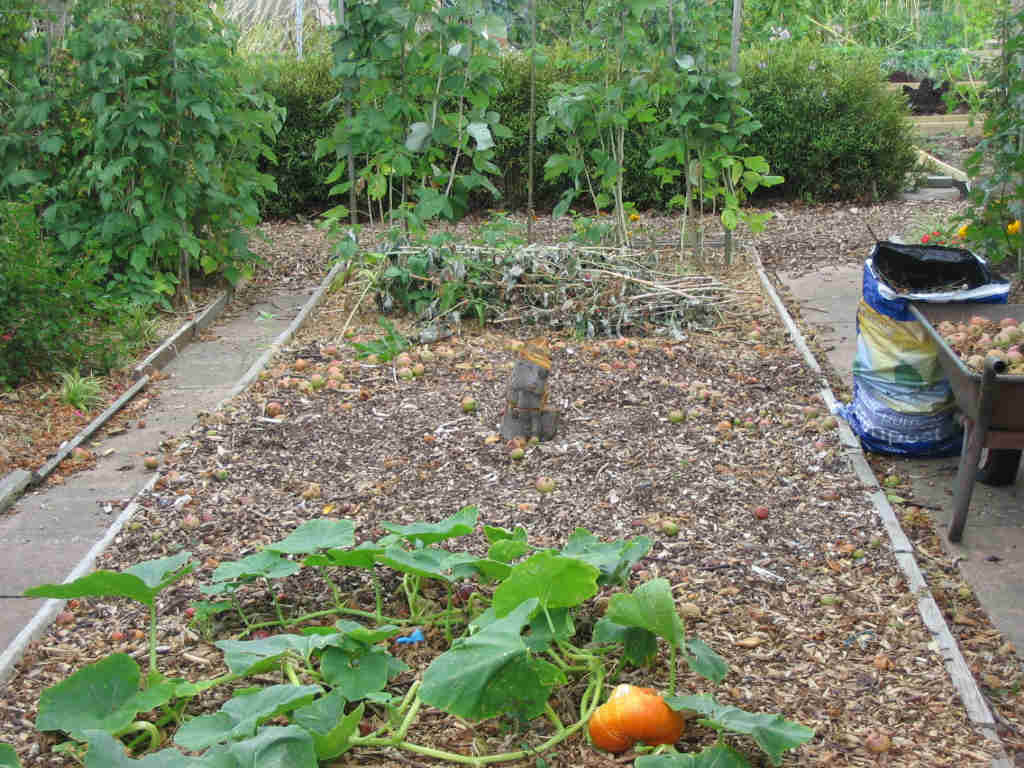 ........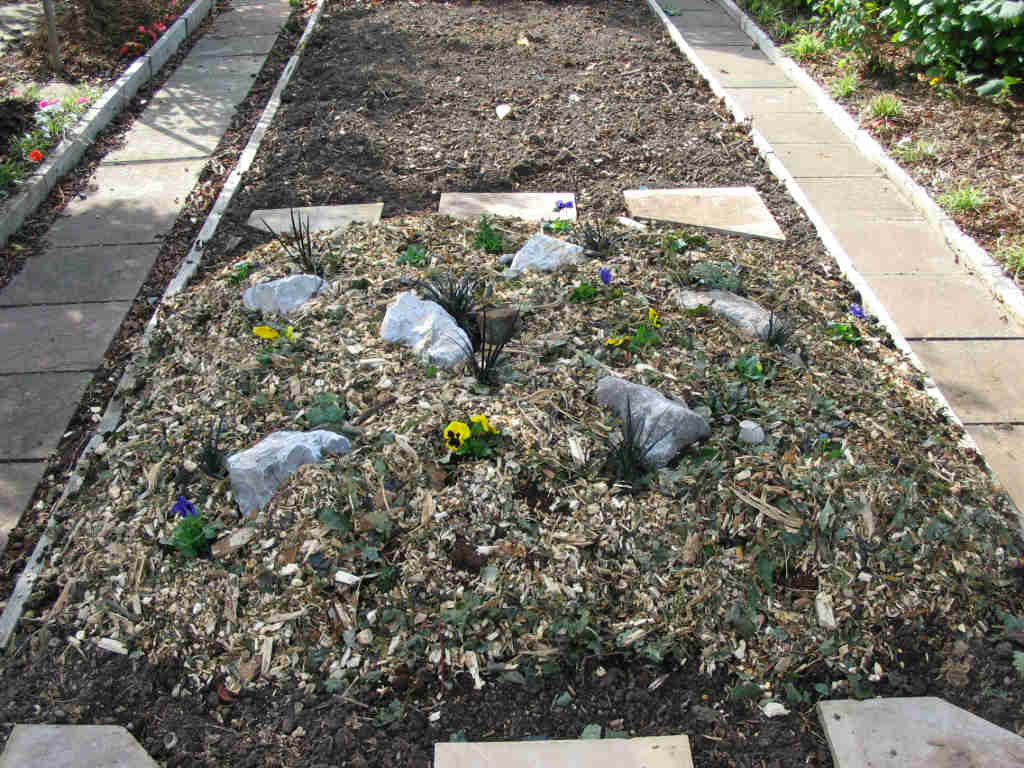 Bed with apple tree cut down and the rockery created around the stump.
A Timely warning - Having just planted more 200 bulbs in the rockery; during the night Mr & Mrs Brock enjoyed a good supper on almost the entire planting. So if you have Badgers in your area and are thinking of planting bulbs remember they will enjoy making a very good meal of them.
I have now replanted and covered with a cage of netting.
OCTOBER
A DATE FOR YOUR DIARY. On the 10th October the G.A.H. & G. A. are pleased to welcome Mr. Chris Bird from the Sparsholt College to give a talk on 'Top Fruit and Soft Fruit Pruning'. The talk will take place at HEDCA, Coombe Road, Gosport at 7.30 pm. Free to members and £1.00 to non-members. Everyone is welcome. I am sure it will be a very enjoyable evening.
On the plot the runner beans are now going over so I have cut them back to ground level; leaving the vines to die off before composting them. The roots left in the ground will put back valuable nitrogen.
The last of the tomatoes need picking now and any still green can be ripened in doors.
I am now harvesting celeriac, parsnips, sprouts, cabbage and beetroot. Much of the plot needs tidying up - composting anything that isn't woody.
On the fruit plot - the pears, conference and concord are still hard but should be harvested. Pears ripen from the inside out and are best laid on wooden slats or in wooden boxes in a cool shed or room to ripen. Check them every day for any that are rotting before it spreads and use those that are ripe.
I have been pleased with the Golden Raspberry I planted last Autumn (a free gift from Grow your Own magazine). The flavour is good and berries large, so I am hoping the one cane that survived will produce more for next year. The damson tree was laden this year with more fruit than I could use so much of it was made into jams and chutney and donated to the Cancer McMillan Fund National coffee morning.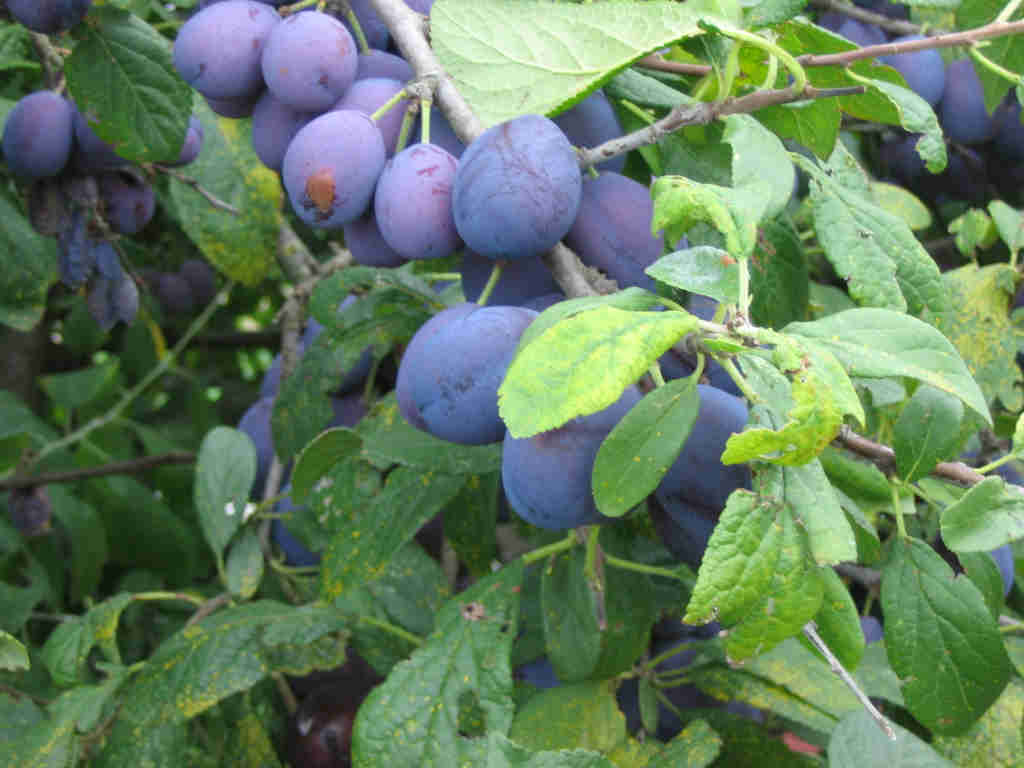 Damson - 'Merryweather'
October is proving to be one of the warmest on record which has given me the opportunity to finish emptying the compost bins and refill them with horse manure layered well with grass cuttings, spent flowers, vegetable waste etc. This will give me a good compost to use next Spring.
Continue to check all new soft fruit canes as they are continuing to grow and will need tying in to prevent the soft tips being broken in the winds.
I am now starting to lift the spray chysanths; cutting them back and potting up to over-winter in the greenhouse. As the new shoots appear later on I will take cuttings. Perennials can be divided now. Any large clumps can be lifted and divided by placing 2 forks back to back and prising them apart before replanting. I shall do this with Doronicum (Leopards Bane), a favourite of mine which gives a stunning display of yellow daisy-like flowers in early Spring.
NOVEMBER
The unusually warm weather is confusing some of my plants. The apple tree is in blossom again and the purple sprouting is flowering 3 months early but I am enjoying the early pickings. The plot in early November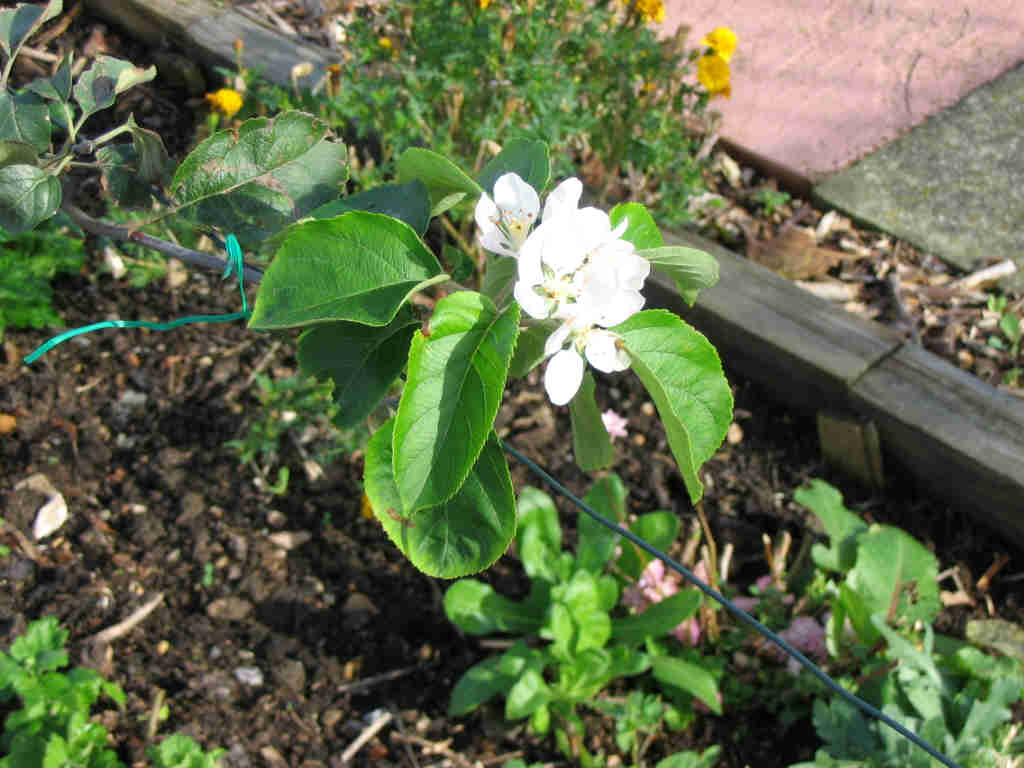 .......
I am taking advatage of the continuing good weather to make repairs to any of the structures and edgings; and to give the sheds and compost bins their annual coat of wood preservative. Another job to do is cleaning and disinfecting all the canes that have been used. Dried well and tied in bundles and stowed away for next year.
I have decided to try and grow an outside grape vine next year on the plot. I have chosen the site and will be erecting the posts and wires in readiness for the Spring planting.
All the 2007 seed catalogues are dropping through the letter box now so it is a good time to take time out to study them; making a note of any new varieties which may be worth trying before making the final decision on your seed order.
Last week of the month has turned very wet and windy but I have managed to get my new strawberry bed planted up with bare rooted plants 'Marshmello'. This is one I have grown before; setting the plants on a slight mound and spreading the roots out well before covering and firming in making sure the crown is above soil level. The plants hold their fruit high, keeping them off the ground and away from slugs.
I have also applied grease bands to all the fruit trees.
DECEMBER
With the mild weather continuing I am topping up the perimeter paths with wood chippings. There is little else to do on the plot now other than to gather up yellowing brassica leaves and the few weeds that still insist on growing. Any vegetables or fruit in store need to be checked over regularly now and any showing signs of rotting should be removed and used quickly. I still have plenty of parsnips, carrots, leeks, celeriac and sprouts to harvest until the early spring.
Remember to clean out watering cans and check for any snails lurking inside before storing away. They will also over-winter beneath the rims of water butts, pots and tubs so worth checking these to.
ROUND-UP
It has not been an easy year on the plot with the long hot summer but surprisingly most crops left to their own devices survived with very little extra water. My only real failure was the early and main crop carrots which failed to germinate. Potato crop was down in weight with smaller tubers but non-the-less a good yield. Tomatoes and all of the fruit exceeded all expectations.
The year has been tinged with sadness but now is the time to look forward and take up the challenge of managing the plots on my own. The G.A.H. & G. A. are planning to stage their first stall at the 2007 Southsea Show and I hope to be involved with that to.
Thank you for all you kind thoughts and words. I look forward to being back on the plot in 2007 and hope you will join me. My very Best Wishes for Christmas and the New Year.
[Home Page] [A Year in the Life of our plot 2000] [Diary 2001] [Diary 2002] [Diary 2003][Diary 2004][Diary 2005][Diary 2007][Diary 2008][Diary 2009][Diary 2010][ Diary 2011] [Diary 2012][Diary 2013] [Diary 2014] [Typical Plots on the Elson Site] [Wild Life Area] [Conservation Project] [Badgers] [Ray's Plot] [Links Page]