Home Page] [A Year in the Life of our plot 2000] [Diary 2001] [Diary 2002] [Diary 2003][Diary 2004][Diary 2005][Diary 2006][Diary 2007] [Diary 2008][Diary 2009][2010][Diary 2012][Diary 2013] [Diary 2014][Diary 2015] ][Diary 2016] [Diary 2017] [[Diary 2018]
Typical Plots on the Elson Site] [Wild Life Area] [Conservation Project] [Badgers] [Ray's Plot] [Links Page]
DIARY 2011
<![if !vml]>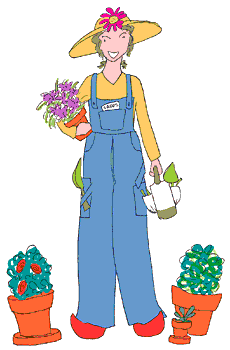 <![endif]>
2010 was not one of the easiest of years as I had hoped.
Now I have been able to renew all my raised beds and had the larger trees lopped to a manageable size.
Removed the Hebe hedge to save clipping and replanted new soft fruit. I am now looking forward to the challenge of
another productive and eventful year on the plot.
Please

comments@saundersallotment.co.uk
JANUARY
The harsh winter of 2010 is continuing into the New Year and other than harvesting vegetables there is little I can do. I still have sprouts, leeks, celeriac, parsnips and cabbage. All have survived the very low temperatures of the snow, ice and frosts. Potatoes, onions and squash in store need to be checked over regularly for any signs of rotting and used immediately. In my unheated greenhouse, all my cuttings and plants over-wintering have been covered with a double layer of fleece and seem not to have suffered so far.
A reminder to make sure your seed orders are placed as soon as possible now, there are bargains to be had with many seed companies offering discounts. Seed potatoes are available to but will need to be laid out in trays and kept in a light frost free place to chit.
We now have a new warden at Elson. Peter can usually be found on his plot 5A on Sunday mornings or can be contacted by telephone. The number is displayed on the sites notice board.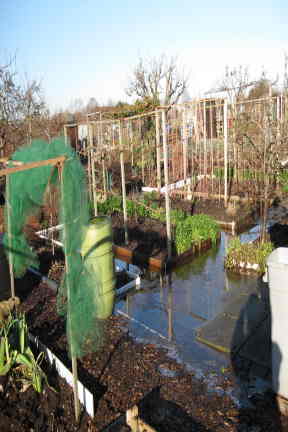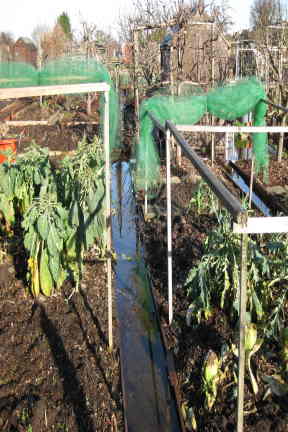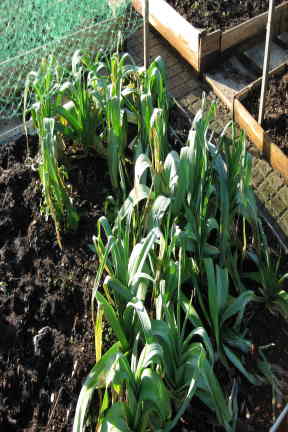 This is becoming an all too familiar annual sight on our plots. I have though managed to harvest the last of the sprouts and removed the stalks without having to stand on the beds; and all the parsnips before they start to rot. The leeks and celeriac are holding their own and don't seem to have suffered at all in the wet. Those I shall leave to use as needed.
Our old store shed has been taken down now and while we are waiting for the new one to arrive Steve has onion and shallots sets available from his own shed. I have taken advantage of this but as my plot is still very wet; to get them off to a good start have set them both out in modules in the greenhouse. They should be ready to plant out in early March.
FEBRUARY
The plot is beginning to dry out now and I am able to start doing a bit of tidying up. There is a light covering of weeds beginning to grow so I am raking down the beds to break their roots to prevent any further growth. I've cleared the last of the celeriac, parsnips and cabbage which just leaves the leeks; removed the rotting leaves from the purple sprouting which is looking good and should start to form spears soon. I have saved most of the green waste to layer up between the recent deliverey of manure I have had. This will all help to rot down for use as mulching in mid-summer. It is still too early to think about seed sowing even in my cold greenhouse but I have laid out the seed potatoes to chit. I have chosen 3 old favourites, Nicola and Foremost as second early and Desiree for main crop; these do very well on our soils and have proved to be resistant to most pests and diseases; plus 2 new ones for me to try, Charlotte a salad potato (this has been highly recommended so we shall see) and Yukon Gold a yellow fleshed waxy second early. These will need to be kept in a light frost free place so I am ready with a length of fleece to cover them should the temperatures start to fall again.
It's a good time to make sure seed trays, modules etc., are all clean and ready for seed sowing next month.
Finish all winter fruit tree pruning this month and the planting of bare rooted soft and tree fruit.
We are still waiting for our new shop to arrive but Steve is happy to serve you from his own shed.
MARCH
Spring does seem a long time coming this year; the plot is still quite wet from all the rain. My new strawberries planted in the autumn have suffered from the Winter flooding and to be on the safe side I have ordered new plants to replace those that have rotted. I will be making a start on the first potatoes now and will continue throughout the month till all my second early and main crop are all planted.
In my cold greenhouse I am getting started on some of the first seeds. Peas, 'Greenshaft', Summer cabbage 'Golden Acre', cauli 'Snowball', Kohl Rabi, Pack Choi, Beetroot, Pot Leeks and Little Gem lettuce. Tomatoes, will still need some gentle heat indoors now, old favourites 'Red Alert','Ferline', 'Tropical Ruby', 'Gardeners Delight', and new for me to try 'Tomato Berry'.
I still have a few leeks to use up and now the purple sprouting is just starting to produce delicious tender spears.
14th of March and it's finally arrived - our New Shop. Steve is now open for business and busy restocking.
<![if !vml]>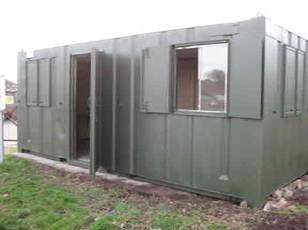 <![endif]> <![if !vml]>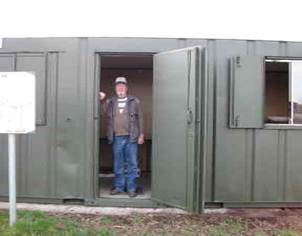 <![endif]> <![if !vml]>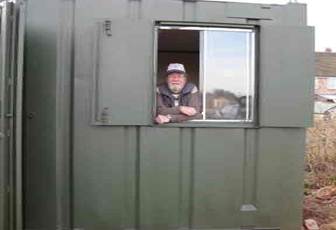 <![endif]>
I have been away from the plot for a week and on my return it all seems to have come alive at last. As usual the daffs are giving a cheerful show of golden yellow; just what we need after such a long hard winter. The autumn sown onions are now making good new growth and there is plenty of succulent purple sprouting to gather.
<![if !vml]>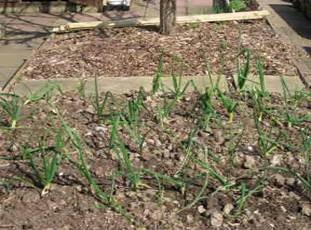 <![endif]> <![if !vml]>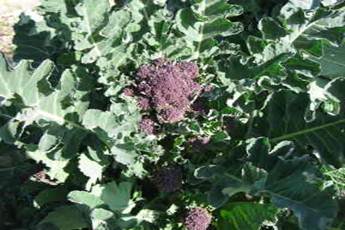 <![endif]>
I have now sown parsnips 'The Student' an old reliable favourite and the first of the shallots and onion sets started off in the greenhouse last month.
Tomatoes are now ready to be pricked out and potted on. These will now have to go out in the greenhouse and will need to be covered with fleece at night.
23rd - this last week has been gloriously warm and it is tempting to starting planting and sowing to early but be warned we could still get cold nights and frosts. However, I have planted out the first of the beetroot started off in modules but I have covered with fleece for protection and finished planting all of the onions.
In the greenhouse I am now sowing Leeks, Celeriac, Spring Onions, Butternut Squash, Pumpkin, yellow Courgettes; and flowers, French Marigolds, Asters, Gaillardia, Statice, Rudbeckia, Coreopsis, and Erysimum Gold Rush.
APRIL
A DATE FOR YOUR DIARY
The G.A.H. & G. A. AGM will be held on April 19th at H.E.D.C.A at 7.30pm. Do come along and have your say; your views and opinions do count.
After a warm dry March with some very welcome rain in the last week April has started with the parsnips and carrots just beginning to germinate now. I have planted out Kohl Rabi which was started off in modules; given them some protection with fleece should there be a night frost and also it will keep the flea beetle at bay. I have also planted out the peas and given them support with some twiggy pea sticks and covered with netting to deter the pigeons. With the warmth and the rain the weeds will now soon be growing so it is as well to be vigilant and keep the hoe handy before they take hold and become a nuisance.
On the fruit plot my new strawberry plants 'Marshmello' arrived; the bed I had well prepared with lots of good well- rotted compost, soaking the plants over night before planting. Spreading the roots well, leaving the centre crown well above the soil level and giving them a good watering in.
In the greenhouse most seeds can be sown now and I have made further sowings of beetroot and lettuce Little Gem. Many of the seeds sown in March now need to be potted on including Tomatoes, Celeriac, Pack Choi, Leeks, Cabbage and Cauliflower.
9th of the Month and after a glorious week of warm sunshine Spring has finally arrived and the plot is looking good with the blossom being fantastic this year, the bees are buzzing and doing their job; although the daffys are finished now the Narcissus and other early spring flowers are in full bloom giving lots of lovely colour again.
<![if !vml]>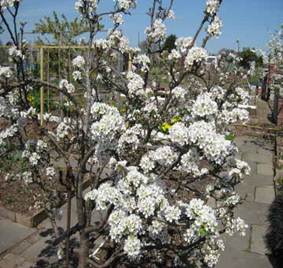 <![endif]> <![if !vml]>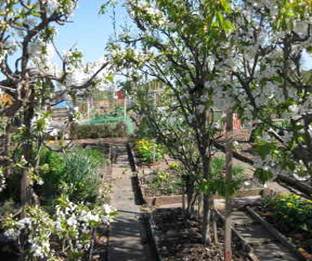 <![endif]>
'Williams' and Concorde' Pears and 'Sunburst' Cherry.
<![if !vml]>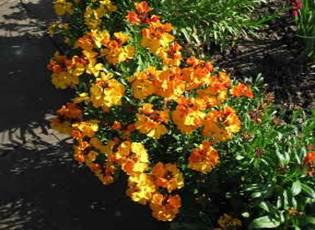 <![endif]> <![if !vml]>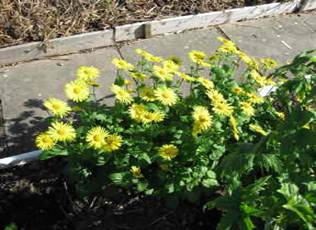 <![endif]>
Wallflowers and Doronicum 'Leopard's Bane'
With the warm dry spell it is tempting to plant out but be wary it can still be cold at night. However I have planted out the first of the Pack Choi under a double thickness of fleece and I am continuing to pot on and prick out in the greenhouse.
Easter week-end and the very warm dry spell continues' with no rain in sight. Watering is now becoming a priority; water only those plants that really need it. New plants should be well soaked before planting, given a good puddling and mulched as well as you can to prevent any moisture loss. This should be sufficient till they are well established. Temperatures are set to fall next week so still keep any tender plants such as tomatoes, courgettes and squashes under cover. I have planted out the first cabbage 'Golden Acre' and cauliflower 'Snowball' under fleece to protect them from the flea beetle which is rife in the dry weather.
On the fruit plot all is looking good except for my early plum tree 'Beauty' which blossomed early and has failed to set any fruitlets.
In the greenhouse, keeping it well ventilated in these high day time temperatures is a priority.
MAY
A DATE FOR YOUR DIARY. On Sunday morning 22nd of May the G.A.H.&G.A will be holding their annual Plant and Gardening Sundries sale at the Brockhurst allotments in Military Road. Any spare plants etc. you may have will be very welcome. Please bring on the day or hand to your site store person. Everyone is welcome whether an allotment holder or not.
The showers that were promised have not happened; I am having to prioritise and only water those that really need it. The asparagus is cropping well now so that is the first to get a good can full per plant every few days. Some of the autumn planted onion sets are throwing up seed heads and these need to be snapped off. The onions will still be usable but won't store. Most of the summer crops can be sown out doors for a continuous supply now but water the drill well before sowing. Sweet corn can now be sown in pots for planting out later in June. I am growing the mini cobs 'Minimop' and hoping I will get to eat them before the badgers do. I am also starting to think ahead to the winter crops, sowing sprouts and purple sprouting in the greenhouse this month and swede towards the end of the month I will start off in modules. Fennel can also be started off in modules now.
On the fruit plot it is time to hang up the Pheromone Traps in apple and plum trees and ensure any grease bands that have been applied are free from any debri. Remove any runners from new strawberry plants as they appear to strengthen the plants for next year.
Tomatoes in the greenhouse are now getting their first flowers and need planting out but I am keeping the fleece handy should there be a threat of frost. I remember last year on the 12th May there was and I lost several plants. I am also starting to plant out the annual bedding, French Marigolds etc.
22nd of the month and still no rain but with strong gusty winds drying the top soil I am hand weeding only to retain any moisture that is still in the soil. Celeriac is now ready for planting out but with no rain on the horizon I am holding off till the end of the month. I have harvested the first baby beetroot, pack choi and lettuce. Potatoes (Nicola) are about the size of a very small egg, so only taking just a few for a treat and will a little longer. Strawberries are ripening and together with the asparagus will take priority for the water.
A WARNING - Several brown tail moths have been found in the fruit trees on our site; they can cause considerable damage to the foliage and should be destroyed as soon as possible. It is better to physically remove the nest using secateurs to cut them and drop them into a plastic bag which should be sealed and either burnt, if it is safe to do so, or sealed in a second plastic bag and disposed of. If handled without gloves they can cause severe rash and irritation.
The month ended with the discovery that the badgers had destroyed my autumn planted onions. I can only assume it is now lack of moisture that is making them turn to eating crops they would not normally touch. These will now have to consign to the compost bin and I shall use the space later on for main crop carrots.
<![if !vml]>
<![endif]>
JUNE
With no rain forecast on the horizon it is making it even more essential to water well before when planting out or sowing seeds and only water the ground that is necessary. I am now planting the celeriac which needs plenty of moisture to survive and the first of the Brussels sprouts 'Wellington' and 'Hastings'. For these I dig a hole a good spade depth and add a full watering can to each hole allowing it to drain before setting the plants deeply up to their seed leaves; filling and firming in and then another good watering before mulching well. This should be sufficient to see them through without any further watering except what the heavens may bring. I have also covered them with netting to keep out the butterflies and pigeons. Swede 'Ruby' which I had started off in modules is also ready for planting; again these need to grow continuously without any check so a good start is essential. I have also covered them with fleece to keep out the flea beetle which can destroy them very quickly. Peas are now setting their pods and will need regular watering to fill out the peas.
On the fruit plot the red currants and cherries are netted and as we are experiencing high winds I have pruned back some of the new growth on the grapes. Strawberries are cropping very well now and need picking regularly. I find if I pick slightly under ripe fruit they ripen off over-night if left in a basket/bowl in the kitchen.
In the greenhouse I am making further sowings of beetroot and lettuce. The purple sprouting now needs to be potted on into 6" pots as I have no space yet to plant out.
Potatoes which I planted early this year when the ground was very moist and mulched well are cropping well and taste delicious. Pigeons or as someone has suggested if could be squirrels have eaten the hearts to some my Little Gem lettuce but those that remain are very good as is the first new baby beetroots.
<![if !vml]>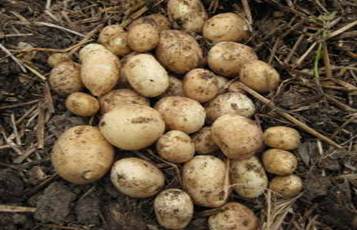 <![endif]> <![if !vml]>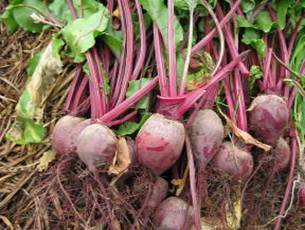 <![endif]>
'Nicola' Potatoes and 'Bolthardy' beetroot
<![if !vml]>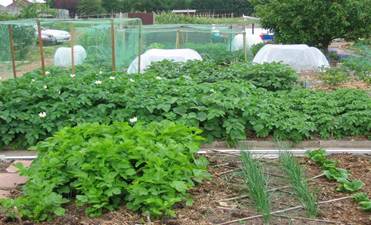 <![endif]>
It does seem such a shame that so much has to be netted now but the parsnips uncovered are doing surprisingly well and so far have not been disturbed by any of the wildlife.
As I take out the potatoes I am starting to plant out the leeks. Soaked well in their pots overnight first. Rather than the traditional method of making a hole first with a dibber and watering in I plant as normal with a trowel but setting the leeks quite deep, watering well and slightly earthing up then covered with fleece to protect from the leek moth and again with netting to stop badgers, foxes, cats etc. tearing it to shreds. Planting this way makes it unnecessary to disturb the fleece and netting anymore till harvest time.
<![if !vml]>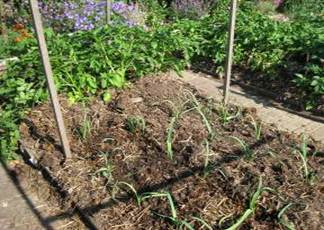 <![endif]> <![if !vml]>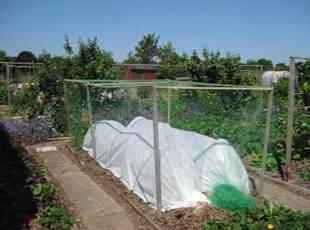 <![endif]>
Leek 'Pot' these will grow to large heavy leeks but not too tall for the fleece tunnel.
20th of the month and after some very welcome rain the plot has perked up considerably. My only disappointment so far has been the runner beans which I think have been attacked by the pea and bean weevil. I have now made a third sowing in the greenhouse and will bring these plants on well before planting out again. What onions remained from the badger onslaught I have lifted and put on wire racks to dry and finish ripening.
. .<![if !vml]>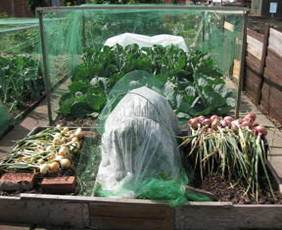 <![endif]>
I have now planted out the purple sprouting, setting the plants deeply, watering the hole well first, and a thick mulch and covered with netting to protect from the birds and butterflies. <![if !vml]>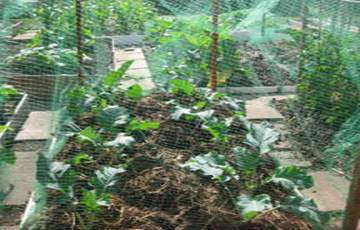 <![endif]>
To keep the succession going I've planted more lettuce Little Gem and Beetroot; both started in modules. Leeks I am continuing to plant as I lift the potatoes.
<![if !vml]>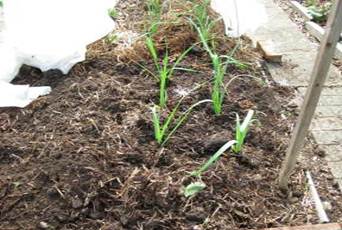 <![endif]>
The asparagus now needs to be left to grow into the fern; in the autumn when it has turned a bronze colour it will then be cut down and given a mulch; this will encourage the strong new growth for next year.
On the fruit plot, the soft fruit is plentiful and needs regular picking; strawberries though are finished and I have given the plants a good cut, removed all the dead and dying leaves. They will soon make new growth for next year and to increase my stock I shall peg down a few runners. Once they have rooted they can be potted up and planted out in the autumn. I would only ever do this from healthy plants.
In the greenhouse I have made further sowings of lettuce, kohl rabi, pack choi; also wallflowers which will be ready to plant out in September for a dazzling Spring show.
JULY
The month started with the G.A.H. & G. A. annual day out to Compton Acre gardens in Dorset followed by the Jurassic Coast cruise to Swanage.
The weather was perfect, the company was good and a very enjoyable day was had by all. Our sincere thanks to Jim once again for organising the trip for us.
Back on the plot I have planted out the lettuce and kohl rabi started off in modules last month and the runner beans; a white radish 'Icicle' to try; the seeds were given to me and supposed to produce long hot roots. With the warm weather now the weeds need constant attention; keep the hoe going on vacant ground to chomp them off below soil level before they get a chance to take hold. Tomatoes are starting to ripen and need regular watering, a good soak every few days is better than a dribble each day.
On the fruit plot the cherries have all been picked now and the netting removed and I am continuing to pick red currants, raspberries and tayberries. Blackberries are just beginning to ripen and will be ready for the first picking in a few days. All the new canes for next year on the soft fruit need to be tied up to prevent them from being snapped off in the wind.
July is the month when most crops will be maturing now; harvest them while they are young and tender to enjoy them at their best. I now have plenty of potatoes, Golden Acre cabbage, lettuce, spring onions, beetroot, courgettes, carrots and the first of the French beans and cauli.
Back in the greenhouse I have sown winter cabbage Tundra and pricked out the wallflower seedlings and for a continuous supply I have taken cuttings of the herbs, sage thyme, lemon thyme and mint. Cut back any chives that have finished flowering and more new growth will soon appear to use.
13th of month and I can't believe I have picked my first mini sweet corn. It's a good many years since I have grown it simply because of the badgers - have I beaten them to it?
<![if !vml]>
<![endif]>
I've planted out some more Pak Choi and lettuce; sown direct in the ground french beans and beetroot. In the greenhouse I've sown Minicole cabbage. Tomatoes are just starting to ripen, Red Alert is always the first and these don't need any staking or side shooting but the other cordon varieties do. Continue to remove the side shoots until 4 good trusses have set and make sure they are securely supported to take the weight of the fruit.
On the fruit plot the Tayberries and Raspberries are now coming to an end; the old canes need to be cut to the ground, selecting the strongest new canes to be tied in for next year, cutting out any weak ones.
AUGUST.
A DATE FOR YOUR DIARY. - The G.A.H. & G. A will be holding their summer show on Saturday August 20th at the Alverstoke Parish Centre.
This is designed to be a fun day out for all the family and anyone can enter what-ever their age. A children's section is included. A show schedule and entry form can be obtained from any site stores or telephone Steve on 023 92587662.
Back on the plot after a few days away the weeds are almost taking over and need to be addressed with vigour. Harvesting is a priority now before the courgettes become marrows. I am delighted to say the badgers have left my mini sweet corn alone and I have had a very good crop. Unfortunately the pumpkins have not fared so well, they are destroying them; the few that are left I shall have to find a way to protect them with some netting if there is to be any for the autumn fayre this year. French beans are slow this year but are beginning to start cropping and will need picking regularly now. I have lifted the last of the main crop potatoes Desiree; the haulms were going over very early this year but I am pleased with a very reasonable crop.
<![if !vml]>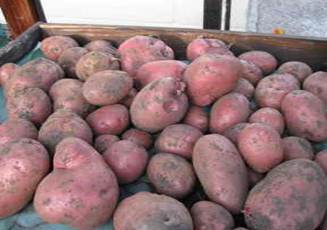 <![endif]>
I have decided to remove my two Kent Cob nut trees; the pruning this time of the year is getting too much for me and it will let more air and light into the plot. I shall remove all of the top growth and then a good friend will tackle the trunks with his chain saw. I shall then treat the stumps with Root Out to stop any regrowth.
On the fruit plot all the soft fruit canes have been taken out and the new ones tied in. The Victoria plums are just starting to ripen and I have picked my first few figs.
7th of the month and the main crop onions are ready for lifting. The roots have been gently broken with a fork and left in the sun to finish ripening and now I have brought them home to the greenhouse to finish drying before storing for the winter. Any with thick necks should be used first as they won't keep.
<![if !vml]>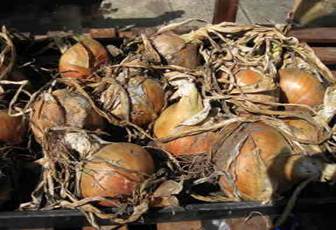 <![endif]>
I am very pleased to report that the Elson allotment site did very well in the Hampshire Federation of Horticultural Soc. Allotment competition this year. Mike on plot 15 came 3rd and Pat on plot 21A came 5th for the 5 rod section and I was surprised to find I had been awarded 3rd place in the 10 rods and over.
17th of the month and the 2 nuts trees are now down which has opened up the plot and given more air circulation. August is a time when the flowers start to go over; it is almost a full time job dead heading now to keep them going.
<![if !vml]>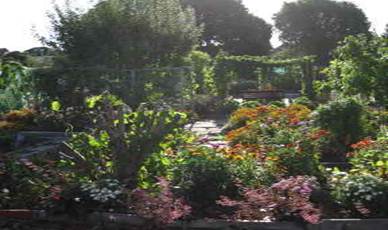 <![endif]>
I am waiting for a delivery of manure to refill my compost bins so I have now dug a deep pit to take all the waste material. When full I shall fill in and this will all soon rot down over winter. I am surprised at how clean the winter brassicas are; no sign of any white fly as yet. Hope I haven't spoken too soon. This is Wellington and should keep me supplied through till the New Year.
<![if !vml]>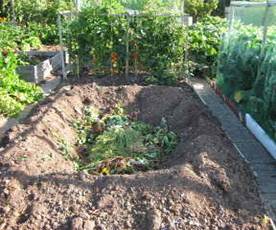 <![endif]> <![if !vml]>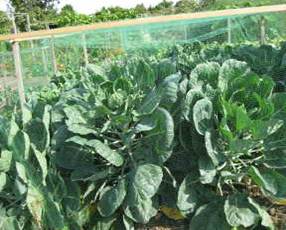 <![endif]>
The Summer Show once again was a great success; the standard and number of entries seems to increase each year.
My delivery of manure arrived on the Monday and I managed to get about two thirds into the bins before it rained all day on Tuesday. The last bit I cleared on the Wednesday and now the bins are well filled to rot down for use next spring.
<![if !vml]>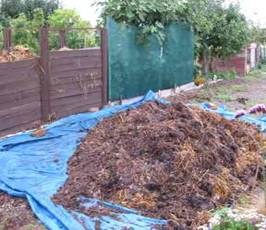 <![endif]> <![if !vml]>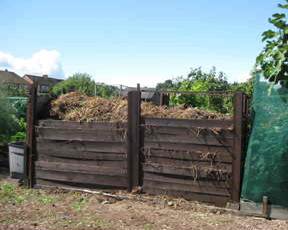 <![endif]>
Some plot holders are experiencing the first signs of blight on their tomatoes but so far I have escaped. I am keeping an eye on them and removing all the lower foliage to increase the air circulation and aid the ripening of the fruits. I have also removed a lot of the growth from the pumpkin and left only 3 fruits to carry on growing. My first sowing of French beans are coming to an end now but I am now picking the first tender young Runner beans.
SEPTEMBER
A DATE FOR YOUR DIARY. 24th September is the Annual Michaelmas Fayre which will be held as usual in Alverstoke Village. The G.A.H. & G.A. will be holding their stall and would be grateful for any spare produce, flowers etc. to sell as this is their main fund raising event. Please either hand to your store person or bring along on the day - thank you.
Back on the plot there is now a touch or Autumn in the air and many of the earlier summer crops need to be either used or composted. As ground becomes vacant I am making sure it is weed free and adding a thick layer of well-rotted compost. Runner beans and squashes need regular watering now to keep them cropping. Continue to remove the lower leaves on tomatoes to aid ripening and pick up and compost any rotting brassica leaves.
Japanese Onions sets can be planted this month; to give them a head start, sow in modules first to plant our later. These will give an early crop to use from next May onwards throughout the summer.
On the fruit plot the figs need regular picking now as they ripen quickly. Pick up any fallen apples and pears that can't be used and add to the compost bin. Keep tying in soft fruit canes to prevent the winds from snapping the ends and thin grapes.
12th of the month and the tomatoes are now showing serious signs of blight. I have removed as many fruits as I can and laid them out in trays in the greenhouse to finish ripening but they will need to be kept an eye on as some may start to blacken if they are infected and will need to be destroyed. The infected plants have been destroyed and NOT added to the compost bins.
The strong winds have blown a lot of pears down and again I have rescued the undamaged ones and laid out in trays. With the topsy turvy weather this year I am now harvesting a late crop of strawberries.
I have planted out the wallflowers started off in modules last month. Many of my flowers have been battered by the winds and trampled on by the badgers/foxes so it is time to start clearing away those I can't save and composting and I have made a start renewing some of the edgings that have rotted.
It has been very noticeable this year how few pests there are about. I have given up trying to keep crops covered with fleece etc. and left most uncovered. I have no carrot fly, black fly, white fly, and with only a few butterflies about no caterpillars either. Rust on the leeks but no leek moth to contend with. If only it would continue next year!!!! I can only put it down to the long cold winter of 2010/2011.
OCTOBER
TWO DATES FOR YOUR DIARY.
First is the G.A.H.&G.A Autumn Gardening Talk. This year we are pleased to welcome local gardening personality Mr Brian Kidd to give a talk on 'A greener way on the Allotment'. This will be held at a change of venue this time, in the Main Hall at Brune Park Community College, Military Road. on Tuesday 18th October at 7.00 pm. Entrance is free to members and £1.00 for non-members. Do come and join us all are very welcome.
Second is the Pumpkin and Produce Fayre to be held in the Alverstoke Parish Centre on Saturday 29th October. Anyone can enter and there are classes for children and adults. A show schedule can be obtained from any allotment site stores or telephone Steve Broughton 023 92587662
Back on the plot with September ending in such glorious weather and continuing we hope into this month I am taking time out to enjoy the number of flowers still blooming, chrysanths, dahlias, french marigolds, rudbeckia, gailardia, to name but a few. I am usually pulling up and composting by now but with the warm weather it is a real joy. I am also reaping the benefit of sowing my runner and french beans late this year, keeping them well watered they are still giving me lots of tender young beans. The butternut Squash and pumpkin foliage is starting to die back but I am leaving the fruits on the vines until there is a threat of frost to ripen and harden their skins for storing.
On the fruit plot the grapes are now sweet and juicy ripe for picking still a little small though 'cos I didn't get around to thinning as much as I should have done. Concorde pears are still hard so I am leaving those on the tree a little longer and enjoying Conference first and if the warm spell continues there should be a few more figs to ripen. Keep an eye on soft fruit canes as they are still growing and need to be tied in constantly.
If you are taking out canes used for beans etc. plunge the ends in a bucket of bleach or Jeyes Fluid before storing for the winter.
16th of the month and the warm spell is continuing although we do desperately need some rain now. The soil is like dust. I have harvested the last of the carrots as they were showing signs of the carrot fly. Runner beans I have taken down but left the roots in as they put back nitrogen into the soil. French beans I am leaving for a while longer as they are still cropping. I've planted out the first of the autumn onion sets, watered well and given them some protection with netting as the badgers and foxes are still about and digging lots of holes.
As the fine weather continues I am making a start on some of the winter jobs and laying a fresh layer of wood chippings on all the perimeter paths.
<![if !vml]>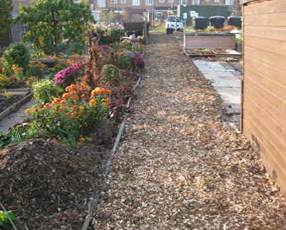 <![endif]>
All my water butts have been refilled as our water supply is due to be turned off for the winter at the end of the month.
I am now digging the first of the leeks, celeriac, swede, sprouts, and late crop of Little Gem lettuce. Parsnips are ready but I feel need a good frost first.
<![if !vml]>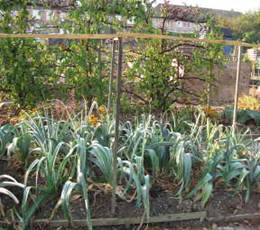 <![endif]>Pot leeks and the plot one early crisp morning <![if !vml]>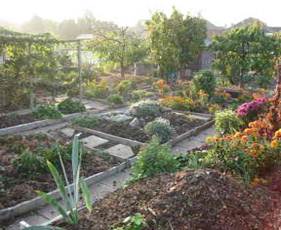 <![endif]>
NOVEMBER
October ended with some much needed rain making the soil ideal for planting out the last of the autumn onion sets which I started off in modules earlier last month. Jobs still to do this month, the asparagus fern is now turning a golden bronze and needs to be cut to ground level, hand weeded and given a thick mulch with rotted compost to protect the crowns over winter. Remove all the un ripened figs that are no bigger than your little finger nail. Being careful not to get any of the milky white sap on your skin it can be a very sore irritant. Grapes can be hard pruned back to. As the leaves fall from the fruit trees, gather them up and either use to make leaf mould or add to the compost bin.
Cut down any dahlias as they are blackened by the frost and give them a good mulch. Most of my spray chrysanths I will leave in the ground but some I will dig and pot up and leave in the greenhouse. As the new growth appears late winter/spring they can be used as cuttings. Take shoots about 3" long, remove the lower leaves and insert in a seed tray or pot.
23rd of the month and the mild weather continues. I have been busy repairing my compost bin and renewed quite a few of the edgings to the beds that had rotted. I've covered all vacant ground with a good layer of rotted compost and taken delivery of 2 more loads of manure to replenish my stocks for the Spring.
<![if !vml]>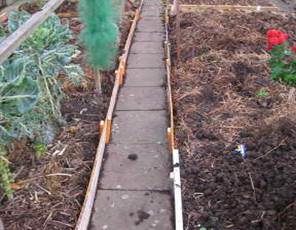 <![endif]> <![if !vml]>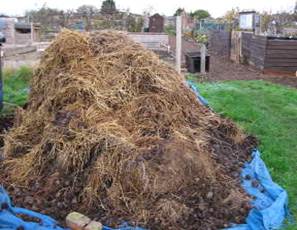 <![endif]> <![if !vml]>
<![endif]>
DECEMBER
What a difference the start of December is this year to last. Although it has turned wet and windy the mild conditions continue. I am well ahead with all the repairs and should there be any dry days I shall start giving the sheds their annual coat of preservative and a good tidy up inside; cleaning my tools, just giving them a very light coating of oil. There is little for me to do on the plot now other than keeping it tidy and removing the odd weed and tying in any stray fruit canes. Any fruit, onions and potatoes in store should be checked over regularly for any starting to go over and used first. I have plenty of potatoes, onions and butternut in store and sprouts, cabbage, leeks, celeriac, swede and parsnips on the plot to see me through until at least the end of March. Purple sprouting should start cropping in February.
ROUND-UP
I think on the whole despite the very dry summer/autumn and lack of sunshine all the vegetables have cropped well. Watering and mulching well at the time of planting definitely helps. I only get the hose out now to refill the water butts. The only disappointment on the fruit plot was the number of figs that failed to ripen otherwise all the tree and soft fruit did very well in fact the strawberries gave a late second crop.
The badgers and foxes continue to be our main problem, their numbers increase each year.
It only remains for me to wish you all a very Happy and Peaceful Christmas. I shall be back on the plot in the New Year.