Home Page] [A Year in the Life of our plot 2000][ [Diary 2001] [Diary 2002] [Diary 2003][Diary 2004][Diary 2005][Diary 2006][Diary 2007] [Diary 2008][Diary 2009][2010] [Diary 2011] [Diary 2012] [Diary 2013][Diary 2014][ Diary 2015] [Diary 2017] [[Diary 2018] [Typical Plots on the Elson Site][ [Wild Life Area] [Conservation Project] [Badgers] [Ray's Plot] [Links Page]
DIARY 2016
<![if !vml]>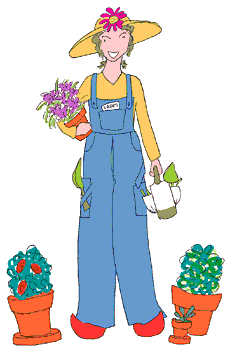 <![endif]>
A new year back on the plot should bring some exciting changes to the whole of Gosport's Allotments;
Talks are in progress with Gosport Borough Council for the Allotment Association to assume devolved management of all the Council allotments.
Updates can be obtained from their website. http://www.gosportallotments.btck.co.uk/
In the meantime I am pleased to be back again for another year and there is work to be done down on the plot.
JANUARY
The month has started as 2015 ended with strong winds and heavy rain other than making sure everything is secure, fruit canes etc. are tied in well there is little I can do for now other than harvesting the remaining crops; Leeks, parsnips, celeriac, sprouts and cabbage. With the unusually warm temperatures we have had this winter continue to check over any fruit and vegetables that are in store that maybe starting to rot, Use or destroy to avoid disease spreading. 
As soon as the weather allows I will be painting the shed and compost bins. In the meantime the greenhouse can be prepared ready for the first sowings and planting towards the end of Feb/March. Make sure all trays and pots etc. are clean and ready for use and no snails are hiding up the spouts of watering cans or under the rims of pots.  Traditionally onion seed is sown on Boxing Day under cover but I find the beginning of March is quite early enough.
16th After being flooded for the last week or so the water is draining but with freezing temperatures impossible to get on the soil yet.
I have managed to get the painting done, shed and compost bins before the next lot of rain arrived.
FEBRUARY
The relentless rain and wind continues; the plot is now so flooded, the edging boards are collapsing with the weight of the water logged soil and will eventually need repairing/replacing. The last of the parsnips had rotted and had to be destroyed, cabbage I have taken out complete with root and hung upside down in the shed and is keeping very well. Celeriac also I have harvested and that too is keeping well in the shed. Leeks are not the best but useable so I have left them in the ground for now.
<![if !vml]>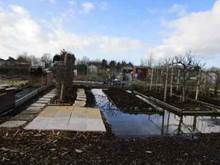 <![endif]>    <![if !vml]>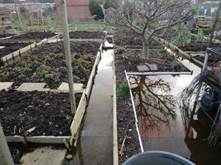 <![endif]>  <![if !vml]>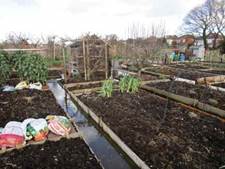 <![endif]>
Seed potatoes are now widely available and can be laid out in trays or egg boxes to chit. Keep them in a light frost free place. Main crop onion sets and shallots can be started off in cell trays in the greenhouse and planted out later in March when they are about the size of a large spring onion. Do not plant in cold wet waterlogged soil, they will either rot or it will encourage disease.
17th – The gale force winds of the last week or so have finally toppled my fence along the side the compost bin, I am not going to replace it but it has given me a reason to tidy up the wood pile at last.
<![if !vml]>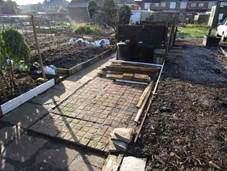 <![endif]>
This winter seems to be endless but the spring bulbs are now giving some welcome colour and hope that soon we will be able to get back on the plot in earnest. In the meantime I am putting up frames for the tomatoes, French beans and peas; checking over my cloche and grow frame covers and making sure they are in good repair for when needed.
MARCH
March has started bitterly cold but I have been able to plant out the 'Marshmello' strawberry plants that I had pegged down from runners last autumn and potted up. First early potatoes 'Rocket' I shall plant now and continue later in the month with second early 'Foremost', earthing up as I go and adding a thick mulch with well rotted compost. This will save the need for any more earthing up later; helping to keep the weeds down and moisture in.
Clear away and use up any crops left from last year; fork over the soil and add some compost if you can.
Now is the time to start sowings in the greenhouse or on a warm sunny window sill. I am sowing peas, Greenshaft an old favourite which I find crops very well, 5 seeds to a 3 inch pot; broad beans 'Robin Hood', cabbage 'Attraction', lettuce 'Little Gem', leeks 'Pot' and 'Giant Winter' and the first sowing of Beetroot in cell trays. Tomatoes I am sowing indoors now and also celeriac.
20th and although we have had some lovely sunny days the nights are still very cold. Onions and shallot sets can be planted now or started off in cell trays. Use a dibber or trowel to plant to avoid damaging the roots. I have also sown the first carrots and parsnips under enviromesh.
Seedlings that are emerging in the greenhouse now need pricking out. Leeks when they are at the crook stage, cabbage and tomatoes set deep in 3" pots up to their seed leaves; they will form more roots up the stem giving stronger plants to put out later.
Some of my daffs are starting to go over and need dead heading regularly.
Easter week-end was a complete wash-out but between the heavy showers I did get some beetroot planted and the peas; both grown first in the greenhouse in cell trays and pots. The peas have been given some twiggy sticks to support them then covered in netting.
APRIL
A reminder that the G.A.H. & G. Assoc. AGM will be held at 7.30 pm on April 19th at HEDCA, Coomb Road. Gosport. Come along and have your say. Your opinions do matter. 
On the plot, the soil is now starting to warm up; continue to plant potatoes, onion sets, shallots and garlic. I will be planting out Broad beans, lettuce and a second sowing of beetroot; Weeds will be starting to grow now so keep the hoe handy and try to hoe all vacant ground if you can; this will cut the weeds below soil level before they emerge and become a problem.
It is a busy time in the greenhouse this month. Continue to make regular sowings of all the salad crops; and now is the time to make the first sowing of French beans; all the squashes, courgettes and cucumbers. Thinking ahead to the winter crops, sowings of Kale, sprouts, Winter Cabbage and Cauliflower can all be made now and many seedlings will need potting on now. Continue to sow annual flowers such as French Marigolds to fill gaps and add lots of colour.    
The fruit plot is now looking wonderful; the plum blossom in full flower and the cherries with big fat buds about to burst. With the wallflowers and still lots of daffodils giving lots of colour the bees are a buzzing.
  <![if !vml]>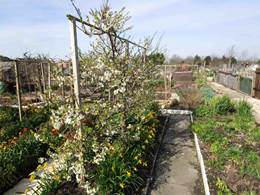 <![endif]>
The last week in April we have had just about everything thrown at us weather-wise. Hail,snow,rain,sunshine and night frosts. Temperatures have plummeted particularly at night and any tender plants should be kept under cover till this cold spell has passed.
Any early potatoes showing should be earthed up to protect from the frost.
My compost bin is now full with a new load of well rotted manure; this I shall use for mulching later on. 
MAY
A DATE FOR YOUR DIARY  The G.A.H.& G.A. Plant Sale will be held on Sunday 15th May at the Brockhurst Stores, Military Road, Gosport from 10.00 am to 12.00 pm. Everyone is welcome.
Back on the plot May is a busy time with the greenhouse bursting with plants waiting to go out but because of the late cold spell I am planting with caution and still giving some protection to the climbing French beans and courgettes. Runner beans I will sow direct in the ground in a week or two. 
Now is time to hang up the Pheromone Traps in apple and plum trees to prevent the codling moth and ensure grease bands that have been applied are free from any debri. My autumn raspberry Polka is now making lots of new growth; Chop through any unwanted growth to control the spread. Strawberries will be making good growth now, remove any runners as they appear.
The first of the season's asparagus is now showing; always a thrill to cut the first few spears.
In the greenhouse I am now sowing winter crops, curly kale, cabbage and purple sprouting to crop next Feb/March and potting on the celeriac into 3" pots.
Middle of May and after an unusually warm and humid spell most crops can be safely sown or planted out now. Tomatoes have almost double their size since planting a week ago, French beans galloping up their sticks and peas, beetroot, onions, parsnips, cabbage lettuce all doing exceptionally well. I am now planting out celeriac and the first of the leeks; sowing runner beans and carrots. Asparagus is now cropping well and needs cutting most days.
<![if !vml]>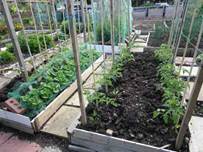 <![endif]>    <![if !vml]>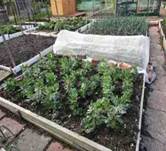 <![endif]>    <![if !vml]>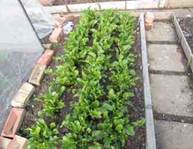 <![endif]>
French beans, lettuce,tomatoes, broad beans and beetroot. All first sown beginning of March in greenhouse.
<![if !vml]>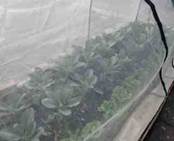 <![endif]>   <![if !vml]>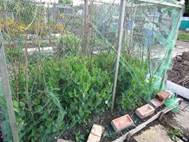 <![endif]>
Cabbage and lettuce under enviromesh; peas under netting.
On the fruit plot the tree blossom has been wonderful; we are hopeful of a good harvest this year.
In the greenhouse my purple sprouting failed so I have re-sown and there is still plenty of time to sow curly kale and winter cabbage. Sprouts need potting on to their final 6" pots before planting out in early June.
JUNE
 After a brief warm spell over the spring bank holiday it has now turned cooler again but very dry. We have not had any significant rain for a couple of weeks now and with the drying winds the soil is getting very dry. Water only those plants that really need it and let the others send their roots down to find the moisture. Most things will survive. We are having a particularly hard time with our water supply waiting for the mains to be fixed so having to very careful how what little we have is used sparingly. I have planted out the last of the leeks under cover to avoid the leek moth which can devastate the crop. Onions can now be fed with an all-purpose fertiliser such as Growmore or Chicken Pellets to encourage the bulbs to swell.
June is the month when we will be harvesting all the first young vegetables; I now have baby carrots, beetroot, lettuce and asparagus.
On the fruit plot the new growth on red currants should be pruned by two thirds to expose the fruit to aid ripening,then covered with netting to protect from the birds. I am also covering the cherries this year as it is looking good for a particularly good harvest. Birds will soon devour the lot. Pinch out the tips of all stone fruit to avoid aphids.
In the greenhouse continue to sow lettuce and all the salad leaves. Swede can still be sown thinly in trays to plant out in July Also turnips and Kohl Rabi. Flea Beetle can be a problem with these crops so a covering of fleece or vegimesh will be necessary. I am potting on the winter cabbage and kale to plant out at the end of the month and purple sprouting for when the peas are finished.
11th of the month and yet again this year the squirrels have destroyed my carrots. They were well protected, or so I thought but they are canny creatures and wait till they are just ready before enjoying a mid-night feast. A few I have managed to salvage. I have now decided to try sowing rows between the leeks in the hope when they are ready in late August the smell from the leeks will keep them away or by then there will be other goodies for them to fill their tummies with.
<![if !vml]>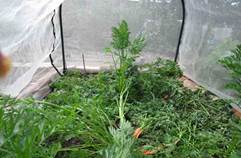 <![endif]>
22nd of the month and after and very long dry spell and little tap water on site due to 2 leaks we have now been deluged with thunderstorms. The rain was very welcome but the plot has taken a battering particularly the flowers; some tidying up is now needed. The veg side is doing well, I have made 2 good pickings of peas and several from the broad beans both of which are finished now and will need to be consigned to the compost. I have dug my first pit which I shall leave open and add as much green waste as I can before filling in.
The carrots sewn between the leeks are through and I have planted my 3rd sowing of beetroot started off in cell trays. I have another week of cutting asparagus before leaving it to make fern. I am continuing to dig Accent potatoes as they are needed.
On the fruit plot the strawberries and red currants are ripening. New canes on the tayberries and blackberries need to be tied back out of the way to avoid being broken or damaged.
<![if !vml]>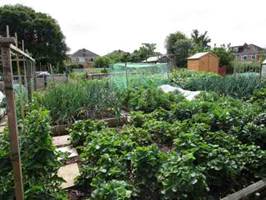 <![endif]>      <![if !vml]>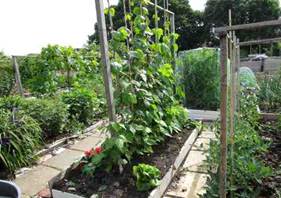 <![endif]>
The veg plot 23rd June.
JULY
Half way through the year already and we are now enjoying all the summer vegetables and the soft fruit is ripening. This is now a priority to harvest; the delicious ripe red berries should be picked when dry. With all the rain we have had they can soon turn to mush if picked wet. I am planning to make a new strawberry bed this year having first cleared it of weeds and added some good rotted compost. The first of plants are Malwena, available now as misted tipped plants; a late variety cropping from August '17 onwards. I will then plant Vibrant for an early one and Marshmello for mid-season as they become available.
I have been cutting asparagus for the last 6 weeks so I will leave it now to make fern; this will feed the crowns to ensure a good crop next year. I have more lettuce to plant out and keeping on top of the weeds is a full time job.
Update to Gosport Borough Council's "referendum" regarding devolved management of allotments to the Association. The results were as follows for those who have not seen the poster put up at sites:
144 Tenants in favour of GBC Managing the Gosport Allotment Sites.
130 Tenants in favour of Allotment Association Managing the Gosport's Allotment Sites.
614 Tenants did not respond to the Council consultation.
At a meeting in Mar 2016, the Council declared they were retaining management of allotments because "the plotholders have spoken" such that they did not want the Allotment Association to take on Devolved Management. We disagree, because we believe that all plotholders were not fully informed about our Vision and Plan so we complained to the Council. They have kicked out the complaint saying the decision was "legitimately made through the Councils governance arrangements". So that's that. And by the way, at the same meeting we asked the Council to respond (in writing) to our Plan, submitted in 2015 so they could inform us what happens next - we are still waiting for their reply.
19th of the month and it is the hottest day of the year. Prioritise the watering to those that are cropping now such as tomatoes, courgettes, beans and lettuce. Hand weed only to avoid disturbing the soil which will help to keep as much moisture in as possible. Some plot holders are experiencing blight on their tomatoes and these should be destroyed but so far mine have not succumbed and are still looking healthy. Black stems and silver patches are the signs to look out for.  
AUGUST
2nd of the month and we finally have had some rain. The plot will benefit from a good soaking it really has been difficult to keep the essential crops going. French and Runner beans are cropping very well but do need plenty of water to prevent them from being hard. So far I am fortunate to have escaped the blight but many have not. With the moist humid weather now it is essential to be vigilant for any signs.
Onions will be starting to bend over now, don't force them allow it to happen naturally. Towards the end of the month ease them out with a fork to break the roots and allow them to finish ripening in the sun if possible. If not bring them into the greenhouse or shed. Only those with thin necks will store well, those with thick necks should be used first. I am continuing to lift main crop potatoes now to avoid the blight. Harden the skins in the sun for a few hours first and remove as much soil as possible then either store in hessian or paper sacks in a cool dark frost free place such as a shed or garage.
I was disappointed with my Malwena misted tipped strawberry plants. Only 4 have survived and have re-ordered Elsanta for an October delivery of bare rooted plants to replace them. 
A DATE FOR YOUR DIARY is the Gosport Allotment Holders and Gardeners Association Annual Show on Saturday 13th August. For a Show schedule and further details visit  http://www.gosportallotments.btck.co.uk/
A great day was had by all and I was delighted to be awarded 2 firsts for onions and shallots, second for carrots and 3rd prize for beetroot; also best large allotment plot in Gosport.
<![if !vml]>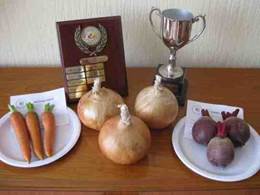 <![endif]>
For further photos visit
https://www.facebook.com/pages/Gosport-Allotment-Holders-and-Gardeners-Association/1454242328169363
The long dry summer is now taking its toll. I am keeping going runner beans, tomatoes, beetroot, carrots and leeks but the soft fruit has suffered and now all I can do is cut down the old canes and tied in new ones for next year. So far I have escaped the blight on tomatoes and they are cropping and ripening really well. Onions I have taken home to finish drying in the greenhouse rather than risk getting them wet again from any sudden heavy shower. My potato crop was excellent and all lifted and stored before any signs of blight. The butternut squash is doing really well to despite not having had any water. They are ripening well and the skins curing in the sun ready to store in September.
<![if !vml]>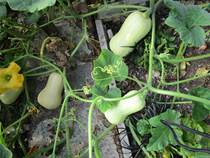 <![endif]>
Preparing a head for the autumn I have taken delivery of one load of well rotted horse manure and expecting another one in the next week or so to replenish my stocks.  One end of the compost bin needs repairing, the wood is rotting.  I have taken out the old slats replaced them.   As the ground becomes vacant now I am removing any perennial weeds and covering with compost from my bins.
SEPTEMBER
I arrived at the allotment early this morning with the dew on the grass and a feeling that autumn is not far away now. It soon warmed up and I could get on with finishing the repairs to my compost bin so I can now start to refill it with all the green waste that has been piling up. I am expecting another delivery of manure soon which I like to layer with the green stuff to rot down and over winter which makes lovely compost for use in the spring. We still haven't had any rain yet and the ground is very dry now. I have stopped watering tomatoes as they will only start to split; concentrating on the runner beans as priority for now.
I have new strawberry plants to set out, Malwena and Vibrant to follow on with Marshmello to complete the summer season for next year.
Autumn Onion sets and Broad Beans are both now available; these can be started off in cell trays to plant out next month or sown direct to over winter.
25th and my tomatoes have finally succumbed to the blight with the exception of Mountain Magic F1. This I will leave in a bit longer. I have taken off as many as I
think will either ripen at home or be usable and composted the plants. Runner beans are now a bit hard and stringy; the vines I have cut off at ground level leaving
them to dry off a bit before taking down; leaving the roots in as they give off valuable nitrogen. Leeks have had their final earth up to blanch the stems and given
a good watering as we still haven't had any appreciable rain.  I am very disappointed with my celeriac this year they are still only golf ball size and unlikely to
grow much more now, they too will be removed to the compost bin. As the ground becomes vacant now I am removing any perennial weeds and covering with a
good layer of compost.
On the fruit plot next year's soft fruit canes are still growing and need attention; continue to tie in to avoid the winds breaking them off.  Continue to pick up any fallen apples and pears and either use or compost. 
OCTOBER 
Priority for me this month is to get my sprouts staked. My ground is quite soft and the roots will rock in the strong winds. They need to be firmed in really well with the heel of my boot and then a strong stake. All dead and dying leaves removed and because it has been so dry given a good watering.
<![if !vml]>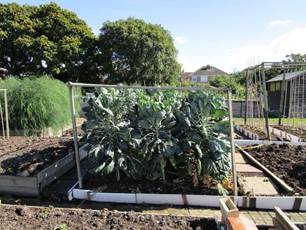 <![endif]>
I have been really pleased with the tomato Mountain Magic, this is the only one that has escaped the blight this year and is continuing to ripen but I am now going to remove the whole plant and finish ripening the last few tomatoes in the greenhouse. This is a 'must' on my seed list for next year.
I am very sad that my Victoria plum tree now needs to be cut down. It hasn't fruited for the last 2 years and many of the branches are now dead. It was the first tree we planted and has given 25 years of heavy crops of luscious fruit. However rather than take the whole tree out I have left some branches and plan to plant a Passiflora ( Passion Flower) to climb over it. This will flower and give me edible fruits in the summer.
<![if !vml]>
<![endif]>
Round the base I have planted Jet Fire daffodils to give some spring colour.
I am continuing to remove spent crops and flowers to the compost heap and adding a good layer of compost. Dead heading and picking the dahlias and chrysanths; this will keep them flowering till the first frosts. Any perennials such as delphiniums can now be lifted and split to make new plants. Dig the whole plant and divide with 2 forks back to back and replant.
Trying to keep the badgers from eating my Polka autumn raspberries is becoming quite a problem.
The month has ended with the unseasonal mild weather continuing with very little rain; I have had to soak the sprouts really well in the hope it will kick start them into forming their buttons, so far they are very small.
NOVEMBER
While the weather stays mild it is a good idea to get as much clearing up done as possible, gather up all fallen brassica leaves, any summer crops that are finished, fallen rotting fruit and add to the compost bin. Fork over any vacant ground and cover where possible with a good thick layer of compost. Plant out onion sets and broad beans to over winter, the mild weather will give them a good start. I have also set out the last of my strawberry bare rooted plants, Marshmello and Elsanta. All the squashes can now be cut for storing, leave an inch of stem and placed in the sun to finish curing the skins before storing in a frost free shed. Check regularly now any fruit, potatoes and onions in store; remove and use any that are starting to go over.
Asparagus can be cut down now as the fern starts to turn bronze. Remove any weeds and add a dressing of wood ash if you have any and a thick mulch of compost.
I am now giving the shed and compost bins their annual coat of preservative and making a start on renewing edging boards that have rotted.
On the fruit plot I am continuing to pick pears Conference and Concorde while they are still firm but come away easily from the stalk.
20th and we have had some very heavy rain and gale force winds making it impossible to get on the plot; if you can clear away and compost any spent crops, fork over the ground and add a good layer of compost. My spray chrysanths are now going over, some I will leave in the ground they may survive the winter but most I will lift, cut back, pot up and store in the greenhouse keeping them on the dry side till the spring then I will take cuttings from the new shoots.   
DECEMBER
The month started with the hardest white frost we have had in a long time. It will certainly do the parsnips good making them sweet and crisp and should by now have all but destroyed the whitefly which has been quite a nuisance on the brassicas. This is the month when we can take a back seat and plan for next year, taking notes on what has done well and what we should try and do better; making a plan of what to plant where and prepare accordingly. Should the weather allow continue with winter digging, turning the soil and leaving it in clods for the weather to do its work and break the soil down. It will be easier to rake down in the spring. Any tools not being used now can be cleaned, oiled and stored away. Canes plunged into a bucket of bleach or disinfectant to remove any bugs or diseases; pots and trays washed ready for use in the spring.  All the new catalogues will be available for 2017 now with many new and exciting varieties to tempt us.  If you haven't already put your order in, study them before doing so and aim to grow at least one new vegetable next year if you can.
22nd and unfortunately a number of sheds on the Elson site have been broken into. Small tools such as hammers and screwdrivers have been taken but extensive repairs will be needed to the doors and locks.
ROUND-UP   
As always there have been the ups and downs this year. We were disappointed that devolution of the allotments didn't take place but we continue to be hopeful for the future.
Steve our storeman at Elson has been very poorly but we wish him well and hope he returns to us in the New Year. In the meantime our stores remain closed but any supplies can be obtained from the Brockhurst stores at Military Road on a Sunday morning from 10 am to 11.30 am.
On the plot my two main disappointments have been the celeriac and sprouts both of which have refused to grow; celeriac I think due to lack of water as it has been a very dry year and the sprouts maybe my soil is now too light and open for them. The parsnips on the other hand are excellent and probably some of the best I have grown.  The wild-life (badgers, foxes, squirrels etc.) have continued to cause destruction and we will strive to find ways of deterring them.
I look forward to returning in the New Year and wish you all a very Happy Christmas and peaceful New Year.
                     <![if !vml]>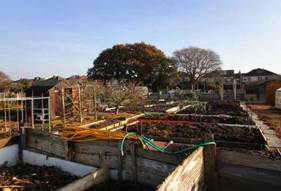 <![endif]>        <![if !vml]>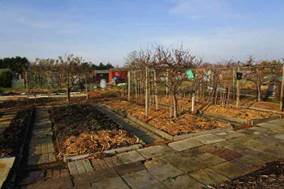 <![endif]>   <![if !vml]>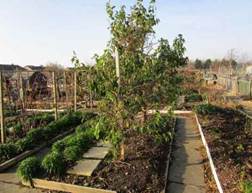 <![endif]>         
Plots at the end of the year.