[Home Page] [A Year in the Life of our plot 2000] [Diary 2001] [Diary 2002] [Diary 2004][Diary 2005][Diary 2006][Diary 2007][Diary 2008][Diary 2009][Diary 2010][ Diary 2011] [Diary 2012][Diary 2013] [Diary 2014] [Diary 2015] ][Diary 2016] [Diary 2017] [[Diary 2018] [Wild Life Area] [Conservation Project] [Badgers] [Ray's Plot] [Links Page]
DIARY 2003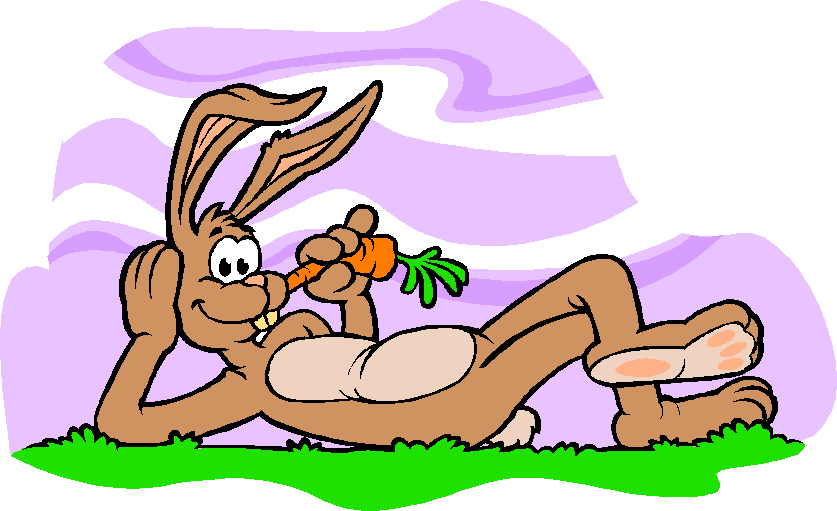 No time to be lazing around, a New Year and plenty to do down on the plot.
You are all very welcome to come and join us.
JANUARY.
The year has started as 2002 finished - very wet. With the torrential rain the plot is flooded and it is impossible to get on the ground other than to continue harvesting the winter vegetables. There is lots to do and as soon as the weather improves I will bring you news as soon as I can.
In the meantime there is one date for your diary not to be missed. On March 18th at 7.30 pm, the G.A.H.& G.A. are holding an evening with Mr. Trim from the National Vegetable Society at H.E.D.C.A. Coombe Road, Elson, Gosport. Mr. Trim advises on fruit and vegetable growing and is a NVS show judge. All are very welcome. Admission is free to members and £1.OO to non- members.
---
After 10 days of the 'big freeze', the water has drained enough for us to get on the plot. A winter tar wash has been applied to all fruit trees and I have pruned back the tops of the raspberry canes to just above the level of the top supporting frame this will prevent any wind damage and also encourage strong fruiting spurs to form in the spring. Pigeons are a problem again and I have had to cover the purple sprouting with netting. I have made my first sowing of large onion seed Fl 'Golden Bear' and 'Hysam' in the greenhouse. These will be pricked out into 2" cell trays when they reach the loop stage.
Continue to gather up and compost any rotting vegetation to avoid over wintering pests and diseases.
20th January - with yet more heavy rain we are again flooded but undeterred we have taken delivery of some more wood chippings to top up our perimeter paths. This has helped to soak up some of the water.
We have also taken on another 5 rod plot. Starting from scratch again will be quite a challenge. It is at the time of writing water-logged but I hope to bring you news of our progress as soon as we can get started.
| | |
| --- | --- |
| Plot flooded but wood chippings on paths have helped | Our new plot - No. 34 |
FEBRUARY
The beginning of the month has started dry but still very cold. I have made a start on Plot 34 by marking out the beds with string and pegs. The ground is draining and I have started the digging. On the veg plot the purple sprouting is producing some nice young shoots and with regular picking and protected with netting from the pigeons, should continue to crop for some 2 months.
The last week of the month and although the soil is now in a good crumbly condition it is far too cold to be planting yet so I have put out 3 polythene cloches. These should warm the soil up nicely in about 3 weeks to to begin some early sowings of parsnips, carrots etc. in March. In the meantime I have been getting underway in the greenhouse, sowing cabbage 'Earliest of All' , cauliflower F'Rapido (a new one for me to try) and a reliable favourite 'Lateman'. Also lettuce 'Little Gem' and 'Density'. The Celeriac needs a gentle heat to germinate so these I have placed on top of our central heating combi-boiler.
Beetroot 'Tardel' and Spring Onion 'White Lisbon' have been sown in modules and peas 'Greenshaft' in 3 inch pots 6 peas to a pot.
On the fruit plot, all with the exception of the Strawberries, have been given a top dressing of Sulphate of Potash. At the time of writing the Strawberry plants are not looking very good. I think they have suffered from the long wet conditions this Winter and I may have to re-think planting a new bed in the Autumn.
On Plot 34, we have now nearly finished digging the beds over and John is making good headway with the edging. We have been very fortunate to obtain some good solid timber discarded from the old iron warship 'HMS Warrior' which is having her decking re-newed.
(End of Feb)

Beds are now dug over and John is making good progress with the edging. The paths will be laid with old carpet before filling in with a thick layer of wood chippings.
MARCH
The first week in the month and I have made early sowings of carrots under the protection of the plastic cloche which has been warming up the soil; 'Amsterdam Forcing', 'Blunt Guerande' (A new one for us to try from Thomas Etty) and 'Sytan'. I have delayed sowing Parsnips due to the weather being very windy again. We have taken delivery of another load of manure which half has been put in the compost bin and half will be used to dig in on plot 34. These beds are very low and will need raising as much as we can because of any future winter flooding.
In the greenhouse, Leeks and the first tomatoes have been sown. I am trialing 'F1 Ferline' from The Kitchen Garden which is supposed to be blight resistant. I will report back on this later in the year.
14th of the month - On a calm and less windy day I have now sown the parsnips, 'Panache F1', 'White Gem' and 'Avon Resister'. These will take about 6 weeks to germinate so I have covered the ground with some twiggy branches to keep the 'wild life' off.
I have also made a start on the potatoes. 'Aran Pilot' and 'Foremost'. As this is heavy work for us ladies I aim to plant 3 rows (7 tubers each) at a time; first taking out a trench a good spade depth, adding a good layer of well- rotted compost before setting out the tubers. Filling in and earthed up to a mound. This will protect any early shoots from the frosts. I have well prepared the onion bed with Armillatox to help combat the white onion rot. This needs to be done 3 weeks prior to planting.
We are continuing to dig plenty of manure into plot 34.
In the greenhouse I have pricked out tomatoes and celeriac and sown chard 'Rainbow', French Marigolds, Coreopsis, Gaillardia, Helichrysum, Statice, Aster, Gazania, Cineraria, and Rudebeckia.
I am continuing to harvest delicious Purple Sprouting 'Red Arrow', Kale 'Dwarf Green Curled' and leeks.
Our evening on the 18th with Mr. Trim from the N.V.S. was very enjoyable with about 100 attending. Our sincere thanks to all who helped to make this, our first social evening, such a success. It has given us plenty of thoughts for future events.
The last week of the month and we have made good use of the glorious Spring weather. I have now planted out the peas 'Greenshaft' but as the nights are still cold I have given them some protection with fleece. The potatoes are now all planted, with 'Pink Fir Apple','Romano' and 'Ambro' to complete the main crop. Also onion sets 'Fen Globe'. These I have planted just below soil level to deter the birds from pulling them out, and covering with some twigs till they are established. I have scattered chicken pellets on all vacant ground and lightly raked in. Tip - I have found that cats don't like the smell of chicken pellets and it does seem to keep them off my plot.
Peas planted between the frame then twigs added for support before being covered with fleece.

2 beds of early potatoes Aran Pilot,

Foremost and some Pink Fir Apple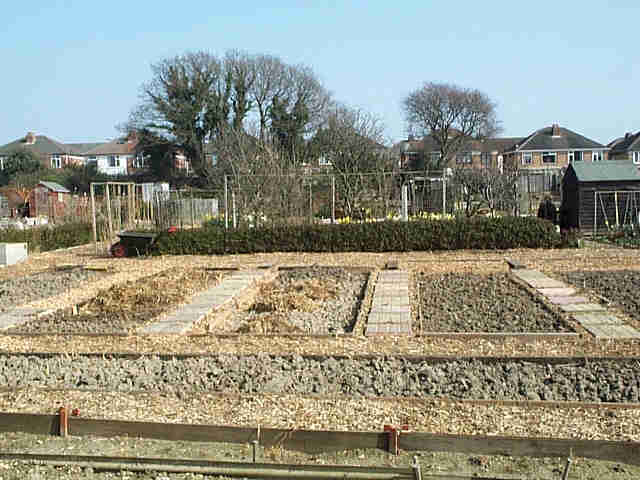 Plot 34 - now ready for planting.
---
APRIL
I am continuing to plant out onions, grown from seed in modules. 'Golden Bear' and 'Hysam' also the red onion 'Brunswick'. In the greenhouse it is now time to sow sweet corn 'Minimop', french beans, 'The Prince' and 'Cobra' (the climbing one), courgettes, (yellow)'Fl. Jemmer', cucumber 'Bush Champion'. cauliflower 'Dominant' and more lettuce 'Density' and 'Little Gem'.
The shed has been given its annual coat of wood preservative and John has been busy erecting supports for the tomatoes and canes for the runner beans later on.
4th of the month and still making good use of the fine weather I have now planted out cauliflower 'F1 Rapido', cabbage 'Earliest of All' and more lettuce but there is still a chance we may have a frost and the night temperatures could fall very quickly so I have covered it all with fleece. The plot is now looking very much like 'a white igloo farm'.
| | |
| --- | --- |
| Cauliflower F1 Rapido under fleece. | Peas, Cauli, Cabbage etc. under fleece. |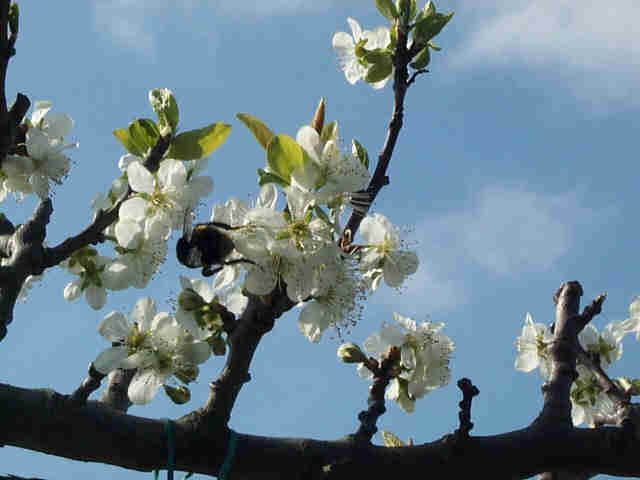 Busy bee on the plum blossom.
Easter week-end and the weather has now turned cold and windy again. We have not had any rain for so long the plot is very dry and watering to keep the plants going is essential now. I am glad I have kept the fleece in place it not only protects the plants from the drying winds but any bugs that might be about to. I have now planted out under fleece the first of the French Beans, 'The Prince', which I started off in the greenhouse earlier this month. I am continuing to dead-head the daffodils but will leave the foliage to die down naturally so as to build up strong bulbs for next year.
In the greenhouse I have made further sowings of lettuce, beetroot, and fennal; there is still lots to do pricking out the bedding plants, potting on of tomatoes, celeriac, chard, cauliflower etc.
I am still harvesting purple sprouting, but the kale has run to seed and has been consigned to the compost heap.
The workmen have now nearly completed levelling and relaying our main paths. This has made a tremendous improvement to our site, making it much easier for plot holders to drive to their plots for loading and unloading etc.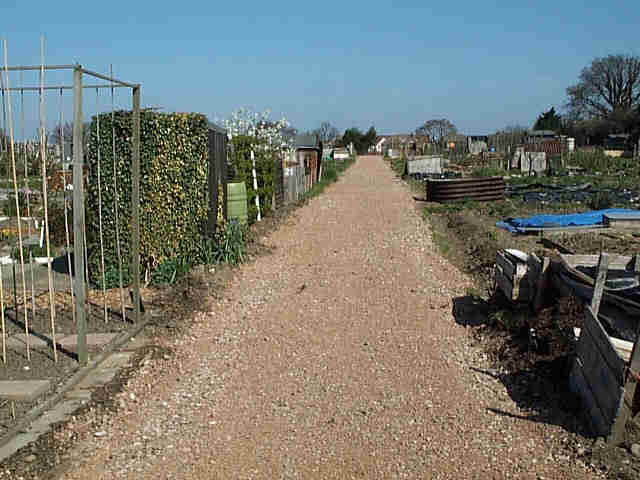 The month ended with us welcoming the ladies of the local Art Group to our site. They spent a very enjoyable afternoon sketching and painting and hope to come back again later in the year to complete their project through the seasons.
MAY
After some very welcome rain over the last week the ground is now in a perfect condition for planting.
I have set out the last of the cauliflower 'Dominant', a new one for us to try from Kings. Celeriac - 'The Prinz', again from Kings which I grew last year with excellent results. They claim this one to be bolt resistant. I had 100% success and hope to repeat the same again this year. Sweet corn 'Minimop' I have set out in the bed next to the celeriac because I have found it protects the celeriac later on from the hot sun. Runner beans have been sown in pots in the greenhouse.
The soil is now perfect for hoeing and to prevent the weeds getting a hold I am hoeing regularly all vacant ground as well as in between plants. If they can be chomped off below surface level before they appear there is less likelihood of them getting a hold.
It is now time to be thinking about winter crops and I have made sowings of Brussel Sprouts in the greenhouse. An old reliable favourite 'Brilliant' for the first Autumn pickings, also 'Dackmar 21' and a red sprout which is supposed to hold its colour when cooked, 'Rubine' from Thomas Etty, both new varieties to us to try. If you don't have a greenhouse these can be sown now in a seed bed of finely tilled soil and transplanted later.
Plot 34 is filling up with a wig-wam of sweet peas, chard 'Rainbow', the last of the 'Pink Fir Apple' potatoes, 2 surplus cauliflowers. 2 golden plum trees which I hope to train on wires to give a protective barrier to the plot and various ornamental grasses, shrubs etc. brought from home. 4 Mounds have been made with 2 good buckets of compost mixed with a little top soil and a yellow courgette Jemmer Fl planted in the middle. By raising the plants like this is not only gives them a good compost to grow away in (they are hungry feeders) but keeps the fruits well of the ground and prevents rotting.
2nd week of the month and everything is growing away nicely. The first bed of potatoes have been earthed up and to keep all the moisture in and weed free, a good thick mulch of grass cuttings and rotted manure has been laid between rows. No more needs to be done now till harvest time.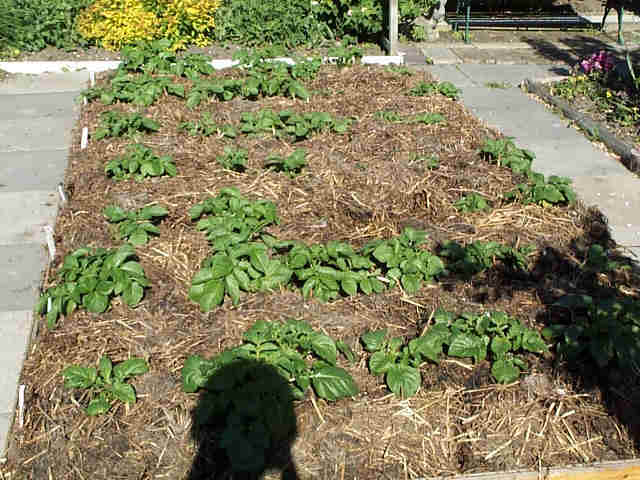 The fleece has been removed from the peas, brassicas, lettuce etc. and replaced with fine netting. First mulching well because once the netting is in place it is not so easy to hoe and weed and any disturbance of the netting is likely to let in unwelcome pests. Our main problem is birds so this year John has raised the framework by another 6 inches or so because as the brassicas grow, we found last year the birds used the framework as perfect perches to sit and dip their beaks through the netting.
We found the netting to be a very effective barrier against the butterflies which resulted in almost no caterpillars in 2002.
The tomatoes are outgrowing their space in the greenhouse and although early for planting outside I have had to take a chance and start doing so, giving them some protection with fleece.
| | |
| --- | --- |
| Brassicas well mulched under netting. | Tomatoes, 'Spanish Beef', Italian 'Costoluto Fiorentino' and the bush 'Red Alert'. |
It is also now time to be thinking about entering the competition in July, organised by the Hampshire Federation of Horticultural Societies. They must be returned completed by 1st June so there is no time to lose.
3rd week of the month and we are experiencing some very strong winds. I have delayed planting out the runner beans to avoid them being damaged by wind-burn. I have noticed several of my neighbours have lost most of their plants and will have to re-sow.
All the potatoes have now been well mulched. Swede, 'Ruby', sown under fleece to protect from the flea beetle, has germinated quickly and these I have thinned to approximately 2 inches apart and will thin them again to about 4 inches later. The fennel has also been thinned to approx. 6 inches apart.
Further sowings of french beans, beetroot, lettuce, spring onions and carrots have been made and still thinking ahead to winter I have sown kale 'Dwarf Green Curled' and purple sprouting 'Red Arrow'. My leek plants are still in the green house, I am keeping careful watch on them this year and hope to avoid the leek moth which has been devastating crops here in the South over the last couple of years or so. If you have experienced problems with the leek moth, see my Diary for 2002 - September, there is a very interesting letter from RHS, Wisley on the subject.
I have harvested my first lettuce, 'Density' and 'Little Gem' and I am now planting out all my annual bedding as the weather allows.
If like me you are not handy with the hammer and nails to make a frame for the netting, I can recommend the 'build a ball system'. I have been experimenting with these and providing the canes or tubing is of an even size, it is simple and easy to put together to make a very effective framework for the netting. I purchased mine from Lakeland Ltd. Tel: 015394 88100 or www.lakelandlimited.co.uk
but I believe they are obtainable from other outlets to such as Suttons www.suttons-seeds.co.uk
JUNE
The first week of the month and the weather has been kind to us. We have had enough rain to keep everything going without the need for much watering. I have made a start planting out the sprouts on plot 34. 'Brilliant' for first early pickings in September then 'Rubine' and 'Darkmar 21' which should see us through until late January/February next year. I have also planted out another double row of french beans, lettuce and spring onions for a continuous supply. Tomatoes need some attention now, removing the side shoots and tying in to their supports as they grow. The bush variety 'Red Alert' has been well strawed to keep the fruits clean. Having well mulched everything as much as possible we have taken delivery of another trailer load of manure which has refilled our compost bins.
The fruit also now needs some attention. Strawberries have been strawed to keep them clean, New Gooseberry bushes which I am fan-training have had the tips pinched out to deter the aphids and tied in to their supports. Plums, damsons and cherries, have also had the soft tips pinched out to deter aphids. Red currants I have pruned back the soft new growth by about 2 thirds and covered with netting. The currants are now showing a pale pink colour and are very tempting for the birds. We will also cover the cherries with netting.
We are now harvesting, lettuce, spring onions, beetroot, cabbage, cauliflower, carrots, new potatoes and strawberries.
A date for your Diary: The Countryside Fayre is being held at Grange Farm, Rowner on Sunday June 22rd from 10-4 pm. The G.A.H.&G.A. will be holding their usual stall at this event.
The last week in the month and although we have had some very heavy thunderstorms, the rain was very welcome. All of my first sowings of cauliflower have now been harvested and I have replaced with more sprouts. I am now setting out leeks as the ground becomes available from digging potatoes. The peas have all been harvested and safely stored in the freezer. Tip There is no need to blanch peas for freezing, just shell, pack and freeze. They will keep for at least a year this way.
The french beans are cropping well and need to be picked regularly to keep the plants going. The soft fruit, loganberries and tayberries also needs to be picked every day. The raspberries have a particularly heavy crop on them this year and we are enjoying them on our breakfast cereal as well as for desert. I am starting to peg down strawberry runners on some of my better plants. The sooner I can raise new plants to set out the better, to give them a good start before the autumn.
JULY
lst day of the month.
We had a very constructive meeting with a council officer today on site at the allotment with regard to the use of wood chippings on our plot paths.
Their concern is that the chippings may have originally come from diseased trees etc. that would have been felled for such reasons as honey fungus, amongst other things and if used could cause leakage into adjoining allotment plots. However, it was agreed there is only a very small chance of this happening but they would like to carry out further investigations before agreeing to us using it again.
The Officer apologised for the way the matter had been handled and has asked us to be patient to await the outcome of their investigations.
I have to say I think he was impressed with the way we had used the chippings to our advantage and I am now more hopeful for a positive outcome.
He was made aware of all your comments for which I am very grateful and I will keep you informed of any further progress.
Two more disasters have befallen us so not a very good start to the month. First- after spending time thinning and weeding the swede, and covering with netting I tripped and fell headlong, flattening them all. Having picked myself up I did my best to re-do the patch but I doubt now they will recover.
Second - vandals have wrecked our water supply to the site and it has had to be turned off at all the taps until it can be repaired; just when we are all in desperate need of water too. I have used all to the last drop in our butts and unless we can get some soon I fear the crops will start to suffer.
On a happier note - the soft fruit season is in full swing and the berries need regular picking before the birds can help themselves. My 2 cherry trees are laden and these need to be harvested with scissors to avoid damaging next years buds. The blackberry too is ripening early and I have had to cover this with netting. The strawberries are finished and have been given a 'hair cut' with the shears and the patch tidied up. The plants will soon make new growth and recover for next year.
On the vegetable patch, I have made the last picking of peas and removed the sticks, left the plants to die down in situ. This will put back some valuable nitrogen into the soil. I have finished planting out the leeks and planted kale, Dwarf Green Curled. The purple sprouting, 'Red Arrow' will be set out in a week or two when I take out the peas. The Autumn sown onions are now ready for use and have been gently eased out of the ground and left in the sun to ripen, turning every few days. The French beans need to be picked regularly to keep them cropping well.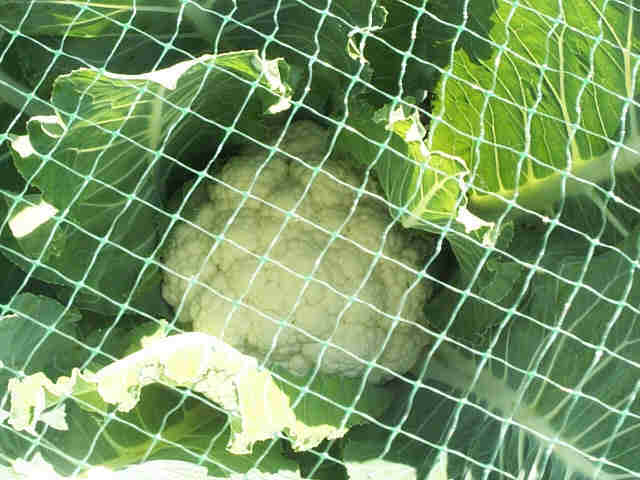 I have been very pleased with the new cauli Fl Rapido. They have produced some very good white compact heads. One I will grow again.
To see more photos taken on lst July click here

The G.A.H.&G.A. will be holding their stall on Saturday 12th July at the Summer Fayre, in Walpole Park, Gosport. from 10 am till 4 pm. Click here for photograph.
The last week in the month has seen some very welcome rain which has refreshed the plot considerably. Tomatoes are ripening now, 'Red Alert' always the first. Baby sweet corn 'Minimop' needs harvesting as soon as the tassels are showing to keep them young and sweet. I have made the last sowing of main crop carrots, 'Sytan' and 'Autumn King' (under fleece), more beetroot 'Tardel' (quick maturing one to have for late autumn), lettuce 'Little Gem' and spring onion 'White Lisbon'. The purple sprouting has been planted out under netting as the white butterflies are still about and the leeks have been given their first earth-up.
The first plum tree 'Early Rivers' is just about finished and we are now picking the 'Czar'. Raspberries have finished and the old canes have been cut out and the new ones tied in.
AUGUST
Harvesting is taking up much of my time now but there is still lots of tidying up to do and I like to keep all vacant ground regularly hoed as I find this is the only way to keep the weeds at bay, chomp them off below ground level before they appear.
4th of the month - Well, I think I spoke to soon, like the rest of the country we are experiencing the hot weather and to conserve as much moisture as possible I will not be hoeing or disturbing the soil any more than is
necessary for harvesting until we have some rain again.
Now that so many pesticides are no longer available to the amateur gardener a useful web site listing all the products can be found at www.pesticides.gov.uk
With the long dry spell still with us the onions have ripened and dried and I have now lifted them ready to be put on to strings to store. If you would like to see how I do this go to 'A Year in the Life of our Plot 2000' page September/Dec.'
So far there is no sign of the dreaded blight on the tomatoes and all are ripening and cropping very well including the French one 'Ferline F1' which I am trialing with the Kitchen Garden.
The following email was received from Alan Gibson, Gosport Borough Council and will affect all plotholders in Gosport.
Sent: Friday, August 15, 2003 1:33 PM
Subject: RE: Elson chippings
Dear Mr Saunders,
I write to clarify the situation to date.
Please see below, a copy of information obtained from the Hampshire Tree Officers' Forum
Two concerns are as follows: -

1) if the wood chippings contain a lot of leaf or other soft/green easily compostable material or contain a lot of "fines" (finely chipped wood which composts far quicker than coarsely chipped wood) the effect of placing this material onto allotments is that it will deplete the soil of nitrogen as the organisms which compost such materials, and "feed" on nitrogen have to go into overdrive to break down the massive amounts of woodchip you have just dumped on them and therefore consume vast amounts of nitrogen.
Proper woodchip (pure wood chipped to a large particle size - by "large" I mean 1.5cm dia min) is a very different material to what comes out of our contractor's chipping machines!
In view of the above information, the Council will be issuing an 'Advice Note / Information Leaflet' that can be distributed to those who enquire about the use of wood chippings
In2) much of the woodchip may well have come from diseased/decaying trees.
Whilst the pathogens present probably would not affect the sort of plants you'd grow on an allotment, horticulturalists do have doubts about the wisdom of spreading such material around healthy plants on allotments, shrub borders etc, unless the woodchip has been composted at sufficiently high temperatures as to kill off pathogens. Wood chip is rarely composted to this degree. Just something to think about. The first concern (nitrogen depletion) is the more important one.
the meantime, in view of this independent advice, it is not felt appropriate to allow untreated materials to be brought onto the Council Allotment facilities.
I am sorry that it appears that it has taken such a long time to progress this matter but the Council has a limited number of resources to deal with a wide range of issues. Each enquiry is progressed as priorities and resources allow and, on occasions, some enquiries are delayed due to urgent, unplanned issues arising.
Yours Sincerely
Alan Gibson
Head of Parks and Service Facilities
---
The last few days of the month and the weather has now turned much cooler and brought some much needed rain.
I have planted out a new strawberry bed with modules from Marshalls. Marshmello (this one I have grown before) and Claire-Maree. All the pruning has been completed on the plum trees and we are now harvesting the first of the Williams pears.
We were also delighted to learn we have again been awarded first prize in this year's H.F.of H. Soc. competition for allotments of 10 rods and over with a total number of points of 306 from a possible 320. A very pleasing result to end the month on.
SEPTEMBER
We are continuing to lift potatoes, Pink Fir Apple, Romano and Ambro, a new one for us which is proving to be a very heavy crop of large bright red skinned potatoes.
Leeks are growing well this year with only a few damaged by the leek moth. They have been given their first earth up. Runner Beans have been disappointing but with the cooler weather now I have a second flush of flowers which is setting so hopefully we will have a crop before any early frosts.
On the fruit plot, the damsons have been harvested and made into jam. No pruning is needed to the tree this year.
The Williams pears are ripening quickly and need to be used as they won't store. Eaten straight from the tree they are delicious.
A date for your Diary is Saturday 27th September, when the G.A.H.& G.A. will be holding their usual stall at the Alverstoke Michaelmas Fayre, selling a range of produce from Gosports allotments.
I have harvested my first celeriac and for the second year running I am very pleased, despite the exceptionally dry summer not one bulb has 'run to seed'. The variety ' Prinz' is organic seed from Kings.
OCTOBER
A date for your Diary. Due to the success of John Trims talk in March the G.A.H.& G.A. has invited John back to talk on the 'The basics of growing fruit and vegetables' on October 28th at 7.30 pm at H.E.D.C.A. Coombe Road, Elson, Gosport. This will be of interest to the beginner and more experienced gardeners alike. All are very welcome. Admission is free to members and £1.OO to non members.
October has started with some very welcome light rain. The winter brasicas are suffering due to the lack of water. The spouts are not forming and I think most will not be of any use and will be consigned to the compost heap. On the other hand, the runner beans are producing some good tasty beans after a very poor summer and have been worth waiting for.
I am picking pears, 'Conference' and 'Concorde' while they are still firm; laid out in trays so the fruit is not touching to ripen.
19th of the month and with no appreciable rain the plot is very dry. My new strawberry plants need regular watering till they are well established. With the nights getting colder now the last of the tomatoes have been harvested and the green ones laid out in trays in the greenhouse to finish ripening. I have been very pleased with the Kitchen Garden trial of 'Ferline', the fruit has been of good size, firm, free of any central core and of good flavour. One I will grow again. Thompson & Morgan are listing it in their 2004 catalogue.
Runner beans have given us a good late crop and made up for the poor summer. I have now cut the canes at ground level, leaving the foliage to die back before removing to the compost bin. The roots I will leave in the ground as they will add valuable nitrogen to the soil. All vacant ground cleared of debris, has been dug over and I am back to the regular hoeing to keep it free from weeds.
We have obtained some more second-hand paving and John has been able to complete the paths on plot 34.
NOVEMBER
We have received a very favourable letter together with several reports from the Arboricultural Advisory and Information Service, (The Tree Advice Trust) with regard to the use of wood chippings on allotments. Copies of the these have been sent to Gosport Borough Council. In response they are now awaiting a reply from R.H.S. at Wisley and will make their recommendations in due course. This will probably include the 'stacking and turning' of chippings before use. If you would like copies of these reports I would be happy to forward them to you. Please use the email link below.
On the plot, we have now had a good rain fall, making it all look much fresher and the soil easier to work. John has dug the runner bean trench ready for next year. This is about a spade and half in depth and will be left open all winter and all the kitchen waste, vegetation etc. will be added before filling in with soil in the Spring. I am continuing to keep the plot tidy, collecting up all fallen and rotting leaves etc.
I am very pleased with a late crop of carrots, planted under fleece in July. 'Sytan' and 'Autumn King', both are free from the carrot fly and not showing any signs of slug damage as yet.
The lack of water this Summer does not seem to have affected the parsnips and a new one for us this year 'Panache F1' is producing some very large long tapered roots. We are also harvesting, good sized leeks, kale and celeriac.
The last 2 weeks of the month and we have had the heavy rain and gales which have swept across the country. On the dry days we have managed to mulch all the tree and soft fruit and taken delivery of some more manure to replenish our stocks.
DECEMBER
There is little for me to do now on the plot other than to continue to keep it tidy and free from rotting leaves etc. John has some repairs to do. Some of the edging boards need replacing on the beds and where one or two of the paving slabs have cracked he will replace with some more second-hand ones we have managed to obtain.
I am continuing to harvest leeks, celeriac, parsnips and kale. Enough to keep us supplied well into the New Year.
Time now to relax and gather all the 2004 seed catalogues and discover what is new for the coming year.
POTATO WEEK-END
The Hampshire Group of the HDRA (Organic Gardening) are holding their Potato Weekend on 24th and 25th January 2004. 10 am - 3 pm. at Testbourne Community Centre, Whitchuch. Over 100 varieties of seed potato will be on sale at 13p per tuber or by the 2.5kg net. Sunday 25th only, Chris Bird from the Sparshalt College will be speaking also Cookery Demo by Kathy Pollock and Children Activities. £1.50 per adult and children free. More Information Tel: 01256 893264 or visit http://www.hhdra.org.uk
ROUND-UP
I think despite the extreme weather conditions, this year has been a very good one. My only failure was the sprouts, planted on our new plot 34 which has club root. I will in future not plant any brassicas on this plot and work to improve the soil as much as possible. I think the use of fleece and fine netting for the second year running has proved to be the best deterrent against birds and bugs and probably due to the very dry summer there was little slug damage. I tried the Ferline tomato with other Kitchen Garden readers and had a very good, high yielding crop of large firm meaty and very tasty fruits. Good for salad use and cooking; watered well when I planted them and only watered twice after that. The plants stayed green all summer and showed no signs of the blight. One I will grow again next year.
I hope to bring you news of the Gosport Borough Council's decision on the wood chippings in the New Year.
I wish you all a very Happy Christmas and hope you will join us again down on the plot in 2004.