[Home page] [ [A Year in the Life of our Plot 2000][Diary 2001][Diary 2003][Diary 2004][Diary 2005] [Diary 2006][Diary 2007][Diary 2008][Diary 2009][Diary 2010][ Diary 2011] [Diary 2012][Diary 2013] [Diary 2014] [Diary 2015] ][Diary 2016] [Diary 2017] [Diary 2018] [Typical plots on the Elson Site] [Wild Life Area] [Conservation Project] [Badgers][Ray's Plot] [Links Page]
DIARY 2002
Hi folks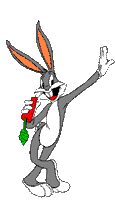 Welcome to the new
Gardening Season.
JANUARY
After a bright crisp start to the New Year, January has turned very wet and windy. We have been able to plant new raspberry canes to replace the ones lost in last year's storms. 'Long Cane Glen Ample', a new one from Marshalls which we hope will give us a crop of fruit this year. The last of the sprouts have been harvested but we still have plenty of leeks, parsnips and kale to keep us going. Onions in store need checking every week or so now for any that are going soft or sprouting and should be used as soon as possible.
We have managed to obtain some more second hand paving, enough to complete two more paths which John will lay as soon as the weather permits.
FEBRUARY
The first 2 weeks on the month have been so wet and windy, we are now flooded again with water up to our ankles around the shed. John has managed to lay one more path but other than harvesting the vegetables there is not a hope of getting any work done till the ground has drained. On a lighter note I hope you will find my Home Page quicker to load now I have added a separate Links page.
The month has ended as it began - wet and windy. On the odd dry day we have taken delivery of a trailer load of manure which I have moved to the compost bins for use later in the year as a mulch. John has now finished all the paths with paving and has started to erect the frames and supports for the peas, beans and tomatoes. The autumn sown onions have been given a thick mulch and shouldn't need any more attention now till harvest time. The plot is looking quite colourful with the daffodils in flower. Next month hopefully we can start in earnest with the first sowings. In the meantime I am getting under way in the greenhouse with the first of the cauliflower, cabbage, beetroot and spring onions. Peas I have sown 4 to a 3" pot and broad beans 'The Sutton', l to a pot to plant out at the end of March.
MARCH
The first week of the month and the weather is very Spring-like, mild and sunny. I have erected 2 plastic cloche tunnels to warm the soil and sown the first carrots, Early Nantes and Amsterdam Forcing. I have also sown parsnips, Kingship and Avon Resister, covering the rows with twiggy branches to deter the local wild-life from disturbing them. Parsnips are slow and erratic to germinate taking some 6 weeks or more. I am still harvesting the Kale regularly for a continuous supply of young succulent growth; despite the high winds making them lean over.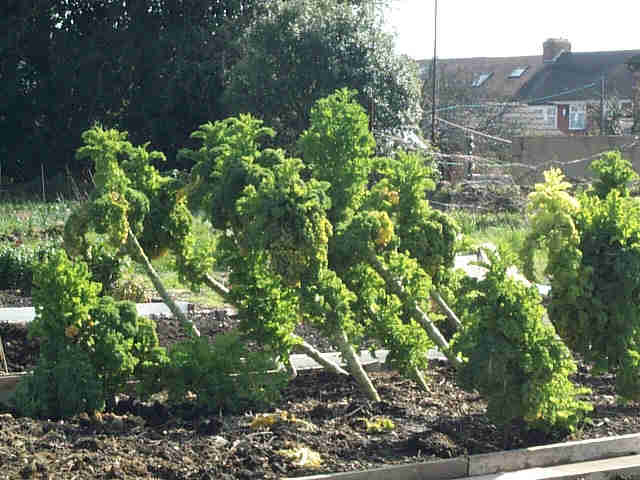 ---
12th of the month and I have made a start with the second early potatoes, planting Foremost and Arran Pilot. First taking out a trench a good spade depth, then adding a layer of well-rotted manure/compost before placing potatoes and filling in with earth; drawing the earth to a mound. Should we have a late frost this will well protect the tubers.
John has decided he needs storage space for his wood, wheel barrow etc. and is extending the framework next to compost bins. The existing raspberry canes will have to be removed.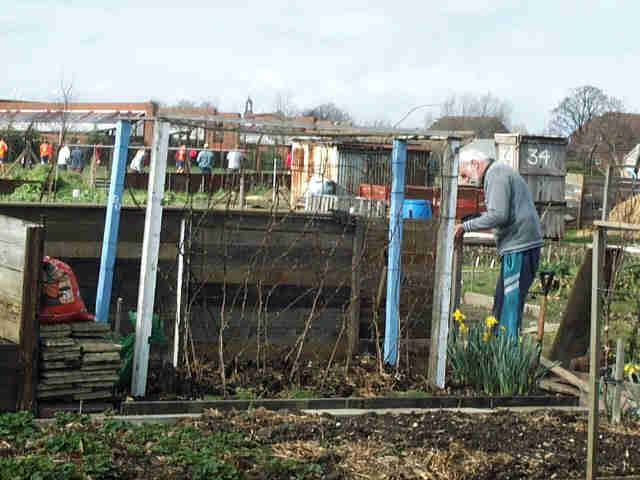 Completed in August.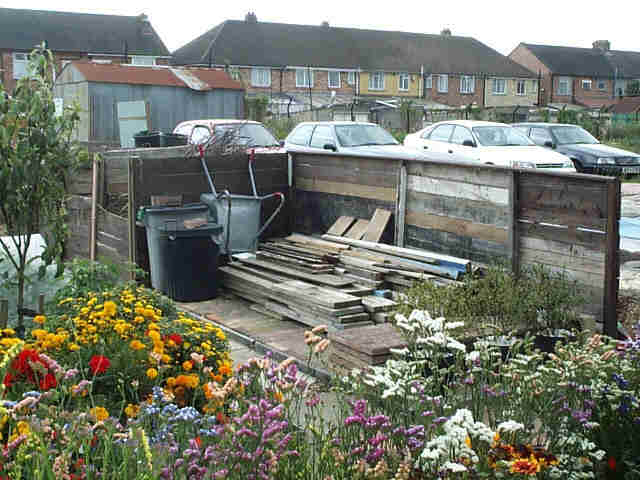 The centre bed has been well prepared ready for onions sets. I have decided to put them amongst the flower beds this year to try and avoid the white onion rot which is affecting the whole of the Elson site quite badly.
22nd of March and the weather has given us a welcome break from the rain and is warm and spring-like. I have made a start on the main crop onion sets with Fen Globe, planting with the tops just level with the surface to avoid the birds lifting them. I have also continued to plant more potatoes. This is heavy work and my advice to any of you ladies out there planting for the first time, is to take it steady and don't attempt to plant all in one go. Peas and Broad Beans are growing well in the greenhouse and I am now putting them outside for a few hours each day to harden them off and hope to plant out in early April. If you don't have a greenhouse now is the time to prepare a small area for a seed bed of finely raked soil. Cabbage, cauliflower, leeks, lettuce etc. can be sown in short rows and transplanted later when large enough. Lay some twiggy branches over the seed bed to give the seedlings some protection.
Easter week-end and we have been able to really get down to some planting. The first of the early cabbages 'Earliest of All' and cauliflower 'Lateman' which I am trying for the first time as Suttons no longer stock our favourite 'Tulcan'. These I have planted under fleece as there is still the threat of a frost. Red onion sets 'The Baron' completes my main crop. Broad beans, 'The Sutton' have been set out in two double rows of plants and one of seed to give a later crop.
Peas, Greenshaft which I brought on in pots in the greenhouse have also been planted as below.
| | | |
| --- | --- | --- |
| Plants are set out at random between a strong supporting frame. (seed can also been sown in this way in a flat drill) | Twiggy branches which we collected from our local forest (but not cut from the trees) were then inserted. Bearing in mind when the peas are forming they will weigh quite heavy. | Then I secured a length of polythene round to protect them till the threat of any more frost is past. |
APRIL
Despite the strong gale force winds we are experiencing, the blossom on the plum trees has set. The cherries and pears are now in full flower and looking beautiful. Some tidying up on the strawberry patch is necessary now. The plants are growing away nicely. I have removed all the dead leaves. This will help to avoid any diseases such as botrytus, the grey fungal mould, which can ruin a good crop of berries.
On the veggie plot I have made a further sowing of carrots and beetroot also french beans which I have sown under cloche as it is still early to sow beans without some protection and set out some more cauliflower plants under fleece. The first of the early potatoes are just showing through. Should there be a threat of a night frost, I will earth them up to prevent any damage and check to their growth.
Although the early daffodills are finished, we still have a good show of the later variety of narcissus 'Cheerfulness' which has a lovely perfume. The wallflowers, forget-me-nots and polyanthus are adding some welcome colour to the plot.
John has completed building his storage area - we are neat and tidy again.
I have removed the polythene from the peas and secured some netting round them. This is essential for us to avoid them being stripped by the pigeons. The fleece covering the cabbage, cauli etc., I will leave in place for as long as possible this is also good protection from the black flea beetle, white fly etc.
Lettuce - Density, which I started off in modules in the greenhouse, have now been planted out. Giving them a good 'puddle' watering then covering with dry soil to prevent strong winds drying them out too quickly; also the same with Chard - Bright Lights.
Note - While we are experiencing these strong drying winds I have stopped hoeing to keep as much moisture in the ground as possible. Once we have had a good down pour I will resume again.
The last week in April and yes, we have had our 'good down pour'. I just had time to give the potatoes their first earth up before the heavens opened. The rain was very welcome but the gales have caused some damage and John has had to make a few minor repairs to one or two support posts. Some of the fleece has become torn which covered the caulis' and cabbage but as they are now growing well I will replace it with a fine netting. Until I can get back on the plot there is much to do in the greenhouse. Tomatoes have been potted on into 6" pots, courgettes seeds have been sown, 2 to a 3"pot, leeks and celeriac have been pricked out into trays of 24 cells and I have made the first sowing of sprouts 'Brilliant'.
MAY
First week of the month and the weather is now in our favour and we are back in business on the plot. All the torn fleece has been replaced with netting placed over a framework of approx. 2ft posts spaced at intervals to cover the entire bed of brassicas.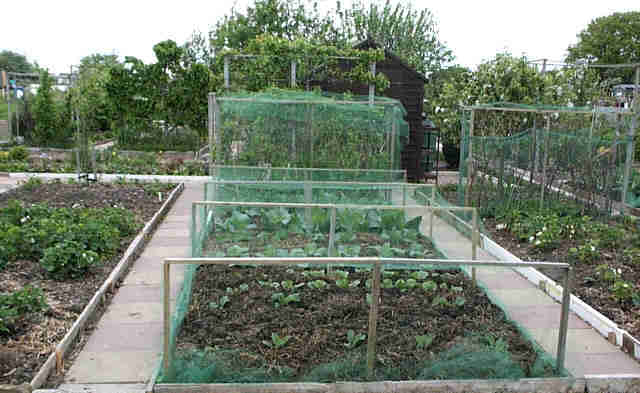 Potatoes and Broad Beans have been given a thick mulch with a mixture of grass clippings and well-rotted manure. I have prepared two mounds ready for the courgettes later this month by mixing 2 good bucket fulls of rotted manure with 1 bucket full of soil. They are hungry feeders and this also helps to keep the fruits off the ground keeping them clean and less likely to rot. I have also made my first sowing of French Beans, Tendergreen and on the flower plot I have started to plant out the annuals, French and African Marigolds, Gazinia, Rudbeckia, Statice, Zinnia, Begonia, Cineraria and Bizzie Lizzies.
Third week in the month and the weather has again turned in our favour. Windy but very warm so I have now taken a chance and panted out all the tomatoes, some of our old favourites, Ox Heart & Marmande, both produce large meaty fruits, excellent for cooking. Gardeners Delight, Red Alert and a new one to try Auriga. Also courgettes, Fl Jemmer which is the yellow one.
I have also made a sowing of swede, Ruby. Watering the drill well first then covered with fleece as they are very prone to be attacked by the Flea Beetle. Runner beans, White Lady have been sown 2 to a cane plus 1 (just in case). Sweet corn, Minimop plants have been set out closely about 8-10" and Celeriac about 12" apart. Both were started off earlier in the greenhouse.
It is also now time to be thinking of the winter crops. I have made sowings in the greenhouse of Sprouts, Fl Cascade. These will following on from Brilliant to extend the season well into January/February.
Cabbage, Tundra which will produce large solid heads, standing extremely well through till January/February and not forgetting Dwarf Green Kale to keep us going till April. All of these can be sown outside in a seed bed to be transplanted when large enough if you don't have a greenhouse or cold frame.
To round off a busy week I have harvested my first Strawberries which we are enjoying very much.
Last week of the month and the plot has again taken a battering with the gales and rain. Although most crops have been given a welcome boost with the rain they are growing away well. The weeds also, so I am keeping up with the regular hoeing. One casualty has been the spring onions again this year they have succumbed to the white onion rot and I have had to take them all out and dispose of them - NOT to the compost heap.
Birds are continuing to be a problem with the fruit trees. I have covered the cherries and red currants with netting. So far for some unknown reason they are leaving the strawberries alone which are cropping very well.
JUNE
The first week and I have been able to plant out the first of the sprouts, 'Brilliant'. These should give us an early crop from late September onwards. I am still continuing to cover all brassicas with netting. This is not only keeping the birds at bay but also the butterflies. Hopefully this will mean less in the way of caterpillars later on. We are now harvesting the first baby beetroot, lettuce and cabbage.
After a break on the plot over 'Jubilee week-end', the rain is back and so are the slugs and snails. Having tried all the suggested methods of control such as beer traps etc., I find nothing works as well on the plot as slug pellets sprinkled around the edge of the beds. The plot is now full to bursting so I am keeping on top of the weeding etc. until as such time space allows to continue planting with the winter crops.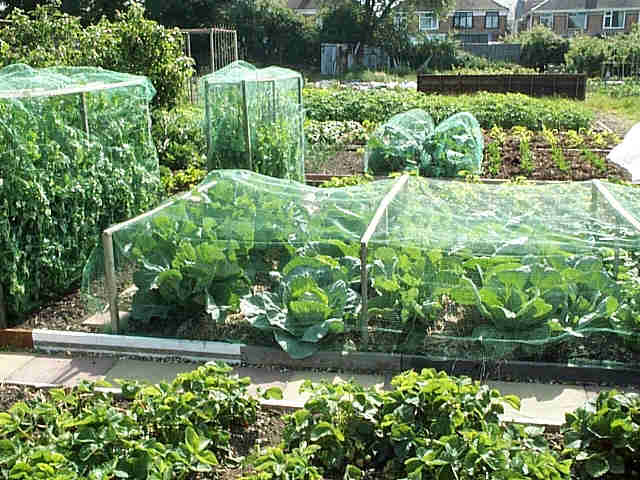 21st June. We have taken delivery of a trailer load of manure so that will keep John out of mischief for a few days removing it to the compost bins.
We are now lifting our first new potatoes together with the first of the peas. These I cut with scissors to avoid damaging the plants. The first of the cauliflowers have now been harvested and left sufficient space under the netting to plant out the Winter Kale and some more lettuce 'Little Gem'. The netting, although costly has proved to be a very effective barrier not only against the birds but the butterflies too. We have also noticed the snails are staying on the outside of the netting. One casualty has been the Broad Beans. I found it impossible to control the black fly this year so they have all been taken out and the space used to plant out the remaining sprouts 'F1 Cascade' which should see us through till the end of January next year. Again John has built a frame and we have covered them with netting.
Two events for your diary in July when the G.A.H. & G.A. will be available on their stall to answer all your questions about allotments in Gosport and the advantages of joining the Association.
July 6th - 'Alive and Kicking' at the St Vincent College. Gosport. A free fun day out for all the family. July 13th - 'G.A.D.S.A.D Charity Fayre', Walpole Park. Gosport. Stalls, Arena Events, Fun & Games etc. Disability Aid Equipment on display.
JULY
Most of the Strawberries have now finished cropping. I have given them a good 'hair cut', forked lightly over the ground in between plants and given them a good sprinkling of chicken manure pellets. They will soon recover and make good growth for next year. I have started to harvest the first of the cherries, cutting them with scissors to avoid damaging the buds for next year. Although covered with netting, the birds are still a big problem. They have managed to enjoy all the fruits on the top of the tree.
Leeks are replacing potatoes as space allows. Tomatoes need regular attention now, removing the side shoots and tying in to support the fruits. Pinching out the top when 4 trusses are set. Apart from the bush variety Red Alert which I have laid straw beneath to keep them clean.
For the first time I can report my Fennel is a great success. After trying for several years I am now lifting crisp round fat bulbs. Delicious in stir fries and salads, or braised in a little chicken stock.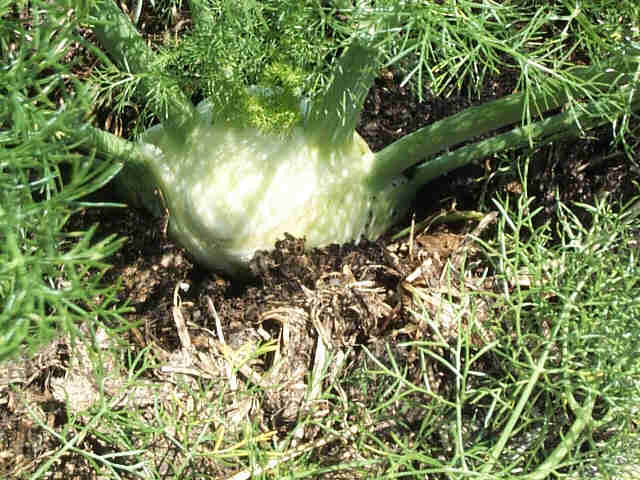 Thinking ahead to next year I have pricked out Wallflowers, sown in June, into cell trays and made sowings of Pansies, Canterbury Bells and Sweet Williams.
Third week of the month and the peas are now finished. These have been replaced with Purple Sprouting plants, placed between the pea frame to give added support in the Winter when the plants become heavy. I have made a final sowing of carrots 'Sytan' which is supposed to have some resistance to the carrot fly but as a precaution I have still covered them with fleece. I find this is the only way to really avoid an attack. I have also set out more Dwarf Green Kale plants and covered with netting. Tomatoes, 'Red Alert' are ripening; it is early for us to be harvesting tomatoes before August. They have an excellent flavour, one I shall grow again next year. French Beans are now just beginning to form so regular watering in the dry spell is essential. Courgettes need to be harvested regularly to keep them cropping. Blackberries and red currants are also ripening early and I have made several pickings of both. The netting from the cherry trees has now been transferred to the pears and I have planted out the wallflower seedlings about 3 inches apart.
This is our stall at the 'Alive & Kicking' event.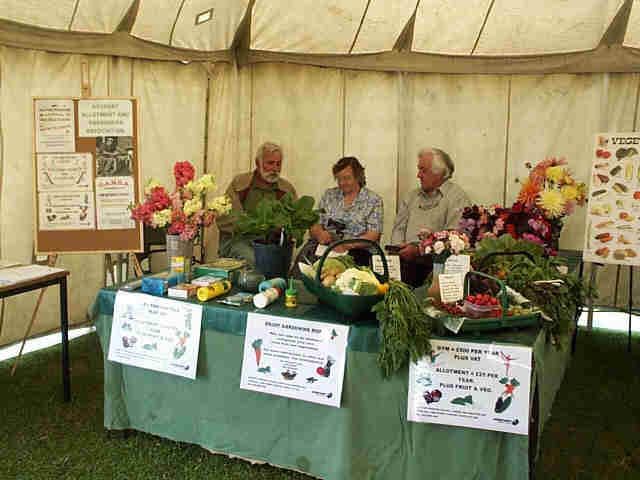 A very encouraging day with 4 applications taken for new plot holders and 6 new Association members.
The month ended with the last week being very hot and humid. The soil is becoming very dry and priority watering must be given to crops that are fruiting. Such as tomatoes, French beans, courgettes, celeriac and runner beans. A good soaking in turn is better than a daily dribble.
AUGUST
Unfortunately we have had some 'unwelcome visitors' and my tomatoes and beans have been picked. We shall have to be more vigilant - 2 sheds on the site have been broken into but thankfully nothing has been taken.
I am now harvesting the mini sweet corn; these should be picked just as the tassels are starting to show for young sweet crisp cobs. I am very disappointed with my onion crop many of which have succumbed to the 'white onion rot'. These I have disposed of and the rest I have now lifted and laid them out in the greenhouse to finish ripening. If your onions are sound they can be gently lifted with a fork to break the roots and left in the sun to ripen. They can then be stored either in nets or I like to plait them on to strings. To see how to do this, go to September 'A Year in the Life of our Plot'
There are many, many cabbage white butterflies about now but I am pleased to say that the netting is proving to be a very good barrier. If you see patches of tiny orange eggs on the underside of your brassicas squash them or rub them off as these will hatch into caterpillars which can totally destroy the plants.
If you would like to see further photos of our plot taken this summer please click here
August has been a very warm with little or no rain. The plot is now very dry and despite all our mulching, watering is a priority. However, everything is cropping very well, Runner Beans, tomatoes and Courgettes need plenty of regular water to keep them going. We have completed the final pruning of the plum trees well before leaf fall to avoid the 'silver leaf'. Old Raspberry canes have been cut out and the new ones tied in as have the other cane fruits, Blackberry, Loganberry and Tayberry. I have planted out the Sweet Williams and Canterbury Bells which should give us some nice colour in May/June next year. The month has ended with the pleasing news that we have been awarded second place in the competition this year.
SEPEMBER
John is continuing to harvest the main crop potatoes. We have been particularly pleased with the Pink Fir Apple, a new variety for us and one I will definitely grow again.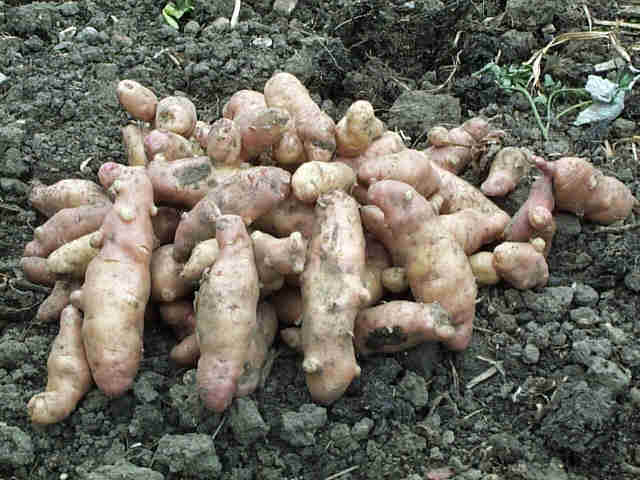 If you are interested in potatoes, a site well worth a visit is the British Potato Council. Lots of information from different varieties to recipe ideas and much much more. http://www.potato.org.uk
There is now lots of clearing up to do. Crops that are finished, yellowing leaves etc. should be consigned to the compost heap or if you are like us and the compost heap is full, John has dug a deep trench on a vacant piece of ground and we are using that. When it is full John will add a layer of manure and then fill it in. It will all soon rot down. Any vacant ground should be regularly hoed as the weeds are still growing at this time of the year.
John is also preparing a raised bed for me to plant my autumn onion sets in. I will then use a soil drench of Armillatox 3 weeks prior to planting. Hopefully this will avoid the problem I have had with the 'white rot' on this year's crop.
I have noticed some signs of the leek moth on my leeks, the outer leaves have a 'shredded' look to them so I have given them a spray with Tumble Bug although I believe this is no longer available, Sybol or Derris would do as well.
Those of you who are experiencing the same problems as I am with the 'leek' moth may be interested to read the following extract from a letter received from RHS. Wisley on the same subject.
The Royal Horticultural Society Garden,
Wisley, Woking, Surrey. GU23 6QB.
18th September 2002
The damage that you have noticed on your leek plants has been caused by the caterpillars of a pest commonly known as the leek moth. This is a local occurrence in Britain, being mainly found along the east and south coast of England, although it does sometimes occur further inland. Where it is found it can sometimes be very troublesome and make the growing of leeks and onions difficult. It has two generations during the summer with the larvae being active during May and June and again between August and October. The larvae feed initially as leaf miners in the foliage but as they grow larger they bore into the stems of leeks and into the bulbs of onions. Once the caterpillars have penetrated the deeper tissues of their host plants it is very difficult to reach them with insecticides. When the larvae have finished feeding they emerge from the plant and spin net-like silk cocoons, usually on the foliage. Pupae of the late summer generation are present during September to October and the adult moths emerge during the latter month. This pest overwinters as adult months which seek sheltered places during the autumn.
It is worthwhile examining the foliage on your leeks to try and detect these pupae which can be destroyed by hand removal before the adult months emerge. Next year you should watch out for signs of leaf mining beginning on your plants during May and August. There is currently no pesticide available to amateur gardeners for use against pest on leeks. In the absence of pesticides, gardeners now have to either tolerate the damage cause by the leek moth or they can try and protect the plants by growing them under the cover of as horticultural fleece. This is a finely woven material which allows light and water through but will exclude most pests, including the egg laying females of the leek moth.
The only pesticide which is currently approved for the use on leeks for leaf miner control is nicotine. This is not sold in small amateur packs and is only available to professional growers. If nicotine is to be effective it needs to be applied when signs of leaf mining are first seen. There would be no point in spraying your plants now as we are at the end of the larval feeding period and they will be currently emerging from the foliage in order to pupate.
The last week in the month and we are busy preparing for our stall to be held at the Michaelmas Fayre, Alverstoke Village on Saturday 28th.
'Perhaps the uninvited guest who visited our plot on the evening of Thursday 26th and helped themselves to my cabbages, would like to come back and collect the prong that was left behind'.
Our stall at the Fayre was a great success. My sincere thanks to all the plot holders who contributed produce and flowers for us to sell. We had several more enquiries about renting plots and feel this was a good 'shop window' for our Association.
OCTOBER
The first two weeks of the month and the plot is still very dry. It is now some 6 weeks or more since we had any appreciable rain. Watering the winter crops of leeks, sprouts, kale, cabbage etc. is our main priority to keep them growing. The Runner Beans are coming to an end now but we have had a very good crop this year although they were late starting. The last of the tomato plants have been pulled up and destroyed as they had succumbed to the blight. I believe this has been quite a wide-spread problem this year.
Autmn onion sets, Summer Gold have now been set out in the special raised bed which had been well prepared with Armillatox 3 weeks before.
Wallflowers have been moved to their final planting positions to and I am continuing to remove all summer bedding to the compost heap although the French marigolds and Bizzie Lizzies are still give us a lovely late show of colour.
The Conference Pears are very large and I am now harvesting a few at a time, some laid out in trays to ripen to eat and some I am poaching in red wine with a little sugar and cinnamon stick. Left to chill in the fridge they are delicious this way.
Some good news - The council are to start work on Monday 14th levelling off and surfacing our main pathways. This will be a tremendous improvement to our site, one we have been battling for for a very long time.
22nd - Although very welcome, the heavy rain over the last 10 days, has made it impossible to do anything on the plot other than harvesting the last of the pears and digging some vegetables for the kitchen. Most of the apples have been blown off the trees but I have been able to retrieve some to use. They are not such a good size this year but I put it down to the lack of water earlier on in the summer. Work has also not been started on our paths as they will need 5 working dry days to complete the job.
26th/27th Week-end of the strong winds and gales. The lottie faired well considering and there was only minor repairs needed to some structures. Some of the kale had toppled and needed firming in again.
NOVEMBER
I have prepared a new strawberry bed and as soon as the weather allows will plant out new stock received from Marshalls. Marshmello, this is one I have grown before and can recommend. The large fruit is held high above the soil on good bushy plants, keeping the fruit clean and they make few runners.
Due to the strong winds there is a lot of clearing up to do. Rotting leaves from brassicas etc. left lying about will encourage diseases. The leeks have recovered well from the leek moth and we are now harvesting regularly all of the winter vegetables. After a very poor summer crop I am particularly pleased with my last sowing of carrots, Sytan grown under fleece. These are now large roots with a good deep orange/red colour right through and showing little sign of any slug damage or carrot fly.
With the mild damp weather, the weeds are also growing well so I am keeping up with the hoeing of all vacant ground.
The last 2 weeks of the month and now with all the heavy rain the ground is very sodden. Other than to harvest vegetables it would do more harm than good to try and get on the ground. The fruit trees have all been given a thick mulch and we have taken delivery of a trailer load of good horse manure to replenish our stocks. John has also been renewing some of the edging to the beds and well prepared next year's Runner bean trench.
| | | |
| --- | --- | --- |
| Fruit trees mulched | John replenishing our stocks. | Winter veg still plentiful. |
| | |
| --- | --- |
| Edging renewed. | Runner Bean trench prepared for next year |
---
DECEMBER
The first week of the month was so wet we were flooded and it was impossible to get on the plot. I just managed to rescue the last of the carrots before they 'floated away'. The second week and it is now draining but the beds are still too wet to work on but we are able to continue harvesting. It has turned very cold and there will be little to do until the New Year now.
ROUND-UP
I think on the whole it has been a very good year for us. There are always some disappointments, the early carrots failed to germinate sufficiently even after several sowings but the main crop more than made up for it.
Onions although suffered with the white onion rot, enough survived to see us well through the winter. The celeriac 'Prinz' was superb and one I will grow again. Grown in the semi-shade of the sweet corn I think helped in the hot dry spell to keep them moist.
The use of netting was a good investment, keeping the birds and butterflies at bay. I have never had such 'clean' crops before free from caterpillars. The fleece also proved to be a good deterrent for the carrot fly and flea beetle etc. The only real disappointment was the plums. The birds not only took most of the buds but the few fruits that did form. The trees are too large to net so if anyone has an answer to this problem I would be pleased to hear it.
I wish you all a very peaceful Christmas and hope you will join us back on the plot in the New Year.

comments@saundersallotment.co.uk
---
[Home page] [ [A Year in the Life of our Plot 2000][Diary 2001] [Diary 2003][Diary 2004][Diary 2005][Diary 2006][Diary 2007][Diary 2008][Diary 2009][Diary 2010][ Diary 2011] [Diary 2012][Diary 2013][Diary 204][Typical plots on the Elson Site]][Wild Life Area] [Conservation Project] [Badgers] [Ray's Plot] [Links Page]