Home Page] [A Year in the Life of our plot 2000] [Diary 2001] [Diary 2002] [Diary 2003][Diary 2004][Diary 2005][Diary 2006][Diary 2007] [Diary 2008][Diary 2009][2010] [Diary 2011] [Diary 2012] [Diary 2013][Diary 2015] [Diary 2016] [Diary 2017] [[Diary 2018]  [Typical Plots on the Elson Site][ [Wild Life Area] [Conservation Project] [Badgers] [Ray's Plot] [Links Page]
DIARY 2014
<![if !vml]>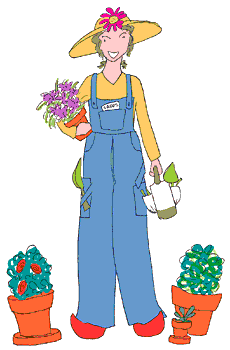 <![endif]><![if !vml]>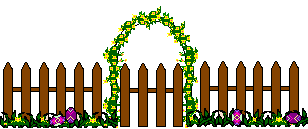 <![endif]><![if !vml]>

<![endif]>
Welcome to a new season down on the plot. The battle against the badgers was the main contention in 2013
I am sure this year will be no different.
I shall be reducing the numbers of crops I grow this year but still hope to produce a wide variety to see me through another year.
Please email your comments to

comments@saundersallotment.co.uk
JANUARY
DATES FOR YOUR DIARY
The Hampshire Potato Days at Whitchurch will be held on January 26th and 27th January this year. For details of other areas visit http://www.potatoday.org/
A wide variety of seed potatoes, beans, peas, onion sets and much, much more will be available.  A very enjoyable day out.
Back on the plot after a very wet and stormy Christmas the New Year has started with the plots under water again but before that I was able to divided 3 of my larger beds in two to make it easier for me to work.
<![if !vml]>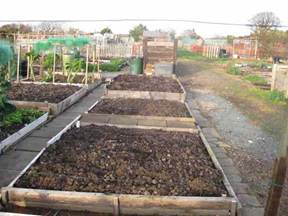 <![endif]>              <![if !vml]>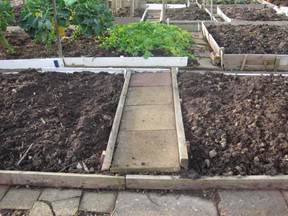 <![endif]>
My winter vegetables are still cropping well; the sprouts have been particularly good this season although my soil is very soft they have held up well in the stormy conditions; and there are still plenty of pot leeks to see me through the next couple of months together with the parsnips, celeriac and carrots. The last of the Minicole cabbage I have pulled up removing the outer leaves but leaving the roots on and hung upside down in the shed. Frost free they will keep well into February.
<![if !vml]>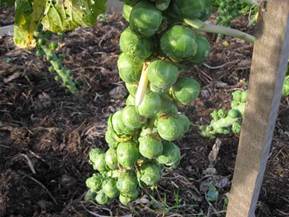 <![endif]>         <![if !vml]>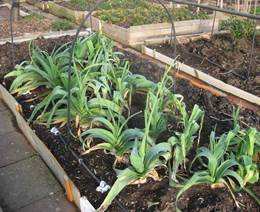 <![endif]>
Parsnips, leeks and carrots I am digging as required while there is no threat of frost.  Keep checking any fruit and vegetables in store for signs of rotting and either use or compost quickly.
It is still too early to be sowing anything on the plot but seed potatoes will be available this month and can be set in trays or egg boxes to chit in a light frost free place. Finish any digging this month if you can but not if the soil is water logged and prepare seed trays and pots ready for sowing in early March.
Here we are again at the 22nd of the month and for the second year running the plot is under water and impossible to get on it at all. Hopefully we have now seen the last of the torrential rain and it will start to drain.
POTATO SORTING DAY - Friday 24th January at 9.30am - Brockhurst Store, Military Road.
Volunteers required to help sort potato orders, we have 80 sacks of potatoes to sort into the multitude of orders for all allotment sites. If you have an hour or so to spare on Friday 24th January we would be delighted if you could join us at the Brockhurst Store from 9.30am.
<![if !vml]>

<![endif]>
FEBRUARY
The G.A.H. & G.A. January Newsletter has been delivered with details of the proposed take-over by the Association to manage the sites.  Please take the time to fill in your views as they are important and will affect everyone.
With no let-up in the rain there is very little I can do on the plot but seed potatoes are now in at our site stores. Customer orders are ready for collecting and there are plenty of spares if you forgot to order in time. They can now be placed in trays or egg boxes in a light frost free place for chitting.  Onion sets can be planted in modules in a cold greenhouse until they are about the size of a spring onion before planting out in March (if we are lucky).
BBC2 are looking for contestants for their new gardening programme if anyone is interested in entering.
<![if !vml]>

<![endif]>
<![if !vml]> <![endif]>
MARCH
A DATE FOR YOUR DIARY – The G.A.H. & G.A's  first gardening talk of the year to be held at HEDCA, Coombe Road on Tuesday the 25th March at 7.30 by Mr Ray Broughton 'New Ideas and Topical Tips'. Mr Broughton is a very interesting speaker and one not to be missed. Non- members are very welcome. Admission is free to members and £1. to non-members. The usual light refreshments and raffle will be available.
The plot is starting to drain now but it is still far too wet and cold to be thinking of planting anything but there is plenty of weeding and tidying up to be done, renewing edging boards, and any structures that may have got damage in the storms. Check all fruit canes that may have come loose in the high winds and securely tie in.
In the meantime I am getting started in my cold greenhouse; Potatoes are chitting nicely and the onion sets in trays are just starting to get their first green shoots. I have sown the first Broad beans, Robin Hood in 3 inch pots and Peas Hurst Greenshaft 5 to a 3 inch pot; the hardier seeds can be sown now and I've sown Pot leeks, 'Earliest of All' cabbage, a pinch of Little Gem lettuce seed and beetroot, Bolthardy in cell trays. About the middle of the month I shall be sowing indoors in a gentle warmth, tomatoes and celeriac. It is tempting to sow too much too early but this will encourage young seedlings to grow too leggy and tall. Later sowings will catch up when it is warmer.
11th and spring has finally sprung. My early plum tree 'Beauty' is in full blossom and the daffs are giving a lovely splash of colour. I have renewed the edgings round the beds on the fruit plot, removed all the green slippery algae with the back of the rake on the paths– a tip from a good friend which really has worked; planted the first of the potatoes 'Foremost' one of my old favourites. The soil is just right now on my raised bed and while still nice and moist I have mulched well.
12th – I planted the first Onion sets 'Red Baron'. These were started off in modules in February.
    <![if !vml]>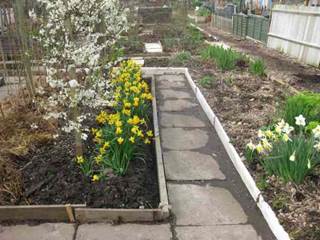 <![endif]>       <![if !vml]>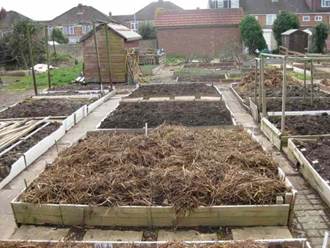 <![endif]>      <![if !vml]>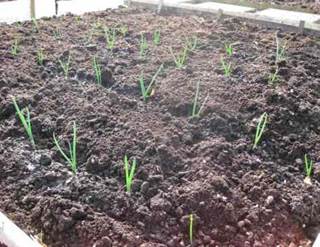 <![endif]>
Plum 'Beauty', first Potatoes 'Foremost', and red Onions 'Red Baron'.
After a very pleasant 10 days or so of warm weather have been able to continue planting the potatoes, onion sets, carrot seed tapes in my grow house which is covered with enviromesh and the first of the broad beans 'Robin Hood' which were started off in the green-house earlier in the month, these are also under enviromesh as now the weather has turned cold and wet again. It is very easy to get caught out this time of the year with night frosts so if you are in any doubt it is better to err on the side of caution and wait before planting or sowing.
<![if !vml]>

<![endif]>
APRIL
A DATE FOR YOUR DIARY. The G.A.H. & G.A. will be holding their AGM at 7.30 pm on Tuesday 8th April,  HEDCA, Coombe Road, Gosport. Please try and attend as we will be discussing some important issues that may affect the Association.
Back on the plot April is a time to be busy sowing seeds in the greenhouse or on a warm sunny window sill. Although the weather has been warm it can still change with night frosts in April so it is wise to be cautious with sowings outside unless you can give them protection. In my cold the greenhouse I am sowing tomatoes, courgettes, butternut squash, sprouts, French beans and lettuce. I am not growing sweet corn this year or Kohl Rabi but they can both be sown now in modules. All the annual bedding plants can be sown too; I am sowing French marigolds and Statice.  Outside continue to plant potatoes, onion sets and sow parsnips if you haven't already done so.
keep the hoe going on vacant ground as the weeds will be growing well now and it will be lot easier later on if you can keep on top of them. Slice them off just below the surface to prevent any regrowth. Dead head any daffodils now that are going over but leave the foliage for about 6 weeks to put back goodness into the bulb for next year.
On the fruit plot, strawberries will be starting to make new growth now so clean up the bed and remove any dead and dying foliage, weed well and mulch with some good rotted compost. All soft fruit with the exception of strawberries can be given a top dressing of Potash now. Sprinkle around the roots and let the rain wash it in.
17th and I am very pleased with the germination of the carrot seed tapes but disappointed in the Parsnips, so far they have not shown any sign of germination; I have re-sown these with ordinary seed in a separate bed just in case the tapes decided to pop up.
<![if !vml]>
<![endif]>
This one is 'Nominator F1'
The weather continues to be warm and mild during the day but the nights are cold. I have planted out the first lettuce and beetroot in a sheltered part of the plot and so far these are growing well and the cold nights have not affected them.
In the greenhouse the tomatoes, cabbage, celeriac, courgettes, butternut squash and leeks are ready for potting on; French Marigolds and Statice for pricking out into modules. I am now thinking ahead for winter crops and sown sprouts 'Wellington'.
Unfortunately I have had to remove my Guest Book owing to the excessive amount of spam which is being placed in it. However, I am always pleased to receive your comments by email the address can be found at the top of this age.
<![if !vml]> <![endif]>
MAY
A DATE FOR YOUR DIARY – The G.A. & G. A. will be holding their plant sale at the Brockhurst site, Military Road on Sunday 18th from 10.30 to12.30.  Please hand anything you may have spare to sell to your site store man or bring along on the day. Everyone is welcome whether a plotholder or not.
April ended with heavy rain again; should your soil conditions be right May is the month when the soil should be warm enough to sow outside now and any plants raised in the greenhouse should be hardened off first before planting; putting them outside during the day but taking them in undercover at night for a week or so. This will acclimatise them to the lower temperatures. About the middle of the month I shall be sowing direct in the ground Runner Beans, 'Moonlight', 'White Lady' and 'Celebration' and planting out the French Marigolds and Statice.  French Beans, squashes and courgettes are best left till late May early June.
On the fruit plot the blossom this spring has been glorious so we are hopeful of a bumper crop this year. Now is time to hang up the Pheromone Traps in apple and plum trees to prevent the codling moth and ensure any grease bands that have been applied are free from any debri. Remove any runners from new strawberry plants as they appear to strengthen the plants for next year.
As another badger deterrent, we have been advised to either cut the legs off an old pair of tights, or use an old sock filled with vermiculite then soaked in malt vinegar. Hang at a low level or place where the route the badgers are taking is obvious. This I shall be trying later on and will report back.
In the greenhouse I am still planning ahead to the early spring crops for next year and will be sowing Purple Sprouting.
15th – The weather has been so good and my tomato plants have made such good growth I have now planted them all out, watering well and giving them a good thick mulch of compost. Courgettes I have planted with the protection of enviromesh. Sprouts 'Wellington'; set deep up to their seed leaves, firmed in well and after a good watering mulched and covered with netting; this will protect them from the birds and a few early white butterflies which are about now.
20th and everything is looking good now on the plot except a row of Little Gem lettuce which has been completely destroyed. There is a difference of opinion as to what has caused it, could be squirrels or rats. It has to be something small as the netting has not been disturbed. They were all just ready for cutting too, with nice crunchy hearts.
<![if !vml]>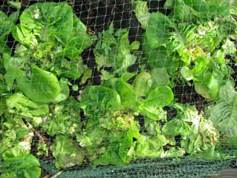 <![endif]>
<![if !vml]>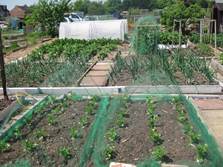 <![endif]>     <![if !vml]>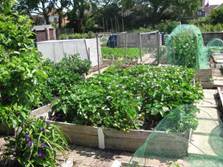 <![endif]>      <![if !vml]>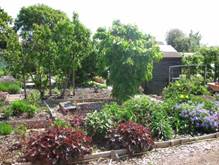 <![endif]>      <![if !vml]>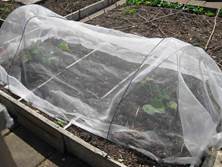 <![endif]>
Courgettes I will leave with the protection of the enviromesh for a little longer as they are very susceptible to the cold.
Bank holiday week-end and I decided to take out my two old gooseberry bushes. There was very little fruit on them this year and they have served me well over the last 15 years or so.  I have replaced them with 2 new varieties Hinnomaki Red and Hinnomaki Yellow. Both pot grown 2 year bushes. I first dug over the soil and added a good amount of rotted compost. Planting to the level of the pot; watering well and covering with a good mulch of more rotted compost. I have erected a support frame as I intend to fan train them for ease of picking.
<![if !vml]>
<![endif]>
I shall be planting out the last of the bedding this week, Rudbeckia and in the greenhouse sowing cabbage 'Minicole' and more 'Little Gem' lettuce.
The badgers are becoming more active now and causing considerable damage so I have hung up some pop socks filled with vermiculite soaked in vinegar to see if this will help to deter them.
I have harvested my first baby beetroot and a handful of strawberries.
29th And now my first baby carrots. My favourite of all the first summer vegetables. This one is 'Nominator F1' from seed tapes. I am very pleased by the way they are all so uniform, evenly spaced and pull without disturbing anything either side.
<![if !vml]>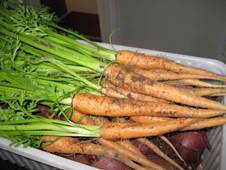 <![endif]>
<![if !vml]>

<![endif]> 
JUNE
Although early this year the 'June drop' has occurred and the fruit trees have shed their unwanted fruitlets. My cherry tree 'Sunburst' has a good crop on it this year so I've pruned the new growth back by about two thirds and covered the tree with netting to try and prevent the birds getting to the fruit before I do and also deter the Black Cherry aphid.  I shall also prune back the new growth on the plums too as this will help to deter any aphids. Pruning the grape vine is necessary now and all the new growth I am taking back to a leaf joint just above any bunches of grapes which are now in evidence.  The new canes for next year on the blackberry, loganberry and tayberry are growing well and need to be tied back to one side to avoid being damaged and snapped off.
Tomatoes are growing well and need to have their side shoots removed and tied in regularly.
Badgers are very active on our site now so I've placed 6 pop socks filled with vermiculite soaked in vinegar around the plot and also sunk small yoghurt pots in the ground half filled with vinegar. The smell is said to deter them. We shall see, opinion is divided.
I am now harvesting new potatoes, beetroot, carrots, lettuce and strawberries. Onion sets planted last autumn can now be used as and when needed.
19th and I am sorry to report the vermiculite with vinegar is another fallacy; the badgers have had a field day on my plot digging many holes and leaving their 'calling cards' again so it is back to the drawing board with that one.
With little or no rain now for some time the plot is becoming quite dry again. Water only those that are cropping now i.e. broad beans and peas.  My first sowing of broad beans are finished now so they have been consigned to the compost bin and replaced with more beetroot grown in modules in the greenhouse 'Woden' and 'Solist'.
The fruit picking is in full swing now, strawberries, raspberries and tayberries. Unfortunately the birds are enjoying the strawberries too. My cherry tree I have netted but again they are canny creatures and although still unripe have managed to peck through the netting and I have lost quote a lot so far.
In the green house I have sown Sweet Williams and Wallflowers which will ready to plant out in September to flower next year.
<![if !vml]> <![endif]>
JULY
July is all about enjoying the harvest of young fresh vegetables and all the soft fruits. I am glad I netted my cherry tree they are ripening now and need picking also. They should be cut with scissors rather than pulling at the stalks as this will damage the new buds for next year. It is worth taking the time to do it.
<![if !vml]>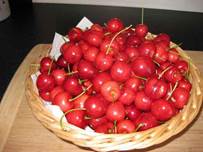 <![endif]>
'Sunburst'
With very little rain watering is becoming hard work but a weekly soak is better than a dribble each day. The plants will then send their roots down to find the moisture otherwise they will come to the surface and bake in the hot sun. Weeds can be hoed now and left to dry on the surface they will soon rot this way. As vegetables come out now I am turning the soil over to save on digging later.  I have planted out winter cabbage 'Unicorn', not one I have grown before but they should have small tight ball heads, good for cooking or coleslaw.
Early flowers such as the delphiniums can be cut back now and composted. They will soon make new growth and possibly a second flowering. My first strawberry bed of Marshmello are now finished so I have given them a good 'hair cut' and weeded between. They again will soon make good new growth.
In the greenhouse the Sweet Williams and Wallflowers are now ready to prick out into cell trays.
16th and we desperately need rain but most things are doing well; the tomatoes are now ripening and need some attention. Pinch out the top growing tip when 4 trusses have set, continue to remove any side shoots and new growth that might appear at the base of the plant and remove a few leaves from the bottom to allow for a good air flow and to aid ripening of the first fruits. As the tomatoes swell, the trusses will become heavy so make sure they are well supported. This one is 'Fandango' a vigorous grow, Blight resistant which produces very large fruits. <![if !vml]>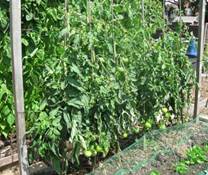 <![endif]>   <![if !vml]>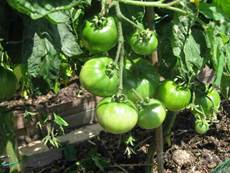 <![endif]> Take care with watering regularly and evenly now to avoid Blossom End Rot and to help prevent the fruits from splitting.
Courgettes need picking regularly and the French beans. Both need regular watering now.  I am continuing to lift potatoes and where space is available digging a deep pit to take all the spare green waste now.
On the fruit plot, my raspberries and loganberries are now finished and it is time to cut down all the old canes. Make any necessary repairs to the frame work and tie in the new ones for next year. Select only the strongest and cut out any weak ones.
A reminder that The Gosport Allotment Holders & Gardeners Association will be holding their annual Summer Show on 16th August at the Alverstoke Parish Centre. Anyone with an interest in gardening is welcome to enter. There are sections for everyone including children. A show schedule can now be downloaded at 
http://btckstorage.blob.core.windows.net/site9028/Summer%20Show%20schedule%202014.pdf
AUGUST
With almost no rain in July the plot is now very dusty and dry. All the soft fruit is finished including the blackberries. A short season but a very heavy crop. I am now busy making jam, which is on sale at the Elson site stores.
I've not been able to get enough water on the French beans so they are going over now but the runners are cropping very well and I shall concentrate on those. The French I have cut them off at the base, leaving the roots in to put back nitrogen in the soil and leaving the vines to dry off before composting.  Onions have dried early and are ready to be brought home to string and store for the winter.
I have been disappointed with the Malwena strawberries this year. With no sign of any flower or fruit I have decided to take them out and make a new bed of Marshmello which always seem to do well on my soil.
Bank holiday week-end and with the early crops finished, potatoes and onions in store I am now covering all vacant ground with well-rotted compost that has been in my bins since last autumn in readiness for my next manure delivery which is due next week.
<![if !vml]>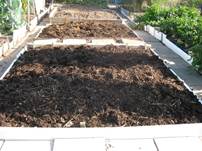 <![endif]>
 We still haven't had any appreciable amount of rain but despite this the tomatoes are ripening and producing an excellent crop. I am being easy on the watering now as the cherry ones are inclined to split if deluged with water. Runner beans, courgettes, carrots, beetroot are all doing very well only the lettuce has bolted with the dryness.  The butternut are now filling out And some need to be raised off the ground to avoid rotting; an old tile or something similar will do. They are very vigorous growers and need plenty of space. I have just 2 plants here.
<![if !vml]>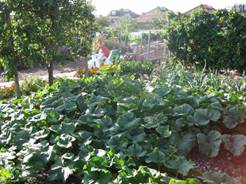 <![endif]>                     <![if !vml]>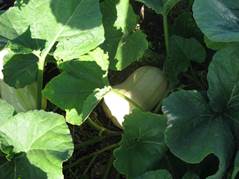 <![endif]>
One the fruit plot I am picking figs and apples. Victoria plums are finished early this year but I am happy with my crop.  Many of the flowers now need to be dead headed regularly to keep them going.  The Statice is doing exceptionally well and doesn't seem to mind not being watered.
<![if !vml]>
<![endif]>
Statice in the front.
<![if !vml]> <![endif]>
SEPTEMBER
We have been enjoying some really lovely sunshine to start the month with and I have been able to get the 2 deliveries of manure into my bins and some I have used for mulching the soft fruit as it was very well rotted. Unfortunately while doing this the badgers have been enjoying my tomatoes.
<![if !vml]>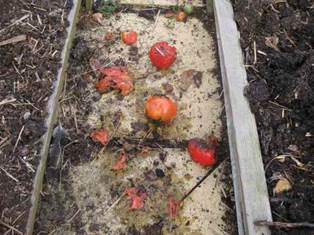 <![endif]>
Badgers are still very active this time of the year and any fruit such as the pears that are hanging low they are very partial to. With the warm weather set to continue I am hoping for an extended season and more figs will ripen.
I am planting out this month Sweet Williams and Wallflowers which I started off in the cell trays in June.
Autumn planting onion sets are now widely available and can be started off in the cell trays. If you are planting directly in the soil I would wait till the middle of October/ November.
Finish summer pruning on tree fruit this month.
21st and the badgers are continuing to cause extensive damage. My tomatoes are still being eaten and so have all but the top row of grapes. I have been planting out new daffodil bulbs and to protect them covered with netting for the time being; badgers are very partial to plumb new bulbs to.  The celeriac is growing very well this year and I have given them one more trim by removing the lower leaves and cleaned out the dead and dying leaves on the parsnips. Because of the warmth the weeds are still growing and need to be hoed or removed by hand as they can harbour white fly.
OCTOBER
A DATE FOR YOUR DIARY  The G.A.H. & G. will be holding their Autumn Pumpkin and Produce show on Saturday 25th October at the Alverstoke Parish Centre. Classes for everyone any age including children; from fruit and vegetables, to home baking, jam, preserves, wines and spirits. You do not have to be an allotment holder to enter. A show schedule can be obtained from any allotment site stores or telephone Steve Broughton on 023587662.
With autumn fast approaching the weather is still very mild; it is a good idea to get as much clearing up done as possible and start any digging before the bad weather descends on us. Most weeds will compost successfully but unless your heap can get quite hot I would not add things like dandelions, bind weed, thistles and stinging nettles. My tomatoes now have the blight and I would not add those to the heap either but bag them up and destroy them. Any tools you have used to remove them clean and disinfect thoroughly to avoid passing on the disease. Most of the spent bedding plants can now be added but the autumn flowering chrysanths and dahlias are still giving a welcome display of colour and can be left till they are blackened with the first frosts.
Winter vegetables, give the leeks one more earth up and they should be fine now for using as and when needed. Parsnips are sweeter and crisper after a couple of frost but Celeriac and any cabbage can be used now. Main crop carrots can be left in but advisable if not covered to do so with a layer of straw to keep any frost off.
On the fruit plot I am picking apples and pears I am picking under ripe and finishing off at home as they ripen from the inside out and always difficult to tell when just right. It is all trial and error.
Halloween brings this month to a glorious close. The weather has been so good the plants just don't know what time of the year it is. It has been a good time to clear away any debri, rotting cabbage leaves etc. and keep on top of the weeding; finish spreading a generous layer of well rotted compost on all vacant ground. Once the asparagus fern has turned a lovely bronze colour this can be cut down to ground level, the bed hand weeded to avoid damaging the crowns and covered with a generous layer of compost. Lift any tender plants you may want to keep or take cuttings to over winter in a frost free place.
My thanks to Peter for making me two very strong and now secure new doors to my shed.
<![if !vml]>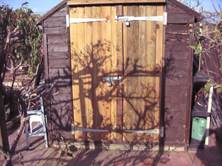 <![endif]>
<![if !vml]>

<![endif]>
NOVEMBER
A DATE FOR YOUR DIARY.
THE G.A.H. & G. A. are pleased to welcome Mr. Kelvin Mason to give a talk entitled 'Will you make the cut', on Tuesday 7th November at 7.30 pm at HEDCA, Coombe Road. Gosport. All you ever needed to know about pruning – trees, shrubs and soft fruit. Admission is free to members and £1.00 to non-members. All are very welcome.
Autumn is now with us and with the weather about to change, finish planting out onion sets and broad beans to over winter, firm in and add stakes to any brassicas to prevent rocking in the winter winds. Any figs left on the tree that a larger than your little finger nail should be removed. Wear protective gloves as the sap can be a nasty skin irritant.  Continue to dig over vacant ground where necessary and compost any weeds. Check sheds and structures are sound for the winter and make any repairs. I shall be giving mine a coat of wood preservative.
I have been very pleased with my carrots and celeriac this year; the carrots were grown from seed tapes and this variety 'Sweet Candle' is just like its name, very sweet with very little core. Both of these were harvested on 6th November.
<![if !vml]>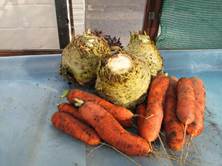 <![endif]>
Celeriac 'The Prinz' - carrots 'Sweet Candle'
<![if !vml]> <![endif]>
DECEMBER
The last week of November was very wet and little could be done on the plot and now the beginning of December is set to turn very cold. With the help of my neighbour we have now managed to complete the path between us with paving slabs so hopefully that will deter the badgers from further diggings and give us a firmer path to walk on when it is wet. The badgers with their numbers increased have continued again this year  given us huge problems with the damage to crops and fouling of the soil. A satisfactory solution has yet to be found. Despite that, I have again been very pleased with my crops this year with the exception now of the sprouts which although look plentiful are not yet filling out. I still have carrots, parsnips, celeriac, leeks and cabbage to see me though the winter with potatoes and onions in store. A reminder that these and any fruit being stored should be checked over regularly now and any starting to rot should be used or disposed of. Any tools not being used over the winter should be cleaned and lightly oiled before putting away. It is also a good time to make sure all pots, trays, canes etc. are clean before storing ready for use next spring. Check there are no snails hiding in the spouts of watering cans or under the rims of pots.
I will continue to carry out further maintenance as the weather allows and I have a further load of manure on order for the end of the month to keep me occupied.
By now all the new seed catalogues will have dropped through the letter box and if you haven't already planned and chosen your seeds for next year then the long winter evenings are a good time to do it.
It only remains for me to wish you all a very happy and peaceful Christmas and I do hope you will join me back on the plot in the New Year.
<![if !vml]>
<![endif]>