[Home Page] [A Year in the Life of our plot 2000] [Diary 2001] [Diary 2002] [Diary 2003][Diary 2004][Diary 2006][Diary 2007][Diary 2008][Diary 2009][Diary 2010][ Diary 2011] [Diary 2012]Diary 2013] [Diary 2014] Diary 2015 ][Diary 2016] [Diary 2017] [[Diary 2018] [Typical Plots on the Elson Site] [[Wild Life Area] [Conservation Project] [Badgers] [Ray's Plot] [ Links Page]
DIARY 2005.
Welcome to 2005. A new year and a new gardening season.
We are back on the plot with lots to do
all ready! .....then let's go gardening.
JANUARY.
The year has started cold and frosty but with a fresh load of manure delivered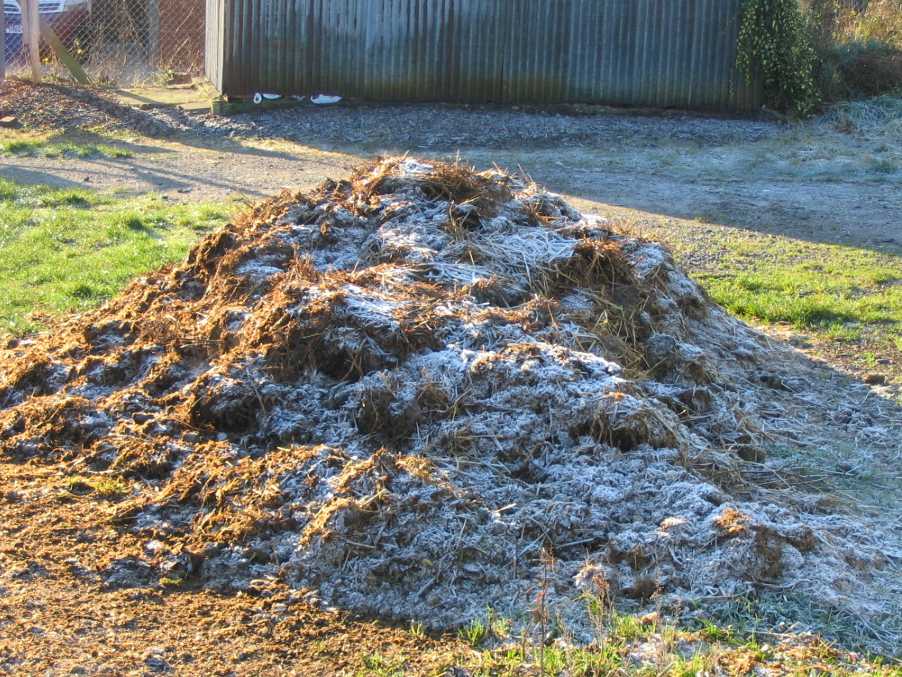 we have plenty to do to keep us warm refilling the compost bins. John has also been busy building and preparing a new raised bed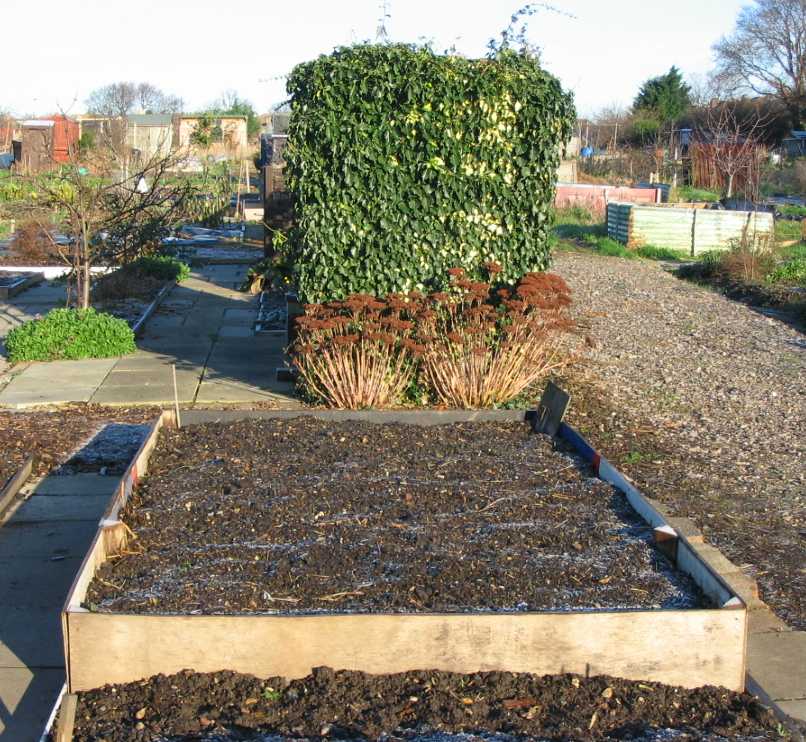 ready to plant asparagus later in March/April. Keeping the plot tidy and gathering up the fallen brassica leaves to prevent diseases is a priority now. We still have plenty of vegetables left; sprouts, cabbage, parsnips, carrots, celeriac, leeks and purple sprouting which should give us some good succulent spears from February to April.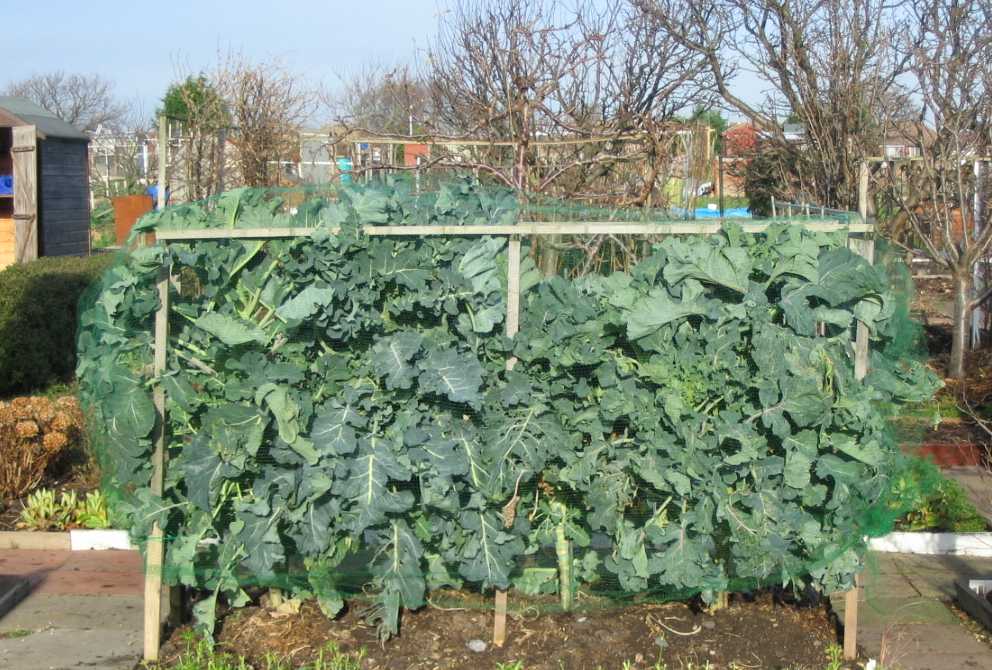 These plants have to be well supported on our soft fine soil and open windy site.
January 22nd - We have suffered extensive damage overnight by vandals. 21 sheds have been broken into with doors, locks and windows needing substantial repairs. An attempt was made to burn through our double perspex window. Nothing was taken except a few cartons of squash.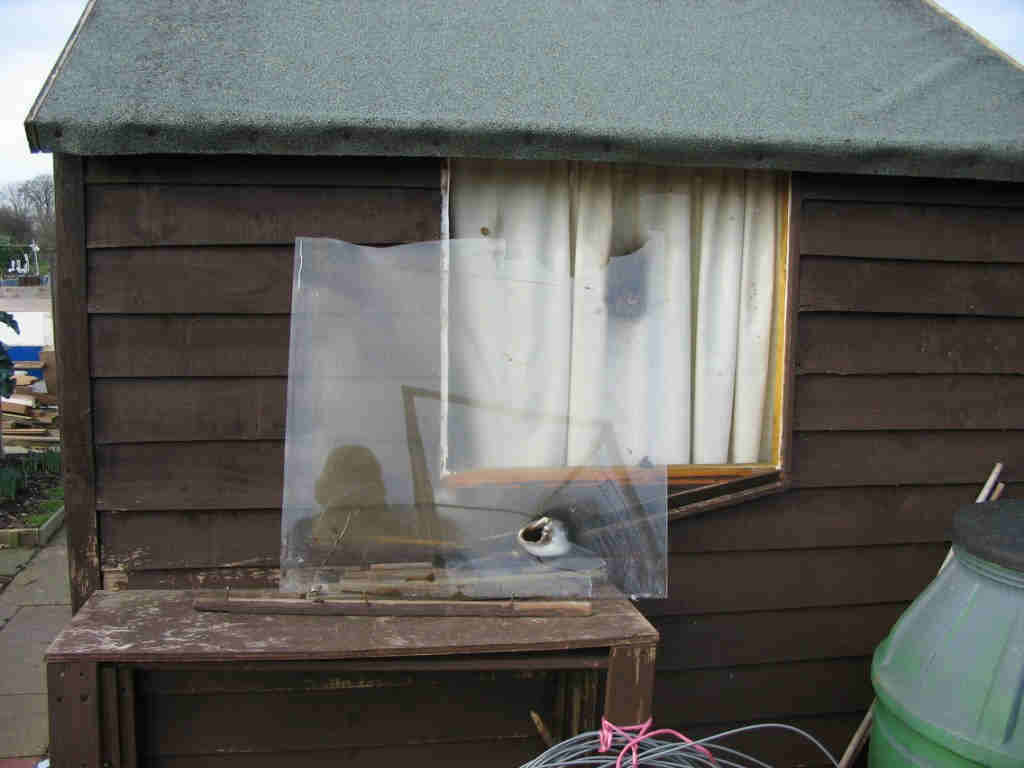 . . .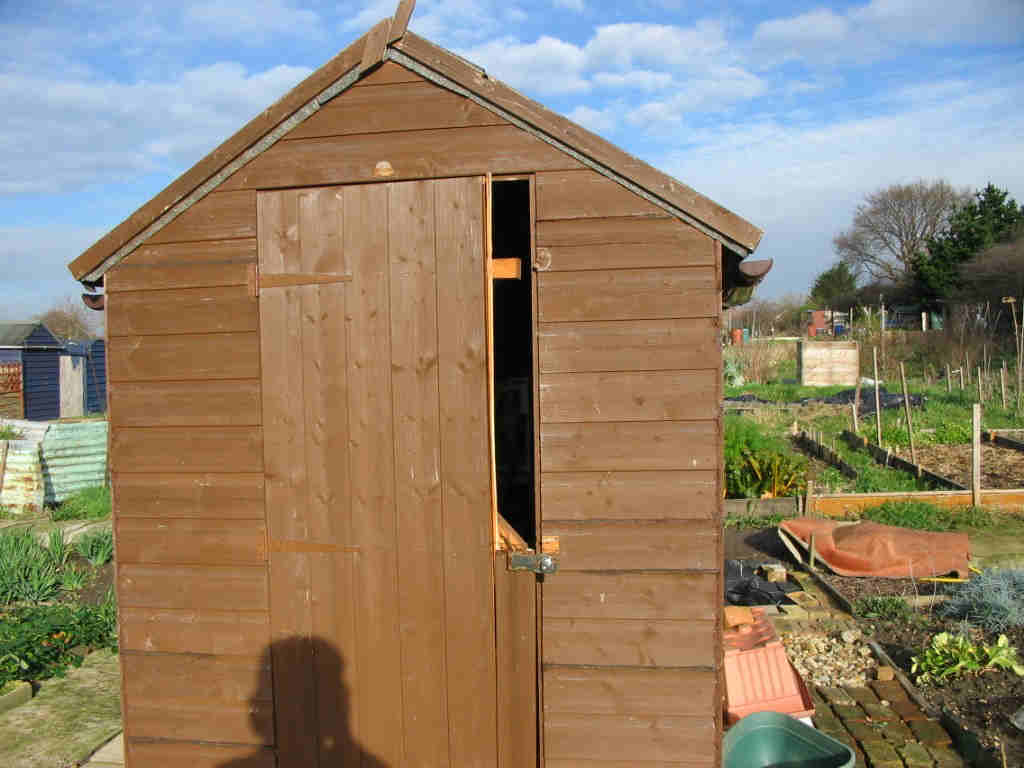 On a lighter note - A DATE FOR YOUR DIARY.
HYDRA will be holding their 7th Hampshire Potato Day on 29th and 30th January at Testbourne Community Suite, Micheldever Road, Whitchurch. Hants. Appox 120 varieties will be on sale plus talks, advice, tastings etc. For more information tel: 02476 303517 or visit their web site http://www.hhdra.org.uk
29th - We have enjoyed our day out to Whitchurch bringing back some new varieties for us to try. The Potato Council has produce some very good recipe booklets and now has a delightful interactive site for children to encourage them to eat healthily and learn more about how and where food is produce.

http://www.britishpotatoes.co.uk/parents-home.asp
FEBRUARY
John has finished the repairs to the sheds; now it is my turn to give them all their annual coat of wood preservative. Unfortunately there has been another break-in to our Stores on the Brockhurst site. Nothing has been taken except an old radio.
Sprouts are now finished and I have dug the last of the Celeriac and Parsnip. These will keep for about another month in the shed. I have used the last of the apples from the store. Onions and potatoes will need to be inspected regularly now and any that are starting to 'shoot' should be used first or discarded.
Seed potato tubers have been laid out in trays to chit; keeping them in a light frost free place. To see how to do this go to my Diary for 2004.
New for us to try are Juillett, Anya, Osprey and Sarpo Mira (in trials said to be blight resistant) also last year's favourite Anastasia, Foremost, Pink Fire Apple and Romano.
The middle of the month and it has turned very cold and windy; and with the threat of snow there is little we can do now on the plot until the weather starts to warm up.
A DATE FOR YOUR DIARY
The G.A.H. & G.A. are pleased to welcome Maurice Sellwood to give a talk on vegetables 'Grown & Frozen'. A unique 5 year cropping programme to maximize abundant yields; at HEDCA, Coombe Road, Gosport, at 7.30 pm on Tuesday March 22nd . Admission is free to members and £1.00 to non members. Light refreshments included. All are very welcome.
MARCH
The month has started bitterly cold with sub-zero temperatures at night. Purple Sprouting is now producing lots of young spears which need picking regularly to keep them cropping through until April.
I am getting underway in the greenhouse now with some of the first early sowings of cauliflower 'Igloo', cabbage 'Golden Acre' lettuce 'Density'. Spring onions and beetroot 'Bolthardy' sown in modules. Peas, 'Greeshaft' I sow 5 to a 3" pot. Celeriac 'Prinz' from Kings. This one I can recommend. In previous years I have had large roots with very few bolting; Tomatoes (and celeriac) need some gentle heat to germinate and as I don't have a heated propagator I find on top of my combi-boiler is sufficient to aid germination. As well as old favourites, 'Red Alert', 'Ferline', 'Gardeners Delight', 'Tropical Ruby' 'Auriga', 'Ox Heart' and 'Spanish Beef'. I am trying several more new ones sowing just 4 seeds to 3" pot of 'Long Tom', 'Roma Cherry', 'Britain's Breakfast', 'Federle' and Crnkovic Yugoslavian'.
13th of the month and although it has turned very windy the temperature is slowly creeping up. As a trial for this year I have sown parsnip 'Gladiator F1' in the raised bed under a polythene cloche. I would not normally use a cloche for parsnips but the soil is still quite cold. I am also making a start on planting the first of the potatoes, taking it slowly as this is hard work for us ladies, using the trench method. I have shown how to do this in my Diary for 2004.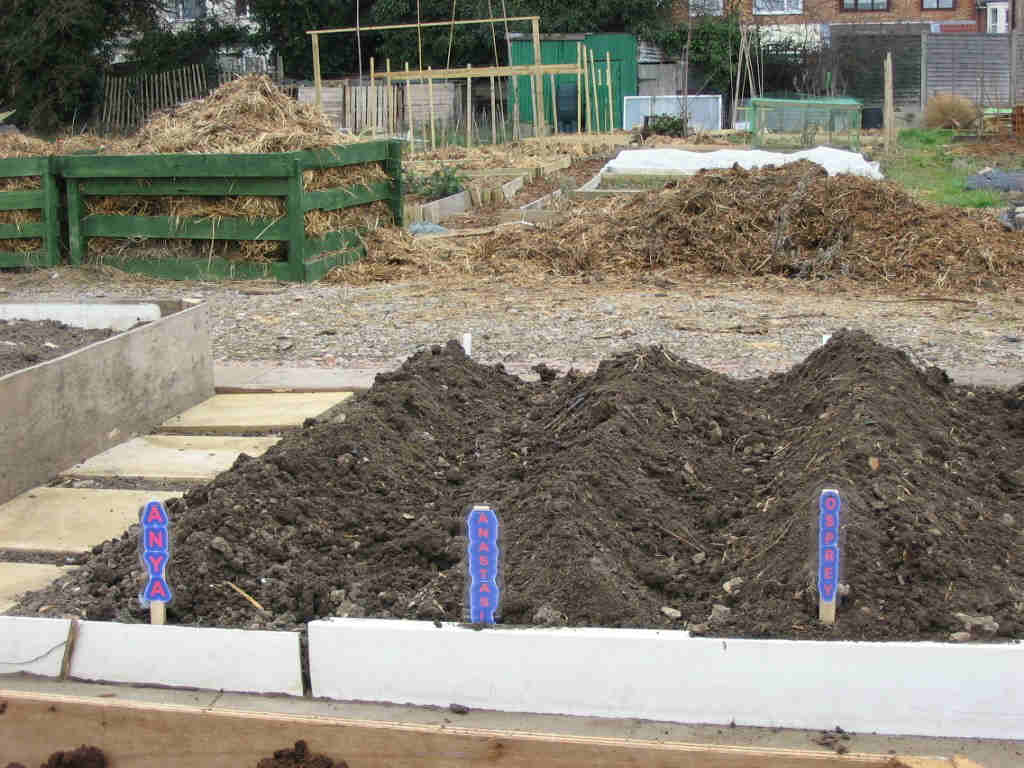 First potatoes 'Anya' 'Juilette' and 'Osprey'
On the fruit plot - I have set out new strawberry plants which I raised myself taken from runners last Summer. All the fruit trees and soft fruit with the exception of the strawberries (this is done after fruiting) have been given a top dressing of potash sprinkled around their roots.
In the greenhouse, I have sown leeks 'Autumn Mammouth', 'Giant Winter' and 'Mr. Lyons Leek'. Also lots of flowers - French Marigold, Aster, Gaillardia, Coreopsis, Cineraria, Statice, Acroclinium and Helichrysum.
John has now completed the fourth raised bed giving me extra space to rotate crops such as the carrots.
(Parsnips under the cloche)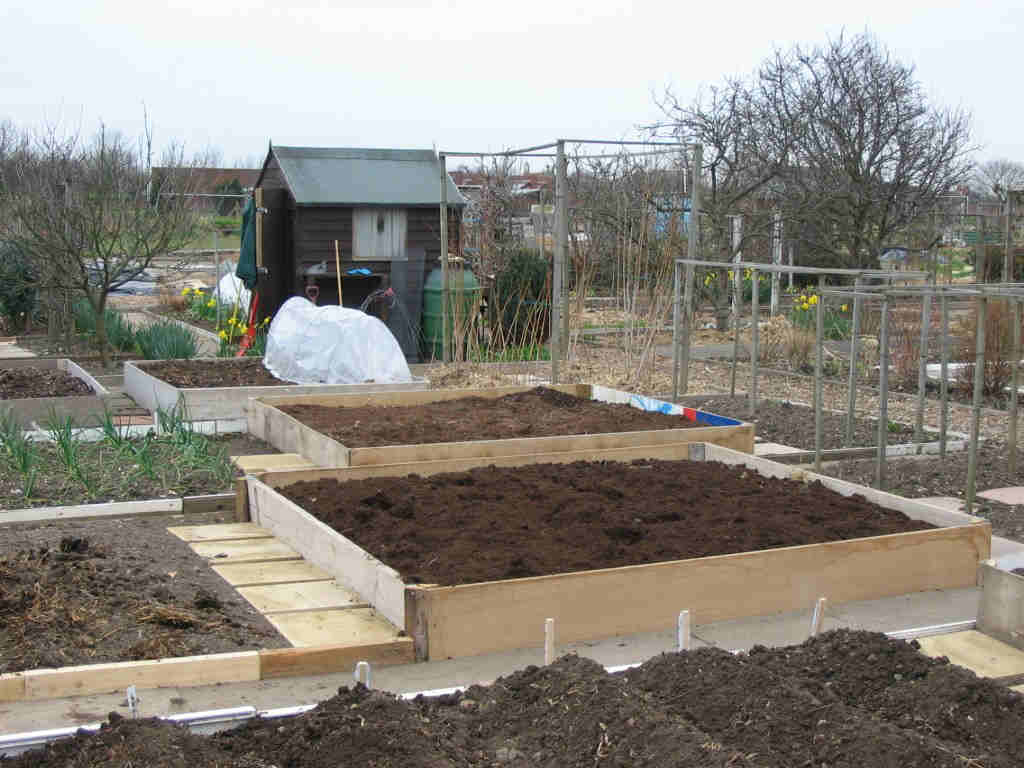 Easter week-end and it has been so warm and sunny it has brought everyone out in their droves on the lottie. We have all been catching up on the gossip and little work has been done. However, I have now completed planting the potatoes, sown the first carrots 'Nantes' - watering the drill very well as surprisingly our ground is quite dry, then covering with fleece. This will stay in place right through to harvesting. Having tried various other means, sowing next to onions, crushed moth balls etc., I have found this is the only sure way to protect from the carrot fly.
I have also planted onion sets, 'Sturton', 'Turbo' and 'Red Barron' and more parsnips.
In the greenhouse many seedlings need pricking out now. The smaller the seedling is when potted on I find suffers less stress and therefore gets established better. Tomatoes, Cauli and Cabbage have been potted into 3" pots and Leeks, celeriac, and lettuce into cell trays.
APRIL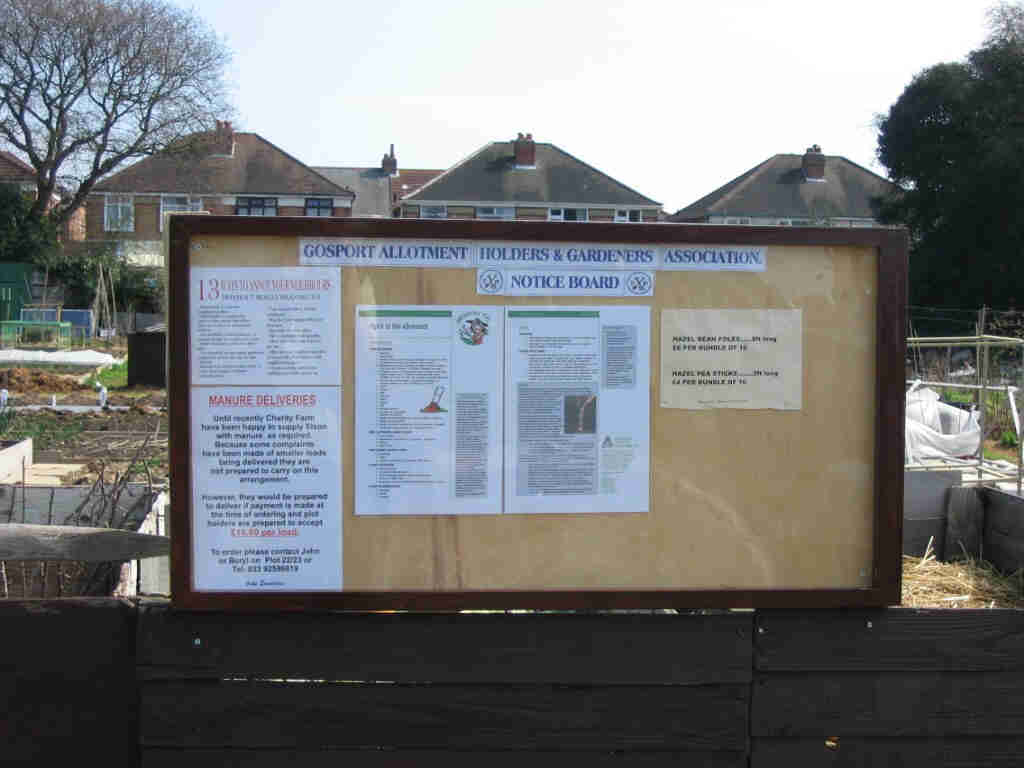 Thank you to Vince (plot 21) for making us a new notice board.
Exciting start to the month; my asparagus crowns 'Franklim' have arrived from Marshalls. As per instructions I have had them soaking over-night and now ready to plant. The bed has been well prepared with lots of good rotted compost, spent grow bags, broken bags of multi-purpose and top soil etc., I have kept it free of all perennial weeds and hoed regularly. The bed has been marked out with 5 rows each with 3 plants.
I first took out a trench with a mound down the centre; watering well. The plants were set on top with their roots well spread out, covered with soil and watered well again then a further covering of soil so the plants will be approximately 4" down from the surface. This is to protect the buds from any frost. Now we must be patient as no spears should be cut in the first year. The plants must be kept well watered in dry spells and hand weeded. (Sorry I had hoped to bring you photos of the planting but there was a problem with my camera)
In the greenhouse, the peas are getting their first tendrils now so I am bringing them outside each day for a few hours to gradually harden them off ready for planting out in a couple of weeks. I have sown Minicole cabbage and sprouts 'Brilliant' and 'F1 Cascade'. Butternut squash, Turks Turban and courgettes F1 Jemmer', these require a gentle heat or a sunny window sill; also Thai chillies - variety unknown.
13th of the month after a short cold snap, the peas are outgrowing their pots so I have decided to plant out; giving them plenty of twiggy supports and then covering with netting to protect from the pigeons. The frame gives added support as the peas grow and fill out.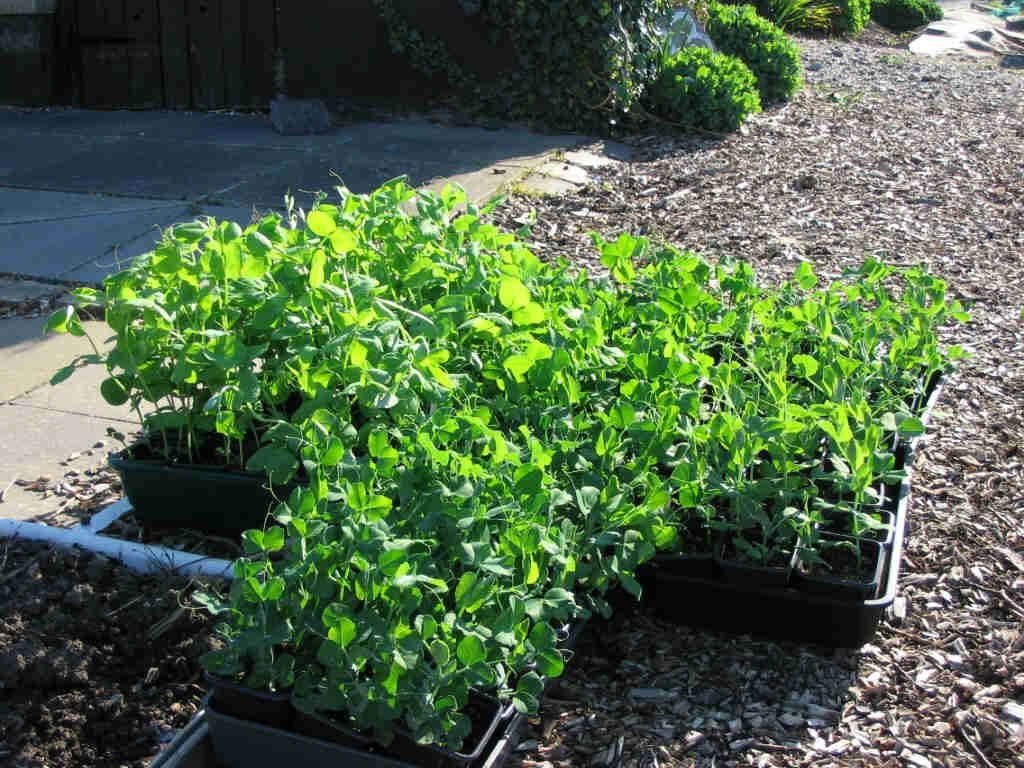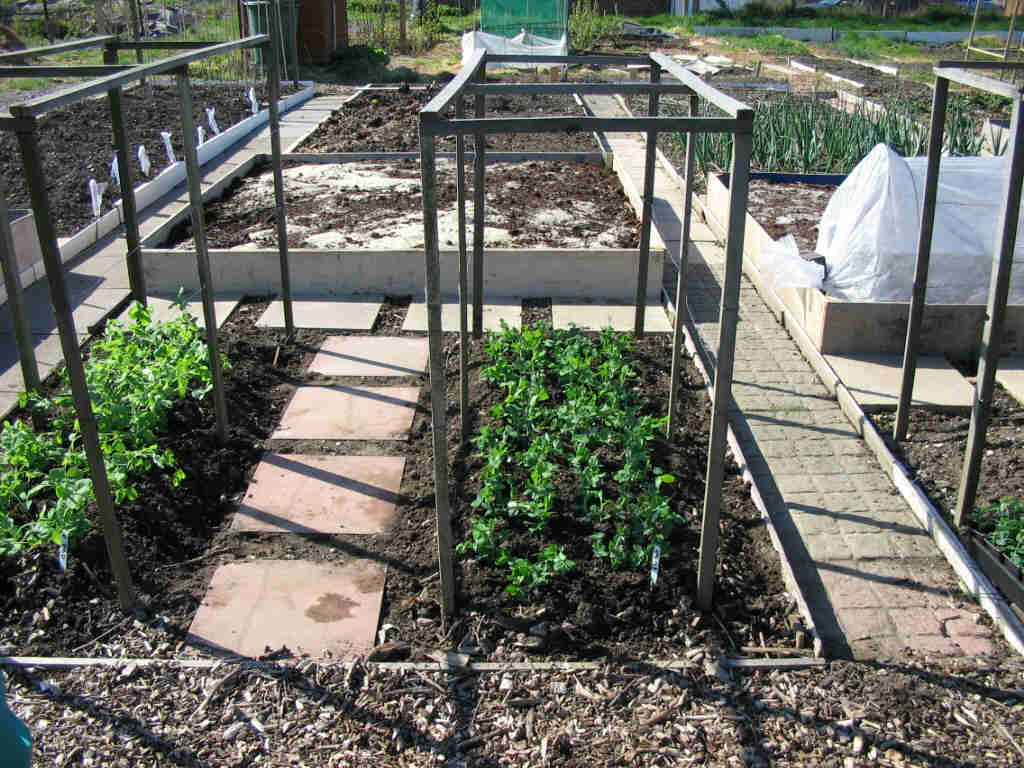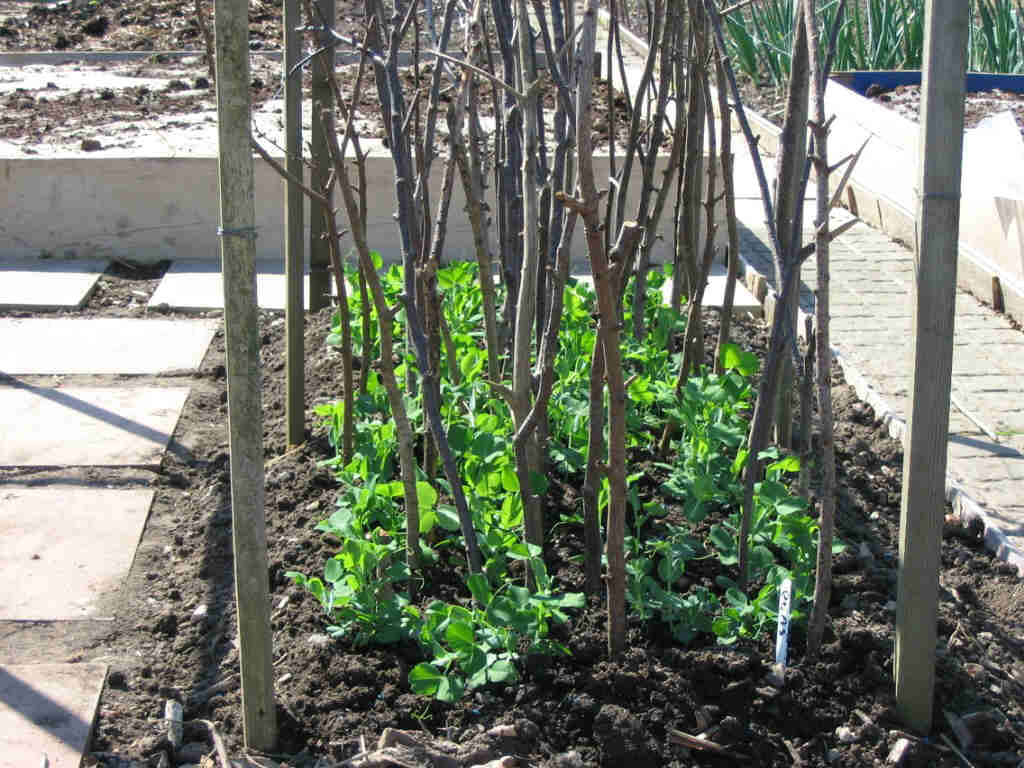 Peas ' Purple Podded' and 'Hurst Greenshaft'

Showing the Spring colours on the allotment
I have made a second sowing of carrots 'Berlicum' (mid-season stump rooted) under fleece and planted out the first lettuce 'Density'.
25th - After some very welcome rain I have now planted out under fleece cauli - 'Igloo' and cabbage 'Golden Acre'; beetroot 'Bolthardy' and spring onions 'White Lisbon'.
There is still lot's to do in the greenhouse. Potting on into 6" pots Tomatoes, all the squashes, courgettes, sprouts and Mincole cabbage; and celeriac into 3" pots. Seeds sown in modules, fennel, kohl rabi, beetroot 'Action', and french beans 'Purple Podded'.
On the fruit plot I have tidied up the strawberry beds and removed all the dead leaves etc. ready to lay straw next month.
MAY
A glorious bank holiday week-end and I was able to get cracking starting to plant out some of the flowers I have been growing in modules. French Marigolds, Bizzie Lizzies, Helichrysum, Acroclinium, Coreopsis, Asters and spray chrysanths from which I took cuttings and over-wintered.
The foliage on the first of the early daffs has now died back sufficient to cut back and consign to the compost bin and I have given them a feed of chicken pellets to encourage stronger bulbs for next year.
I have planted out more Spring onions and Beetroot 'Action' which were started off in modules and I am now starting to harden off the tomatoes, squashes, courgettes and Minicole cabbage ready for planting out later this month.
On Sunday 8th a very enjoyable afternoon was had at the Wild Life event at Grange Farm, Rowner. The G.A.H. & G. A. held their usual stall selling plants, produce etc., Click here for photos
The plot is now looking very odd with all the fleece cloches but with the threat of night frosts they really are essential. The large metal hoops I use are expensive but will last a life time and are an investment. They can be purchased from LBS-Horticulture, tel: 01282 87333 website : http://www.lbsgardendirect.co.uk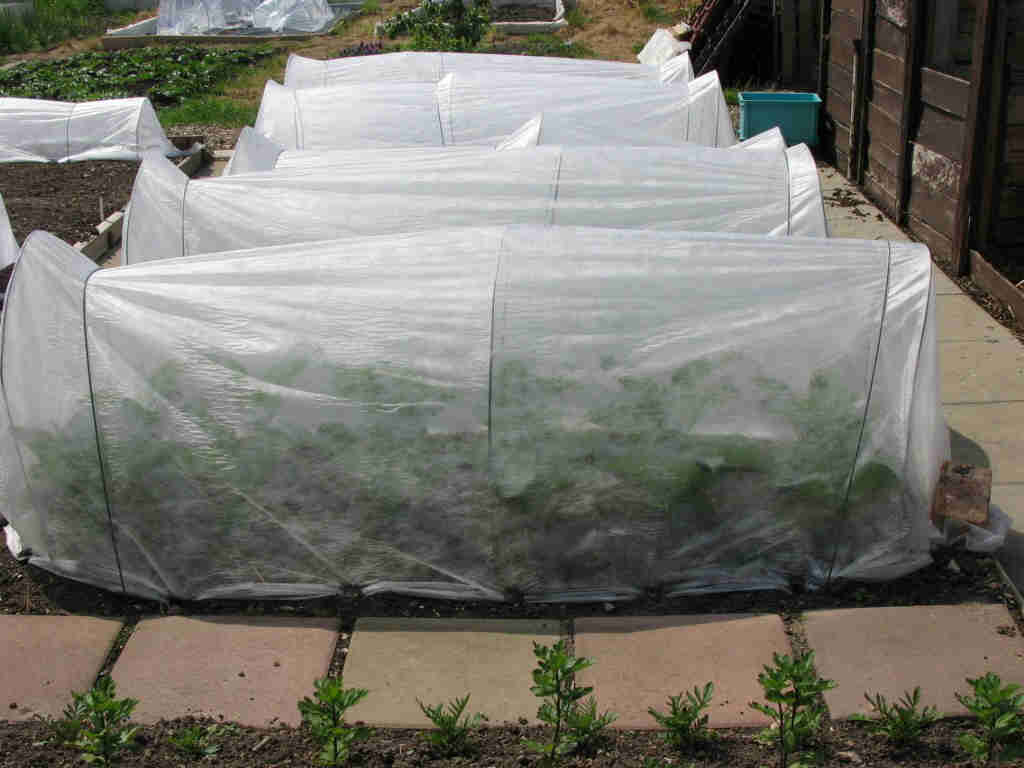 The last week week of the month and we have finally had some much needed rain and the temperatures are rising making for perfect growing conditions.
I have now removed the fleece from the cauli and cabbage, mulched well and replaced with fine netting. This keeps the pigeons at bay and also the cabbage white butterflies.
With the threat of frost now gone I have planted out the Celeriac; setting the plants about 12" apart and 12" between rows.
Also all the tomatoes, Squashes, Courgettes and Gerkins which have been well mulched. The Purple French Beans 'Royalty' started in pots have been planted out but given fleece protection for a bit longer. The Sprouts which had been potted on to 6" pots have made good growth; these I have planted out, setting them deeply up to their seeds leaves and firming well. 'Brilliant' which should start cropping from the end of September and 'Cascade F1' to see us through till the end of January.
Kohl Rabi and Fennel both started in modules have now been planted with the added protection of fleece. The flea beetle can devastate small brassica seedlings; and for a continuous supply, more beetroot 'Cylindra' and 'Bulls Blood', lettuce 'Little Gem' and Spring Onions.
I also have made sowings of Runner Beans 'White Lady' and 'Polestar' in pots ready to plant out in June.
JUNE
May was unusually cold this year and everything seems to be a little slower growing, however we have started to harvest our first lettuce, spring onions, baby beetroot and carrots.
The 4 fox cubs on our site are causing mayhem and I am spending a lot of time each day clearing up the straw they have removed from the strawberry bed and repairing the fleece cloches they have played with.
I have now started to plant out the leeks. Some I have set out under fleece as added protection from the leek moth. This is the first time I have done this so I will be able to compare them with the ones in the open ground.
All the Tomatoes have been planted; setting them deeply up to their seed leaves. Watering well and mulching.
On the fruit plot the cherries are just turning pink so it is on with the netting to deter the birds.
I have pruned the new growth on the red currants back about half and again these have been netted. Some of the prunings I have used as soft wood cuttings to make new plants by stripping the leaves back to about 4, making a deep 'V' with the spade in the soil and inserting the cutting, watering well and firming in. These should have rooted by the autumn and can either be potted up to over winter or planted out in their new positions.
In the greenhouse I have sown more beetroot 'Tardel', lettuce 'Little Gem' and spring onions in modules also cauliflower 'Igloo'. These should be the last of the year for cropping September to October. Thinking ahead to winter, I have now sown purple sprouting 'F1 Red Arrow'.
You may have noticed that one or two of my usual crops are missing this year, such as mini sweet corn, kale and swede. This is due to lack of space. We have found that by making raised beds, although very useful the actual growing space has been reduce somewhat.
15th of the month and we desperately need some rain. The soil is drying out in the strong winds. The peas are setting their pods now so they will take priority in the watering rotation. The purple podded peas are intriguing with their purple flowers and pods although they have grown very tall.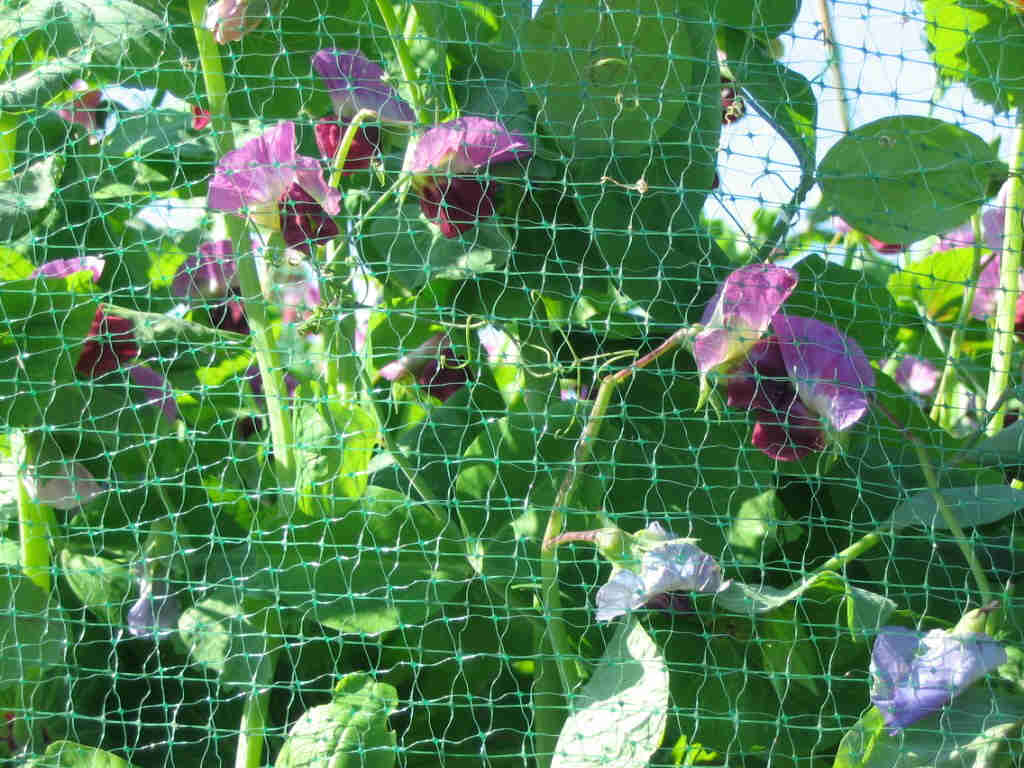 I have now planted out the Runner Beans, 'Polstar' and 'White Lady', 2 plants to each cane and adding another 2 beans - just in case!
Strawberries are cropping well, I pick these, with a stalk to avoid damaging the fruit and also on the slightly under-ripe side so they will finish ripening in the kitchen for us to enjoy the next day as well. Any surplus is laid out on trays and frozen.
Sunday 19th
While on site early in the morning to do some watering, I personally saw a badger. I am now convinced it is the badgers that are causing all the damage to crops, netting, fleece etc., and not as first thought the foxes. The badgers are not contained in the special sectioned off area but free to roam the allotments.
With the continuing destruction of all my fleece tunnels I have now had to re-sow the main crop carrots yet again for the 3rd time and replant with more leeks. John has erected another cage of netting over the top and hopefully this will be sufficient to deter any wild-life.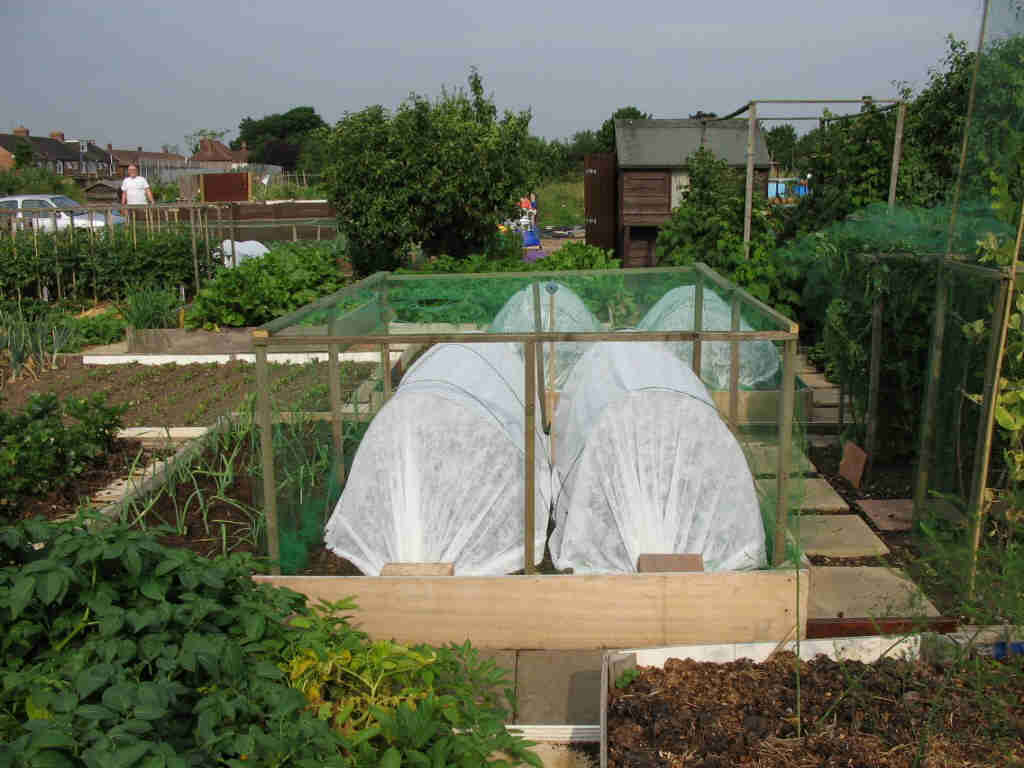 On a happier note - the tomatoes are growing well and now need regular attention with the pinching out of side shoots and tieing in to the supports.
We have still not had any rain and the plot is very dry. Any weeding I will now do by hand to avoid moving the soil to retain what little moisture is there. Priority is given to the peas as they are now starting to fill out in their pods. I have cut my first cauli 'Igloo'. These are small but ample for 2 producing good white tight curds. The first potatoes are now ready. 'Foremost' is our favourite and I only lift as many as I need for a couple of days at a time to enjoy them at their best.
Saturday 25th
Like many parts of the country we have had the much needed rain (the thunder storms we could have done without). The plot is now looking much fresher and thankfully little damage was done. I am particularly pleased with my first crop of Kohl Rabi ready for harvesting; grown completely under fleece it is free from any pests such as the flea beetle. I am now also cutting the first cabbage 'Golden Acre' leaving the 'Minicole' which will stand for up to 3 months without splitting. The peas are now ready and will need picking over regularly. To harvest I cut them with scissors to avoid pulling and damaging the plants.
JULY
I have now planted out the last of the cauliflower 'Igloo'. These should be ready for harvesting in September. The peas are finished and safely in the freezer. It is not necessary to blanche these. I have removed the twiggy supports and netting leaving the plants to die down in situ allowing valuable nitrogen to be put back into the soil from the nodules on their roots.
Most of the summer vegetables are now cropping well. Potatoes, cabbage, cauli, carrots, kohl rabi, french beans, beetroot, lettuce, spring onions, courgettes and fennel.
On the fruit plot, the strawberries, raspberries and red currants all need regular picking. Cherries I harvest by cutting with scissors to avoid damaging next year's growth buds.
In the greenhouse I have pricked out into 3" pots, winter cabbage 'Tundra' and chard 'Bright Lights'; also Sweet Williams into cell trays.
Week-end of the 22nd - It's raining - whoopee, that should save the daily round of watering for a little while; and the second piece of good news is we are very pleased to have been awarded second place in Hampshire Federation of Horticultural Societies competition this year.
Back on the plot and I have planted out the winter cabbage Tundra and purple sprouting 'F1 Red Arrow'; leeks are showing some signs of the leek moth so I am being very vigilant and squashing as many as I can see. The 3 rows planted out under fleece are still unaffected.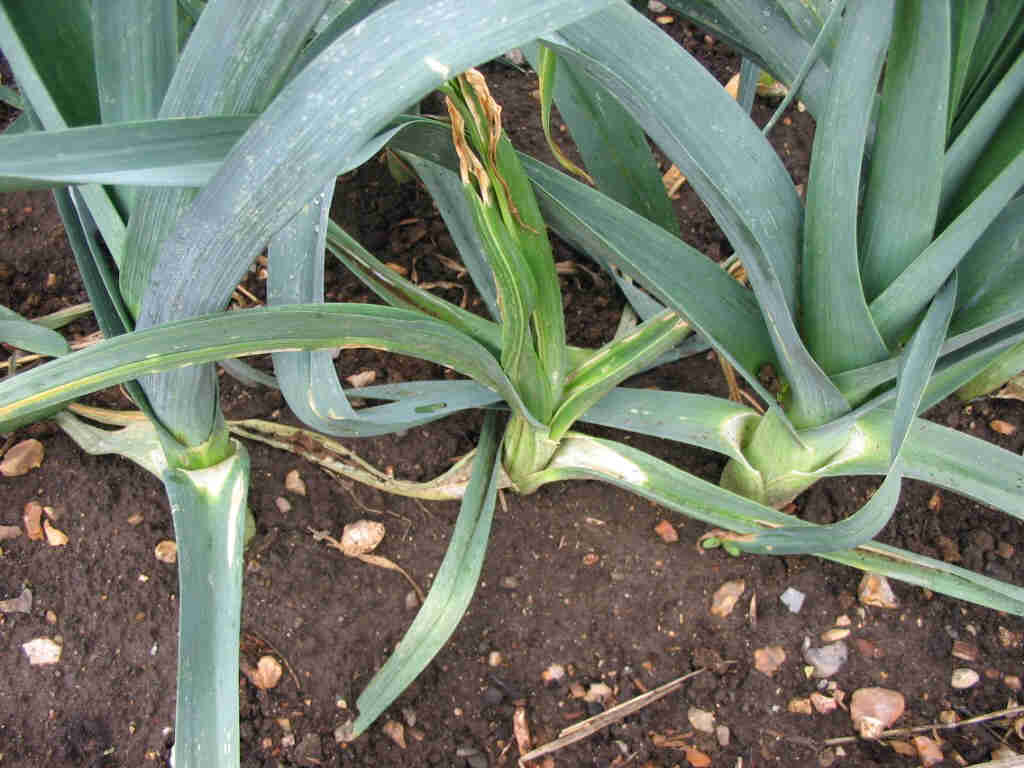 Centre leek has the moth
Celeriac now needs the lower leaves removed to expose and encourage the root to swell. The Butternut Squash and Turks Turban are both beginning to swell so I have placed a tile under each fruit to raise them off the soil to avoid rotting and also keeps them clean. Strawberries are now finished and have been given a good 'hair cut' and a feed of chicken pellets. They will soon make new growth and I shall be pegging down a few runners for new plants.
AUGUST.
A DATE FOR YOUR DIARY.
The G.A.H. & G. A. will be holding their first annual Flower and Vegetable Show on Saturday 20th August at the Parish Hall, Alverstoke. Exhibits should be displayed by 10.30 a.m. Judgeing from 10.30 - 11.30 am and Public Viewing from 11.30 - 2.45 pm. This is intended to be a fun day out for all the family and anyone who enjoys gardening may enter whatever their age.
On the plot, the Raspberries, Loganberries and Red currants are all coming to an end now. All the old fruiting canes on the Raspberries and Loganberries can be cut down to ground level and the new canes for next year tied in; selecting the strongest and cutting out any weak ones. The Early Rivers plums are ripening fast now and need to be picked before the birds demolish the lot.
The recent rain has caused the last of the Little Gem lettuce to bolt so these have been consigned to the compost bin. All the other vegetables are doing well and we are now picking Runner Beans and digging salad potatoes 'Anya'. 'Juliette' and 'Anstasia' and 'Osprey' main crop.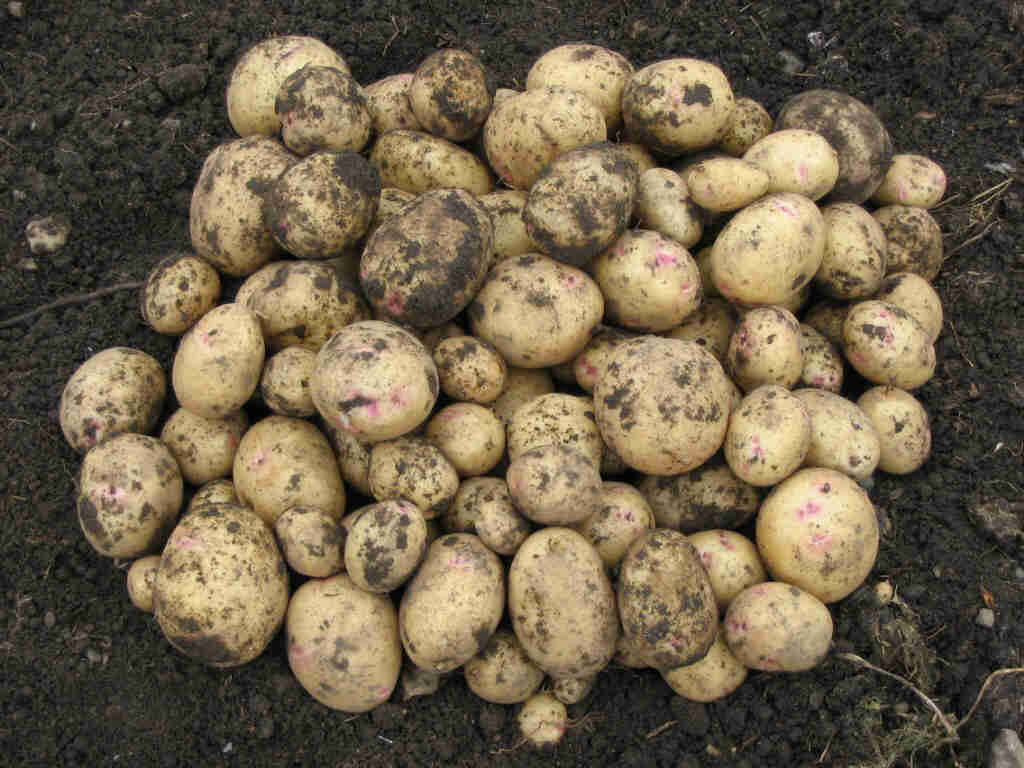 'Osprey' Potatoes
Last week in the month and with the long hot days the onions have ripened and dried well in the sun. I gently eased them with a fork to break their roots first; they are now ready to be plaited on to strings and stored in a light frost free shed. To see how I do this click here
Tomatoes are ripening and I have removed some of the yellowing lower leaves to keep the plants open and allow good air circulation.
Vacant ground can now be turned over and kept weed free by regular hoeing. I have planted out Sweet Williams and some more Kohl Rabi to give us a supply of roots to harvest from October.
Summer pruning has been carried out to the fruit trees to remove some dead wood and to keep them in shape.
A very enjoyable day was had by all at the Gosport Allotment Holders & Gardeners Assoc. first Flower and Vegetable Show on the 20th. The tables were laden with a wide range of exhibits from all ages including 2 superb scarecrows made by the children. The judges included the Mayor of Gosport and cups were awarded in many catergories; produce was auctioned at the end of the afternoon. Click here to see just a few of the exhibits.
SEPTEMBER
A DATE FOR YOUR DIARY - The G.A.H.& G.A. will be holding their usual stall at the Michaelmas Fayre on Saturday 17th September in Walpole Park; selling a wide range of produce and plants all grown and provided by Gosport's allotment holders.
Back on the plot there is a feeling that autumn is fast approaching. The winter brassicas need some attention now, removing all the dead and yellowing leaves to avoid any build-up of diseases. I am keeping on top of the weeds, hoeing all vacant ground. Runner Beans are still cropping well and need regular picking. John is now lifting all main crop potatoes before the slugs get to them. 'Sarpo' has proved to be very strong growing and produced a heavy crop of large tubers and I am pleased with their cooking qualities. They stayed firm and white when boiled and showed no signs of flaking. They also mashed well and had a distinct flavour of their own which we liked. One I will consider growing again next year.
Despite the cold start in May we have had an exceptional crop of tomatoes. I have removed most of the lower leaves to aid ripening. Three of my favourite this year have been the 'Spanish Beef' and 'Long Tom' both very good for cooking and the very reliable 'Auriga' with orange skin and flesh salad tomato.
The pear trees have been netted against the birds. Unfortunately we have no apples this year.
Dead heading is very necessary now, particularly the spray chrysanths and Asters to give me a continuous supply of cut flowers for the house.
John has dug the first deep trench which we will fill with all the green waste before filling in. This will all have rotted down by the spring. Click here for photo and others of the plot in September.
A very enjoyable day was had by all at the Michaelmas Fayre. Our stall was laden with produce and plants all supplied by generous plot holders and eagerly snapped up by many customers.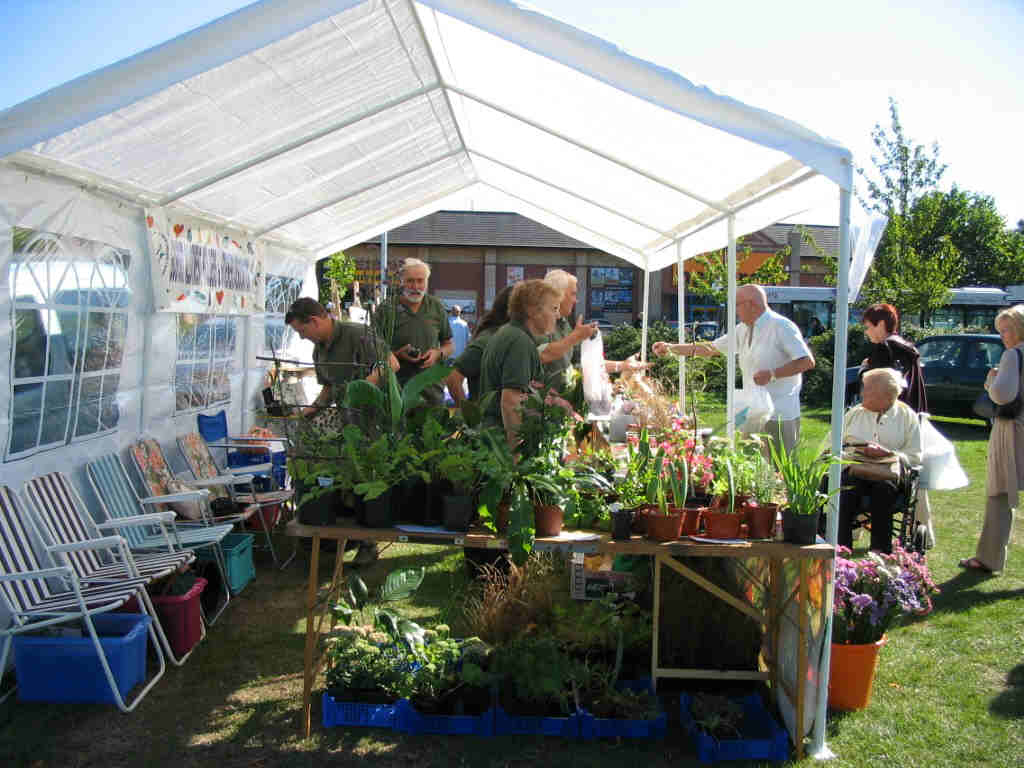 OCTOBER.
A DATE FOR YOUR DIARY
The G.A.H. & G. A. are very pleased to welcome back Mr. Ray Broughton from Sparsholt College to give a talk on 'Pests and Diseases' on Tuesday 11th October at 7.30 pm. at H.E.D.C.A. Coombe Road. Elson, Gosport. Admission is free to members and £1.00 non-members. Light freshments included. All are very welcome.
On the plot there is a definite feel of Autumn in the air. Unfortunately all the tomatoes with the exception of 'Ferline' have succumbed to the blight. All the plants have been lifted and destroyed (not composted) any remaining fruits that were useable have been turned into chutney as they will not keep.
John is lifting the last of the main crop 'Pink Fir Apple' potatoes before the slugs get to them.
Time now to plant out Japanese onion sets; 'Senshyu', 'Radar' and the red onion 'Electric'. These will provide an early crop of onions from next May onwards.
There is still time to plant out spring cabbage, Garlic, Broad beans and salad crops such as winter hardy lettuce which may need some protection.
On the fruit plot - the strawberry runners I pegged down earlier have made a good root system; they have been severed from the main plant and potted up and brought home to a sheltered spot in the garden for some protection over winter. I shall plant them out in the Spring.
We have enjoyed a good crop of 'William' pears. 'Concorde' and 'Conference' are still very hard but I shall now start to harvest them; laying them out in trays to ripen in the shed.
15th - We had a very enjoyable day at West Dean College, Sussex, Apple Affair Day. I have purchased two new apple trees 'Rev Wilks' culinary and 'Lord Lambourne' a good all round desert. These are pot grown and will be planted out later when we have prepared the planting site.
The last few days of the month have been so warm. The last of the Butternut squash have been cut, placed in net bags and hung up in the shed for use during the Winter months. The old plants together with the courgettes which are also coming to an end have been consigned to the compost bin.
I have harvested the first of the sprouts 'Brilliant' although a little on the small side through lack of water. Taking a few from the bottom of each plant and leaving the rest to fill out more.
Leeks have recovered well from the attack of the leek moth.
With the warm and moist conditions the weeds are continuing to grow so I am keeping on top of the hoeing and while clearing away spent crops, bedding etc., turning the soil as I go.
NOVEMBER.
The weather is still very warm for the beginning of November so I have taken a chance and started to plant up a new Strawberry bed with runners that I potted up earlier. They have made good growth but I will keep some plants till the spring just in case I lose any.
Grease bands have been put on all the fruit trees. These will need to be checked throughout the winter to remove any debri that sticks to them.
The Asparagus fern has been cut down and given a good mulch of well-rotted compost.
The 2 new apple trees have been planted. First preparing the planting hole with a bucket full of well-rotted compost and a handful of blood fish and bone; teasing out some of the roots and then setting the tree to the same depth as the pot; firming in and a good watering to settle the roots. 2 support stakes were used as we find on our exposed and very windy site it holds the tree more firmly but allows it to bend naturally in the wind.
---
A calendar for 2006 has been produced by the G.A.H. & G. A. priced £4. There are still some copies available if you would like one please email me. All profits to the Association's funds.
---
DECEMBER
With the recent very cold and frosty weather and now wet and windy there is little to do on the plot. However, this is a good time to take a walk round and make a note of any repairs that need doing to the paths, sheds etc. Also the fruit trees in particular plum and cherry while they are bare; mark any branches that will need pruning out next summer after fruiting. Late December and January a winter tar wash can be applied to all fruit trees.
Check empty watering cans/butts for any over-wintering snails.
ROUND-UP - I think on the whole we have had a very good year. The main bone of contention has been the foxes and badgers causing damage not only to the crops but to the netting and fleece. The numbers of foxes have increased to the point where they are no longer just a nuisance. How we address the problem will be a tough one for next year. If you have solved this problem I would be very interested to hear from you.
May I take this opportunity to thank you all for your support and kind comments over the year.
John joins me in wishing you a very Happy Christmas and Peaceful New Year and we look forward to returning again in the Spring of 2006 - hope you will join us. [Diary 2006]
[Home Page] [A Year in the Life of our plot 2000] [Diary 2001] [Diary 2002] [Diary 2003][Diary 2004][Diary 2006][Diary 2007][Diary 2008][Diary 2009][Diary 2010][ Diary 2011] [Diary 2012][Diary 213.html] [Diary 2014] [Typical Plots on the Elson Site][Wild Life Area] [Conservation Project] [Badgers] [Ray's plot.html] [Links Page]