[Home Page] [A Year in the Life of our Plot 2000] [Diary 2002][Diary 2003][Diary 2004][Diary 2005][Diary 2006][Diary 2007][Diary 2008][Diary 2009][Diary 2010][ Diary 2011] [Diary 2012][Diary 2013] [Diary 2014][Diary 2015] ][Diary 2016] [Diary 2017] [Diary 2018] [Typical Plots on the Elson Site] [Wild Life Area][Conservation Project] [Badgers] [Ray's Plot][Links Page]
DIARY 2001
This page is intended as a brief follow-up to 'A Year in the Life of our Plot 2000' to keep you up-to-date with what is happening on our plot.
JANUARY-FEBRUARY. 2001
For most of the first 2 months of the year our plot has been under water due to the very wet winter. However, by the last week in February the ground is beginning to drain and dry out sufficiently in places for us to get some work done. John has taken advantage of the wood chippings which the council left on our site last
Summer and has laid them on the paths which we had not paved. This has helped to soak up a fair amount of excess water and we are able to walk without sinking in the mire. Strips of old carpet were laid first to suppress weeds with a good 3 inches of chippings on top.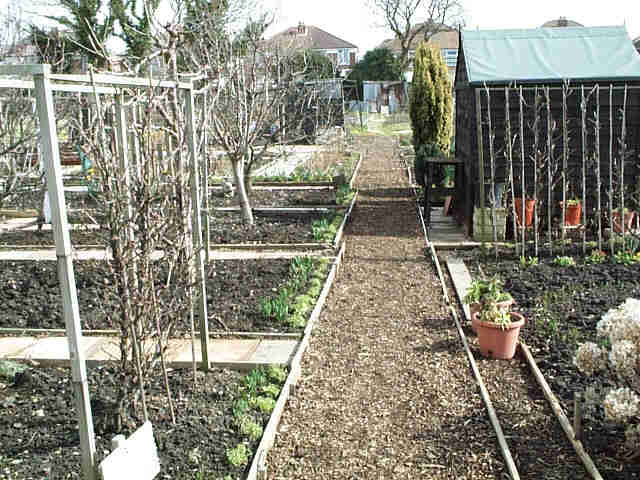 I have made an early start on some planting; Shallots, Red Onion sets and Parsnips. The weather has now turned cold and frosty and although parsnips take about 6 weeks to germinate, should they fail there will still be time to re-sow later.
The Hebe hedge at the entrance to our plot is now getting very woody so I have taken it out and replanted with cuttings I took at the end of last Summer. These have been over wintering in the greenhouse and have made good size plants. They are quick growing and by next year should give me a nice new hedge with purple mauve flowers the bees love.
We have also made 2 trips to the local stables to start replenishing our stocks of horse manure.
MARCH.
The first week in the month has been bitterly cold, no work has been carried out on the plot but I have been busy in the greenhouse making early sowings of Broad Beans -The Sutton, Beetroot -Bolthardy, Spring Onion - Lisbon, Cauliflower - Tulcan and Cabbage - Earliest of All, in the hope they will be ready when the weather warms up to plant out later in the month. John has started to repair the supporting posts which were damaged in the winter gales and to erect the frames ready for Runner Beans, Peas and Tomatoes later on.
20th March and it is the first day of spring. What more can the weather throw at us? We have had, rain, sleet snow and gales. The plot is again flooded and we are unable to get anything done.
APRIL
Easter week-end and at last we have been able to get on the plot. Water levels around the shed and the paths have gone down although they are still squelchy to walk on. We have added large quantitites of compost to the highest point on 2 beds and covered with cloches in an attempt to dry out sufficiently to plant and keep out any more rain that decides to fall.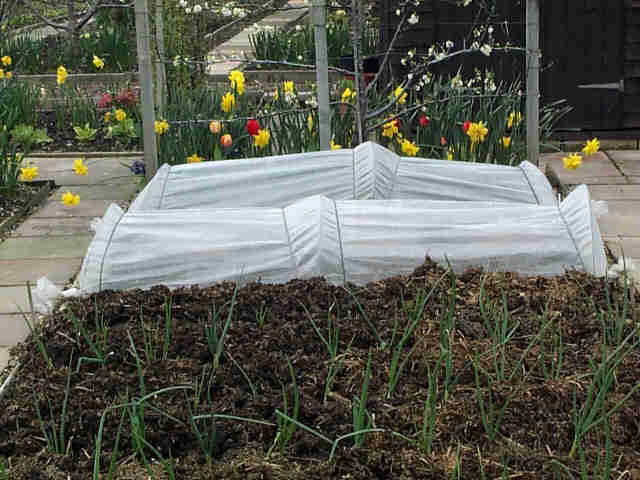 I have made a start by sowing carrots 'Rondo' the small round ones, broad beans ' The Sutton', these I have had growing on in pots in the greenhouse. Also cauliflower 'Tulcan' and cabbage 'Earliest of All'. The early potatoes have also been planted. We are trying Jersey Royals for the first time this year and our old favourites Rocket, Foremost and Aran Pilot. The parsnips failed to germinate so I will have to try again.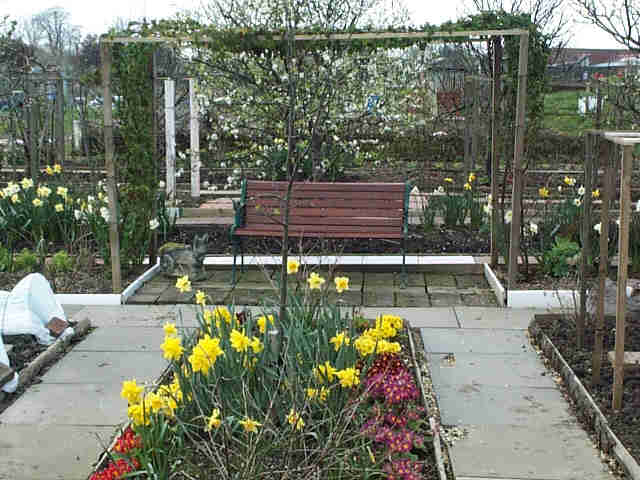 At least the bulbs and polyanthus have survived the wet conditions and given us a lovely Spring display.
I think we have to count our blessings and be thankful our beds are raised. Most of our neighbouring plots are still very much under water as the next picture shows.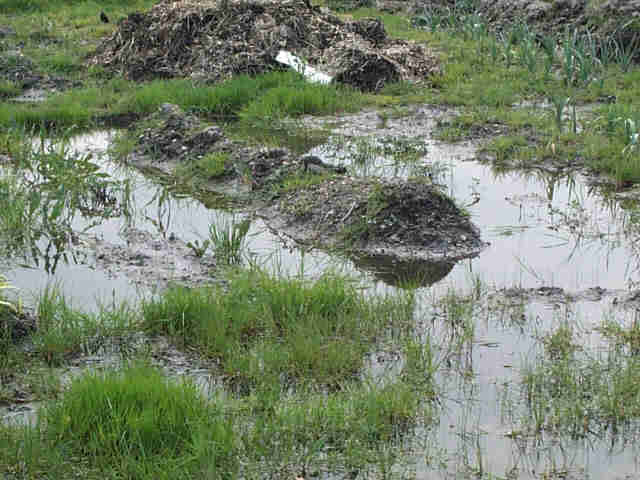 The last week in April and we have been able to finish digging over all the beds. I have re sown the parsnips, planted out spring onions, beetroot and stump rooted carrots which I have grown on in modules in the greenhouse. Main crop potatoes, Desiree are now in and the peas which I started off in pots and planted under a cloche are doing well. They are now ready to have the twigs put in for support.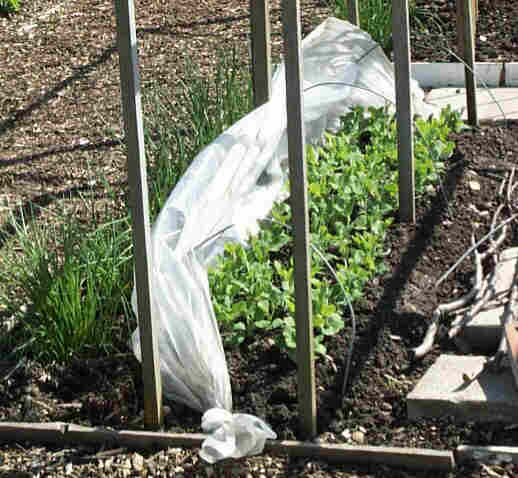 On the fruit plot the Plum and Cherry blossom has been a picture and so far with no frost we are ever hopeful of a good crop this year. Goosberries are beginning to form well and I am keeping a watchful eye for the sawfly which can devastate a bush overnight. I have planted out a few Gazania but I will leave most of the bedding plants till next month.
MAY
The second week in the month and the weather has at last been kind to us. We have enjoyed long dry sunny days. Making the most of it, I have been planting out the remaining vegetables which were started in the greenhouse in pots. Broad beans, French beans, Celeriac, Lettuce Tomatoes and Courgettes. I have also made further sowings of carrots. All the potatoes have had been earthed up and pea sticks are now in place.
I am concerned that the gooseberry leaves have turned brown and the fruitlets have browned as well and dropped off. If anyone can throw any light on this problem for me I would be pleased to hear from you. We have not had any frost which could have caused it.
The last week in May and we are praying for rain. The ground is so hard it is like trying to plant into concrete. I have made a sowing of Runner Beans and planted out leeks and kale. We are continuing to lose more fruit. As well as the gooseberries 3 apple trees, 2 red currants and the raspberries have all died off. I have taken advice from the Whispering Nurseries in Norfolk and they tell me it is probably due to being water logged for so long and no air could get to the roots. Ironically we should have been watering well if there were any signs of life to save them. It is too late now so John has been hard at work taking them all out. We will replace the trees with a pot grown apple and plum, and replant the soft fruit in the autumn.
JUNE
The first 2 weeks of the month and we have still not had any rain, watering is the number one priority. I have managed to finish planting the winter veg. sprouts, more leeks and main crop carrots, Autumn King. Broad beans and peas are beginning to fill out and to keep the pigeons from stripping everything in sight I have covered as much as possible with fleece and netting. John has now re-planted 2 trees, Apple 'Winter Gen' and Plum 'Czar'.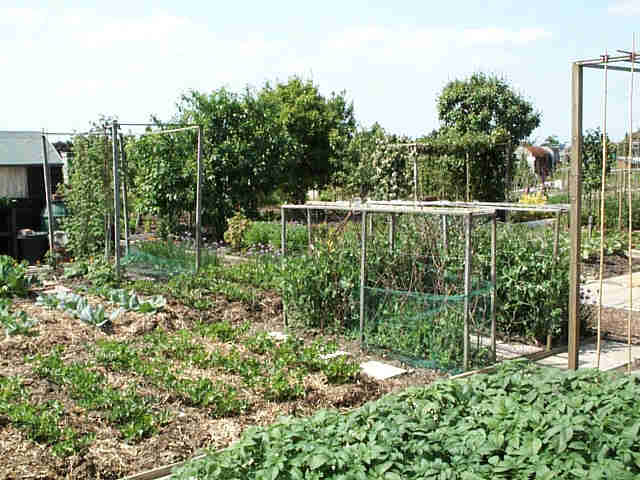 . The last week in June has been very hot and still no rain but we have at last been rewarded for our labours and have started harvesting our first new potatoes Foremost, also carrots, cabbage, beetroot, spring onions, lettuce, courgettes and lots of broad beans. The plot is now looking more colourful and attracting the bees and insects. For a selection of photographs taken on 26th June, 2001 please click here

JULY
The first 2 weeks, and our main concern is for the long grass on the vacant plots not just on our site but all the others in Gosport as well. Everywhere is tinder dry and representations have been made to the council to have the plots strimmed.
We are continuing to harvest. The broad beans and peas are now finished and safely stored in the freezer. Blackfly has been the main pest problem this year and rather than leave the old beans and peas in the ground we have taken them out and put them in the compost bin. I have had a good crop of cherries despite the birds taking their share. Netting was put on one tree but somehow they still managed to help themselves.
The last week in July and we are basking in hot sunshine, ideal weather to finish drying off the shallotts. These I laid out on an upturned bread basket to allow a good air flow.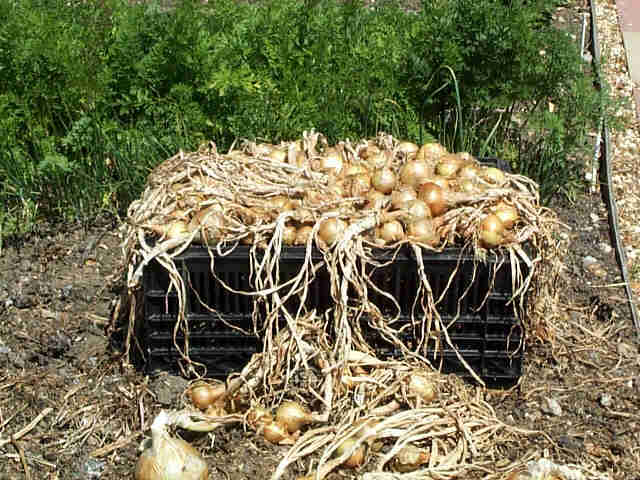 The runner beans are now in full flower and although they have been attacked by the blackfly, I am glad I resisted spraying as now the hover flies have arrived in droves and are enjoying a great feast. The plants have recovered and now look very healthy. We have also taken delivery of another trailer load of horse manure which has kept John busy topping up the compost bins which he has layered with plenty of grass cuttings collected from a nearby Sheltered Housing Association gardens.
AUGUST.
The month has got off to a great start with the news that for the second time we have been awarded first prize for our allotment in the Hampshire Federation of Horticultural Societies competition.
Throughout the month we have been harvesting Runner beans, tomatoes, carrots, beetroot etc. It is taking up a great deal of our time now keeping it all well watered during the dry spells for a continuous supply. The birds have kindly left the Victoria plums alone and we have had a very good crop of large juicy fruit to enjoy. I have also prepared a new strawberry bed, digging in plenty of rotted compost and planted out good sized plants which I had taken runners from existing healthy plants. All onions have been lifted and dried off and are now waiting to be plated on to strings.
tSadly we have lost one of oldest plot holders this month. Reg Harris died aged 86 and had been at Elson for more than 35 years. He had been riding his bike and working his plot right up until the end of July. Reg. will be very much missed by us all.
SEPTEMBER.
The first 2 weeks of the month have been mainly to continue to harvesting for a regular supply of beans etc. We have also picked some large Williams pears; On a warm day eaten straight from the tree - mmm... delicious. I have well prepared a new bed for the autumn onions, plenty of compost was dug in and a good scattering of chicken manure raked into the top surface before planting Senshyu and Radar sets. I have also planted 2 rows 'on trial' an un-named variety from Marshalls.
We are also helping out our neighbour Ray, who is moving house. We have agreed to work half his plot until as such time he can take it over again. Hopefully it will prevent the undergrowth from encroaching on to our plot.
Before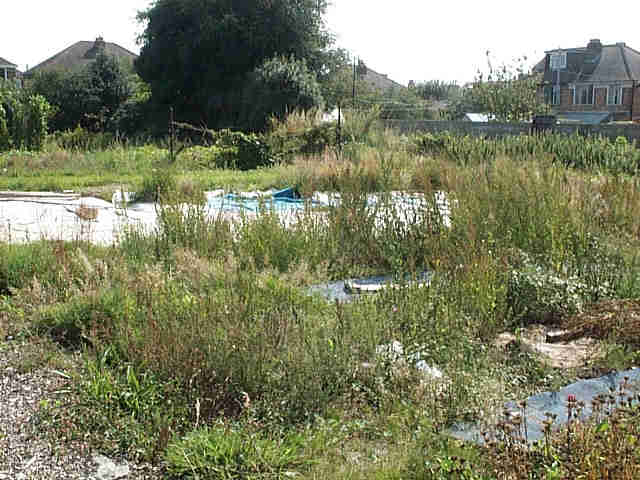 and after first clearing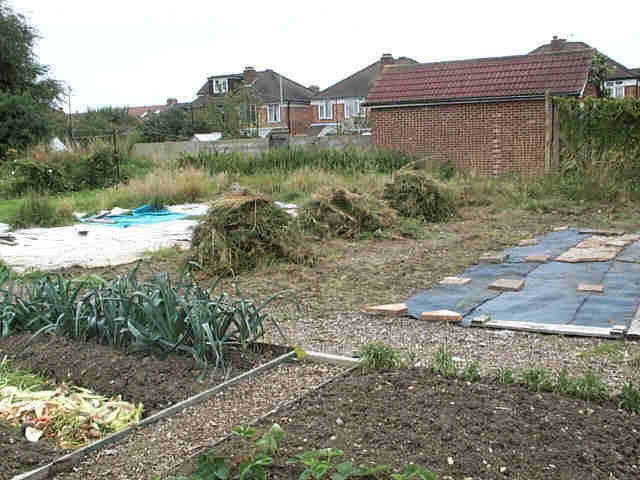 OCTOBER
The first 10 days of the month the weather has been against us with heavy rain and gales. I hope this is not the start of a winter like last year. There is plenty to do on the plot clearing up and composting leaves, rotting vegetation etc. The tomatoes are now finished and any remaining still green have been put in the greenhouse to finish ripening off. Strawberries have been given a good mulch and as soon as the weather permits I will continue to put a good layer round all the fruit trees and bushes.
The last 2 weeks of the month the weather has been warm and we have been able to complete the last of the digging. John has prepared two open deep trenches in readiness for next year's runner beans which we will fill over the winter with kitchen waste, vegetable peelings etc. This helps to retain moisture for a very thirsty crop.
We are now harvesting Sprouts, a variety called 'Brilliant' which I am very pleased with. The plants have remained firm and upright without any support in the heavy gales even on our light soil. The buttons are very tight and uniform all the way up the plant. I can recommend these for anyone wishing to grow an early crop. Seed can be purchased from Marshalls.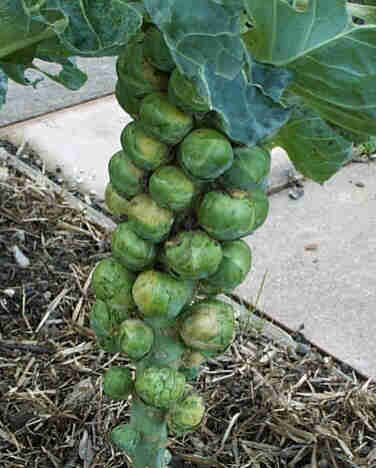 Most of the leeks have recovered from an attack of the onion fly. Some I did have to remove to the compost bin but we will still have sufficient for our needs to see us through the winter.
NOVEMBER.
While emptying the compost bin I came across a family of Field Mice.
   

   
We have had several night frosts which have benefited the parsnips. After a poor germination start I am now lifting some good sized roots which are crisp and tasty. The young tender middle leaves of the Kale is being picked regularly to keep it growing for a continuous supply throughout the Winter. The good weather has given me time to give all the fruit trees a good mulch. I have recently visited the Kitchen Garden web site and can recommend this to anyone interested 'growing their own' for lots of information, tips and help with any problems. You can find them at http://www.kitchengarden.co.uk
DECEMBER.
It has been a quiet month weather-wise but there has still been plenty to do. John has been repairing the compost bins with new wooden slats and I have given the sheds a coat of wood preservative, a job I would normally do in the spring. I have planted out 2 new gooseberries 'Leveller' and strawberries 'Claire-Maree', to replace those we lost in last year's wet weather. Raspberry canes have been promised for the New Year.
I am sorry to report that our neighbour Ray, has decided he will not be able to return to his plot which we had been helping him with. We did apply to the council to take it on ourselves but in their wisdom, they have turned us down. We are disappointed we will not be able to carry on with this project but I hope you will continue to enjoy following our progress by way of this Diary.
A BRIEF ROUND-UP OF THE YEAR.
I have continued my experiment with growing carrots between rows of onions but I am not convinced this is totally successful. The main crop was badly infected with the carrot fly but those grown under fleece were free from attack. I have been given a tip to try moth balls placed at intervals along the row to deter them. This I will try next year and report back.
For the first time in 11 years I have grown some superb sprouts. They have withstood the high winds even on our soft soil. I have been harvesting since late September and I still have a dozen or so plants with tight buttons that are showing no signs of 'blowing'. I can recommend the variety 'Brilliant' from Marshalls. My only complete failure this year was the celeriac which all ran to seed very early. I think it was because I did not pay enough attention to the regular watering and they were allowed to dry out too often.
We look forward to a new season in 2002 and hope you will join us then. [Diary 2002]
<![if !vml]>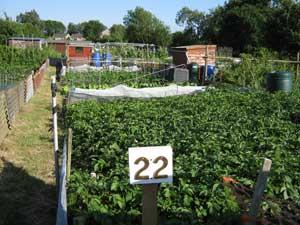 <![endif]>
Mervyn's plot at Wimborne, Dorset