[Home Page] [A Year in the Life of our plot 2000] [Diary 2001] [Diary 2002] [Diary 2003][Diary 2004][Diary 2005][Diary 2006][Diary 2007] [Diary 2009][Diary 2010][ Diary 2011] [Diary 2012][Diary 2013] [Diary 2014] Diary 2015 ][Diary 2016] [Diary 2017] [[Diary 2018] [Typical Plots on the Elson Site] [Wild Life Area] [Conservation Project] [Badgers] [Ray's Plot] [Links Page]
DIARY 2008


Welcome to a new gardening season down on the plot.
2007 was quite a challenge for me; I wonder what 2008 will hold?
---
JANUARY
The year has started cold and damp. I still have a few repair jobs to do. The shed window needs replacing after yet more break-ins. I have planted out a new strawberry bed with bare-rooted plants. 'Marshmello' plus an old variety 'Royal Sovereign'. Erected the posts and wires and prepared the ground well in readiness for the plum tree 'Bounty' I have ordered from Suttons which should be delivered in February. This I intend to train as an espalier. Most of the winter vegetables are coming to an end now but I still have sprouts 'Oliver Fl' to harvest, leeks a few celeriac and winter cabbage 'Tundra'. The purple sprouting should start producing spears from mid-February onwards. It is far too early for me to be sowing seeds yet in the green house. The light levels are too low this time of the year. March will be soon enough.
The daffys are beginning to show through so spring cannot be far away.
As there are now many excellent gardening forums on the internet I have decided to discontinue the Questions and Answers and the Forum page as from January 2008. One forum I always enjoy visiting for helpful friendly advice is the Kitchen Garden Magazine forum but you can also find many other forums via my Links page.
I will of course be only too pleased to answer any of your questions if I can; or if you have any comments to make please

me.
A DATE FOR YOUR DIARY
10th Hampshire Potato Day will be held on Sat 26 & Sun 27 January 2008. 10am - 3pm at the Testbourne Community Centre, Micheldever Road, Whitchurch. For more details go to http://thewhitchurchweb.org/potatoday/index.htm
FEBRUARY
After a very wet January the soil is beginning to drain but it is still too wet to get on to do any digging. I have been making good use of the drier days by topping up the paths with wood chippings and refilling the compost bins with more manure and keeping on top of the weeding as the mild wet conditions have kept them growing.
Although still too early to be sowing seeds I have put a few onion sets 'Red Baron' and 'Sturon' in modules in the greenhouse; reserving most of them to plant out in March. Seed potatoes can now be laid out in modules or egg boxes to chit keeping them in a light frost free place.
Keep an eye on any fruit and vegetables in store now for any that are rotting. Onions in particular will start to shoot now and need using quickly.
---
MARCH
A DATE FOR YOUR DIARY
The G.A.H. & G.A. will be holding their Spring Talk on Tuesday 11th March at HEDCA, Coombe Road, Gosport, at 7.30 pm. We are pleased to welcome Mr Right to give a talk on 'Fruit and Vegetables on the allotment'. Admission is free to members and just £1.00 to non-members Light refreshments included. Everyone is welcome.
Back on the plot March is the beginning of the growing season but it is best to be cautious and take into account the weather and conditions before sowing or planting outside just yet. The soil could still be quite cold unless you have kept it covered. Onion sets can be planted out now using a trowel (don't push them in) so their tips are just below the surface to avoid the birds pulling them out and I will be sowing the first parsnips 'White King'. These can take up to 6 weeks to germinate. For now I shall be content to get started in my cold greenhouse making the first early sowings of leeks, cabbage, cauliflower, lettuce spring onions, beetroot and peas; using my old favourites; and with some gentle heat tomatoes and peppers. I am trying a new bush variety 'Pepolino' tomato this year as well as 'Red Alert'.
On the fruit plot the plum and cherry blossom is about the break. The buds are fat and pink and with all the bulbs now out I feel spring has finally arrived. We have welcomed many new plot holders to our site; it is good to see it such a hive of activity once again.
16th of the month and the plot has really taken a battering in the strong gales and heavy rain that has swept the country. The Purple Sprouting has stood well and there is plenty to harvest now. The soil is saturated so will take a little time to drain and dry out again before I shall attempt to plant the first potatoes or the early carrots. Carrots I find like to have a warm soil to germinate well. In the meantime there is still plenty to do in the greenhouse. Early sowings of tomatoes, peppers, cauli, and cabbage have germinated and now need pricking out into 3" pots. I shall continue to sow, kohl rabi, squashes and courgettes and now many annual flowers can be sown. French Marigolds, Statice, Rudbeckia, Cineraria, Asters and the hardy perennial Coriopsis and Heliopsis.
The last 2 weeks of the month haven't been much better and the plot is still very wet but I have managed to get the first of the potatoes planted.
Taken delivery of another load of manure and decided to add another section to my new compost bin rather than try and repair another existing one.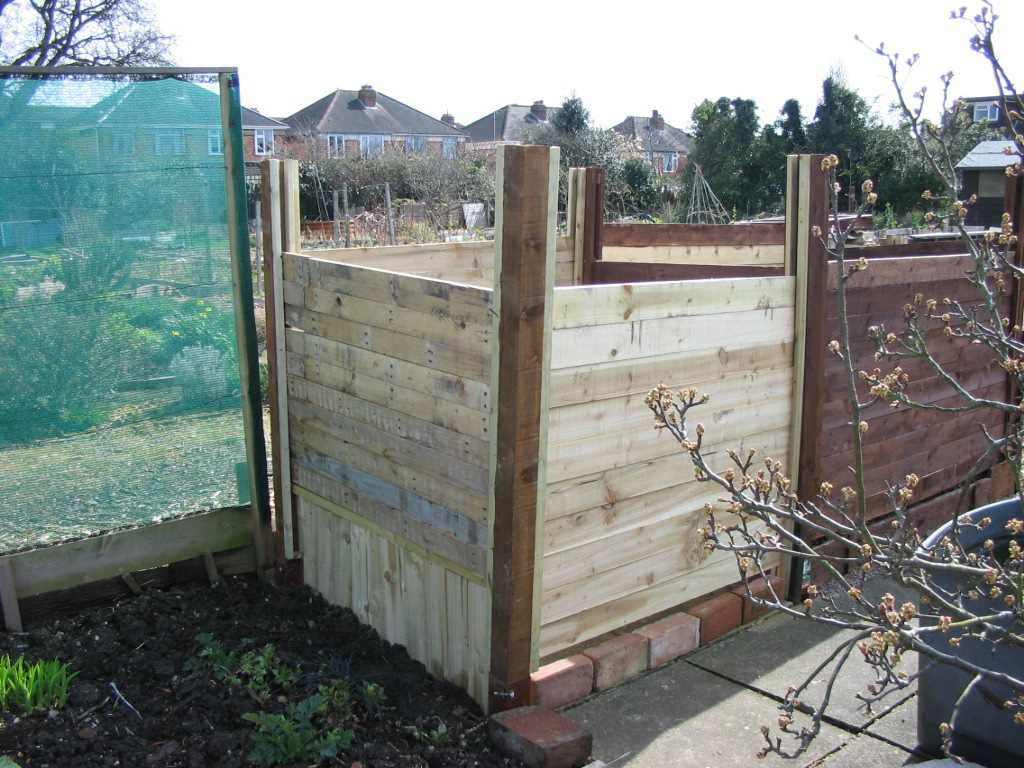 APRIL
Spring has arrived at last; peas 'Hurst Green Shaft' and beetroot 'Bolthardy' are ready in the greenhouse for planting out now but with the threat of more cold weather on it's way I shall delay for another week or so but I have made a start on the main crop potatoes now, Desiree, Maris Piper and Pink Fir Apple.
On the fruit plot I am mulching both strawberry beds well with the compost from the old bin which when empty I shall demolish.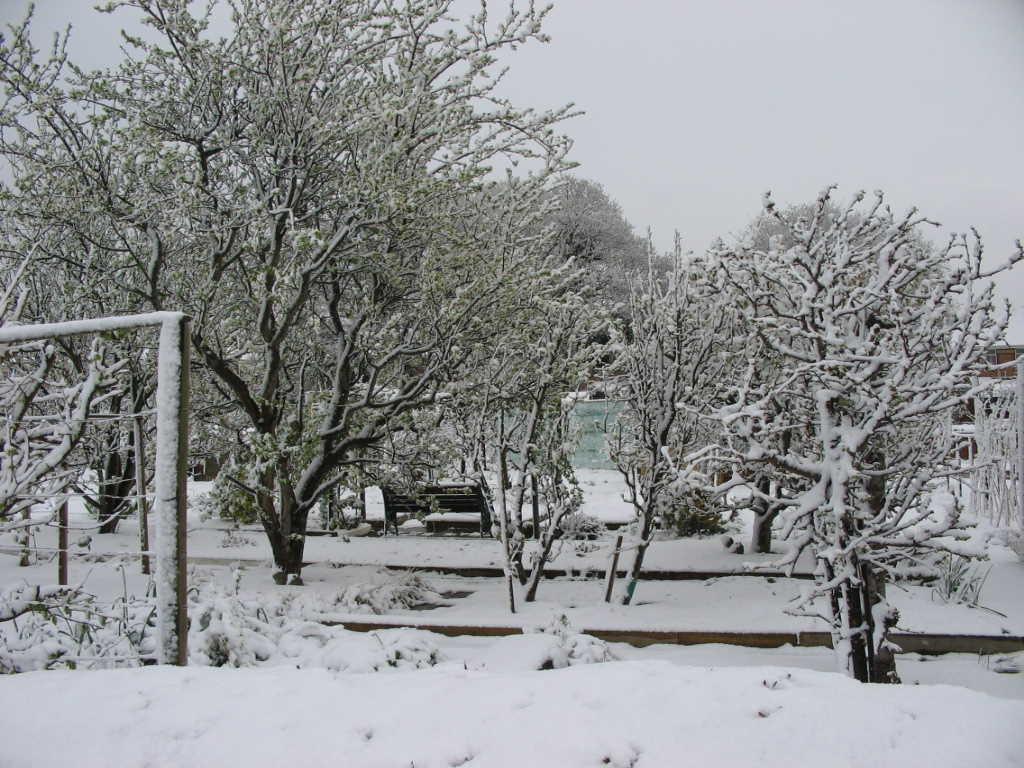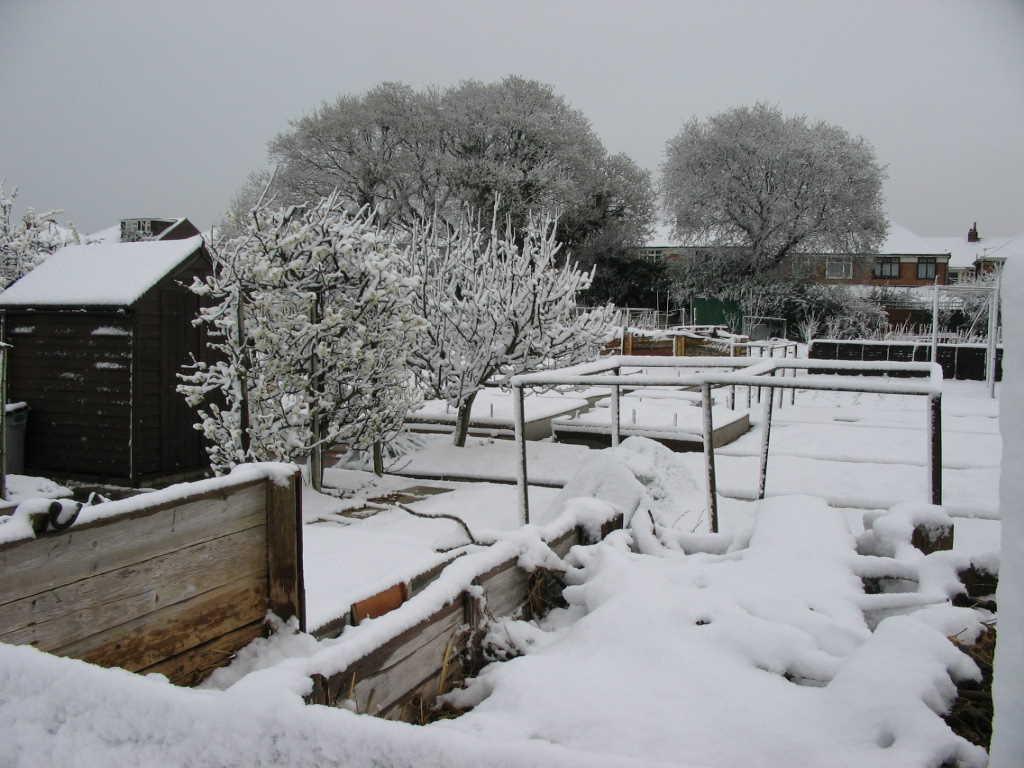 April 'Wonderland'
12th of the month and thankfully the snow didn't last very long and these last few days I have been able to plant out the peas and first beetroot from modules; sown the first carrots 'Nantes' and spring onion 'White Lisbon'. I have finished emptying and demolished the old compost bin. Given the potatoes a thick mulch with compost. This should now be enough for them and will not to be need to be earthed up any more.
In the greenhouse I have had problems germinating cabbage and kohl rabi so I have made further sowings of both; sown the first french beans 'Sprite' in 3" pots and fennel 'F1 Rudy' in modules. Celeriac and leeks are now big enough for pricking out into modules.
29th - It has been such an up and down month weather-wise it has been difficult to know when to plant out and when not to. The parsnips germinated but then something munched them and I have had to re-sow. Carrots failed to germinated, soil too cold and wet I think so I have made further sowings. I have planted out the caulis under fleece to prevent an attack from the flea beetle and added a cage of netting to deter badgers, foxes etc. I do have a serious problem with the badgers now fouling my soil. If anyone can offer me some solution I would be very pleased to hear from you.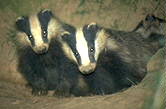 On the 'up' side I have had a superb crop of purple sprouting this year which is coming to an end now but I have starting harvesting the new season asparagus and tender young rubharb.
In the greenhouse I have potted on the tomatoes and peppers into 6" pots; continued to prick out seedlings and made further sowings of lettuce 'Dazzle' and 'Tin Tin' both Little Gem types. Pak Choi, Kohl Rabi and Beetroot.
MAY
With the start of the bank holiday week-end being warm and dry at last there is lots to catch up on the plot. Still with the added protection of some fleece I have planted out the first Kohl Rabi and Fennel. Also squashes Turks Turban and Butternut; 2 yellow courgettes F1 Jemmer and the round one F1 Floridor. Both of these make compact bushes but are very heavy croppers. Weeds are starting to grow away again so now is the time to hoe as much vacant ground as possible before they get a chance to take hold.
On the fruit plot it is time to be thinking about hanging the Pheromone Traps in apple and plum trees. Make sure any grease bands that have been applied are free from any debri. Check fruit canes are securely tied in to take the weight of the coming fruit.
A DATE FOR YOUR DIARY is Sunday 11th May for the Bring and Buy Plant and Gardening Sale to be held at Elson Allotments from 10.00 am. Steve will be on site on the Saturday beforehand to take in anything you have to sell for just a 10% donation towards the G.A.H. & G.A. funds or bring anything you have on the day.
Tea and cakes will be available. Why not come and bag a bargain.
8th of the month and the weather really has turned very warm and seems set to last for a few days yet. I have taken a chance and planted out the tomatoes.'Ferline', 'Spanish Beef', 'Gardeners Delight', Tropical Ruby' and 2 bush ones 'Red Alert' an old favourite and a new one to try 'Pepolino'. The new lettuce 'Dazzle is proving to be a very eye-catching deep glossy red. Much admired. I am now planting out the bedding, French Marigolds etc. as and when I have time. For a selection of photos taken on the 7th click here
16th of May and it is time to be thinking ahead to the winter crops. In the greenhouse I have made sowings of sprouts, 'Early Half Tall', a new one to try and old favourites, 'Brilliant' and 'Wellington F1' also purple sprouting 'F1 Red Arrow' and swede 'Ruby' in modules; Runner Beans 'White Lady' in 3" pots to plant out next month. Leeks, Celeriac and Pak Choi need potting on into 3" pots before planting out early next month.
The weather has been very hot and dry so to conserve has much moisture as possible I am hand weeding so as not to disturb the soil. Although it is now cooler and over-cast we have had very little in the way of rain. Asparagus is doing well and needs cutting daily now.
JUNE
The end of May gave us the much needed rain and now the plot is looking very 'green' and lush. Everything is growing well but with the warmth and moisture it also has it's problems. Slugs and snails are out in force and you need to be vigilant for young seedlings appearing. The black keel slugs under the surface will devour them very quickly. I think this is what has happened to my parsnips this year and now feel it is too late to make any further sowings. Carrots too are very sparse this year but I will persevere and sow some more.
I am now planting out the Runner Beans, last of the Celeriac, Swede and all of the peppers.
On the fruit plot the first strawberries are ripening and June is a good time to prune red currants; cutting back the new growth by about half. This will open the bush to allow the berries to ripen but will also attract the birds so I will be covering mine with netting.
If you have aphids on your fruit trees nip out as many of the tips as you can, this will help to deter the cherry black aphid and any greenfly.
Next year's new canes are growing well on the blackberries, loganberries etc. and need to be tied to one side to prevent any damage.
In the greenhouse the sprouts and purple sprouting need potting on into 3" pots.
I am now harvesting the first baby beetroot, spring onions and the new red lettuce Dazzle. This I have found to be slightly disappointing in taste and crispness but a very colourful lettuce for the salad bowl.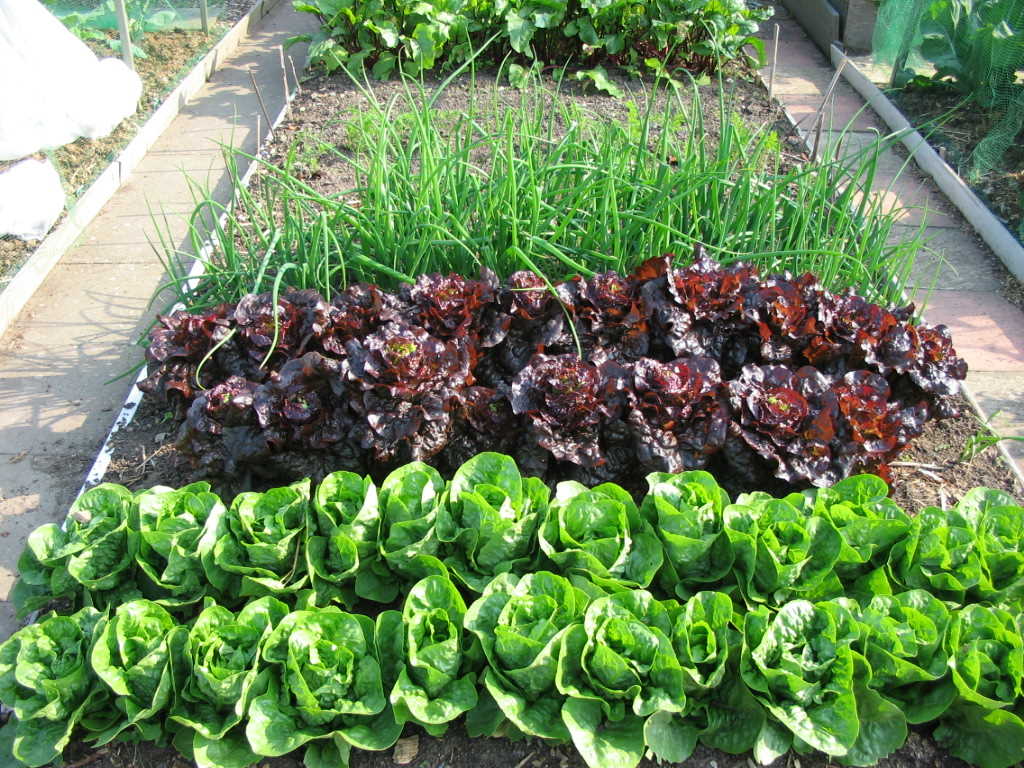 Little Gem in the foreground.
Click here for a selection of photos taken on June 8th.
The Sweet Williams are now giving a very colourful display and are ready for cutting; lasting well over a week in the vase.
I have now planted out all of leeks, some under fleece to protect from the leek moth and the green broccoli 'Romanesco'. I have had mixed reports on this one and trying it for the first time. It should have one central head and produce lots of side spears from October onwards. Success with carrot germination at last! I now have 4 good rows showing. Fennel needs to be earthed up to blanch the bulbs and I have broken a few leaves over the cauliflower heads which are forming now to prevent the sun turning them pink.
I've taken delivery of another load of manure which will keep me out of mischief for a while.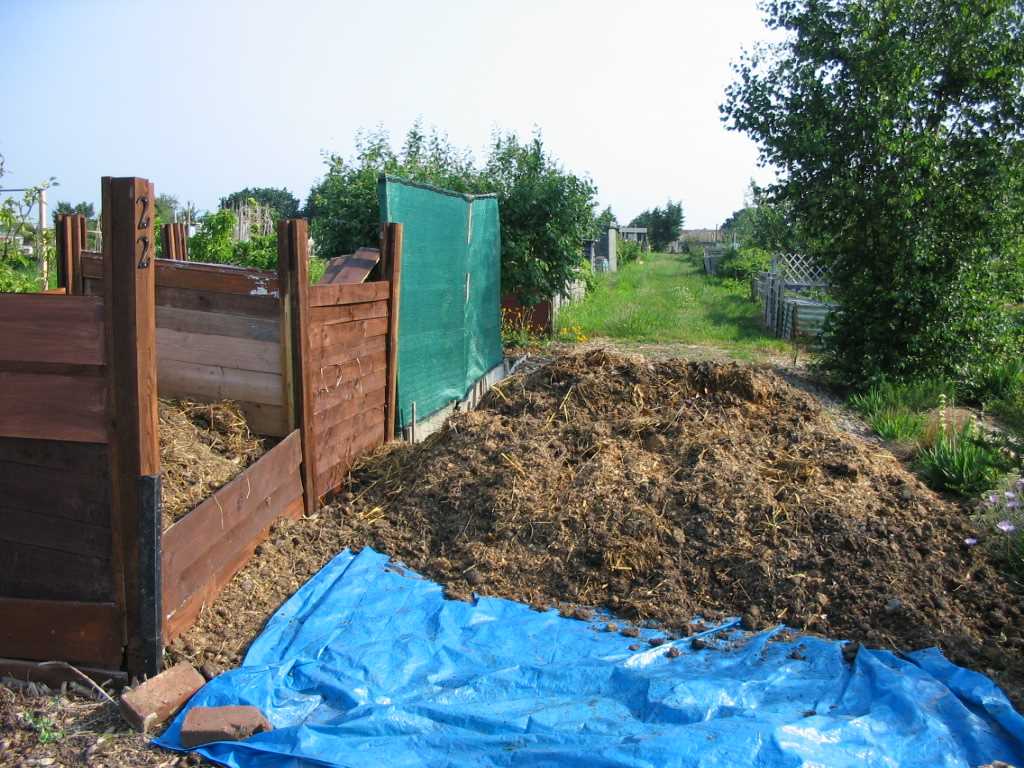 JULY
July is still a busy time on the plot with so many delicious summer crops to harvest. The peas are now finished; I have removed the twiggy supports and laid the plants down to die back before digging in. The roots will put back valuable nitrogen into the soil. I am now planting out sprouts, 'Brilliant', 'Early Half Tall', and 'Wellington F1' which should give me plenty of sprouts from the end of September into next year. I've made a further sowing of carrots 'Eskimo', said to be a frost hardy variety, a final sowing of Beetroot and in the next week or so planting out purple sprouting 'Red Arrow' to crop next March/April. With the long dry spell continuing these and the sprouts need to be well watered when setting the plants out. Soak the plants first, take out a good depth hole, fill with water and allow to drain; seting the plants deeply up to their seed leaves and firm in, giving a further watering and mulch well. Priority watering should be given to vegetables such as squashes, courgettes, french beans, fennel, lettuce and tomatoes. Asparagus spears should now be left to make fern to encourage good plant growth for next.
On the fruit plot, all the soft fruits are ripening now and need to be picked regularly. When strawberries are finished give the plants a good 'hair cut' and tidy up the bed; they will soon make new growth for next year and if the plants are still healthy and not showing any signs of disease new runners can be pegged down to pot up later when rooted. Cherries should be cut with scissors rather than pulling them off to protect the new growth buds behind for next year. I am continuing to tie in the branches on my new plum tree 'Beauty'.
With the new fox cubs, badgers, and squirrels all causing havoc on the site it is an uphill struggle. I am constantly repairing the netting, replacing fleece and removing damaged crops. The squirrels seem very partial to nibbling courgettes. Badgers have taken a liking to cabbage and the fox cubs love bouncing on the fleece.
The G.A.H. & G. A. held their delightful display stall at 'Alive and Kicking' in Walpole Park on Saturday the 26th. A great day out was had by all.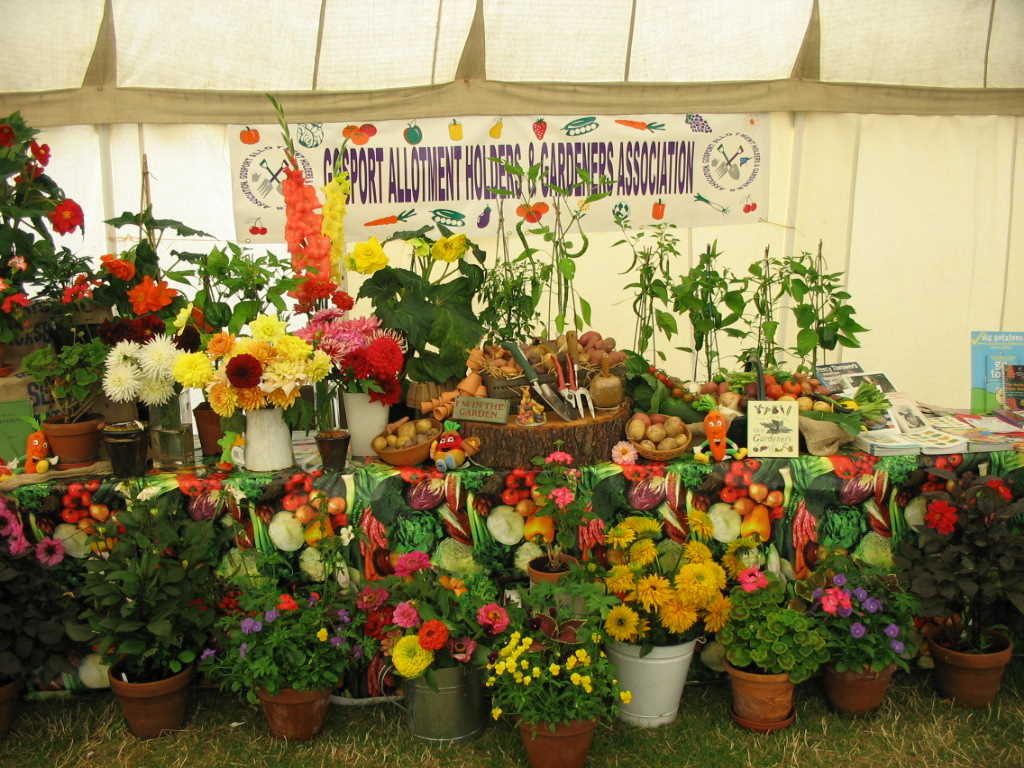 AUGUST.
A DATE FOR YOUR DIARY
On Saturday 16th the G.A.H.&G.A. will be holding their 4th Annual Flower and Vegetable Show. Show schedules and entry forms are available from all site stores. Exhibits must be displayed by 11.OO am on the day. Public viewing is from 12.15 pm. This is designed to be fun day out for all the family with classes for all ages. Open to anyone with an interest in gardening.
The first of the early crops are going over now and the ground needs to be cleared of weeds and lightly forked over. I have dug a deep trench and will fill with any soft waste that isn't woody such as spent flowers, cabbage leaves, french bean plants, tomato trimmings etc. I will keep adding to until it is full then after a good watering will fill in with soil. This will all have rotted down by the spring.
Celeriac needs to have the lower leaves removed to encourage the roots to fill out. Onions will be swelling now. Leave the tops to fall over naturally, ease the roots with a fork and allow the bulbs to ripen in the sun until papery before lifting. Use any with thick necks first as these will not store. Tomatoes are ripening well with no sign of the dreaded blight this year. Regular even watering is needed to avoid fruit splitting.
Vegetables such as Runner Beans and courgettes need to be harvested regularly now to keep them cropping for as long as possible.
On the fruit plot all the old soft fruit canes need to be cut down to ground level and the new ones tied in. Select only the strongest and cut out the weak ones. Strawberry runners that have rooted can be cut from the main plant and potted up ready for planting in the autumn. I have pruned back the side growth on the grape vine.
All the summer flowers particularly the delphiniums and dahlias need regular dead heading to keep them going and some may need supporting in these strong winds.
The young fox cubs are still being a nuisance and have almost demolished my campanular borders in their search for food.
The Annual Show was again a great success with even more entries again this year. The children's section was particularly good.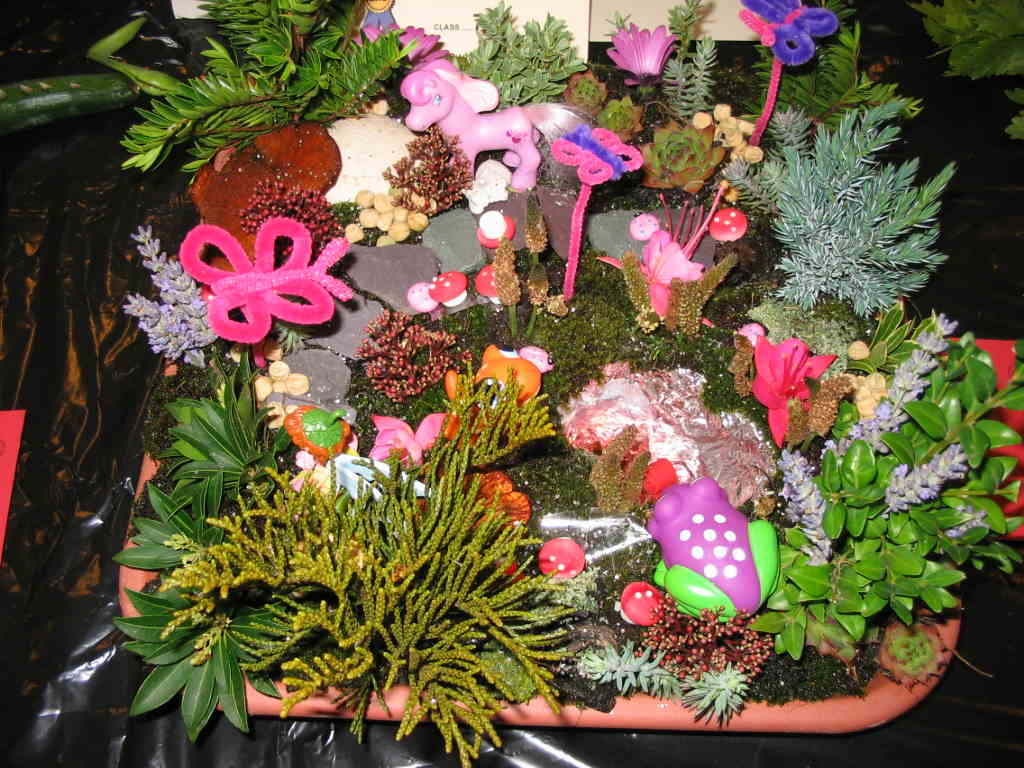 For a selection of more photos click here
The bank holiday week-end has at last seen an improvement in the weather and I have been able to start lifting the main crop potatoes.
Pink Fir Apple and Desiree leaving them in the sun for a few hours to harden their skins before storing in hesian sacks.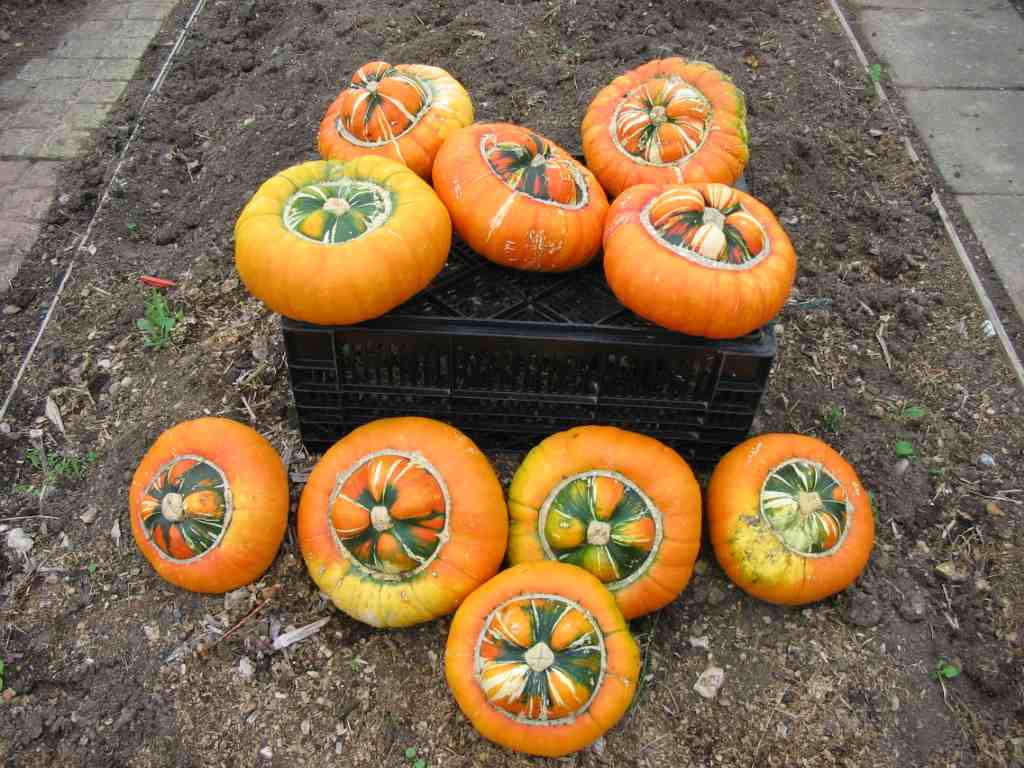 Some of this year's crop of 'Turks Turban' Squash; which unfortunately have been completely destroyed by vandals.
SEPTEMBER
To avoid the risk of losing the Butternut squashes I have cut all of them and placed them in the greenhouse to finish hardening their skins. By doing this they should store well into the winter months. I have finished lifting all main crop potatoes now and the beds have been dug over.
Tomatoes are still cropping well as are the runner beans which need regular watering. Remove any yellowing leaves from the winter crops, such as sprouts, swede, cabbage, and continue to remove the lower leaves on celeriac to expose the roots. Leeks can be given their final earth up.
Gather up any fallen apples now and use as quickly as possible.
I have started to empty my old compost bins so I can make some repairs before taking delivery of more manure.
Now is the time to be thinking about planting autumn onion sets and garlic to get established before the worst of the winter sets in. I have started mine off in the greenhouse in cell trays. When they are about the size of a pencil I shall plant out. If planting outside make sure the tips are just below the surface to avoid the birds disturbing them. These should give a good supply of onions to use from May onwards next year.
I have also planted out Sweet Williams to flower next May which were started off in cell trays in the greenhouse.
OCTOBER
DATE FOR YOUR DIARY.
The G.A.H. & G. A. will be holding their Autumn Gardening talk on Tuesday 7th at 7.30 pm at HEDCA, Coombe Road. Gosport.
The subject to be given by Mr. Perter Barwick will be 'All Aspects of Growing Fruit Trees'. Admission is £1.00 and free to members. All are very welcome.
Autumn is with us now, the leaves are falling and need gathering up to either add to the compost bin or to make leaf mould. If you have enough make a large wire basket to put them in.
On the plot the tomatoes have finally succumbed to the blight. They were very good while they lasted but now the fruit is turning black and needs to be disposed of. Don't compost the plants, burn if you can. Disinfect thoroughly any canes and tools you may use to remove them and plan to plant in another part of the plot next year as the spores can live in the ground. Runner Beans have got their second wind and will still produce a good crop if picked regularly.
I have now planted out the onions started off last month and a spring cabbage 'Hispi'. There appears to be an epidemic of caterpillars this year and it is still very necessary to keep all brasicas covered with fine netting.
I am continuing to remove any annual flowers that have gone over, gathering up yellowing brassica leaves and adding to the compost. Turning over any vacant ground and covering with a layer of rotted compost.
On the fruit plot I am very pleased with the grapes. This is their first cropping season and although I have not thinned them as much as I should have done the fruit is so sweet and delicious I shall harvest them as they are.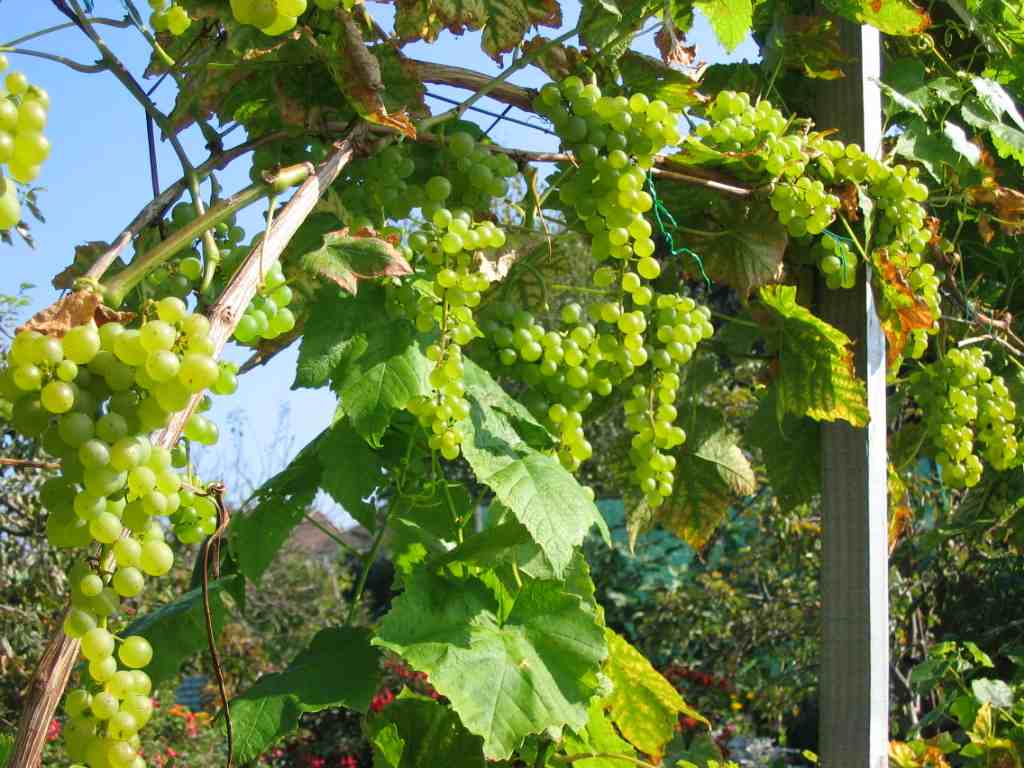 'Lakemont' from Marshalls
The figs although plentiful are still hard and green. The golden raspberry is fruiting well but I find them rather tasteless compared with the summer fruit - I may decide to remove the canes for something else later.
The Concorde and Conference pears are falling due to the strong gusty winds so I have picked them all now and laid them out in trays loosely wrapped in newspaper to ripen. These will need to be looked over regularly; it is not easy to tell when a pear is ripe as they ripen from the inside out.
NOVEMBER
A timely warning now we are all thinking about adding manure to our plots or compost bins. There has been widespread publicity concerning contaminated manure; if you have missed it and are concerned a full update can be found at the following link.
http://glallotments.co.uk/ACManure.aspx
The month has start very cold and wet but there are lots of tasty winter veggies now available to keep us warm in the coming months. I am now harvesting leeks, swede, celeriac, carrots, sprouts and Romanesco broccoli.
Weather permitting there is still plenty to do on the plot. The asparagus fern has now turned a golden bronze and needs to be cut down and covered with a thick layer of good rotted compost. Any runner beans needed for seed next year that have turned dark brown/black can be taken from the vines, shelled and stored in a brown paper bag or envelope. Cut the vines at the base and leave the roots in to put back valuable nitrogen and compost the rest. I am covering as much vacant soil as I can with a thick layer of compost.
On the fruit plot; tidy up the strawberry patch removing any stray runners that have formed. Continue to tie in blackberry, loganberry and tayberry canes to avoid them getting snapped off in the winds. I have decided to take out the golden raspberry.
6th of the month and I took delivery of a trailer load of manure which I just managed to get moved to the compost bins before the heavy rain and gale force winds arrived. The sprouts stood up well in the wind but the Romanesco broccoli has blown over. It is now far too wet to get on the soil and is best left till it has drained.
The second half of the month has turned very cold and still with blustery showers. When it has been dry enough I have started to top up the paths with wood chippings. Tidied up the 2 sheds, cleaned and oiled my tools so they will be ready for use in the spring.
DECEMBER
The month has started bitterly cold and wet. There is little I can do on the plot now other than harvesting vegetables as and when I need them.
Any vegetables and fruit in store need to be checked over regularly for any that might be deteriorating and used quickly. Should the weather allow I will start to paint the sheds and compost bins with wood-preservative.
ROUND-UP
Despite the inclement weather and lack of sunshine it really has been a very good year on the vegetable plot. My only failure was parsnips which even after several sowings failed to germinate. The swedes I think were the best I have ever grown and more than compensated. The soft fruits were all as usual very good but the stone fruit plums, damsons and cherries were disappointing due to the snow I think when they were in blossom. This prevented the insects from doing their job of pollination. Apples and pears more than made up for it. I was very pleased with my first crop of grapes. Although small, sweet and juicy and I will persevere with the thinning next year.
The wild-life are still a constant problem so the need for secure netting will continue. We had a little vandalism this year; some crops destroyed and sheds turned over.
I shall be back again in the Spring and my challenge for 2009 is to use up as many of my half-empty seeds packets as possible.
It only remains for me to wish you all a very Happy and Peaceful Christmas and look forward to seeing you back on the plot in the New Year.
Beryl.
[Home Page] [A Year in the Life of our plot 2000] [Diary 2001] [Diary 2002] [Diary 2003][Diary 2004][Diary 2005][Diary 2006][Diary 2007] [Diary 2009][Diary 2010][ Diary 2011][Diary 2012][Diary 2013] [Diary 2014] [Typical Plots on the Elson Site] [Wild Life Area] [Conservation Project] [Badgers] [Ray's Plot] [Links Page
---