[Home Page] [A Year in the Life of our plot 2000] [Diary 2001] [Diary 2002][Diary 2003][Diary 2004]Diary 2005 [Diary 2006][Diary 2007][Diary 2008][Diary 2009][Diary 2010][ Diary 2011][Diary 2012][
Diary 2013] Diary 2014 [Diary 2015] Diary 2016] Diary 2017] [Diary 2018] [Typical Plots on the Elson Site [Wild Life Area] [Conservation Project] [Badgers] [Ray's Plot] [Links][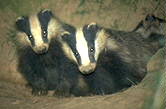 CONSTRUCTION OF THE ARTIFICIAL BADGER SETT
AT ELSON ALLOTMENTS.
On the 9th October 2000, an Extrordinary meeting was held by the Health and Leisure Committee at Gosport Town Hall for the purpose to reconsider the relocation of Badgers from Priddys Hard to Elson allotments. The vote was 7 for and 7 against, the deciding vote given to the chairman being in favour of the move. This decision is subject to a licence being granted by English Nature. Many plotholders are not happy with the decision due to the unsuitability of the site for the Badgers and feel an alternative solution must be found. However, on the 19th October work began to construct the artifical sett in readiness.
The following photographs were taken on the days displayed. If you have any comments to make please mailto:comments@saundersallotment.co.uk
19th October - (Day 1)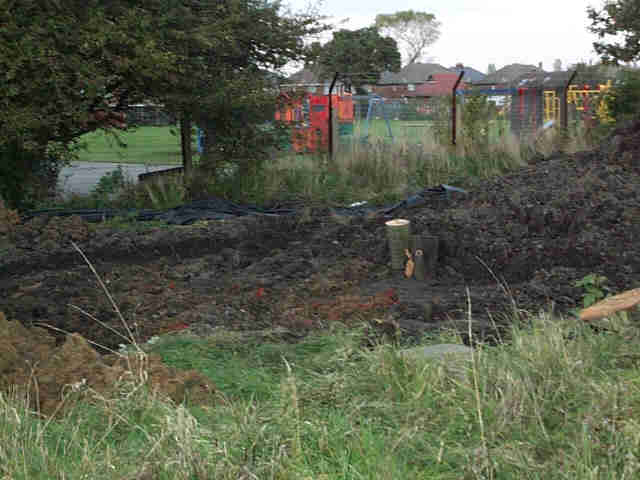 The site is located close to the children's playing fields.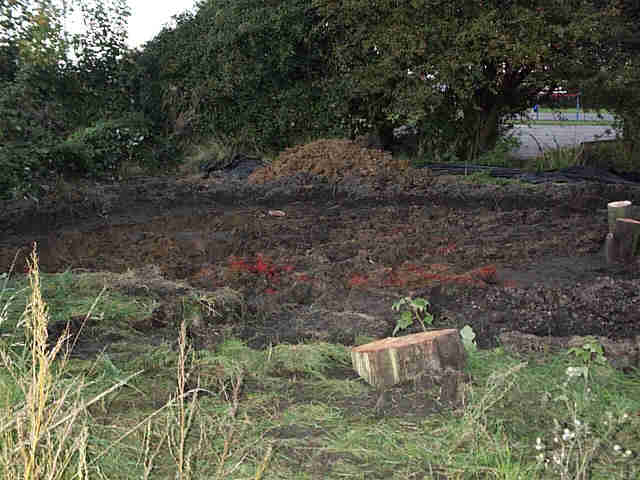 This corner borders onto 2 sides of the playing fields. One side is a football pitch and there is a public footpath on each side. It is not a secluded area and is frequented at night by many undesirable characters.
The area being excavated is constantly under water most of the Winter months.
20th October - (Day 2)
Trenches are being dug for the chambers and gravel/shingle laid in the bottom to help drain the water.

---
21st October - (Day 3)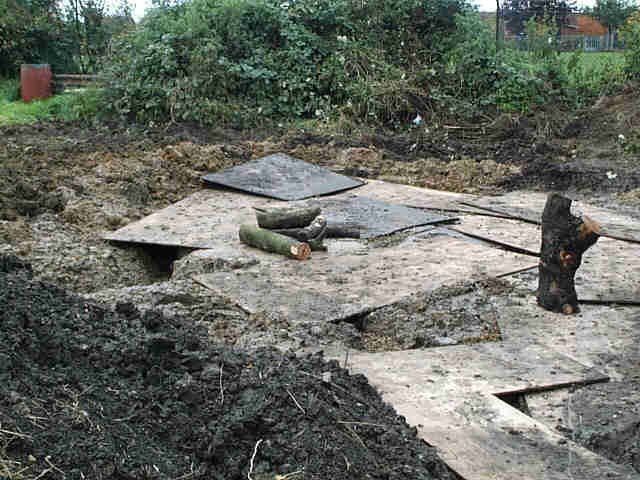 A large amount of gravel/shingle has been put into the chambers which are now covered with boards.
A deep channel has been excavated with the intention of installing Badger proof fencing 2 feet below and above ground level to prevent the Badgers from entering onto the allotments. It is proposed that the Badgers will have access to the playing fields at night to forage for food. It has been noted that so far the trench does not extend to include the proposed sett.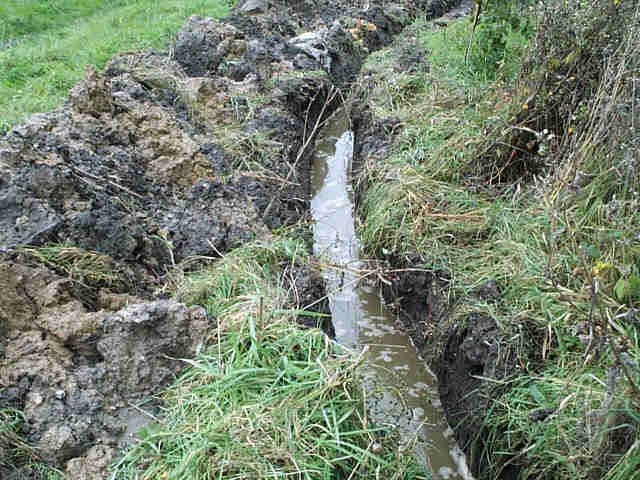 A membrane liner has been placed one side of the trench.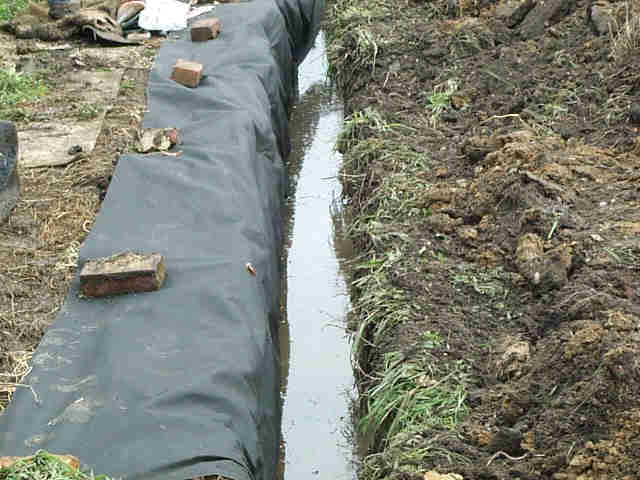 22nd October - (Day 4)
Little work has been accomplished today as it is Sunday but the fitting of the membrane liner has been completed. Water levels continue to be a worrying problem and are still rising to 10" at the lowest point and between 12" and 15" at the highest.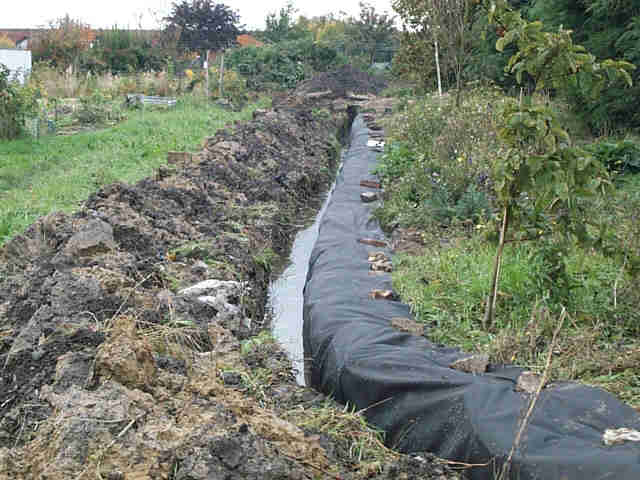 . .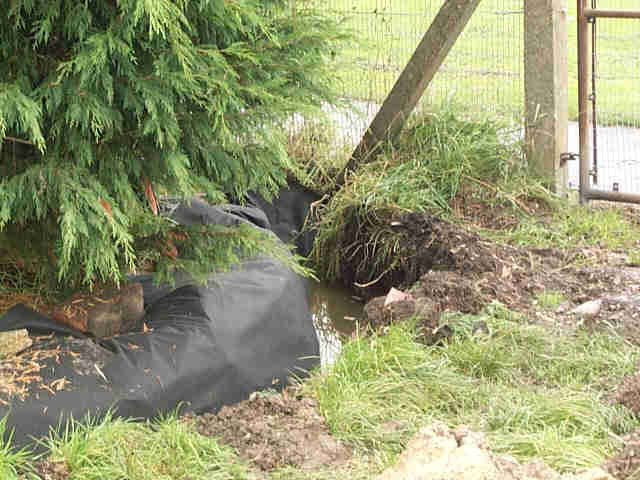 The depth of the water is approx. 10" here.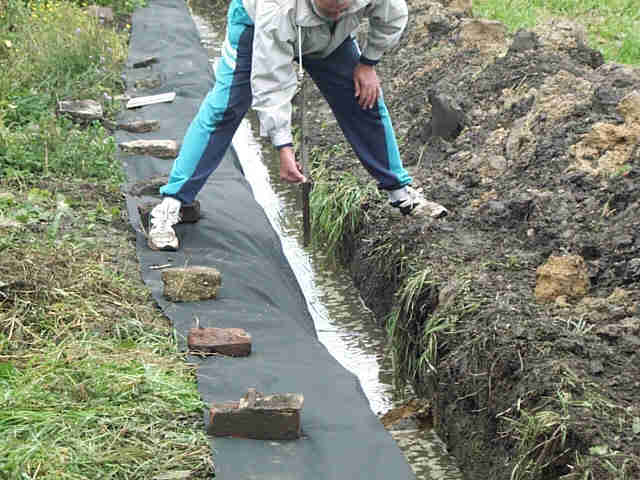 Water is still rising under the boards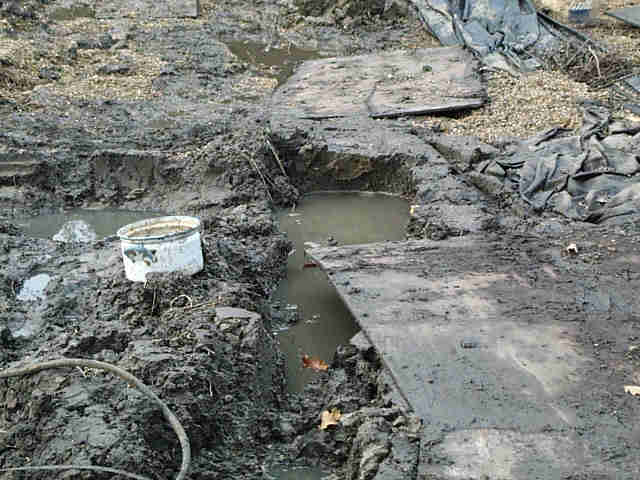 although filled with gravel/shingle first.
This is the same hole shown on Day 1.
23nd October - (Day 5)
The boards have now all been covered with clay/soil except for one which is being completed as I photograph.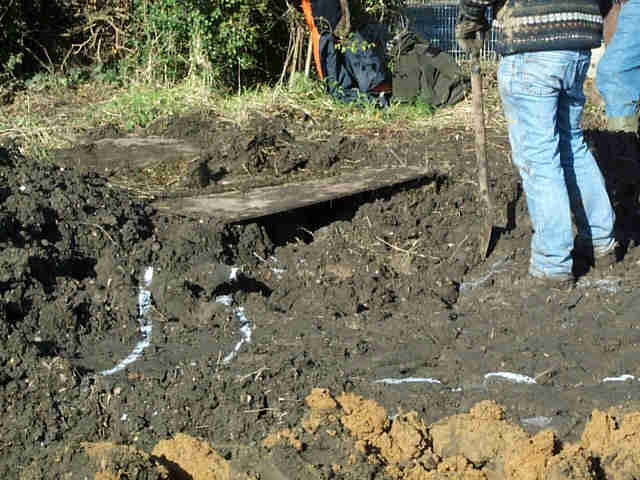 The trench for the fence has now been extended to include the proposed sett.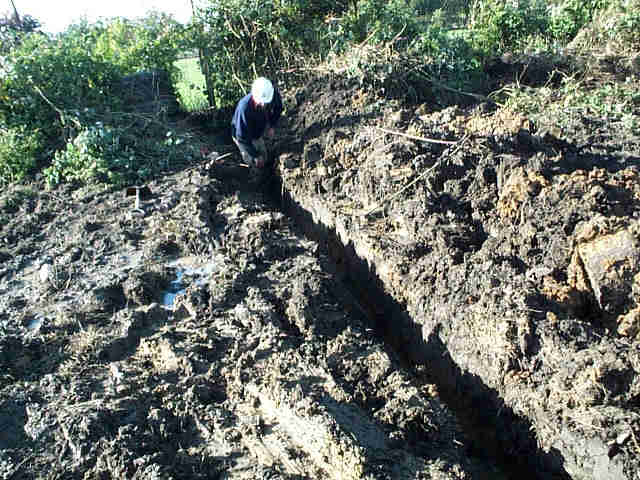 ---

to page 2 -24th October - (Day 6)
---
[Home Page] [A Year in the Life of our plot 2000] [Diary 2001] [Diary 2002][Diary 2003][Diary 2004][Diary 2005] [Diary 2006][Diary 2007][Diary 2008][Diary 2009][Diary 2010][ Diary 2011][Diary 2012][Diary 2013] Diary 2014] Diary 2015][ Diary 2016 [Typical Plots on the Elson Site][ [Wild Life Area] [Conservation Project] [Ray's Plot] [Links]
---