[Home Page] [A Year in the Life of our plot 2000] [Diary 2001] [Diary 2002] [Diary 2003][Diary 2004][Diary 2005][Diary 2006][Diary 2007] [Diary 2008][Diary 2009][Diary 2010][ Diary 2011][Diary 2012][Diary 2013] Diary 2014 [Diary 2015][ Diary 2016] Diary 2017] [Diary 2018] [ Typical Plots on the Elson Site][ [Wild Life Area] [Conservation Project] [Badgers] [Ray's Plot] [Links]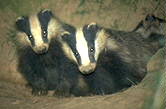 19th November, (Sunday)
Today it was observed that a further sett is being built on slightly higher ground under a small oak tree. Wood chippings have been laid first then plyboard placed over logs approximately 12" - 18" high before covering with soil. This is approximately 2 metres in from the fence on the children's play area side.
. . . . . . .
20th/ 21st November.
Despite the weather turning very wet and windy again, work is continuing on the sett under a small oak tree by the fence. Extra soil has been brought in and a large amount of wood chippings have been used. The following photo was taken on Tuesday 21st November.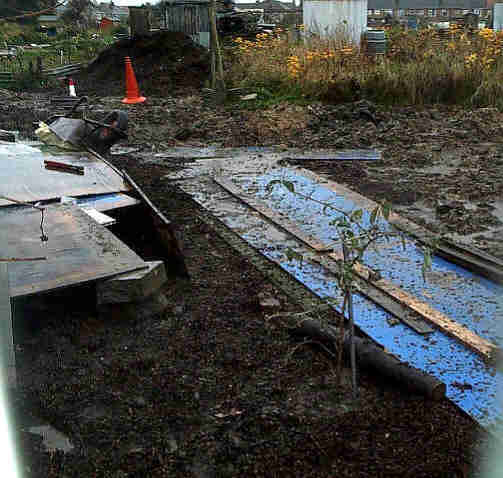 23rd/24th November.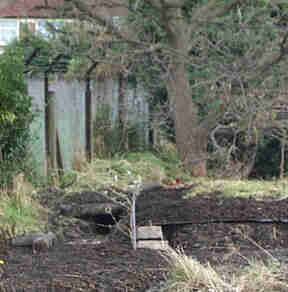 This photo shows the entrance to the sett on the left, close to a public footpath and the children's play area. The sett has been constructed with a number of chambers below the boarding then earth/soil, with some turf is piled on top to create a large mound. A small shrub has been planted at the entrance.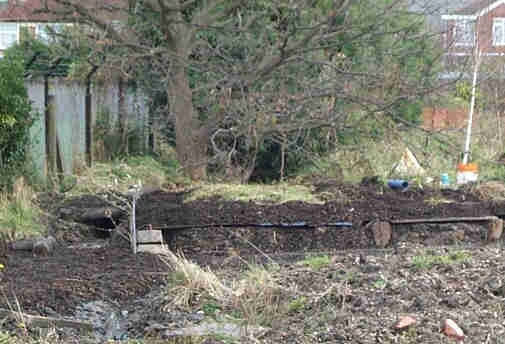 30th November.
The weather continues to hamper further work but the sett has now been covered with wood chippings/tree branches, grass etc. but there is still a lot of under lying water.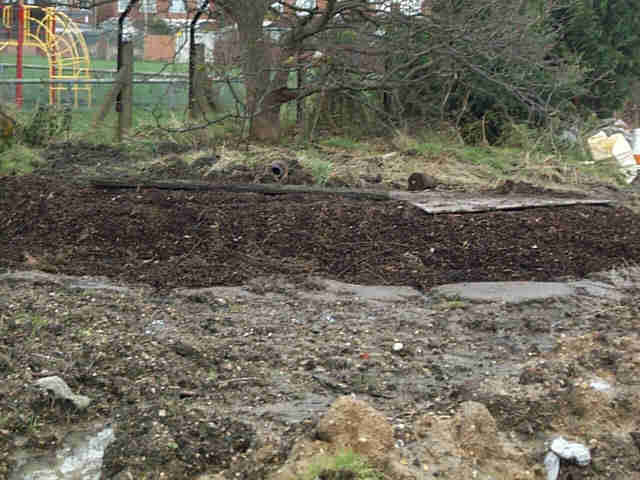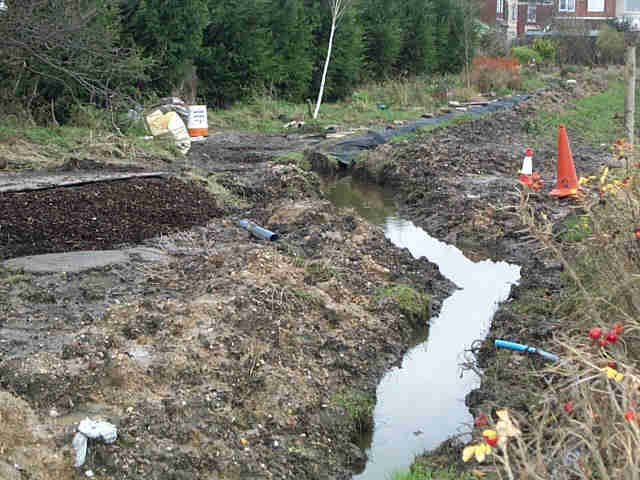 ---
2nd December
A large amount of top soil has been put on the top for the planting of shrubs etc. The entrances to the sett under the tree side have been blocked with concrete blocks.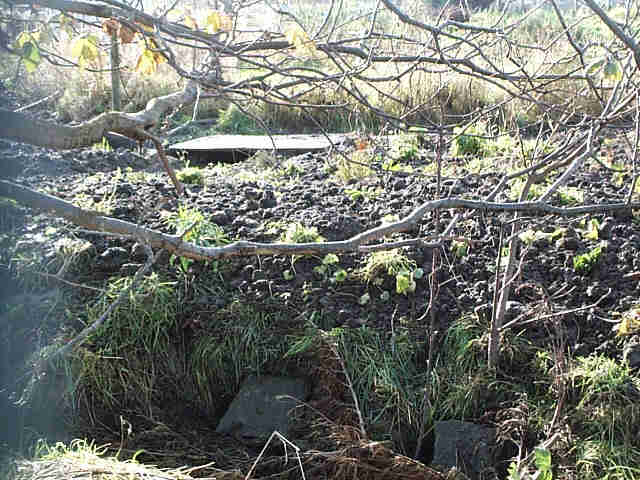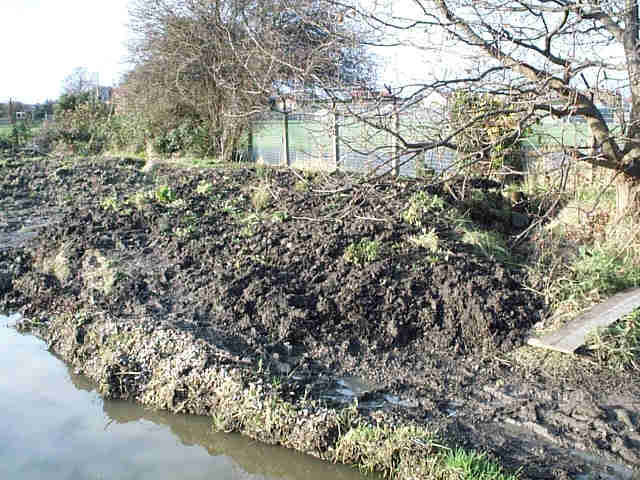 The depth of the water is approximately 2ft. surrounding the sett. It is now the closed season for Badgers to hibernate and breed so it is highly unlikely they will be moved now till next July. I will however, continue to monitor the progress and update this page as necessary.
JUNE 2001
After a winter of almost continuous flooding, the area is now dry and the ground is rock hard. Some planting has survived but the line of conifers although still standing has suffered and are dying off. Fencing has been erected 2ft below ground level and approx. 3ft above with a gate for access. It has been noted that the fencing was not put below ground level under the gate. No badgers are at Elson at this time but presumably if they were it would give them access to the allotments.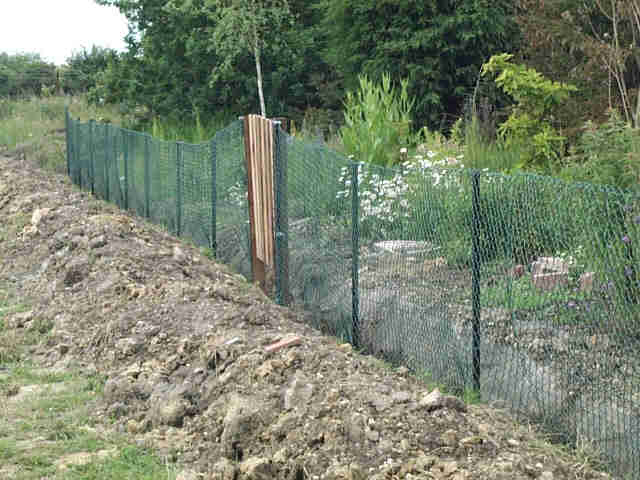 . . . . . . .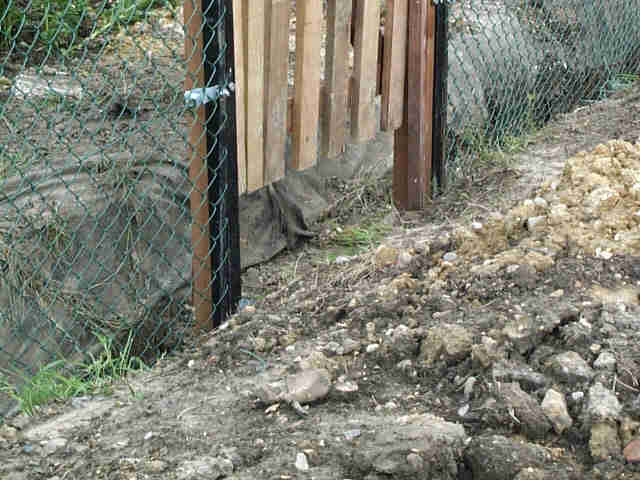 SEPTEMBER 2001
It has been agreed, at least for the time being, to leave the Badgers where they are in their orignal sett; which is along the side of the new Priddys Hard access road.
NOVEMBER 2001
It is now the 'closed season' again for Badgers and as far as we are aware the Badgers have made their own alternative arrangements. They will NOT now be relocated to Elson.
JULY 2004
I have been reliably informed that we now have 2 badger sets at Elson allotments. One in the conservation area and one in the bank on the Findon Road side. I have no other information at this time other than that they are being fed peanut butter sandwiches to encourage them to settle and stay.
JUNE 2005
While on site early in the morning to do some watering, I personally saw a badger. I am now convinced it is the badgers that are causing all the damage to crops, netting, fleece etc. and not as first thought the foxes. They are not contained in the special sectioned off area but free to roam the allotments.
AUGUST 2013 – UPDATE.
Gosport now has the largest population of urban badgers in the country; they are not only a serious problem to our allotments but it is now very common place to see them roaming the streets at night.
They have caused extensive damage to gardens in search for food, urinating and digging their latrines and becoming a health hazard too. Dogs have been attacked while being walked by their owners.
They are wild and dangerous animals, it is only time before a child or adult are seriously injured. A solution must be found to this problem.
<![if !vml]>
<![endif]>
JANUARY 2018 - UPdate
While badgers are still very much in evidence at Elson plot holders have not exprrienced quite so much damage in 2017. We can only hope this will continue.
<![if !vml]> <![endif]>
Please send any comments you may have to: mailto:badgers@saundersallotment.co.uk
Return to: Badgers - Page 2 and
[Home Page] [A Year in the Life of our plot 2000] [Diary 2001] [Diary 2002] [Diary 2003][Diary 2004][Diary 2005][Diary 2006][Diary 2007][Diary 2008][Diary 2009][Diary 2010][ Diary 2011][Diary 2012][Diary 2013] Diary 2014] [Diary 2015] [Diary 2016] Diary 2017] [Diary 2018] [Typical Plots on the Elson Site][ [Wild Life Area] [Conservation Project] [Badgers] [Ray's Plot] [Links]
---