[Home Page] [Diary 2001] [Diary 2002][Diary 2003] [Diary 2004][Diary 2005][Diary 2006][Diary 2007][Diary 2008][Diary 2009][Diary 2010][ Diary 2011] [Diary 2012][Diary 2013] Diary 2014] Diary 2015] [Diary 2016] Diary 2017] [Diary 2018] [Typical Plots on the Elson Site] [ [Wild Life Area] [Conservation Project][Badgers]] [Ray's Plot] [Links]
A YEAR IN THE LIFE OF OUR PLOT
JUNE 2000
Strawberry Fayre
Here we are at the beginning of the month when we had hoped to be sitting back and enjoying some relaxation but there is still lots to do on the plot. Strawberries are cropping very well but due to the damp conditions some are showing signs of botrytis (grey mould). New canes on the Loganberry, Tayberry and Blackberry all need tying in and I am nipping out the end shoots on the fruit trees to deter aphids. Last year I had a problem with Woolley Aphid on 2 apple trees which I treated with Methalated Spirits on a toothbrush. I thought I had been successful but one tree is showing signs again so I will repeat the process.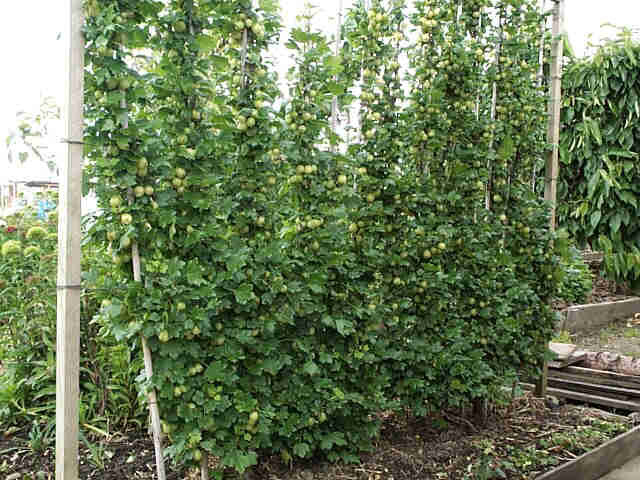 2 Fan trained Gooseberries - yield approx. 20lbs of fruit and is a lot easier to pick.
All beds have now been well mulched and our compost bins are all but empty so we will be making regular trips to our local stables to replenish stocks of horse manure.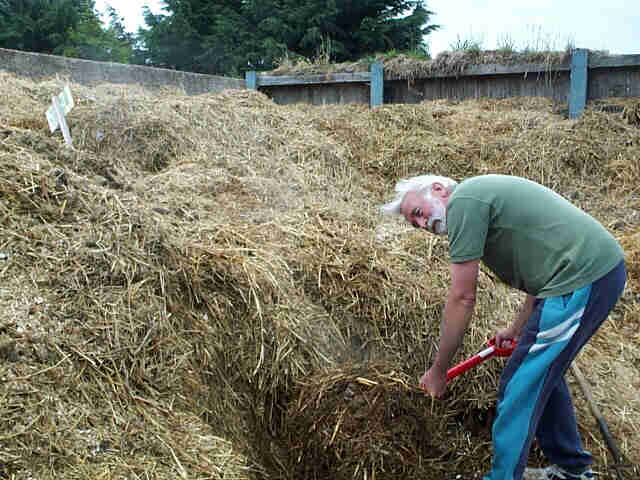 I have the easy bit - holding the bags for John to fill.
On Thursday 2nd June several sheds on the site were broken into including ours. The window was completely taken out, fortunately no tools were taken but John has had to make extensive repairs.

Fruit trees and soft fruit are all looking good. The Hebe hedge I planted last Autumn has grown well and now shelters Strawberry plants the other side. The 2 Kent Cob Nut trees I also planted last Autumn have made good new growth and I am now fan training them. ( right hand side of above photo)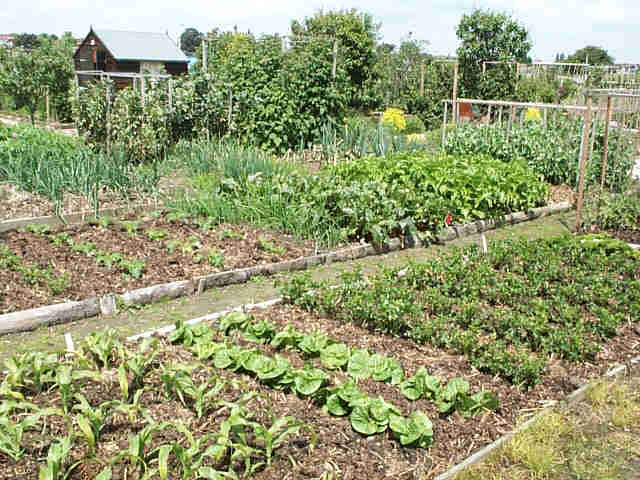 2nd week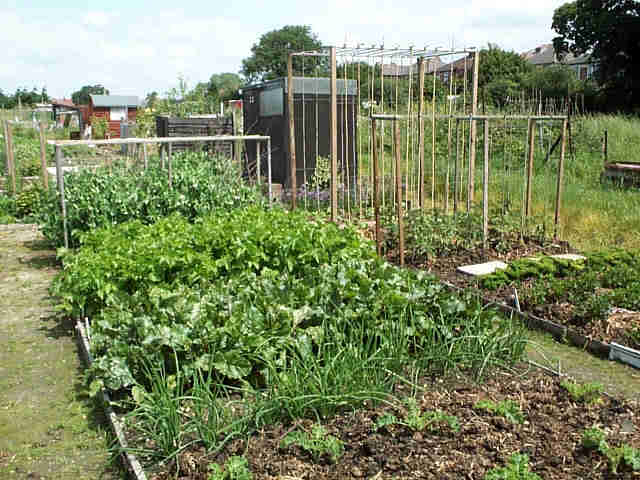 All veg. plots are now full. Last picking from the Autumn sown Broad Beans has been made and I have replaced with Leeks. I am now starting to harvest the first early baby Beetroot, lettuce and Spring Onions.
12th June and we have lifted our first early potatoes - Concorde. A new variety for us and our first impression is a good, small chicken egg size, clean waxy potato with a good flavour hot or cold.
24th June. This last week the weather has been against us again with very high winds and in between some very hot humid days. I have now planted out the last of my Winter leeks and sown 3 rows of main crop carrots, Autumn King, between 2 rows of Spring Onions. Carrots have been very disappointing this year, being slow to germinate but I am hoping to be pulling the first new ones soon. The Pea pods are filling out nicely so I have covered loosely with netting to deter the pigeons.
The first bed of Strawberries are just about finished and as the plants are 2 years old and still looking very healthy, I shall be pegging down a few runners to keep my stocks going. I would not do this if the plants were showing any signs of disease, such as yellowing of leaves as it would be passed on to the new plants.
Gooseberries are cropping very well and I have made several pickings for cooking and freezing to thin them. Leaving the remainder to plump up for dessert eating.
TIP - Gooseberries are very high in pectin. If you are making Strawberry jam add about 1 pound of pureed Gooseberries to 3 pounds of Strawberries to ensure a good set. Or just mix equal quantities of Gooseberries and Strawberries to make a delicious jam.
If you would like to view further photos of our plot taken on 25th June Please click here

JULY
The first 10 days into July and we are now busy harvesting most of our soft fruit. The raspberries, Glen Ample are living up to their name and proving to be a very heavy crop of exceptionally large berries. The tree fruit has proved to be disappointing this year, due to weather conditions, most of the small fruitlets on the plum, and cherry trees have dropped off. The damson and apple trees still have a fair crop on them and I am delighted to see the first nuts forming on my two Hazel nut trees. (Kent Cob)
On the veg plot, the peas, Greenshaft are hanging like fat green icicles and it is taking most of my time to pick them. I use scissors to cut them off to avoid pulling and damaging the plants. Although I have placed netting over them, the birds are very cunning and making the most of the lower pods. It is quite fascinating to watch the cheeky ones pick the fattest pod and fly off with it to enjoy.
TIP. Surplus peas and broad beans can be frozen without the need for blanching and will keep for at least a year. Just shell and place in poly bags or containers.
The recent rain has suddenly brought on a batch of cauli and the cabbages seem to have doubled in size over night. At last I can report that I am now pulling carrots. These are my favourite early summer vegetable and after several failed sowings my patience has been rewarded - delicious. Swiss chard, Bright Lights, is adding colour to my stir-fries with its yellow, red and white stems and we have had the first of the French beans and yellow courgettes.
Slugs, snails and caterpillars are starting to become a problem. Caterpillars I pick off as many as I can find and because of the size of the slugs I have resorted to using slug pellets sprinkled around the outer edge of our plot in an attempt to stop them advancing any further.
16th July - 6 sheds were broken into last night on our site including ours again. This is the second time in a month. It appears that nothing other than knives were taken which is worrying. However, they were unlucky in our shed as we have always made a point of never leaving knives in the shed.
17th July. Sheds were broken into again for the second day running including ours. This time John has had to make extensive repairs to the door. In an attempt to deter any further entry into our site I have been painting round the top edge of the perimeter fencing with anti-vandal paint.
The last 2 weeks of July and not a drop of rain has fallen on Gosport. With only 3 taps on the site water is a valuable commodity and trying to get enough to keep the crops going is very hard work. One casualty of the drought has been the Celeriac which has run to seed but as compensation we have made the first pickings of Runner Beans and baby Sweet corn. Tomatoes are very slow to fill out and it will be some time yet before any are ripe enough to pick.
RECOMMENDATION - This last week we have purchased 2 water butts by mail order from Blackwall Ltd of Seacroft Estate, Coal Road, Leeds LS14 2AQ. Email: customerservicesblackwall.ltd@virgin.net Both were delivered within 1 week of ordering and I have no hesitation in recommending this Company should you be considering buying a butt now or in the future. Made from recycled plastic they are strong and sturdy and represent good value for money. Telephone Order No. 0870 849 4879. Web site from September will be http://www.blackwall-ltd.com
AUGUST
The month has started on a high note with the news from Mr Harden that we have retained our position for the second year running attaining second place in the Hampshire Federation of Horticultural Societies Competition for 10 rods and over. Our warmest congratulations from all at Elson goes to the winner Mr J. Hibberd of Totton.
The first 2 weeks of August and we still have not had any rain other than one thunderstorm at the end of July. Keeping up with the watering is becoming very hard work and all vegetables are having to take their turn in getting a thorough soaking with the watering can.
Potatoes have not suffered from the lack of water and we have had an exceptionally good crop. We are now digging Vanessa,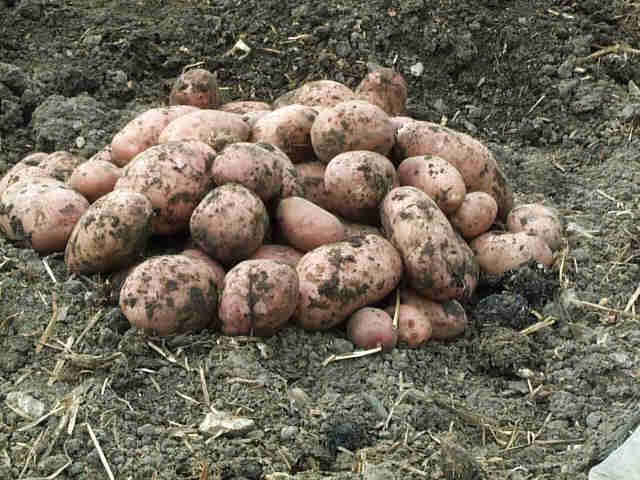 a red skin variety.
Runners beans are also doing very well. We sowed Painted Lady and White Lady and I think of the two White Lady is proving to be the best with long straight and very tender beans and also the heaviest cropper.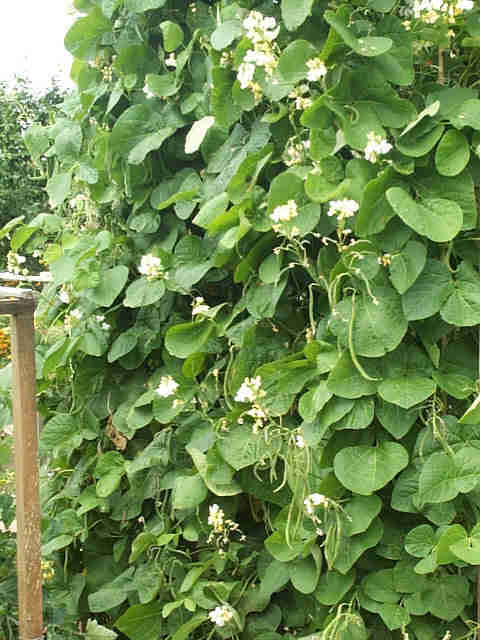 White Lady
TIP If you have too many beans to use in one day, don't put them in the fridge. Instead wrap the surplus in a damp tea-towel. They will keep their fresh picked crisp flavour for longer stored this way.
The soft fruit is now mostly finished I am cutting back to ground level this years old fruiting canes on the Raspberry, Loganberry, Tayberry and Blackberry. Selecting the strongest new canes to tie in for next year and cutting out the weakest.
We are now starting to pick the first early apples, Discovery. Apples are ripe for picking when they come away easily when cupped in your hand.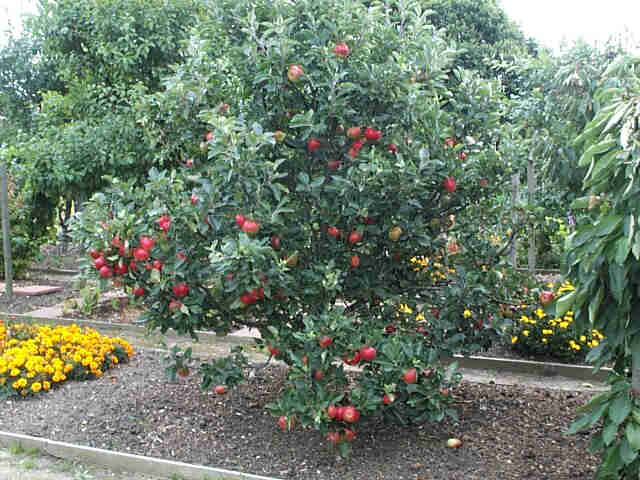 This is a lovely tree when laden with ripe red crunchy apples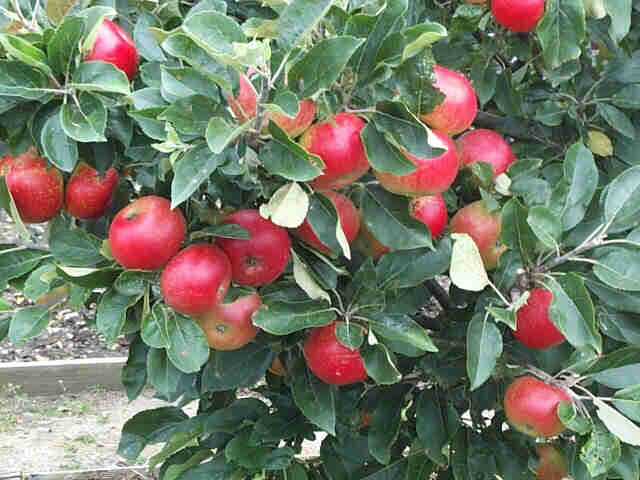 23rd August and several sheds have again been broken into on our site. Fortunately we escaped the attack this time but our fellow plot holders experienced damage and loss of tools.
We have still not had any rain but one advantage of the fine weather is that about a week ago I gently lifted the onions with a fork and they have been lyying out in the sun to ripen. I have now stored them in the shed till I have time plait them on to strings for Winter storage. Main crop carrots are at last showing signs of being a good crop and at the moment there appears to be no difference between the rows under fleece and those left to take their chances with the elements. All the tops are lovely and green with no sign of the dreaded carrot fly but there is still time so I won't speak to soon just in case. Tomatoes having been very slow this year are now ripening and we are enjoying, Ox Heart, large meaty tomatoes, ideal for cooking and the cherry varieties Gardeners Delight, Red and Yellow Pear.
I have finished the summer pruning of the fruit trees. Plums have been disappointing in quantity this year but what we have had have been good. For some reason the birds have not been a problem this year maybe there is plenty of other food about for them
---
[Home Page] [Diary 2001] [Diary 2002][Diary 2003] [Diary 2004][Diary 2005][Diary 2006][Diary 2007][Diary 2008][Diary 2009][Diary 2010][ Diary 2011][Diary 2012][Diary 2013] Diary 2014] [Diary 2015] [Diary 2016] Diary 2017] [Diary 2018] [Typical Plots on the Elson Site] [ [Wild Life Area] [Conservation Project][ [Ray's Plot] [Links]
---